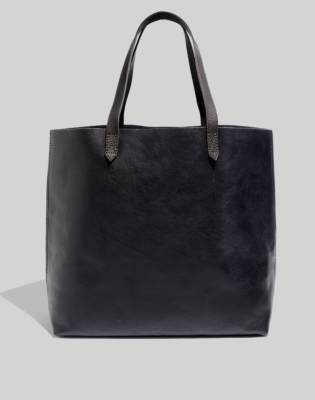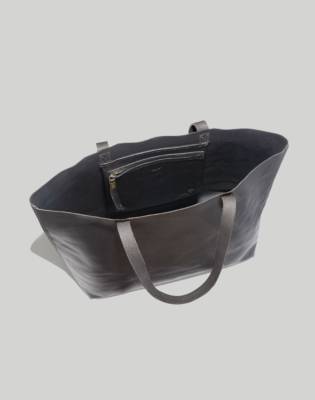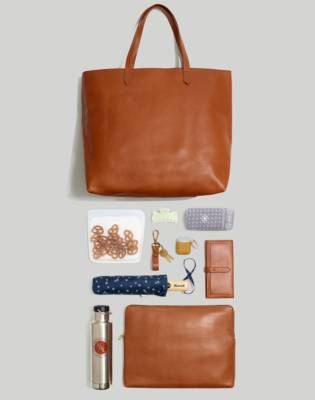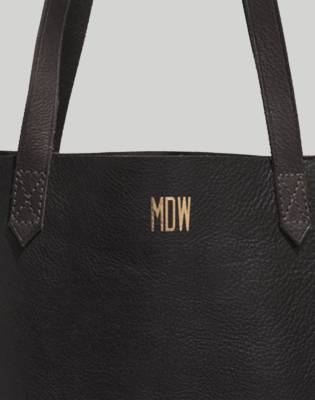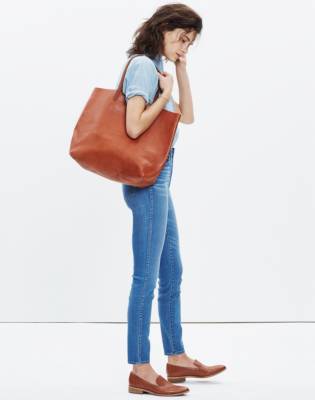 Product Details
What goes into our signature tote? Here it is by the numbers: 2 pieces of fine leather are used for the body. 8 inch strap drop: long enough to sling over your shoulder, but short enough to hold as a top handle. 1 interior side zip pocket to keep your keys, phone and wallet at the ready. 24: the number of hours in a day that this bag looks cool. How often you'll reach for it? 500 gazillion times.
Made of vegetable-tanned leather that burnishes with wear into a beautiful patina.
Please note: As it is made of a natural material, each bag varies slightly in texture and color.
Interior zip pocket.
Unlined.
8 1/4" handle drop.
14"H x 14"W x 6"D.
Import.
Rated

4.5

out of

5

 by

752

reviewers.
Rated

1

out of

5
 by
Ceecee79
The quality has disappeared
I saw the Transport Tote a few years ago in store and had my eye on it for a few years. Now that I finally need a larger sized tote, I ordered it, but when it arrived, I was appalled that this wasn't the beautiful leather of the Transport tote that I saw in stores before. The tote used to have a slight gloss to the leather and would develop a nice patina after use. What I got instead was a bag in a dull finish made from cheap "bonded leather" (shredded leather fibre + pulp + plastic). You can tell by the smell, the papery texture, and glimpses of the real material showing through the holes in the stitching. I could tell right away that this bag would not hold up (inadequate stitching, the "leather" will tear and peel easily). I would never pay this price for something that isn't meant to be used often. I was so disappointed that the quality has slipped so much and returned it (had to pay for return shipping as well). What a mistake.
March 13, 2016
Rated

1

out of

5
 by
strideam
Doesn't wear well at all!
I've had the bag for about six months and, similar to other reviews, the corners are discolored, the straps have come unglued, edges frayed and the leather has cracked and marked (not is the nice broken-in leather way either). I used it mainly on the weekends, not every day. Pretty disappointing.
January 15, 2015
Rated

1

out of

5
 by
ellesbelles17
Quality has Changed
The quality on this bag has been downgraded significantly. It's no longer the sleek, substantial leather transport tote we all know and love. The look and feel of the "new" bag is a cheap, raspy and thin material that showed signs of poor wear right out of the box. I compared it to my older transport tote and the difference in construction and quality was pretty shocking. This will be the second item I've recently returned to Madewell on grounds of poor quality alone. So disappointing. The brand's name is starting to feel a bit ironic. Please bring back the old transport tote!
July 27, 2016
Rated

1

out of

5
 by
juneclance
"Leather" looks cheap
I have wanted this tote for so long, I finally went for it, even though all the recent reviews noted the degradation in quality. I thought maybe they just got a poorly made bag and that I might be one of all the other reviewers who got the original, amazing bag! Sadly, that was not the case. I ordered this tote in English Saddle, and it looks NOTHING like the photos online. It looks and feels like 100% Polyurethane -- I am so deeply skeptical that this is leather because it looks very uniform and with a painted color. It looks unnatural and fake. As much as I wanted a Madewell bag, I'm returning this. It's not worth the price, and to be completely honest, I would be embarrassed to take it out in public because it looks so cheap and low-quality. Can't express how disappointed I am, after waiting over a week for it to arrive (and months of waffling on whether to get it or not in the first place!).
September 4, 2016
Rated

1

out of

5
 by
NY78
Quality issues
I agree w everyone here. I wouldn't call them "vegetable tanned" leather anymore. The straps are flimsier, the brown bag now is like a painted brown finish vs a lovely natural stained leather. I wish I kept my old version of this bag from 2009! :( So bummed out
August 28, 2016
Rated

4

out of

5
 by
AmyCowan
Nice bag!
I love the bag. It holds a Macbook Air with no strain or fear that it's going to fall apart. The English saddle color is appropriate for all seasons. My only 3 tiny issues: I got the gold foil monogram, and people ask if it's the brand. I wish the handles were thicker and smooth on both sides. I wish it had a couple additional pockets.
June 3, 2016
Rated

1

out of

5
 by
s8172inma
Black leather doesn't hold up
I love the styling of this tote but sadly the leather hasn't held up. After a few months, the black leather faded and turned a light reddish color. There are also little circles that have shown up in the leather. I used leather conditioner and black shoe polish but it fades so quickly and looks horrible. I wish I could upload a picture with my review to show how it looks now! Maybe the brown wears better?
September 19, 2016
Rated

1

out of

5
 by
Kmcg
Composite
The style is nice, but the bag is composite, not leather. It shouldn't be marketed as leather, or sold at a price that's reasonable for nice leather but now way for composite. It's way lower quality than I hoped.
September 12, 2016
Rated

2

out of

5
 by
Susan
Disappointed, big time
I was so excited to get it. It took a long time to get it. Shipping took over a week. I had an idea that the tote would be much lighter in color and have a richness that would naturally darken naturally with time. I imagined it was going to be a different kind of hide. It's an expensive tote, simple construction - what you're paying for is the leather, not the craftsmanship. The leather is too dark and it looks like fake leather. It doesn't have the hand of leather or what I expected from photos that I've seen. It was a treat to pay so much for a simple tote. I would have returned it but I had my initials put on it. Just really, in every way, not what I wanted or what I expected. I'm really bummed.
September 27, 2016
Rated

5

out of

5
 by
MrsP
Great work bag
I purchased this bag as a gift to myself when bonuses came through. I was typically commuting with a minimum of 3 different bags to work and now it all fits in this one! It's a bit larger than I had anticipated so my thoughts of it doubling as a purse probably won't work out very well but it's perfect for weekday commuting or a weekender type bag. I saw another review that didn't like the lack of pockets and I do agree that I'll probably have to get a smaller bag to hold all my miscellaneous items inside this tote, but because it doesn't have anything taking up space it leave enough room for gym stuff, laptop, and my lunch! Love it!
April 6, 2015