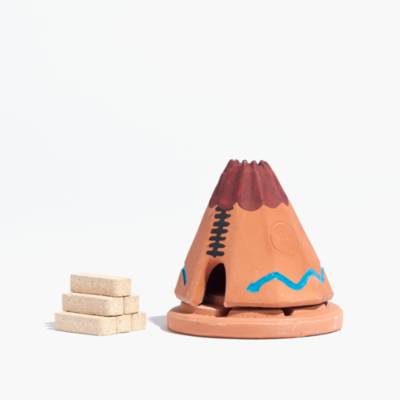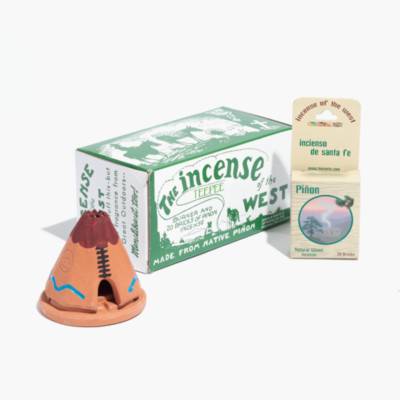 Product Details
Family owned and operated since 1963, Incienso de Santa Fe makes uniquely Southwestern incense burners from New Mexican clay. Along for the ride: natural piņon incense crafted from locally gathered evergreen wood.
Incienso de Santa Fe™ Incense Holder
Incienso de Santa Fe™ Incense Holder
is rated out of
5
by
9
.
Rated

5

out of

5
by
eam4532
from
Adorable
I love this little guy. I bought it last year for myself because I thought it was the cutest thing ever. It's small, and just like other reviewers said, perfect for a bookcase or nightstand. The incense smells great, just like firewood, and when it's burning the smoke comes out of the top of the teepee like a little chimney. The bricks are literal bricks of shaved wood with no added scent, so you do not need a coal, just light the entire tip and sit it inside. It makes your house smell like you have a lovely fireplace with a fire lit! Love it :)
Date published: 2016-11-17
Rated

5

out of

5
by
SMTDB
from
Perfect stocking stuffer
This is the cutest little thing! The teepee is so cute, and the incense does smell like firewood, which is nice, because I have a fireplace that I cannot use, so I get a firewood effect by lighting candles and this incense. I had trouble figuring out how to make sure the incense doesn't go out after a minute or two. The trick is to light it up for a while with a match or lighter, and then but the little brick standing up (burning part up) in the teepee. Seriously, this is a perfect little gift for anyone, given the price! :)
Date published: 2016-12-01
Rated

5

out of

5
by
Scan
from
Love this thing
This thing is so cute. The incense smells great (very natural, not sweet/artificial at all) and the quality is good too. It's very small but sturdy. Definitely recommend!
Date published: 2018-01-19
Rated

5

out of

5
by
littlesnow
from
Very cute
It's much bigger than I thought it would be, and seems very durable and perfect for colder seasons.
Date published: 2017-12-20
Rated

5

out of

5
by
BirdieEB
from
adorable!
love it! So cute, the terra-cotta is nice, well made, and the colors are vibrant as pictured. Bought one for myself and one for a gift. I think I'll go back to this for future gifts too! Seems like it would cost more than it did:)
Date published: 2016-12-14
Rated

5

out of

5
by
Pk99
from
Very Cute
It is very small and as far as how well it works, I am not sure yet since I bought this as a gift. However, it is super adorable. Even if it doesn't work well it still looks cute on a shelf or bookcase.
Date published: 2015-12-21
Rated

5

out of

5
by
Meg7
from
Love this - great housewarming or party gift idea!
I have to confess - I bought this solely because I thought it would look cute on my bookshelf...and I was right! Love the colors and detailing on this little teepee - super cool. Even the packaging is vintage and fun. It's small and different - a great size for a bookcase/dresser vignette. Would make a unique gift for a housewarming or other party where you might want to bring a little token. LOVE!!!!
Date published: 2015-10-16
Rated

4

out of

5
by
taks
from
Daughter loved it!
Last minute find - it was a big hit! Clever design.
Date published: 2018-01-15
Rated

4

out of

5
by
Mia13
from
so CUTE
I will admit, this was MUCH smaller than I had expected. But it doesn't change the fact that it is probably the cutest incense burner in existance. I put it on our wood burning stove between our cast iron kettle and cactus planter and it fits in perfectly. The incense smell reminds me of when I was young and visiting Taiwan. Couldn't ask for a cuter addition to our decor.
Date published: 2017-04-27