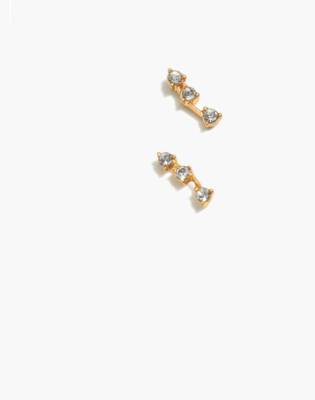 Product Details
Delicate earrings studded with a trio of crystals. Equally earthy and pretty.  
Diameter: 10mm.
Brass, Czech stones.
Sterling silver posts are naturally soft due to the high silver content (just bend 'em back into shape if they get out of whack).
Care instructions: Clean your jewelry after each wearing with a soft cloth.
Import.
Gemline Studs
is rated out of
5
by
55
.
Rated

5

out of

5
by
Mariner
from
Sparkling grunge
These earrings are lovely and so wearable, haven't taken them off since delivery! Delicate, sturdy, pretty.
Date published: 2016-09-01
Rated

5

out of

5
by
MerrittOak
from
Great Everyday Earrings!!
I love these earrings. I have not taken them off since I got them about 1 month ago. I work out, shower, and sleep while wearing them. They are really comfortable and give a beautiful dainty sparkle. I really like that they are made with sterling silver, which means no ear lobe irritation for me. The slightly curved and elongated design gives versatility to how you can wear them. They are perfect for wearing with multiple earrings.
Date published: 2016-06-09
Rated

5

out of

5
by
ekc13
from
A Darling Pair of Earrings
I purchased these on a whim during the 30% off sale items promotion. I've been wanting to purchase ear crawlers, but I've been a bit hesitant about how big they are. I was afraid these, on the other hand, would be too small or on the flimsier side, but when I received them, I was pleasantly surprised with the overall look and feel of the earrings. These are definitely dainty and on the smallish side, but because they're "bar"-like earrings, they're noticeable. The gold is more muted, which I like, and the three stones are sparkly but aren't overwhelming due to their size. It was smart of the design team to put three of the stones in a row; if there was only one stone, it would definitely be too small. I've worn these to work and also out to dinner, on errands, etc., so they're definitely versatile. I'd recommend these! :)
Date published: 2015-12-24
Rated

5

out of

5
by
Jacoby
from
Lovely enough for my wedding!
These studs are perfect for everyday use or formal wear. I even rocked these on my wedding day. I love being able to wear them almost everyday. Love them and highly recommend!
Date published: 2015-11-25
Rated

5

out of

5
by
Azulharse
from
Super cute
These are adorable. I love dainty jewelry and these look great and sparkle a lot.
Date published: 2015-11-18
Rated

5

out of

5
by
Katie22
from
Gorgeous
Loose these earrings. I like to turn them sideways so it looks like I have three piercings in each ear. They're comfortable, small (yet still noticeable), and all around gorgeous. I wish Madewell would make similar styles (so that it could look like I had multiple piercings all the time)
Date published: 2015-06-05
Rated

5

out of

5
by
ElleBee28
from
Dainty Sparkly Studs
These studs are very dainty and smaller than I thought, but I still really like them. They are perfect as an eveyrday-earring with just enough sparkle.
Date published: 2016-02-25
Rated

5

out of

5
by
Bostonian
from
Simple and lovely
I had these posts from Madewell I used as my go-to everyday earrings for YEARS. I've replaced them three times (should really be more careful :/) and was bummed to see they're no longer on sale. But these are a great replacement! I think they're smaller than pictured which makes them more sensible for every day. I wear them sideways/up the ear and they have just that little bit of gusto you want for daily wear. Super pretty and dainty and definitely high-quality. But not gonna lie, I really miss the simple sparkly posts I wore before, too.
Date published: 2017-11-01
Rated

5

out of

5
by
ashmac02
from
in love!
I bought these on a whim and I adore them! Really darling for layering if you have more than one piercing in your ear - I like to turn them up so they look like a small ear crawler. More like these please!
Date published: 2017-08-29
Rated

5

out of

5
by
EyeHeartMadewell
from
Pretty and understated
These are cute earrings, the photos do not do them justice. What's great about them is that the stones are tiny so they make an understated adornment. I like to wear these as ear "crawlers" where they are worn, not as going straight down but going up the ear, so it looks like I have multiple piercings.
Date published: 2017-08-14