Our Holiday Break Binge Watch Guide
Posted on Dec 17, 2018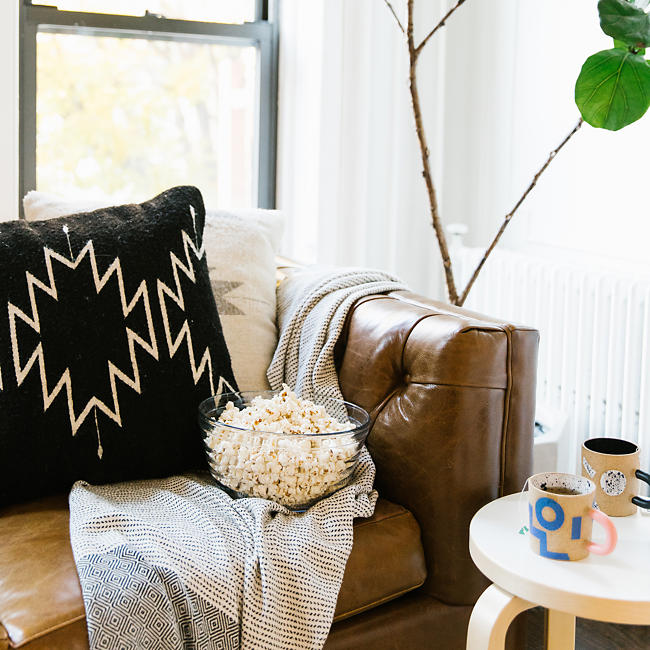 Whether you're into cinematic dramas, classic throwbacks or low-key reality TV (or, like us, all three) we've got you covered with this list of shows to veg out with over the holidays. Just get the popcorn started and we'll handle the rest.
SALT ACID FAT HEAT
What it is: A four-part cooking and travel docuseries that turns tropes typical to the genre upside down.
Why it's great: Chef and host Samin Nosrat oozes authenticity. As she cooks her way through Japan, Italy, Mexico and her home, California, you'll quickly see she's not afraid of making mistakes and being herself—even if that means crying over Parmesan cheese (honestly, relatable).
Where to watch it: Netflix
MY BRILLIANT FRIEND
What it is: An adaptation of the first of Elena Ferrante's much-loved novels, which trace the lives of two best friends starting with their coming-of-age in 1950s Naples.
Why it's great: The casting, set design, even the outfits feel authentic to Ferrante's original story—expertly capturing the struggles of the characters and the heart of the novel that has captivated readers all over the world.
Where to watch it: HBO
THE GREAT BRITISH BAKING SHOW HOLIDAY SPECIAL
What it is: A truly delightful baking "competition" that'll restore your faith in humanity.
Why it's great: Fans of the Great British Baking Show will be pleased to see favorites from past seasons come together to whip up holiday treats in this two-part special. It's a suuuper-calming reprieve among the cutthroat, high-drama shows out there today. New to the series? Every episode is also available for binging at your leisure.
Where to watch it: Netflix
THE TWILIGHT ZONE
What it is: Everyone's favorite sci-fi series slash amalgamation of existential crises.
Why it's great: Because the "do-do-do-do, do-do-do-do" of the theme song is probably already stuck in your head, right? The Twilight Zone is a classic for a reason, and having time off is just the right excuse to dive into all 156 wonderfully weird episodes available for streaming—plus, there's always a marathon leading up to the New Year. We'll meet you over in the fifth dimension.
Where to watch it: Hulu, Syfy
Want more fun recs to peruse from your couch? We've got 'em right here.