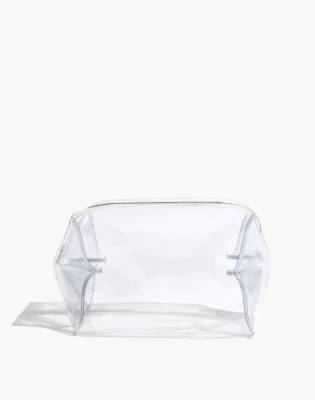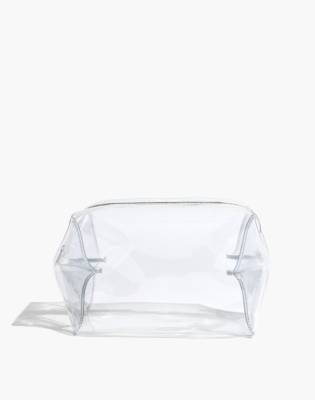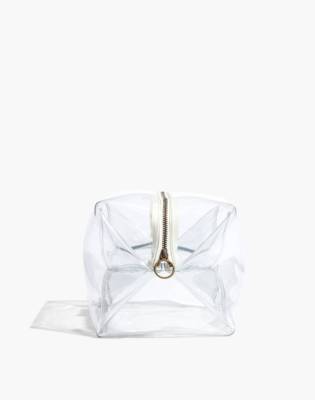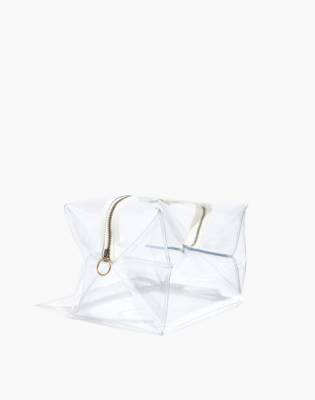 Product Details
A square, clear vinyl bag made for tossing into a tote or stashing cosmetics sink-side. Cute and easy to clean, it's perfect for travel.  
Large Crystalline Travel Bag
Large Crystalline Travel Bag
is rated out of
5
by
22
.
Rated

5

out of

5
by
chum
from
perfect anything bag
this bag has a large capacity to hold whatever you need for travel, cosmetic, skincare..whatever; the material is super durable and easy to clean. i am very satisfied with this and have recommended to friends who also love it!
Date published: 2018-03-27
Rated

5

out of

5
by
Louise
from
Holds a lot stuff and looks cool on my vanity
The title says it all. It's a nice balance between stiff and pliable and it holds a bunch. I have 2: one for makeup and one for skin care products. Keeps things contained and I get to look at all the cutie packaging beauty things come in.
Date published: 2018-02-13
Rated

5

out of

5
by
hlebth
from
Don't listen to the "haters"!
I LOVE this bag, and I'm not sure why everyone is hating on it so much! Yes, the mouth does not open extremely wide but I've found that if I push the top lobes inward, it opens up enough so that I can get even large beauty products inside (hairbrushes, hairsprays, etc.). On that note, this bag holds SO MUCH. I can fit full-size products in here and no longer have to worry about finding/making travel size versions of my favorite products. Also, it's SO cute and the plastic used is thick and durable. I looked at a lot of transparent travel bags before buying this one, but all of them had flimsy plastic. No thanks! This bag is PERFECT for travel and is such a joy to just look at. So cute and worth the price!
Date published: 2017-09-07
Rated

5

out of

5
by
233AG
from
Love it
I love it so much!!! It's strong plastic, sturdy, stands up and great to toss in travel bag. If you want flimsy plastic get yourself a ziploc bag.
Date published: 2017-08-31
Rated

5

out of

5
by
emily33
from
Great for traveling!
This isn't the most "stylish" cosmetic bag, but it's awesome for traveling. I was sick of packing my liquids in a ziplock bag and this was the perfect solution for that. It can easily wipe clean if something explodes and it fits a ton of products. Very durable. Highly recommend!
Date published: 2017-10-09
Rated

5

out of

5
by
SerineGoodmond
from
LOVE
I absolutely love my little travel bag. I actually plan on getting another size.
Date published: 2017-03-20
Rated

5

out of

5
by
Meowchlle
from
Nice and Big!
This bag is big! So you get a lot of storage space! The material is not a super soft plastic, so it can be a little tough to open up when grabbing something from inside, but it's a great storage pouch. I like it :)
Date published: 2017-12-15
Rated

5

out of

5
by
Morgan35
from
LOVE!
I agree with the reviews of those who love this bag. It is durable, cute, and fits so much yet doesn't take up a ton of space when I travel. If it you try to stuff your hand inside, yes, it's difficult; however, I just fold the zippered edges in when I put my hand inside, and it's easy to pull stuff out without getting hurt.
Date published: 2018-04-03
Rated

5

out of

5
by
Kelly
from
Get it before it's gone.
It's really well made. You won't regret it. It's spacious. It's hard put in and take out because of its sturdiness but I don't have to worry about having my stuffs fall out. It fits in medium transport tote. I have it in large transport tote. It organizes very well because I use this tote as a diaper bag of two babies.
Date published: 2018-03-28
Rated

5

out of

5
by
Daya
from
Good looking and big
I loved it, the mouth opening is small for the size, but i think they designed it that way so that it kept things from falling off, it feels sturdy, but the dust it collects is more noticeable. You can fit all your make up essentials, keep in mind the narrow mouth opening and don't over fill it, you'll have to leave 1/4 of the top space free, for easy access. What made me keep it was the design and zipper, I tend to buy things not for the prettiness, but for their functionality and quality, and this one was double the price of any other travel makeup bag, but since it'll be on my vanity and it'll be travel bag, for me it has a double purpose, so there you go, I just justified the price of this one. It looks like it'll stand the test of time, with a little cleaning that a soft rag will do and warm soapy water when nasty ;P
Date published: 2018-03-22