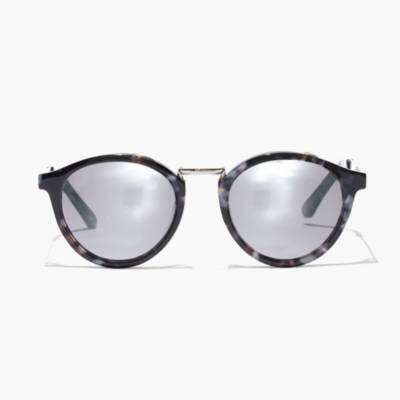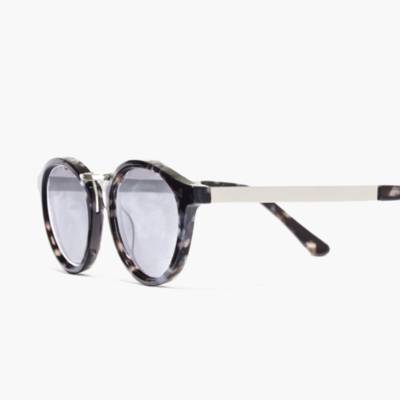 Product Details
A flattering rounded shape with retro-cool metal details—all at one very sweet price. á
Acetate frame with removable plastic lenses.
UV protection.
Import.
Rated

4.4

out of

5

 by

72

reviewers.
Rated

5

out of

5
 by
cscotttrun
Sunglasses for Foresight
You're headache is blaring. It's understandable- an afternoon of being mansplained to will do that a woman. Usually you can handle it with finesse and style but not today. It's bad enough when you stand up at your desk you're the only woman as far as anyone can see in the company. But you helped build this app from the ground up with the rest of the gang and not being considered for the board is reaffirming what you've always feared - the boys club is closed for membership. But Polo Roy has the wrong flashdrive for the presentation? You step forward seamlessly covering while giving a comprehensive rundown of your apps capabilities. You've saved the day (again) to thunderous applause. These sunglasses are perfect for shading from the sun or covering your eye rolls at your coworkers dismissive remarks.This fresh take on a retro style lets everyone know you're as well read in history as you are in current events. You'll look as smart as you are.
June 28, 2016
Rated

5

out of

5
 by
mimi87
My all time favorites
These are my second pair of these. Oops! Burnt the first pair when I left them on top of our stove, I bring them to Sam's Club and they take out the glass and put in my prescription. We travel a lot and these have been my close companion. I said they run small but I have a small face and they fit perfectly. Now I want the yellow ones too!
January 13, 2016
Rated

3

out of

5
 by
Nour
Nice Shape But Loose Fit
I love the shape and size of these sunglasses. However, after a couple of wears they've become so loose that I sometimes have trouble keeping them on. Need to get them tightened somehow.
April 26, 2016
Rated

5

out of

5
 by
tmnyc
love love love
Got the demi flash color and I love it! fits well - stays tight and doesn't fall off .. already got so many compliments on them!
June 15, 2016
Rated

1

out of

5
 by
elle25
too loose
My first pair was so loose that when I leaned over in a boat - it fell right in When I ordered the second pair, I was hoping that it would be tighter, but it's the same loose fit. It always falls down my nose. I had it tightened at an eye glass store, but it loosened up shortly after. I love the style, but not the fit! I'm probably going to go into the store and see if they can find a tighter pair.
August 15, 2014
Rated

5

out of

5
 by
Jurrrsica
Love these!
Okay, so I wish they weren't almost $60, but since I bought my pair I've basically abandoned my other sunglasses. The shape is so flattering on me - and I usually struggle with finding sunglasses that don't make me look like a bug. Even better? I get compliments on them all the time :)
June 11, 2015
Rated

5

out of

5
 by
meeshka
Good value
As someone that very rarely finds sunglasses, these were a surprise find. I got the tortoise shell and gold. They fit comfortably on my small head and definitely look more expensive than they are. No issues with shipping.
January 6, 2015
Rated

5

out of

5
 by
Cherieberry
Love love love
Got these in the color "fig", and even though it was on sale, I absolutely LOVED it when it arrived. Very good quality even if it is WAY cheaper than other high-end sunglasses, awesome lilac-y color (as purple is my fave color), and very unique, yet not-hard-to-pull-off design! :)
August 30, 2016
Rated

5

out of

5
 by
CJack
Great glasses
I was looking for a nice-looking pair of everyday sunnies. These fit perfectly, are comfortable sitting on my nose, and don't tear wads of my hair out when I perch them on top of my head.
February 2, 2016
Rated

5

out of

5
 by
grace12
favorite sunglasses ever
I wear these to EVERYTHING. Pairs well with any outfit, very stable and a good fit around the nose, and fits basically any face shape. I will use these forever!
June 5, 2016