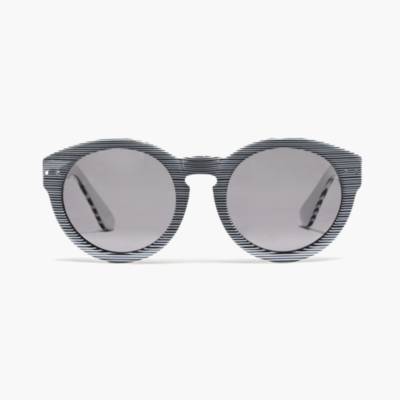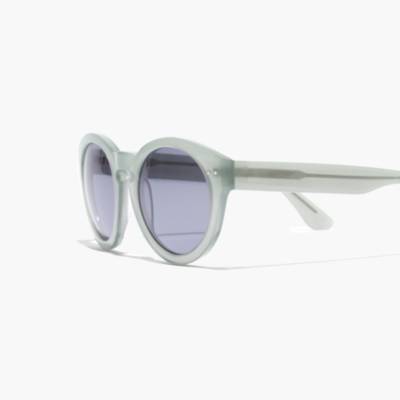 Product Details
A flattering oversized version of our signature sunglasses. A whole lot of coolness—all at one very sweet price. á
Acetate frame with removable plastic lenses.
UV protection.
Import.
Oversized Hepcat Sunglasses
Rated

4.4

out of

5

 by

10

reviewers.
Rated

5

out of

5
 by
uberB
Perfect Color and Transparency
I love transparent or translucent frames because they are visually light. These are the perfect dreamy shade of blue green, somewhere between jade and celadon. The shape is quirky but they look chic on. I got them online so I was worried about the fit and look but I'm satisfied.
August 27, 2015
Rated

5

out of

5
 by
MeghanKL
So cute and classy!
I really love these glasses and I get crazy compliments on them! I have a nose that is on the smaller side, so I find them a tiny bit uncomfortable. I knew that going and I bought them anyway! I had a feeling that they would be traveling down my nose a little and they do but, I still love them!
August 10, 2015
Rated

5

out of

5
 by
StyleFinder
The perfect pair of sunglasses!
After years of trying to find a stylish, well-designed, and fair priced pair of sunglasses, I can finally say I have them - thanks to Madewell.
August 3, 2015
Rated

5

out of

5
 by
Ssssarah
Sweet staple for summer
These may be the perfect shades: light enough to keep from slipping down my face, substantial enough to not get bent in my bag, and just the right size for my face. A new classic.
August 3, 2015
Rated

5

out of

5
 by
Amynyc2015
A Modern Classic
I am a fan of the hepcat frames which I have owned in two different colors. It's a sturdy, substantial frame. The black and white striped option caught my eye but I was hesitant to order, not knowing how the "oversized" model would fit. I took the plunge and was happy to discover that the "oversized" hepcats are the exactly the same size as the original hepcats. I recommend these but note that the lenses are very dark (at least on the b/w stripes), much more so than appears on the website.
August 3, 2015
Rated

5

out of

5
 by
AimeeL
cool glasses- go with everything
I had prescription lenses put in these and love how they fit my face AND I can wear them while driving during the day! They are more gray than blue/green like the photo shows, but I think that means they will go with even more ensembles.
July 1, 2015
Rated

4

out of

5
 by
theweekendsophisticate
Cute Summer Shades
I bought these sunnies for my summer capsule wardrobe. They have a cute retro vibe. Look good on most face shapes. Great pair for the price!
June 30, 2015
Rated

4

out of

5
 by
NotACopy
Good Copy
I've been wanting those I********* sunglasses that are four or five times the cost of these. They're good copies, slightly lighter in weight than the originals though only you will notice that.
June 15, 2015
Rated

3

out of

5
 by
Buzzy1
On the fence
I tried these and looked goofy in them. I have very short hair and small facial features so the sunglasses were just to much for me so I returned them.
June 29, 2015
Rated

3

out of

5
 by
lovechristine
Not what you may think...
It's hard to say whether or not I was mislead with these sunglasses. The hepcat shades have reflective lenses. However, the listing doesn't state that at all, but I've seen them in person and it's mentioned on the Madewell blog. Therefore, I assumed these would be too as they are described as "a flattering oversized version of our signature style." An oversized version - to me, at least - means that they are exactly the same just larger. These do not have the reflective lenses. Again, it's hard to say I was mislead as no listing actually states they have reflective lenses. But I am very let down and disappointed. Now I either have to lose money shipping these back or drive 2+ hours to the nearest Madewell to return.
June 24, 2014