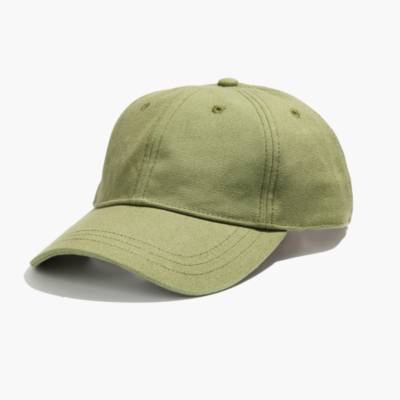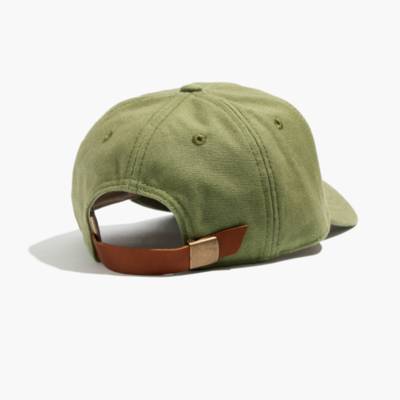 Product Details
A timeless tomboy baseball cap with an adjustable leather back strap. Throw it on, look instantly cooler (we love it personalized with a pin or twelve).
Cotton.
Spot clean.
Import.
Baseball Cap
is rated out of
5
by
11
.
Rated

5

out of

5
by
sunvalleygirl
from
Perfect hat perfect shape perfect colors
Perfect hat perfect shape perfect colors...and yes I really do mean that. It is very difficult for women to find baseball hat they don't come so far down on the side they look stupid or stick out so why they look like they're wearing their dad's hat... I always buy what I think are cute hats with tractors on them and the like and I wear them for about a week and then I suddenly realize I look like such an idiot in them. In the Madewell hats is a shape that it has that just really fits a woman's shape Head..not too much not too little and I can't tell you how many people that I look really sexy in these hats. I have two and I'm waiting for more colors do this if you horseback ride are you outside a little bit because it's also a fabulous sun protector and you will love It.
Date published: 2017-08-01
Rated

5

out of

5
by
LJ88
from
Stolen by my 20 something daughter
NOT Pepto pink! as with all online shopping, colors vary by monitor. Great hat. My daughter has taken it so many times I ordered her her own.
Date published: 2017-05-23
Rated

5

out of

5
by
alpaca
from
Faded pink!
I bought mine in the store so I could see the color in person, and the pink is actually lighter then the image...it's a really nice pastel-y faded-out blush pink, like it's been washed out a couple of time; Definitely not a bright pink! However, I can definitely see the buckle being a problem in the future, it's popped open a couple of time during the first day I wore it...I'm thinking about super-glueing it shut. It'd also be really cute if there was an engraving option for the leather back imo.
Date published: 2017-08-02
Rated

5

out of

5
by
Christine89
from
Love this cap!
Super cute and I've gotten many compliments when wearing it.
Date published: 2017-07-07
Rated

5

out of

5
by
hipmama86
from
Great quality hat!
I love the overall style of this hat and it's a quality piece. The cotton is very thick and sturdy, and so is the brim. I actually didn't like the fit of this right away because I didn't bend the brim enough, but once I did, it fit wonderfully. The only (potential) hitch to this hat is the leather strap on the back. It totally makes the hat in terms of looks, but feels like it could loosen throughout the day. Not a deal breaker for me though. I will be wearing this often!
Date published: 2017-05-13
Rated

3

out of

5
by
Gianna
from
Bubblegum Pink
The hat itself is great, but the color not so much! They do a great job with the editing to make you think that hat is a pretty blush color, but it's not that shade in real life! It was a gift, so I'm going to keep it and wear it in the sun and hope it gets bleached out because I love the idea of a cute blush ball cap.
Date published: 2017-05-08
Rated

3

out of

5
by
MixnMatch
from
Almost right
The good: I love the color. I bought the hat in truffle, which is a lovely halfway between saddle leather and Carhartt tan. I also really like the leather strap. It's a small detail that really classes it up. The bad: maybe I just have a large head, but this hat is very shallow. It doesn't come down as far as I'm used to in a baseball cap. The result is that I tend to pull at the bill to make it sit better. But that causes the strap snap to unbuckle, widening out the hat. So it's not a great fit, and I wouldn't want to wear it in windy conditions. It also means that you have to wear a pony tail holder if you feed your hair through the hole, because the strap isn't secure enough to hold up my hair. The last quibble I have is the crown of the cap. It's a bit wrinkly. Again, maybe I just have a weird head. But it's not the best constructed hat I have.
Date published: 2017-09-21
Rated

3

out of

5
by
drwatsonsmum
from
Cute color, a bit short
I loved the pink color of this hat, which was exactly how it appeared on my screen. The hat seems to be constructed well and is a nice substantial canvas. However, the cut of the hat itself is odd, in only comes about halfway down towards my ears. Kept the hat, since I need one for many dog walks, but wouldn't necessarily recommend.
Date published: 2017-09-06
Rated

3

out of

5
by
MKMK8584
from
love the hat - hate the snap
This hate is adorable - great color and fit BUT the snap in the back is so uncomfortable - I had to return it.
Date published: 2017-06-29
Rated

2

out of

5
by
SaySay
from
Troublesome Fastener
The metal fastener that maintains the size of the cap can fall off. It has fallen off three times on me but I really like the cap otherwise. The clinking sound when the fastener hits the ground clues you in to searching for it. The day you realize the fastener has fallen off without your knowledge, the hat is useless. Like today, two weeks after purchase. And no I did not shake the hat aggressively at any point. This cap requires more sensitivity in handling as compared to a regular baseball cap due to this fastener issue... unless the cap I chose just happened to be defective. How would I go about getting another fastener? I am very disappointed. I really want to love the hat.
Date published: 2017-05-28