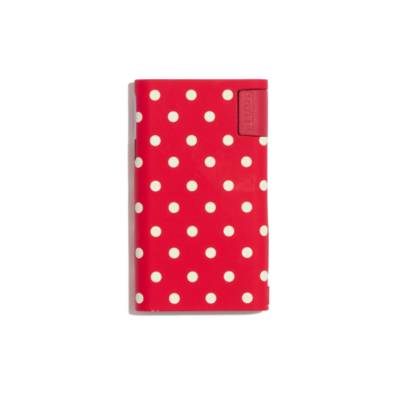 Product Details
NYC-based engineer and entrepreneur Odi Golan of Triple C is all about mixing fashion with function, especially when it comes to his signature iBoost universal backup batteries. Charge one up, slip it in your bag (it's amazingly small) and never freak out about finding an outlet again. We're especially fond of these fun prints, which are all exclusive to Madewell.
Triple C™ iBoost® Backup Battery
Triple C™ iBoost® Backup Battery
is rated out of
5
by
8
.
Rated

5

out of

5
by
Kmil
from
Great Option
Yes, as the other reviews state, you do need to pack a cord. Is that really a big deal? Have you seen women's purses these days??? An iPhone cord certainly doesn't weigh 10lbs. I was confused by that complaint. Plus, it's universal. They can't provide a cord for every item this product works on! This product has come in handy when I'm waiting to meet with clients and my phone is dead but I can't plug into their reception area wall. It also saved my life at Disneyworld with all the photo taking and Disney app drainage. Depending on how low your battery is, it gives it enough charge to get you through. I was at 1% at Disney and this got me to 40%. That to me is worth it. By the time we left the park my phone was still working. Also, when you're running through an airport and can't charge or you'll miss your flight, yeah, this is great there too.
Date published: 2014-08-24
Rated

5

out of

5
by
cxfpwwwg1
from
Love it!
My phone always dies so this is very helpful. It's also pretty small so it fits in my purse.
Date published: 2014-01-06
Rated

5

out of

5
by
MALIBUROADKILL
from
GREAT ITEM
JUST WHAT I WAS LOOKING FOR WORKS GREAT GOT 2 OF THEM
Date published: 2013-12-25
Rated

4

out of

5
by
pellen
from
good in theory if unreliable
these sleek batteries sure look great, and the idea of a rechargeable backup is great, but i've only managed to get it to charge my iphone for about a half hour before my iphone sporadically recognizes it as a power source, vibrating constantly as it connects and reconnects. it also gets VERY hot. basically it is good for a 30-40% charge on an iphone but only sometimes...
Date published: 2013-12-20
Rated

3

out of

5
by
liljacqueline
from
Cute and small, but could be better.
The iboost is super cute, and it fits in the palm of my hand. I'd say it's about the size of an Orbits pack of gum. There is an embedded cord, but it's the USB cord used for charging the iboost battery pack, rather than an embedded cord for charging your phone. With that being said, you'll need to carry an additional cord to charge your device. I have an IPhone 5s, and would have LOVED the iboost if the embedded cord was an iPhone 5s plug. The iboost is good for about 75% charge, then it's out of juice... that's probably because the iboost is really small. Overall, I would not recommend this product unless you don't care about carrying an extra cord around in your purse for a 75% extra battery charge.
Date published: 2014-01-15
Rated

2

out of

5
by
Jonn
from
Needs iPhone Chord
It needs to include a small iPhone chord - otherwise it requires an additional purchase and/or carrying a lengthy chord around
Date published: 2014-01-05
Rated

2

out of

5
by
Allicat
from
Ruined my phone..
This backup battery is very cute but it has ruined my phone. Not real sure why but my phone cuts off randomly now :/ I have a Samsung Galaxy S2.. The idea of this backup is awesome but I wish it held more power!
Date published: 2013-12-24
Rated

1

out of

5
by
Fer98
from
it sucks
-too small -doesn't charge the phone to full battery -needs an extra cord -worst product ever.
Date published: 2014-05-26