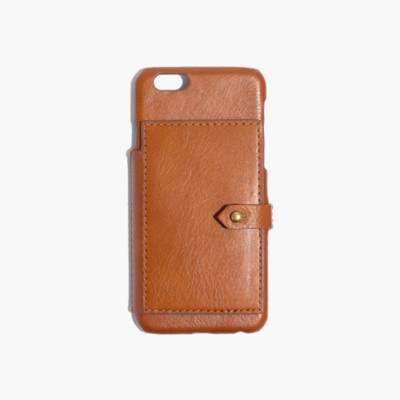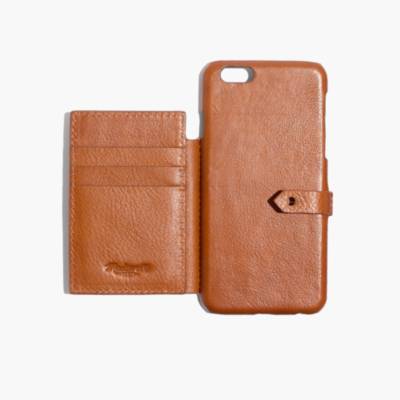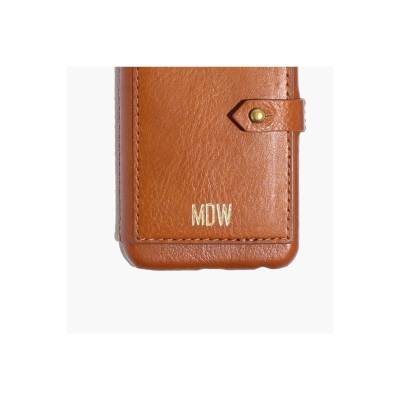 Product Details
Avoid scratches and scuffs in style with a cool leather iPhone 6 case, complete with slots for your cards. (Your smartphone will thank you.)  
Fits iPhone 6.
Leather.
Import.
Leather Wallet Case for iPhone® 6
Leather Wallet Case for iPhone® 6
is rated out of
5
by
23
.
Rated

5

out of

5
by
marisa
from
Bring this back!
I bought this case in February 2015 -- only in the last couple months has the case started to show real wear and tear. I get compliments all the time, but more importantly, this case is incredibly functional and has held up well. It's the best wallet case I've ever used. I'd buy another as a backup in a heartbeat -- I don't anticipate retiring my current one any time soon! (Seriously, please bring this back. This case is outlasting my actual iPhone -- I'm eventually moving on to the SE and am heartbroken this case can't make the switch with me.)
Date published: 2016-12-28
Rated

5

out of

5
by
BrittW
from
Bring this case back!
After about a year or so with this case, I had to retire it for another. I purchased the 2-card case Madewell replaced this with and have been greatly disappointed. The quality of this case was much better. The first replacement case I bought fell apart after less than a month, and the replacement customer service sent out has as well. This case is stylish and convenient. 3 slots is also the perfect number! Please bring this case back (in Thai Chili if possible)!
Date published: 2016-11-15
Rated

5

out of

5
by
LaurenPGS
from
Perfect phone/wallet combo!
This phone case is perfect for carrying credit cards!
Date published: 2015-08-24
Rated

5

out of

5
by
AStyle
from
Perfect
I can quickly grab my phone when I need to run errands and my payment methods are included. It's perfect, I really like! So happy to have found! The color works with anything too!
Date published: 2015-08-22
Rated

5

out of

5
by
JulesL
from
Couldn't have designed it better myself
I love this case! It has just the features I need (nice leather, a concealed holder for my work badge) and nothing I don't. My badge is even scan-able through the leather! The case is fairly protective, but as you can see from the photos, it provides no coverage for the screen. I personally like this because it means I don't have to fumble with opening and closing a case every time I have to check something on my phone.
Date published: 2015-08-01
Rated

5

out of

5
by
Mia0
from
iPhone 6? Nice. Cover? NICER!
Yes. It's nice having an iPhone 6, but this leather cover, engraved...mind you, adds elegance to the phone. You know? Be the envy.
Date published: 2015-07-15
Rated

5

out of

5
by
Neeceeva3089
from
Beautiful phone case
My daughter is thrilled with this case! However, I do need to say that Madewell has problems keeping items in stock and we had to wait WEEKS for this and a previous item (tote) we ordered.
Date published: 2015-05-25
Rated

5

out of

5
by
AnikaH
from
The best way to class up your iPhone 6
I had been wanting to buy this iPhone case for some time but kept putting it off. Now, I wonder why I did! This case is better than I even expected. The quality of the leather is great and SUPER slim. It's even slimmer than any other plastic iPhone case I have--and each of those is not even close to being as aesthetically appealing or stylish as this one. It's so slim that you can still slip it into your pocket easily without any bulk, even with the bronze metal button-hook closure. The three slots are perfect for an ID, credit card and cash. But I use this case all the time, not just when I don't want to carry my purse or wallet on me--although when I do want to keep things simple, this case makes it easy. If I could change one thing about it, I would extend the portion outlining the phone screen just so it wasn't so flush and offering less protection from scratches. But it does look good with it that way! I have it in black and I'm considering buying another in the brown. Love it!
Date published: 2015-05-04
Rated

5

out of

5
by
LizzieO
from
love it love it love it
I used to have a J Crew wallet / phone case that I loved, so when I upgraded to the iPhone 6 I waited for someone/ANYONE to design a compact case that would carry a couple of cards as well. Couldn't have asked for a better version. It's sleek and it's much sturdier than my old one. The quality of the leather is durable, the color is great, and my phone is well protected.
Date published: 2015-02-17
Rated

4

out of

5
by
amy777
from
Good Design, nice leather
Nice leather, very functional. I would change the collar button to a snap because I would like it to be easier to get into, its a bit fussy for me. I would also increase the actual phone case holder to wrap around the phone another 1/8" so that it comes up over the screen a little for more protection
Date published: 2015-08-03