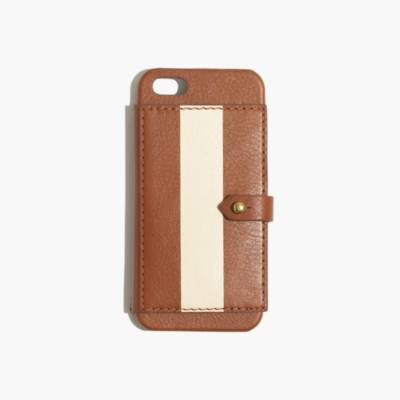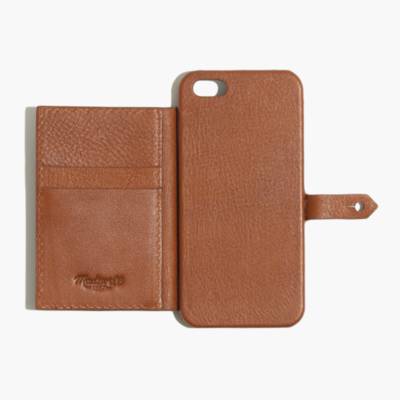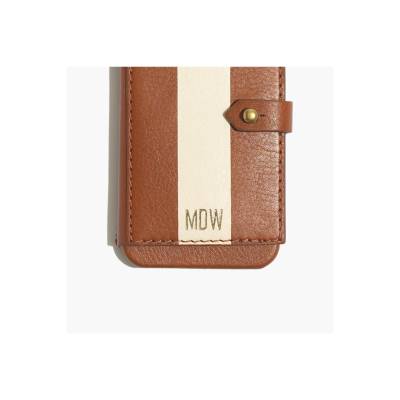 Product Details
Avoid scratches and scuffs in style with a cool striped leather iPhone 5/5s case complete with slots for your cards. (Your smartphone will thank you.)  
Fits iPhone 5/5s.
Leather.
Import.
Leather Wallet Case for iPhone® 5/5s in Paintstripe
Leather Wallet Case for iPhone® 5/5s in Paintstripe
is rated out of
5
by
11
.
Rated

5

out of

5
by
Kaffan
from
Love this product - it keeps my life simple and stress free.
Keep it simple! Everything you need is kept in one place! In addition, it looks elegant!
Date published: 2015-07-14
Rated

5

out of

5
by
rosered123
from
Simple wallet case that has good features
I had my eye on this phone case for many months, as I am one to often leave my wallet behind on the counter when i'm in a rush out the door, (but I ALWAYS remember to grab my phone, aah the technology era), so I was looking for a simple phone case that could also hold the bare essentials on everyday excursions. This case does just that. As pictured, there is a little card pocket on the back that opens and closes with two slots for your desired cards. When I first got my case and excitedly put my drivers license and most-used credit card in the back, it was pretty tight (like the other reviews said), so beware that you may need to really jimmy the cards in the first few weeks or so. I can confidently say, however, that the leather has loosened up over time and I can now hold up to four cards in a snuggle fit. Overall, i've already received multiple compliments for the case, and couldn't be happier.
Date published: 2015-06-22
Rated

5

out of

5
by
Juler
from
Exactly what I was looking for
I had a habit of keeping my bank card with my phone in my pocket. Too many times I pulled my phone out only to loose my bank card. This keeps my id and card with my phone. Great feel in the hand and the leather quality is very nice. It is "made well" and I love it!
Date published: 2015-04-02
Rated

5

out of

5
by
sabbles
from
Love this phone case!
This is my second time buying this case. The first one lasted 8 months before I had to replace it, and even then it was just because it looked a bit scuffed up. I rarely carry a wallet with me anymore. Just my phone, which holds 3 cards and a few bills. Perfect.
Date published: 2015-03-30
Rated

5

out of

5
by
michellex121
from
Pretty and convenient
I was eyeing this case, and when it when on sale I immediately bought it. It is very convenient (2 card slots) and the design is great. Love this one! I will be using this for a long time.
Date published: 2015-03-25
Rated

4

out of

5
by
LEP221
from
Beautiful leather phone case
This is a good case for the money. It does have a "wallet." It is a very very small wallet. It can only fit two cards in it. So it can be a wallet, but only if you are a minimalist. Does not fit cash, so buyer beware. It is overall very nice. It is slim, which is nice, but the button closure makes it difficult to fit in a pocket.
Date published: 2015-05-25
Rated

4

out of

5
by
Moogle
from
Cute and handy little case
This case is super lightweight and incredibly handy. The inner pockets are great for holding my transit pass and credit card. While the pockets are a little tight and it's kind of tough to wiggle my cards out when I need them, I would definitely prefer that to having them be too loose and my cards falling out. The leather is a nice, durable quality without being too bulky, while the overall design is very practical yet chic. Love it!
Date published: 2015-04-01
Rated

3

out of

5
by
Luzoly
from
Good looking iPhone case
Attractive iPhone case. There are 2 slots for credit card and / or ID. Putting my cards through the slots was almost impossible, it was very tight. I hope it loosens. The button closure is very prominent and tends to catch; a magnetic closure would have been better. That said, it is convenient to carry your phone with an ID and cc.
Date published: 2015-06-02
Rated

3

out of

5
by
krisstoy
from
cute for going out
this was a great value- i got it on sale so I couldn't resist. it fits about 3 cards (after a day or two of use, the card pocket needs to stretch out.) I don't find this comfortable for every day use- but I don't think its meant to be. the leather is pretty nice but in my opinion more attention could have been paid to finishing the edges. On mine the leather appears to have been glued to the plastic shell and sealed.. but the leather has crinkled around the corners- which bothers me a little. some more notes: Your phone will sit at a tilt if you put it down because of the brass closure. there is no front cover to the phone. overall- its great when you want to grab an id and credit card and head out the door without a purse. for the times when i have the room to carry a wallet, i'd prefer a leather sleeve or something that would further protect my front screen in my large purse.
Date published: 2015-05-19
Rated

3

out of

5
by
Anon101
from
Too expensive for what it actually is
Even though I got this on a discount, I still don't think it's work it considering that it's not a very protective case with openings on both the top and bottom. It also only holds two cards but when you put the cards in, it is very tight, I mean it's okay for what it functions as (to carry my student id and metro pass) but you could probably get something better somewhere else.
Date published: 2015-04-20