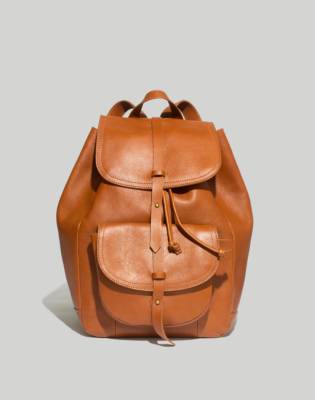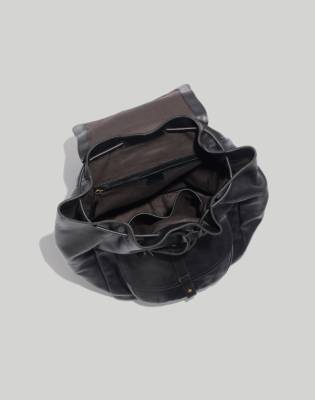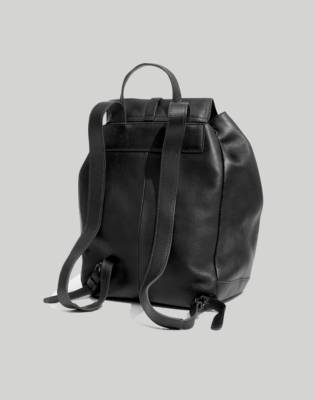 Product Details
What goes into the backpack version of our signature rich leather carryall? Here it is by the numbers... 3 ways to carry it: single strap, both straps or by the sturdy top handle. 4 pockets: one outside and three inside, making it oh so easy to stash your essentials. 24: the number of hours in a day that this bag looks cool. How often you'll reach for this one? 500 gazillion times.  
Made of Italian vegetable-tanned leather that burnishes with wear into a beautiful patina.
Please note: As it is made of a natural material, each bag varies slightly in texture and color.
Collar stud closure.
3 interior pockets.
4" handle drop.
14 3/5"H x 10 3/5"W x 7"D.
Import.
The Transport Rucksack
is rated out of
5
by
94
.
Rated

5

out of

5
by
Harriet
from
Perfect work bag
I bought the Transport Rucksack to replace my older Transport Tote as my new work bag and I absolutely love it. Its the perfect size, it's big enough for a laptop but doesn't seem bulky. If you prefer a backpack over a one shoulder bag I highly recommend this one.
Date published: 2017-07-12
Rated

5

out of

5
by
Lizzy
from
Absolutely perfect
I am beyond obsessed with this bag. I've been carrying it about a month now and it's just the best. Such a great carry-all, especially times when I need to be completely hands free. But it also carries beautifully one-shouldered or even on the crook of your arm. All around amazing. 10/10 for sure.
Date published: 2017-03-21
Rated

5

out of

5
by
ALVB
from
Wonderful
I've had this rucksack for 7 months now and I really love it. I'm a college student and it can carry all my necessities. Keep in mind though I will only carry my laptop, a binder, and a folder for my big items. I also fit all of my pens, makeup, and wallet. Also my big calculator and sometimes I will carry another binder. Without it feeling too heavy. It has a lot of pockets which are just the right size. The leather is thick and has stood up to my abuse. I feel like I will have this bag for a long time it's well worth the money. I haven't had any problems with dye rubbing off and mine is in black color. I feel like I have to also mention that none of the stitching has come loose. The only thing that has loosened up a tiny bit is the closure but mine still closes just fine. I love this bag so much I might get it in another color in the future.
Date published: 2017-03-07
Rated

5

out of

5
by
3murti
from
For modern day traveling
I bought the English Saddle version of the transport rucksack for a trip I'm planning to take next year, and I'm really enjoying it. The black version was the one I had originally wanted, but enough reviews about the black dye staining light tops across the entire transport family scared me off. It's a shame because I feel like the black version looks awesome as a modern day fashion backpack, but the English Saddle version really feels more like a traveler's backpack and will be especially great to carry around in the summer. The leather is reinforced with what seems like canvas, so it feels like it'll be around for a long time (and as the leather wears in and softens the backpack will still maintain much of its shape). After adjusting the straps, there isn't a gap between the back of the backpack and my back, but it always helps to put the biggest, flattest item you're carrying at the very back if keeping the backpack flush against your back is important to you!
Date published: 2016-12-09
Rated

5

out of

5
by
lennyboots
from
It fits everything!!!
I've been looking for a backpack that was cute, had that je ne sais quoi of "travel-chic" and could fit everything without falling a part. This bag is amazing and I am so glad I finally found it!
Date published: 2016-11-28
Rated

5

out of

5
by
Cat27
from
excellent daily commuting bag
I've been using this bag for my commute for the past two months. It's holding up beautifully. It's relatively lightweight compared to similarly sized backpacks and the main compartment is roomy. I haven't experienced any issues with staining. Stylish + practical!
Date published: 2016-10-21
Rated

5

out of

5
by
Angie
from
GREAT everyday bag!!!
Love this backpack! I bought the brown one and it goes with everything! This is my 6th madewell bag and they NEVER disappoint!
Date published: 2016-10-14
Rated

5

out of

5
by
adang
from
Perfect Leather Backpack
I love this bag. I agree with other reviews that the leather is quite stiff when first purchased but now that I've had it for a couple of weeks (using it almost everyday), the leather has now started of soften up and is looking great. It's quite a large bag, it can fit a lot of items. Perfect for travelling and for work everyday. I mainly use it for work - to pack my lunch and wallet, beanie, gloves etc. It not too casual but it's not too dressy so it's the great in between bag. There's a large zip pocket inside which can fit a lot of items as well as the two smaller pockets for your phone etc. Overall, for the price I think it's a great bag. I know there's a lot of leather backpacks to choose from these days but for this price point I think you receive great value for money. I hope that the backpack will last me a long time to come!
Date published: 2016-08-02
Rated

5

out of

5
by
me4tanz
from
Finally!
I have been looking at this for awhile now, I was disappointed that the black was on back order till July 2016 however i put in my order and got it a week ago. If you want this don't wait buy it and then you'll be able to get it before it sells out again & your card doesn't actually get charged until it ships! I got the black, the English Saddle color is beautiful but I've seen what happens when it gets wet & i am picky about stains, the black doesn't quite look as nice but it won't stain, and matches everything I have already. The leather isn't too thick or too thin so i think it'll last and it isn't as heavy as it would be with really thick leather. It fits a lot, sits comfortably on my back jam packed or barely full. I'm glad i got chose this as i hate carrying stuff and it is convenient to have 2 hands in NYC. If you are thinking about this get it. It's kinda awesome! Ge the matching key fob.
Date published: 2016-03-28
Rated

5

out of

5
by
melony21
from
Worth it!
I've been eying this backpack for months, and when I started developing back pain from carrying my books and research in my purse, I decided it was time to buy it. It is even more soft and beautiful in person. I thought it would be stiff because it kind of looks that way in the photos, but it's extremely soft and carries a lot. It is elegant and grown-up. It does not have the gap in the back that people mentioned. I can carry my laptop, numerous books and notebooks, makeup bag, wallet, and much more in it. So worth it.
Date published: 2016-03-02