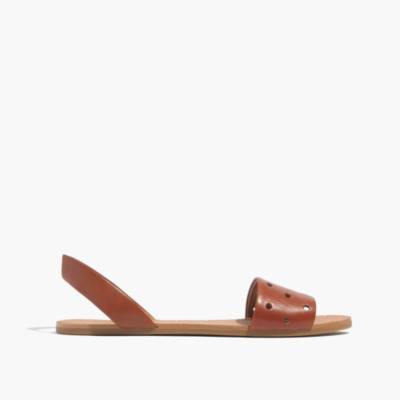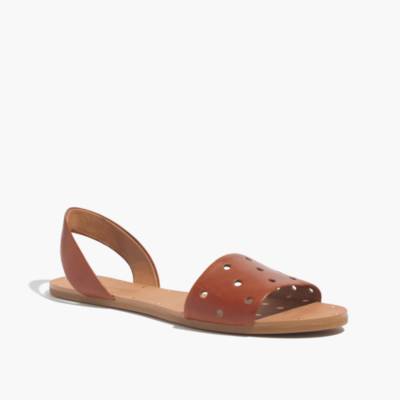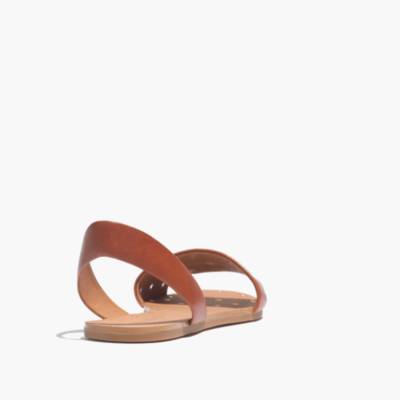 Product Details
With its pared-down shape and cool perforated detail, this is the slingback you'll want to wear again and again (and again)—consider it a summery take on our beloved Thea sandal. With a nod to traditional shoemaking techniques, our designers left the gilded nailheads visible on the soles. Please note: When you select your size, "H" equals a half size.  
Leather upper and lining.
Rubber sole.
Import.
The Abbi Slingback Sandal in Holepunch
The Abbi Slingback Sandal in Holepunch
is rated out of
5
by
14
.
Rated

5

out of

5
by
Nicole416
from
Beautiful, comfortable sandal
These sandals were very comfortable, right out of the box. The leather straps are smooth, with no inner seams to cause blisters, and they have an elegant simplicity. Very happy I bought these sandals.
Date published: 2015-09-22
Rated

5

out of

5
by
BabyKitty
from
Cute & Comfy, A Bit Narrow
Love these shoes, I'm so glad I splurged and got them! They are definitely very comfortable. If you have narrower feet, you'll love them and never want to take them off! I, unfortunately, have slightly wider feet, generally just a pinch wider than Madewell makes their shoes (but that certainly does not stop me from buying them!). I find them to be generally comfortable and can usually wear them all day without too much issue, but sometimes the front strap can feel a bit tight on my foot and start to become uncomfortable. But let's be real, they look super cute (and are well made) and that's what matters most!
Date published: 2015-07-26
Rated

5

out of

5
by
RDMama09
from
Very flattering and relatively comfortable
These are the perfect color of cognac brown and can be dressed up or dressed down. Love the hole punch motif - seems to be pretty much a Madewell exclusive. These ran a big large for me. I'm usually a 7 or 7.5, and I had to take the 7. However, they are very flattering. I have pretty wide, not particularly attractive feet, and I feel like these make my feet look slimmer and more elegant while still being pretty comfortable for flats with no arch support. Each to slip on and off but stay on your feet just fine.
Date published: 2015-07-22
Rated

5

out of

5
by
Jupiter17
from
Great Little Slip On
I'm really happy with these shoes. It's surprising how well they fit since the heel strap is not adjustable. The strap is snug, but yet does not rub or cut into the heel. The leather and lining is are smooth and soft. The exposed nail heads add a nice touch. These shoes go with anything. They're about as comfortable as a flat sandal like this can be.
Date published: 2015-07-13
Rated

5

out of

5
by
NatalieGee2
from
Cute and comfortable sandal
Cute and comfortable, lightweight sandal that fits true to size. I am in-between sizes and ordered the size down (assuming the leather stretches slightly with wear) and am still happy with the quality after several weeks! Great buy!
Date published: 2015-07-13
Rated

5

out of

5
by
Shanna983
from
Great sandal
This is a great sandal! I love the color, the fit, and especially the perforated details on top. I was concerned the back strap might not stay on while walking, but I've worn these several times since they arrived and I haven't had that problem! Love!!
Date published: 2015-07-10
Rated

5

out of

5
by
SP326
from
Adorable slip-on sandal
I picked these up in the store. They are adorable - love the nailheads on the edge, the perforation is great. I love that it is a slip-on. The heel strap is stiff and stands up, and yet doesn't rub too much. I was a little worried that my foot would flop around in these, but they stay nicely in. I'm usually a 7.5 but these sandals in that size were just a bit loose - my foot stayed in but I worried the shoe would stretch and then it wouldn't stay on. The sales associate suggested I size down. The 7 is still the right length, but it is snugger, but with a few more wears, it will be the right fit.
Date published: 2015-06-14
Rated

4

out of

5
by
KCVan
from
Versatile summer shoe
I think these slip-ons are a classic summer shoe that can be worn with almost anything. I got these one sale and have quite enjoyed them. I wear a size 8-8.5, and I bought an 8; I've worn them about 5 times in the past couple of weeks, and the leather is stretching out a bit, and they feel a bit loose. Nothing out of control, but it's better to err on the small side when ordering. With all of that said, here are a few tiny complaints (even though I'd still buy the shoe): - hard sole - would be nice if you guys could make shoes with even a little bit of cushion in the flat sole - front toe band is a bit further forward than I expected - I thought the band would not be so close to the tips of my toes/I thought it would cover the wide part of my toes. Instead, the bottom knuckle of my baby toe, and the ball of my foot are hanging out before the strap. It's weird, and not something you'd think about until you see it, and then you're like, 'that could have been placed an inch further back"
Date published: 2015-07-29
Rated

4

out of

5
by
Abby27
from
comfy once broken in
I found these ran true to size for me. I am usually an 8 (rarely 8.5) and I got the 8 and they fit perfectly in length with the back strap being just right and snug. my foot is slightly wide so they seemed a little uncomfortable at first and also the strap in the back seemed stiff and cut into the back of my foot. I tried the half size up and the top of the shoe wasn't as narrow and felt better but then the back strap slipped off so I stuck with the size 8...after walking around in my house for a few days they stretched out a tad but still fit and amazingly didn't hurt anymore. i was worried because sometimes I never break in a shoe. I bought these on sale in the store so that was a plus.
Date published: 2015-07-23
Rated

4

out of

5
by
shoesy
from
Not sure about these, stuck between sizes
These are adorable sandals! I'm usually an 8-8.5, solid 39 in EU sizing. In store there was only a size 8, and they fit like a glove. I figured the leather would stretch so I took them home. I wore them around the house for 20 minutes, and ouch did they attack my feet. The strap in the back was a bit tight and I'm not sure I could wait for it to stretch out. My real problem was the bottom, these shoes are slightly narrow and the side of my foot must be hanging slightly over the edge. Since the edge isn't rounded or soft but instead a sharp edge, it was causing a lot of discomfort. Determined to have them, I ordered a size 8.5. These I feel are too loose. They are still narrow (seem the same width) but since my foot can wiggle perhaps I am positioned differently in the shoe. However, if they stretch the shoe will just flop off my foot, I'm sure. Plus I can still feel that sharp edge. Perhaps a pad on the edge would help. Madewell, please make the edges of your shoes less sharp!
Date published: 2015-07-23