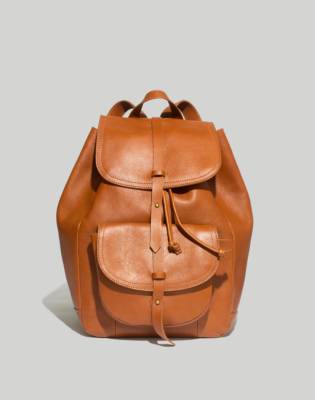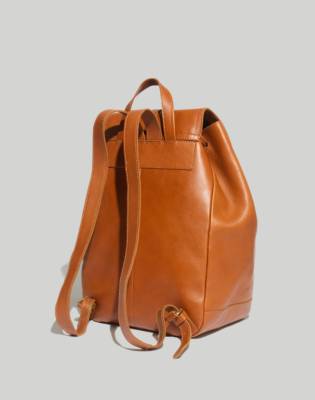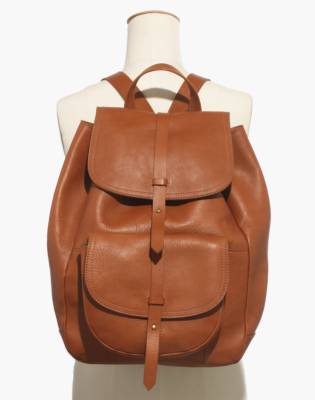 Product Details
What goes into the backpack version of our signature rich leather carryall? Here it is by the numbers... 3 ways to carry it: single strap, both straps or by the sturdy top handle. 4 pockets: one outside and three inside, making it oh so easy to stash your essentials. 24: the number of hours in a day that this bag looks cool. How often you'll reach for this one? 500 gazillion times.  
Made of Italian vegetable-tanned leather that burnishes with wear into a beautiful patina.
Please note: As it is made of a natural material, each bag varies slightly in texture and color.
Collar stud closure.
3 interior pockets.
4" handle drop.
14 3/5"H x 10 3/5"W x 7"D.
Import.
The Transport Rucksack
is rated out of
5
by
108
.
Rated

5

out of

5
by
megan75
from
Basic Simple Backpack
I've had my backpack for a year now. I loved it when I received and love it now. I use it to carry my items I need for work and as my 'purse' for a carry on for when I travel. Perfect size to hold what I need. The clasp does not stay closed most times and I still love it.
Date published: 2017-02-04
Rated

5

out of

5
by
JMike90
from
I get compliments from men and women everywhere I go
Years ago, on vacation in Charleston, my wife bought me the previous version of this backpack. I couldn't go out with it without men and women asking me where I got it. I used the backpack for 6 years, until it just plain wore out - one of the straps broke, the lining inside wore out. So, I bought a new one. I like the design of the claps on this one better - easier to close the flaps. This is a perfect design, simple and rugged.
Date published: 2017-01-19
Rated

5

out of

5
by
3murti
from
For modern day traveling
I bought the English Saddle version of the transport rucksack for a trip I'm planning to take next year, and I'm really enjoying it. The black version was the one I had originally wanted, but enough reviews about the black dye staining light tops across the entire transport family scared me off. It's a shame because I feel like the black version looks awesome as a modern day fashion backpack, but the English Saddle version really feels more like a traveler's backpack and will be especially great to carry around in the summer. The leather is reinforced with what seems like canvas, so it feels like it'll be around for a long time (and as the leather wears in and softens the backpack will still maintain much of its shape). After adjusting the straps, there isn't a gap between the back of the backpack and my back, but it always helps to put the biggest, flattest item you're carrying at the very back if keeping the backpack flush against your back is important to you!
Date published: 2016-12-09
Rated

5

out of

5
by
lennyboots
from
It fits everything!!!
I've been looking for a backpack that was cute, had that je ne sais quoi of "travel-chic" and could fit everything without falling a part. This bag is amazing and I am so glad I finally found it!
Date published: 2016-11-28
Rated

5

out of

5
by
Sami425
from
Simple, great everyday backpack.
Absolutely LOVE this backpack! I've been searching for a simple (no logo), black, leather backpack for some time that can be used as my everyday bag while commuting to and from work. This is the perfect size as it can fit my MacBook air and all the other necessities. Great work, Madewell.
Date published: 2016-11-15
Rated

5

out of

5
by
Cat27
from
excellent daily commuting bag
I've been using this bag for my commute for the past two months. It's holding up beautifully. It's relatively lightweight compared to similarly sized backpacks and the main compartment is roomy. I haven't experienced any issues with staining. Stylish + practical!
Date published: 2016-10-21
Rated

5

out of

5
by
Angie
from
GREAT everyday bag!!!
Love this backpack! I bought the brown one and it goes with everything! This is my 6th madewell bag and they NEVER disappoint!
Date published: 2016-10-14
Rated

5

out of

5
by
adang
from
Perfect Leather Backpack
I love this bag. I agree with other reviews that the leather is quite stiff when first purchased but now that I've had it for a couple of weeks (using it almost everyday), the leather has now started of soften up and is looking great. It's quite a large bag, it can fit a lot of items. Perfect for travelling and for work everyday. I mainly use it for work - to pack my lunch and wallet, beanie, gloves etc. It not too casual but it's not too dressy so it's the great in between bag. There's a large zip pocket inside which can fit a lot of items as well as the two smaller pockets for your phone etc. Overall, for the price I think it's a great bag. I know there's a lot of leather backpacks to choose from these days but for this price point I think you receive great value for money. I hope that the backpack will last me a long time to come!
Date published: 2016-08-02
Rated

5

out of

5
by
me4tanz
from
Finally!
I have been looking at this for awhile now, I was disappointed that the black was on back order till July 2016 however i put in my order and got it a week ago. If you want this don't wait buy it and then you'll be able to get it before it sells out again & your card doesn't actually get charged until it ships! I got the black, the English Saddle color is beautiful but I've seen what happens when it gets wet & i am picky about stains, the black doesn't quite look as nice but it won't stain, and matches everything I have already. The leather isn't too thick or too thin so i think it'll last and it isn't as heavy as it would be with really thick leather. It fits a lot, sits comfortably on my back jam packed or barely full. I'm glad i got chose this as i hate carrying stuff and it is convenient to have 2 hands in NYC. If you are thinking about this get it. It's kinda awesome! Ge the matching key fob.
Date published: 2016-03-28
Rated

5

out of

5
by
melony21
from
Worth it!
I've been eying this backpack for months, and when I started developing back pain from carrying my books and research in my purse, I decided it was time to buy it. It is even more soft and beautiful in person. I thought it would be stiff because it kind of looks that way in the photos, but it's extremely soft and carries a lot. It is elegant and grown-up. It does not have the gap in the back that people mentioned. I can carry my laptop, numerous books and notebooks, makeup bag, wallet, and much more in it. So worth it.
Date published: 2016-03-02
Rated

5

out of

5
by
Soylaluna84
from
Carries everything i need
I bought the brown one as a gift to myself. When i first got the backpack i though it was little large but its actually a perfect size. Holds everything i need, clean well made and keeps me organized.
Date published: 2016-03-01
Rated

5

out of

5
by
Asha57
from
Great backpack!
I have this in the oxblood colour to go with the big weekender bag. This makes it a great set! I always get compliments when I wear it. I didn't have any discomfort with this bag as others have reported. I love the colour and the overall feel of this bag. I've used it to store make-up and toiletries for weekend trips or just as a cool purse when I'm running errands around the city. The smaller pocket in the front is great for my keys and other frequent go-to items. This was a great purchase!
Date published: 2015-11-23
Rated

5

out of

5
by
pizz
from
Great Backpack
I've been looking for a sophisticated backpack to wear around NYC while I'm with my kids. This backpack is wonderful. I do not have the gap problems that others report
Date published: 2015-10-16
Rated

5

out of

5
by
IsHerNameCapree
from
GREAT INVESTMENT!!!!
I just filled my transport rucksack with my items for work tomorrow: notebook, wallet, a book , and my camera. I then put it on and let me just say I LOVE IT!! I purchased the dark cabernet rucksack and its beautiful! Its comfortable, I love the fit, and I don't notice the gap that others have mentioned in the previous reviews. I was skeptical about purchasing it because I thought it was too big for an everyday bag, although its a bit large that doesn't bother me anymore... thats how great this bag is! So glad I purchased it.
Date published: 2015-10-13
Rated

5

out of

5
by
ALVB
from
Wonderful
I've had this rucksack for 7 months now and I really love it. I'm a college student and it can carry all my necessities. Keep in mind though I will only carry my laptop, a binder, and a folder for my big items. I also fit all of my pens, makeup, and wallet. Also my big calculator and sometimes I will carry another binder. Without it feeling too heavy. It has a lot of pockets which are just the right size. The leather is thick and has stood up to my abuse. I feel like I will have this bag for a long time it's well worth the money. I haven't had any problems with dye rubbing off and mine is in black color. I feel like I have to also mention that none of the stitching has come loose. The only thing that has loosened up a tiny bit is the closure but mine still closes just fine. I love this bag so much I might get it in another color in the future.
Date published: 2017-03-07
Rated

5

out of

5
by
Makingheadlines
from
Great piece for the cost
This is a beautiful backpack. I purchased the tan, and the leather is very rich, making it appear like a far more expensive piece. I have gotten numerous compliments on it. The only thing I would change is the size. This would be far more useful piece if it were slightly larger with a separate laptop compartment.
Date published: 2016-02-01
Rated

5

out of

5
by
ElenaS
from
exactly what I wanted
I had been looking for a good quality leather backpack to replace my hobo purse for about a year. I'm a mom so I carry way too much stuff in my purses and no matter what kind of purse I bought, they would kill my shoulders. So I went on the hunt for a nice leather backpack but most of them were too small, too ugly or too expensive. I finally found this one and fell in love. I hadn't seen it in person but based on the quality of my friend's Madewell bag, I figured this backpack would be just as beautiful and boy was I right. It is exactly what I wanted, so chic, so spacious and made so so well (pun intended). oh and when you first get it the leather is a little stiff but I've had it for 2 weeks now and the leather is starting to get really soft and buttery - I have a feeling I'm going to love it even more as it gets more and more worn in. BUY IT!
Date published: 2016-04-20
Rated

5

out of

5
by
Hayley
from
Best leather backpack!
This backpack was everything I wanted it to be and more. It's big without being bulky- goes deep and can fit everything you need. Quality leather without selling your arms and legs- It will just get better and wear to perfection the more you use it. Literally perfect. All I did was spray it with a waterproofing spray to protect it! Everyone should have this backpack!
Date published: 2017-07-23
Rated

5

out of

5
by
heathermd
from
Beautiful and practical
I had this backpack on my wishlist for a couple of years before I finally took the plunge and bought it. I got it in the tan color and it's absolutely beautiful. I can pull the drawstring closure really tight, which is something I was worried about, and I can fit EVERYTHING in there, without it feeling like I'm carrying 50 pounds on my back. The only thing that mildly concerns me are the straps that go over your shoulders. I have mine sized down to the smallest hole there is, and there's still a bit of a gap between my back and the back pack; I'd prefer it if the backpack were more up against my back. But, all I'll need is a leather hole puncher to punch new holes in and I'm good. Easy fix. Definitely worth the purchase though, I highly recommend it.
Date published: 2017-02-20
Rated

5

out of

5
by
Kgonz
from
Great backpack!
I bought this to use as a "personal item" when traveling internationaly by plane. With the cost of checking baggage we all need to carry on more than we would like...this backpack will work just fine. It is made of soft quality leather. It isn't huge, but I wouldn't be able to carry a larger one....I'm flying, not walking the Appalachian trail. I am very pleased with my purchase and plan to use it for travel for many years to come.
Date published: 2016-12-21
Rated

5

out of

5
by
BAC1
from
30 years old or 60 years old..timeless and practical style
This is the second time that I have bought this rucksack. Both were gifts. One was for a 30 year old and the other a 60 year old who said that she wanted one for herself. Both use it all of the time. Both love the style. Solidly constructed, very useful and style works for them both. LOVE IT!
Date published: 2016-09-06
Rated

5

out of

5
by
LMB1984
from
Worth it!
Purchased this in black last fall. I travel quite a bit and I have used this dozens of times now as a carry-on or overnight bag. Also perfect for shopping while traveling, large enough to hold souvenirs and keeps your hands free!! Easily fits laptop, travel pillow, sweatshirt, reading material and more- never had a problem with clasp or straps and I have tested this guy to the limits!
Date published: 2016-07-19
Rated

5

out of

5
by
LuxCat
from
You're Perfect, I Love You
I lusted after this bag since I first saw it and have finally made it mine! I have the camel/cognac color (that nearly all of my leather goods are in) and it's wearing in nicely one month in - though I'm curious how it will fare over the summer in the sun and humidity. So far it is everything I expected: roomy, durable, comfortable and beautiful. Somehow it's ruined purses for me, I feel ridiculous slinging a bag over one shoulder but the backpack feels fresh and chic. I'm so glad I finally invested in it, if you're not sure if you should too - I'd recommend a hundred times YES.
Date published: 2016-02-24
Rated

5

out of

5
by
NYCdenim
from
Perfect work commute backpack
This bag fits my laptop, notebook pencil case (yes I am 30 with a small case for pend and maekup etc.) all with room for headphones and a few extra items each day! It's cute and easily moves from work to evening.
Date published: 2017-07-11
Rated

5

out of

5
by
tll5087
from
Great Work Bag
Really love the quality of this bag. Feels durable, but is also light. Definitely a great option for someone who wants to avoid back pain. Fits my macbook air no problem.
Date published: 2018-01-03
Rated

5

out of

5
by
tomebsmith
from
Excellent quality
Solid construction, very practical, superior leather quality.
Date published: 2018-01-02
Rated

5

out of

5
by
Sue35
from
Very stylish and a perfect size.
I purchased this bag as a gift. She absolutely loves it!
Date published: 2017-12-30
Rated

5

out of

5
by
Mufasa
from
Perfection!
Placed the order , got a confirmation, and the order arrived even sooner than the window I was given. Product looks and feels very well made ( no pun intended) haha Cut and dry. Can't ask for anything more.
Date published: 2017-12-29
Rated

5

out of

5
by
Nafu
from
Great look
This was a Christmas gift, and our daughter loved the rucksack!
Date published: 2017-12-20
Rated

5

out of

5
by
bh12
from
Beautiful autumn piece
My Madewell rucksack is so beautiful. The finishing is exotic! I travelled as soon as i received it. The bag is much bigger than I thought and i was able to fit in a pair of stack heeled sandals among a lot of other items ( jeans, my tablet, phone, make up bag etc )Also got a lot of compliments at the airport. I feel so good!!
Date published: 2017-11-07
Rated

5

out of

5
by
Jeannie
from
Exceeded all expectations
Ive been searching for THE backpack for 2 yrs! Finally found it in this buttery leather, sturdy, stylish classic bag. Holds a ton, easy to live with, useful. Excellent purchase that will last for years, very well constructed. Love it!
Date published: 2017-10-26
Rated

5

out of

5
by
Floratos
from
Beautiful!
My daughter n Law loves this bag, she has wanted it for a while now, the only negative is that I asked for it to be gift wrapped and was told it couldn't be...I was more than willing to pay for it, but NO! I didn't like that, since she lives in another state, she got the bag early, so wrapping would have been great! I will not sent for a gift again since you can't seem to gift wrap a small item...not good customer service in my opinion!
Date published: 2017-09-29
Rated

5

out of

5
by
DJ64
from
Amazing!
This is a beautiful backpack. The leather is very good and it was an amazing value. I bought this for my new college student and she LOVES it!
Date published: 2017-08-19
Rated

5

out of

5
by
nonane
from
The best day back ever!
This bag looks so elegant and works so well that it is the only backpack I will ever want. I love everything about it from the looks to the comfort to the idea that it will only improve over time as the leather mellows. Great product at a good price.
Date published: 2017-07-25
Rated

5

out of

5
by
JojoNyc
from
The one!!!
I've been looking for the perfect backpack for everyday use and travel. While looking for a satchel online I discovered this wonder and feel in love. It's even more beautiful than the picture. The saddle is a rich color and the leather is soft, easy to break in. This backpack is well worth the price. You won't be disappointed!
Date published: 2017-07-03
Rated

5

out of

5
by
Michelle
from
Hands free solution!
I don't consider myself a "trendy" person, but when backpacks became a purse-trend this past spring, I started to shop a bit. I was looking for something classic, that would not only be functional, but stylish too. This bag was a perfect fit! I chose the saddle color and know it will only get more beautiful and unique looking as it ages. I have a toddler, and can carry all his treasures, and mine, as well, hands free! Great craftsmanship and leather quality...I'm sure this will be a bag I reach for, for years to come...
Date published: 2017-06-30
Rated

5

out of

5
by
TamiS
from
Love the soft leather!
I had been coveting this bag ever since I saw a friends daughter with it! I finally gave in and treated myself, and I am so glad that I did! It has lots of room for everything I need (and don't need). The only feature that I would have changed were the closures on the flaps. Sometimes it is difficult to close the flaps without effort. A magnetic snap would have made it a little easier. But overall I am very pleased and can't wait to break it in!
Date published: 2017-03-22
Rated

5

out of

5
by
Carol
from
Finally Got It!
I finally talked myself into buying this bag and I have no regrets! I absolutely love it. At first, the bag, specially straps felt a little stiff but after a few days of use the leather became soft and comfortable, which I guess it's normal with leather. My only concern is the clasp. It works fine, but since it's not a zipper I'm worried over time the leather will stretch and won't hold in place. Other than that, it's a fantastic bag and I recommend it!
Date published: 2017-01-02
Rated

5

out of

5
by
Janna12
from
Beautiful backpack!
Beautiful leather backpack, exactly as pictured. I love the warm camel color.
Date published: 2017-01-01
Rated

5

out of

5
by
Rosh
from
Best Travel Backpack
I love the Bag! Don't think would have found a better backpack for Travel. Fits in all the essentials! And an added cherry to the cake is its surprisingly light weight! Definitely recommend this to everyone looking for a perfect travel rucksack!
Date published: 2016-12-20
Rated

5

out of

5
by
Melly
from
Perfect bag
Great bag. Great quality looks wonderful!!!! Love all pockets
Date published: 2016-12-11
Rated

5

out of

5
by
Madewellshopper
from
So worth the price
This bag is unbelievable. I was hesitant to buy it given the price but decided to because of the other reviews. It is extremely roomy, great pockets, and really high quality leather. Actually better than another Madewell purse I purchased. I just love it.
Date published: 2016-12-04
Rated

5

out of

5
by
SarahShopsMadewell
from
Gorgeous and Timeless
I have been waiting all summer and fall to purchase this beautiful bag and I finally pulled the trigger! It is such great quality and so beautiful! It is timeless and I already know someday I will be passing it down to my (not born yet) children. This is a forever piece. I am so happy with it and am obsessed with my growing Madewell bag collection. I am 5'5'' and it hits at a great height on my lower back/butt depending on how you like to wear it. I haven't had it long so I can't speak to how it will look after a couple years wear but I have a Madewell purse that has been with me to Europe backpacking twice so I think it'll be just fine.
Date published: 2016-11-19
Rated

5

out of

5
by
JaiCJ
from
Great backpack
I bought the saddle brown- leather is very soft and the color is great. Nice and big too, fits my 13" Mac book.
Date published: 2016-11-04
Rated

5

out of

5
by
Yuliya
from
Great backpack
Please bring different colors! Dark brown or cabernet!
Date published: 2016-10-10
Rated

5

out of

5
by
RubyTues
from
Beautiful backpack
I've wanted this backpack forever - I bought it in the black, which seems to be the less popular color. I have two Madewell bags in the brown leather already (that student discount makes me wreckless!!) so I figured I'd change it up. The black is very chic looking in my opinion. It's a classic bag and really does hold so much. I could definitely see the top clasp not working when the bag is filled up but no issues so far carrying books and everyday things. Its so new looking now but I think it'll break in nicely.
Date published: 2016-09-11
Rated

5

out of

5
by
Omolara23
from
Obsessed
I bought this bag in English saddle it's so beautiful! I've received many compliments on it. I'm a 6th grade teacher and my school laptop and papers fit inside perfectly! It's worth the money!!
Date published: 2016-08-14
Rated

5

out of

5
by
Trix619
from
Love.
Love my new backpack. Plenty of room to fit all my junk, including my 40 oz. water bottle. Exactly what I was looking for. Nice, pretty leather I can't wait to break in. I'm 5'9, athletic build and it fits me very comfortably with long enough adjustable straps. Only addition I'd add is a loop/hook to hook my car keychain onto. I tried hooking through the leather drawstring but don't wanna injure the leather with constant wear and tear. I put a carabiner on the drawstring to hook things to.
Date published: 2016-07-08
Rated

5

out of

5
by
CCLM2
from
Best backpack
I've had my eye on the transport rucksack for some time. Due to recent shoulder issues, I needed a bag that was comfortable to carry, while being stylish at the same time. This backpack definitely fills both requirements. It has gorgeous leather, and although the size seemed overwhelming at first (I'd been using small bags), I now think it's the perfect size. It'll be handy in times when I can stuff my jacket, scarf, or whatever else I'm carrying any given day and be hands free. One of my favorite bags purchased from Madewell!
Date published: 2016-07-06
Rated

5

out of

5
by
kowalczuk15
from
Beautiful Piece
I was looking for something to replace my purse that I put my entire life in. After awhile my shoulder starts to hurt so this replacement was perfect! The size is great, I love that it has extra pockets and the straps aren't thin. Its the perfect balance, I receive many compliments whenever I wear it which is everyday since I got it in the mail. Worth every penny.
Date published: 2016-06-15
Rated

5

out of

5
by
sallyandjack
from
Great backback at a great price
The leather is really nice, it's roomy and has just enough pockets to make finding smaller items easy. It's somewhat heavy (because of the thick leather), and still a little stiff, but it's very comfortable to carry.
Date published: 2015-11-25
Rated

5

out of

5
by
MJ2015
from
Perfect bag for work
I needed a backpack to transport my 13" laptop, notebook, glasses, chargers and other items every day to and from work. It fits everything perfectly, and I get compliments on it regularly! I was worried that the stud and tie closures wouldn't be able to hold the weight, but I've had no issues. I love this bag!
Date published: 2015-09-25
Rated

5

out of

5
by
livperez
from
Ultra trendy for the city and the trails
I love this backpack! I wear it in New York all the time, it breaks in very well and holds all my stuff (13" laptop, DSLR camera). I also brought it hiking and t the leather held up great. I appreciate the lining on the inside of the bag and the internal pocket is great for zipping up valuables. Caveat: there's a gap between my lower back and the pack, but it's still comfortable. It's a large bag and fits a lot!
Date published: 2015-09-04
Rated

5

out of

5
by
eclairbloo
from
Mansikka
Cabernet is gorgeous. I would have gone for the tan/brown but the cabernet is different in its deep burgundy tone. I was hesitant in purchasing the backpack due to the other reviews. Many had mentioned it wasn't as great as the previous model or comfortable to wear. After receiving it, I didn't take the tags off but tried the backpack for a few days. I was worried the leather would make the bag too heavy. OH I LOVE THIS BACKPACK. I hope this bag lasts me decades!!!!!!
Date published: 2015-09-03
Rated

5

out of

5
by
Heids
from
So glad I finally took the plunge
Having eyed this backpack for years, I told myself the next time it was on sale, to go for it. So glad I did. I did look it over in store first and was impressed by the detail; fully lined, inside zip pocket and the extra outside pocket is so handy for quick items like phone and keys. The large capacity will lend itself to so many uses. And the color of the leather was nice to see in store first also.
Date published: 2015-09-02
Rated

5

out of

5
by
gu87
from
Perfect Day Bag
Great to run around the city in all day. Love the pockets and space inside, great function and extremely cute. I can't wait to travel with this next week!
Date published: 2015-09-02
Rated

4

out of

5
by
HandSantizersAndWipes
from
The leather transfers color...
I'm a mom to 3 little humans. This backpack is a great "mom" bag.The quality of the leather is fantastic. I did purchase this backpack even though some of the reviews criticized the closure. And though I have to agree (magnetic snaps or a zipper would have been better)the button closure isn't terrible. I secure the drawstrings pretty tightly so that I feel the contents inside are secure. And the left shoulder strap, not sure why it's only unilateral, seems to dig into my underarm when wearing for an extended time. But it's not horrible.Overall, the backpack allows me to carry all the staples of mommyhood and not feel like a slob while running around. The inconveniences are a small price to pay for the roomy interior, quality leather and gorgeous appearance. BUT: the very 1st day I wore it out, the leather transferred unto white shirt. I walked around with brown pit and back stains. Not a good look, especially on Mother's Day. But, I was able to work the stains out with vigorous effort.
Date published: 2017-05-29
Rated

4

out of

5
by
susie49
from
Great everyday bag!
I just got the bag in the english saddle color and I am loving it. I was worried that it would be to small to hold all of my items- specifically my 15" laptop, but surprisingly it holds everything i need for daily life. I'm a college student so nearly everything I own has to fit in the bag 5 days a week. The only small issues I have are the small gap between the bag and my back that a lot of other people have mentioned and the color being slightly duller than in the photo, but I suppose that's to be expected. Overall, really cute bag that I plan on using for everyday life.
Date published: 2017-01-11
Rated

4

out of

5
by
zoe203
from
beautiful and versatile
I had been eying this backpack for a while but was always discouraged by the price (though I know this is one of the more economical leather backpacks out there). Finally, with the encouragement of a pre-black Friday sale, I decided to go for it. So far, I am glad I did. It is both classy and utilitarian. This is the kind of backpack that looks at home in a nice restaurant as well as being practical for travel, school or work. My laptop (with a 12 inch screen diagonal) fits comfortably in the backpack with a lot of room to spare. The main compartment has one zippered pocket against the back that is fairly deep and two smaller "phone" sized pockets on the front. The pocket on the outside of the backpack simply closes with the metal stud (no zipper). Because this pocket opens so easily, I am hesitant to put my wallet or phone in there and it can be cumbersome always opening the main compartment to get to those items. For me, this is the greatest limitation of this backpack.
Date published: 2017-01-07
Rated

4

out of

5
by
meldressedblog
from
Beautiful backpack
I had been contemplating this baby for a while and finally decided to take the plunge going into my sophomore year of college. Absolutely no regrets! I have always loved Madewell and found the quality to be unparalleled and this rucksack is no exception. The leather just gets more soft and buttery with use and it is the perfect size for my laptop and schoolbooks. My only complaint is that the metal fastenings are a bit difficult to fit through the holes in the leather at times - a minor design flaw that makes it somewhat difficult to close the pack in a hurry, but does make me feel secure knowing that it wouldn't be easy for a potential thief to open the rucksack on the sly. If you need a carry-all that really carries it all and looks beautiful while doing it and are contemplating whether or not to splurge on this bag, definitely go for it!
Date published: 2016-09-07
Rated

4

out of

5
by
kk2394
from
Beautiful, but students be aware
I've only had this bag a few hours, so I suppose my opinion is subject to change, but I LOVE it so far. The leather is beautiful and it seems to be very well made. However, as a heads up for any students out there, this bag BARELY fits my 13" Macbook Air. The overall capacity is large, and I can fit lots of other things inside, but my computer pokes out a bit from the drawstring top. Otherwise I am very happy with my purchase at this point.
Date published: 2016-08-24
Rated

4

out of

5
by
Fermunizagap
from
Great bag!
Great bag! I love it, can carry lots of things and it is comfortable. The only thing is that the leather could be a little bit softer. Also closing strap, although I have no problems with it right now, it makes me think that it will get loose with time and won't work anymore.
Date published: 2016-08-09
Rated

4

out of

5
by
nicolep23
from
Good bag
Customer service was great on my order and gave me the discount promo on this item even though it was excluded. The leather on this bag is great quality, color is gorgeous. I really wanted to love the bag, but ultimately I ended up returning it. This was because it was a little too big for what I wanted to use it for, I couldn't come up with enough stuff to put in it. Secondly, I didn't like how unstructured the bag was. It looked great when it was stuffed with tissue paper, but once I put items in it that had weight it sagged and created a gap between my back and the bag. Also it was hard to close. If you don't mind how soft it is and want something on the bigger side, I definitely recommend. Just not for me.
Date published: 2016-04-27
Rated

4

out of

5
by
lopez310
from
go for it
been eyeing this for a while now, and i finally got. i know its a bit pricey but i don't regret the purchase at all; i love this backpack. i purchased it to use for school; i was using the transport tote, which i also love, but all the things i was carrying got too heavy to carry on one shoulder. there is an inside zipper pocket, and two smaller pockets that can fit your phone, keys, and smaller objects. the inside is lined, and the straps are adjustable.it is stiff at first but after some wears it starts to soften. i purchased the black mainly because if it rains and gets wet i didn't want to see the rain spots on it like i know i would in the brown. i know others complain about how it fits on the back, or how it gaps, but i didn't find that. i do wish that there was a way to wear it higher up on my back, not a big deal it doesn't sit too low. if you're thinking about getting it just go for it.
Date published: 2015-11-22
Rated

4

out of

5
by
londonpeach
from
Great bag, poor clasp
Let's start with the good stuff. It's gorgeous (I get compliments all the time), a generous capacity, comfortable and has just the right amount of pockets to keep me organised. I LOVE this bag But sadly, after 5 months of using it every weekday, the hole on the strap of leather used to secure the top flap over the main compartment will no longer hold because the leather has stretched too much. I feared this would happen, but just hoped it would be at least a year before it did. Despite this, I haven't given it a lower rating because I still use it every day for work. The draw string closure does keep my belongings secure and the inside zip pocket is large and deep enough for me to put in my short wallet, keys and phone. So even if things did fall out of the main compartment, my most valuable items are still secure. Therefore, all in all, I would still recommend this rucksack.
Date published: 2016-06-04
Rated

4

out of

5
by
MarchGirl73
from
Transport Rucksack
I loved this bag so much but mine came apart in less than a month of carrying it back & forth to the office. I don't think anything was too heavy but perhaps made for lighter loads. Gorgeous bag overall, roomy, beautiful leather. Madewell credited me the full amount (loved the free return shipping) which I promptly spent on another beautiful bag! Didn't work for me, but I'd still recommend-it's gorgeous.
Date published: 2017-12-12
Rated

4

out of

5
by
bernicenhl
from
Good for everyday use!
I got the English saddle one for my birthday and I loved it! It has a large carrying capacity and perfect for day trips. What I don't like about this bag is the collar stud closure. The collar falls off easily and keeping the bag open. other than that everything's great!!!
Date published: 2017-02-07
Rated

4

out of

5
by
Ldoc
from
Stunning, fantastic quality backpack, highly recommend
I bought this bag at my local Madewell shop after eyeing it for sometime. I absolutely love it! I got it in the "english saddle" color. Its roomy, great quality, comfortable, and definitely worth the splurge. I'm looking forward to using this for my college classes, as a purse, really for anything. Very stylish and comfy. Just pricey is the only downfall!
Date published: 2016-07-13
Rated

4

out of

5
by
ColumbusKelly
from
Stylish & Practical
This backpack is made with high quality leather and stitching. It can fit a lot and the front pocket is convenient. The leather straps are not the most comfortable, and the design makes them slip off my shoulders while I walk to and from work. I hope a future version of this contains a stiffer back wall so the bottom of the bag doesn't fold up onto your back, creating the awkward gap many other customers reference. Despite these frustrations, the backpack looks really stylish and professional while holding what I need it too, and I think it will last a long time.
Date published: 2016-06-14
Rated

4

out of

5
by
anadl
from
Beautiful as it ages
I find the bag so beautiful as new but when it wears out it seems to be more beautifu ever. I have the one in english saddle and it looks so great on photos like I don't know- alongside that, it compliments so well on my skin (I'm fair but I think it also works with tan people). I get a lot of compliments on it! I really hope it lasts! <3
Date published: 2016-01-08
Rated

4

out of

5
by
Wendylovebarca
from
Love this bag!
I use it as my school bag every day. It's sturdy and large enough for books. Definitely love the appearance and quality! The only thing I don't like is it's inconvenient to open.
Date published: 2015-12-17
Rated

4

out of

5
by
LookingGood
from
Great quality!
Beautifully made backpack, it seems as though the leather will wear well. The size is just right and the color is gorgeous. Happy with this purchase!
Date published: 2015-09-29
Rated

4

out of

5
by
jessini86
from
Beautiful bag...
the color, the shape, the size. It does sit weird on the back but its not uncomfortable just weird. One thing though after my first wear (I've had it for about 3 months) the thread on the bottom right strap that is connected to the bag came loose. The bag still performs through my weekly activities but I am worried that it might snap. Overall my favorite, go-to bag.
Date published: 2015-09-17
Rated

4

out of

5
by
emcowja
from
Fashionable and functional
Purchased this leather backpack and so far it has served me so well. It is sturdy and big enough to be a day to day bag, and it has garnered me compliments wherever I've gone. Sometimes I worry about the weight I'm carrying in the pack, and whether the straps are pulling too much. Hoping they will hold up as I put the bag to the true test - it will be my day pack on my upcoming ten day overseas adventure.
Date published: 2015-06-05
Rated

4

out of

5
by
DevonFromLA
from
Breaks in beautifully
During the first couple wears this bag does fit a little funky. However, after making this backpack my main bag it has worn in beautifully. The back gap is still there but the bag sits on my back & shoulders comfortably. Not to mention I get compliments on it all the time. If you decide to purchase, take the time to break in the leather; you won't regret it!
Date published: 2015-04-12
Rated

4

out of

5
by
kcampbel24
from
It takes time
I was kicking myself for not getting the earlier version when I read the other reviews since I decided to take the plunge and purchase this after coveting this beautiful backpack for months. I went to the store to see what others meant by "awkward shape." While it was true since there IS a weird gap between the backpack and my back regardless of how I wear it, I came home with it because it was too beautiful to resist. After I took out the papers inside and started wearing this on a regular basis, the backpack changed its shape a little bit and now I know how to wear this comfortably. I carry my Macbook pro 13', water bottle, pencil case, and other things in it everyday. Also, I love the front pocket as well as small compartments inside the bag. I'd definitely recommend this bag, but be aware that it takes some time to get used to wearing this comfortably.
Date published: 2015-03-08
Rated

4

out of

5
by
honey31
from
I see what the others mean but...
I bought this rucksack with the expectation of very good quality leather, and that is exactly what I got, it is a fantastic quality bag which I can see me getting loads of use out of. I do understand what other people are saying about the odd straps but if I'm completely honest, I bought this bag to wear slung over one shoulder for a casual look, I didn't want this bag hugging my back completely. The bag is slightly oversized, yes, but once the leather is worn in more it won't be so 'intrusive' so to speak. Anyone that has previously owned good quality leather items know that leather only gets better with age and less 'stiff' and 'ridged'. This bag will become more relaxed overtime, therefore easier and more comfortable to wear.
Date published: 2015-02-09
Rated

3

out of

5
by
PeggS
from
DOESN'T STAY CLOSED
I have been eyeing this bag for a long time. I purchased it to use on a vacation. I thought it would be great to have hands free to pull my suitcase. Instead I had to worry about loosing something since the clasp would not stay closed. I really wanted to Love this bag. Dissappointed
Date published: 2017-05-04
Rated

3

out of

5
by
MadewellMaven
from
Beautiful but....
Like all of Madewell's leather goods, this backpack is gorgeous. The style is simplistic and beautiful, the color is rich, the leather is buttery. The backpack is very roomy--perfect for a stylish student/commuter/adventurer etc. This being said however, it simply did not fit my frame. I am pretty petite (ahem! short), a measly 5'2, and was so sad to see that this backpack hit me in all the wrong places. I had a BIG problem with gaping--the backpack would not rest on my back. I cinched the straps up/down, nothing worked. Oddly, the base/bottom of the backpack continued to sit square on my lower back and have a giant gap to my shoulders. It felt weird, looked cray cray, and I could only imagine that if carried like this for a long time, would cause strain on my shoulders/back. I was SO sad to return this backpack and am fiercely jealous of all the other reviewers that had a happy ending with it. But try it! It's a beautiful bag and you may be one of the lucky ones!
Date published: 2016-08-19
Rated

3

out of

5
by
jdubbyya
from
turned my hands and clothes black!
Just received the black rucksack in the mail, after waiting months for it to be back in stock. been looking for a nice black leather backpack for awhile. i love madewell products! however, within 10 minutes of trying on and moving my wallet and books to the new backpack, i noticed my hands had stained black. i realized the black stains were coming from the new leather backpack! and since i was wearing the backpack, the straps had also stained my white shirt. i'm not used to good quality leather bleeding so much like this, or was this the polish they used that had not been properly wiped off before polybagging at the manufacturer? i really love the size and style of the backpack but not sure if i will keep because of the staining.
Date published: 2016-06-20
Rated

3

out of

5
by
vithuy5
from
Ripped
I'm so sad! I got this as a gift and after two months of using it my strap ripped. I wasn't carrying much so im surprised.
Date published: 2018-01-09
Rated

3

out of

5
by
Tacoma
from
Stylish
Classic look and very functional. Great for traveling, school, and around town.
Date published: 2015-09-08
Rated

3

out of

5
by
chrissy25
from
Pretty Backpack
This bag is absolutely gorgeous, but it falls a bit awkwardly on the body. Its not that big of an issue for me but I can see it being uncomfortable for others
Date published: 2015-09-03
Rated

2

out of

5
by
LP1984
from
Strap broke
I had this backpack in tan for less than a year and the strap broke. Was always careful not to overload it (I have a separate laptop bag) so really disappointed.
Date published: 2017-03-13
Rated

2

out of

5
by
LAnneC
from
Great Aesthetically, Questionable Quality
I've had this bag for a few months and the stitching is coming out of the strap, which shouldn't be happening at all, let alone within a few months of getting the bag. I don't even use it every day. It was a gift, and unfortunately I've been told that they can't exchange it without a receipt because they don't know how long I've had it. Does it matter? It shouldn't be falling apart regardless of if I've had it 2 months or 2 years. I would expect it to last longer than that. Very disappointed.
Date published: 2016-07-05
Rated

2

out of

5
by
cheto
from
I tried on in person and decided against
I went to try this on in store to see if the gaping was really as some reviewers had said. Unfortunately, it is. And I don't understand how it made it into production with such a design flaw. I think it may be the straps are attached too low on the bag, so this problem may even increase as the leather breaks in and naturally sags a bit and I also don't see any economical way to fix it with a tailor or leather repair shop. I wish I had taken a photo. Madewell, please refine this style...it's hard to find and almost perfect.
Date published: 2015-07-18
Rated

2

out of

5
by
jcrewmadewellluvr
from
Change the locations of the straps.
i think they need to take a page from the lormier backpack. because i think the reason why it fits weird is because the backpack straps are too close to the center.if the put the back pack straps to where the handle straps are then the wide between the person's back and backpack would go away.
Date published: 2015-03-19
Rated

2

out of

5
by
putputput
from
Not Functional
The straps are not strong or comfortable enough to hold a heavy book. It does look good on me though.
Date published: 2017-06-20
Rated

2

out of

5
by
miawell
from
Not as expected.. Please bring back the old version.
The new updated version of this bag is truly a downgrade! I'm very disappointed with the look, feel, and quality of the new bag. Please bring back the previous version.
Date published: 2015-09-26
Rated

2

out of

5
by
CaraStan
from
The version from 2014 was MUCH better
I purchased this bag in the spring of 2014 and absolutely love it! It had sold out in most stores but I lucked up and found it while on vacation. I use it as my daily work bag and for travel; I get tons of compliments everywhere I go. When the new version came out this year I was going to buy another one for future use, but the quality and design isn't the same. I love this bag and hope that Madewell brings back the original design...the new version looks and feels like a bad knock off.
Date published: 2015-06-22
Rated

2

out of

5
by
ksong
from
Beautiful backpack but..
This is a beautiful backpack. I have been eyeing this backpack for months before I finally took the plunge and bought it. I agree with other reviews about the awkward fit but that doesn't bother me that much. You'll feel the awkward fit if the backpack is heavy. What bothers me is how fast the leather stretches! I have moved up three notches with this backpack within two-three months. I might have to start adding my own holes to this backpack. I have three other Madewell purses and I can confirm they have all stretched out as well. I feel like after many uses, the leather starts looking cheap. For the price you pay for these bags, I think you can find a better one elsewhere.
Date published: 2015-04-24
Rated

2

out of

5
by
Lindzy0889
from
Broke after a month!
I absolutely love this backpack! Unfortunately, I went to pick the bag up (which only had my wallet, a paperback book, and a pair of flats in it) and the stitching from the strap where is was attached to the bottom of the bag broke! I'm afraid to carry it in fear that the entire strap will break off. Not what I expect from a backpack at this price. I'm so disappointed. This was my favorite bag for work.
Date published: 2015-03-13
Rated

1

out of

5
by
looloobell
from
"Made-bad" rucksack :(
This bag has been such a disappointment. I usually have pretty decent luck with Madewell products. I have the Transport Tote, which has held up beautifully for almost 3 years, and it my everyday bag. I've had this backpack for less than a year (it's not even close to a weekly wear bag, I can count the times I've used it.) The tabs are cheap and don't fasten properly because of poor craftsmanship, the "soft sturdy" leather is actually just thin pieces of leather glued together, which start to fray, peel, and tare, not ideal for tab fasteners. The top handle literally just popped off on one side, when I went to pick it up (so now, for this bag to be functional and wearable, I'm going to have to take it out for repairs). There are so many great leather bags out there, and this one is not worth it at all.
Date published: 2015-11-14
Rated

1

out of

5
by
HollyC
from
Disappointing
The backpack is enormous and has an odd fit. The snap enclosure is terrible making it very difficult to close quickly and efficiently. Very disappointed since I waited over a month for this back ordered item.
Date published: 2015-02-06
Rated

1

out of

5
by
mugsy
from
WHAT HAPPENED?!
This is such a gorgeous looking backpack, which is surprisingly hard to find. However, the fit is the strangest thing in the world: perhaps because of odd adjusting notches, on the very top of the bag there is always a sizable gap between your back and the actual leather of the backpack, no matter how you adjust. It just kind of hangs there. Not only does this look totally bizarre, but it feels awfully uncomfortable. WHAT HAPPENED? Such a shame, have to send back. Hopefully they get it together and revamp the design, because it really would be perfect then.
Date published: 2015-02-01
Rated

1

out of

5
by
Christine
from
Strap broke after one week!!
I keep a laptop and gym clothes in this bag. It broke after a WEEK of use. The bag looks and feels nice, but it's cheaply constructed. Madewell wanted me to jump through a bunch of hoops for them to issue a refund, including an inspection for defectiveness. It broke after a week, Madewell - the bag is defective! Poor quality bag and terrible return policy. Don't bother. Plus the pack gaps uncomfortably on your back.
Date published: 2016-12-08
Rated

1

out of

5
by
Korinne
from
Bring the Earlier Version Back!
The earlier version of this backpack felt more comfortable and looked better. I wish I bought the first one when it was out! Now I regret it
Date published: 2015-08-16
Rated

1

out of

5
by
CH77
from
Bring back the old version!!!
It was so much better looking. So disappointed in this one.
Date published: 2015-04-10