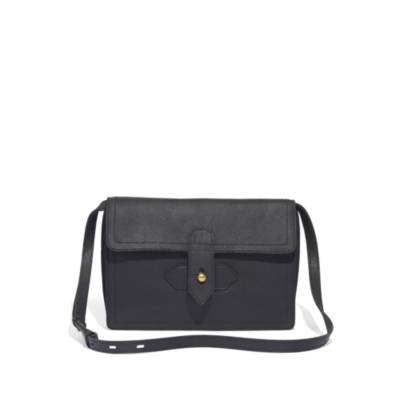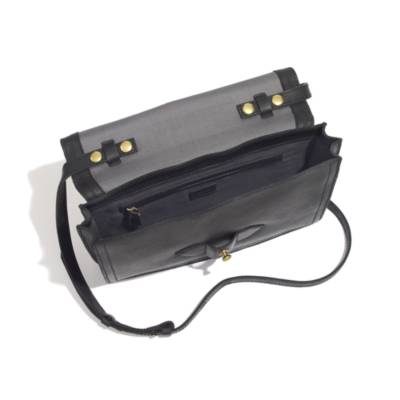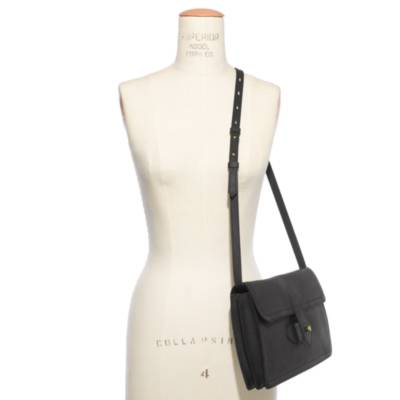 Product Details
Just call this bag a game changer. Nicely sized for all your essentials (it's big enough to hold a notebook or an e-reader), it's still compact enough to carry as a clutch when you remove the clever snap-in, snap-out shoulder strap. Crafted in supple pebbled leather, it features our signature collar stud details.
Leather.
Tab closure.
Interior zip pocket.
Adjustable shoulder strap fully extends to 17 3/4".
7"H x 10 1/4"W x 1 1/4"D.
Import.
The Sketchbook Bag
is rated out of
5
by
17
.
Rated

3

out of

5
by
GiMo
from
Adorable but the strap kills me
This bag is a great size. However it has one massive flaw (at least for me) the strap snaps to the bag and is constantly snapping on me! I'm terrified this bag (and my phone,kindle and metro card) are going to fall into a nasty Manhattan puddle at any moment. I understand the snaps are for clutch conversion but the design makes it a much better clutch than a bag. Not recommended for commutes or long hauls. I wish I had thought about that before I bought it because I really love the look.
Date published: 2013-12-14
Rated

2

out of

5
by
ADisappointingPurchase
from
One small, but very problematic design flaw
Quite disappointed with the construction of the bag. Something this pricey should be designed with consideration for practical use. The strap snaps to the top flap of the bag, causing it to pucker and pull awkwardly. It's a terrible design flaw and one that compromises the entire bag itself. The snaps get loose and could very easily come undone, causing the body of the bag to fall from its straps...the very thing you don't want in a bag containing your important belongings.
Date published: 2013-12-31
Rated

2

out of

5
by
Christina73
from
Cute bag, but the "cons" outweigh the "pros"
This bag is really cute, no doubt, but mine's going back... I don't carry a ridiculous amount of things with me, but my stuff (wallet, phone, keys, glasses) felt really crammed in this bag, & I had a hard time getting it closed. The inside zipper pocket doesn't hold much, so that didn't really help. I liked the length of the strap (I'm 5'8", & it sat right at my hip), but it would be too short for me to wear cross-body. It's a great feature to be able to remove the strap & use it as a clutch, but my biggest complaint is the way the strap snaps on & off. When the bag was on my shoulder & open, the snaps came undone...every time...which means I'd have to hold the bottom of the bag any time I needed to get in to it. Bummer, but I'll be exchanging for the Kensington satchel instead.
Date published: 2013-12-29
Rated

1

out of

5
by
NatureNoir
from
So cute but flawed design
This purse is so cute and aesthetically it's exactly what I have been looking for, nice leather, not too big, with minimalist details. After wearing the purse once or twice I noticed there was an issue with how the straps snap in - they snap underneath the top flap of the purse so if you have anything with any weight in your bag the weight pulls the bag down but the straps pull the flap up on the edges. This also caused a small tear in the latch of the purse. I certainly wasn't carrying bricks around in it either, just my wallet, keys, and phone. If the straps hooked into the body of the purse rather than the flap this would have been perfect but I decided to trade it out for the Mini Transport Crossbody. It's too bad because I love how it looked!
Date published: 2014-02-04
Rated

5

out of

5
by
AmandaJane
from
Amazing, perfect little bag.
I've been looking for a simple, cool, perfect little bag for such a long time, and now I've found it! I actually purchased two one in each color. Perfect size. Has the feel and look of outstanding quality and is just so basic and great. Love love love!
Date published: 2014-01-17
Rated

5

out of

5
by
Greta
from
Great size
I love the feel of the leather and how simple this bag is. It's the perfect size to hold a moleskin size notebook, a paperback, my wallet and phone. It doesn't have any extra bulk on it which keeps it light weight and clean for a leather purse. One of the other reviewers felt it was too small to wear as a cross body. I am petite and 5'3". It fits me really well as a cross body. It might come a little higher worn that way then some people would prefer, but I like where it hits me - right across the hip and natural waist.
Date published: 2014-01-06
Rated

5

out of

5
by
Berta
from
All Time Favorite
My mom purchased this bag for me as a Christmas gift this year. I sure do feel lucky! Let me tell you, going out is much more of a treat when I know I can easily pack my current book along with my Moleskine without my bag feeling/looking too bulky. While being able to hold key materials for the day, it also flows so well with my clothing. I love the minimalist, almost Parisian vibe of this delightful bag. I feel that the price for this book is ideal and quite inexpensive especially for any bookworm or artist who has trouble finding "the bag". I love the smell of this purse (which is definitely an indicator of the high-quality leather used). I have received so many compliments in the little time I've owned this beauty. Though it has been such a short time, I have a sense that this bag will come along with me on many adventures for many years Thanks Madewell!
Date published: 2014-01-03
Rated

5

out of

5
by
Mymy
from
Great Simple Small Bag
I got this bag for Christmas and absolutely love it. Unlike other reviewers I actually love the length of the strap. I'm 5 ft tall, and as such most cross body bags I cannot actually reach into while wearing. This one I can. I can also wear it on one shoulder with no problems. The leather is really thick and feels great. The snap closure is a little iffy at times but once its on it seems to stay, on mine. Overall I love this little bag. Its so clean and simple, love it!
Date published: 2013-12-26
Rated

5

out of

5
by
LuluG
from
Perfect size!
Love the pebbled leather and the size! It's perfect for my every day necessities. The only thing is I wished it had a zipper pocket on the outside. Other than that, I love it!
Date published: 2013-12-09
Rated

5

out of

5
by
Mekina09
from
very cool and fuss free bag
I love the color of this bag-carrot cake. It looks so cool/rugged. It's small, but it really holds quite a bit. My dispatch wallet from MDW, sunglasses, keys, cell and some makeup fits just fine without bulging too much or feeling too heavy. Another thing about this bag I like; it's really light. I'm mostly using it as a clutch, but the strap is the perfect length for me. At 5'5"' it hits right at my hip. I've been getting a lot of compliments on this bag and it goes with everything. Simple and fussy free. Go for it if you're on the fence.
Date published: 2013-12-08