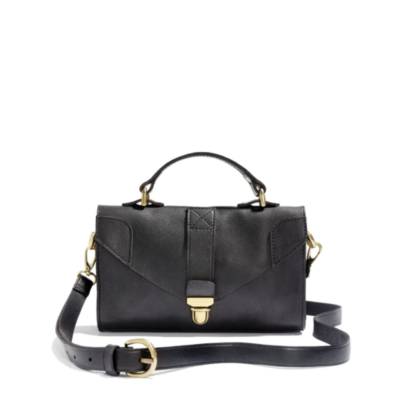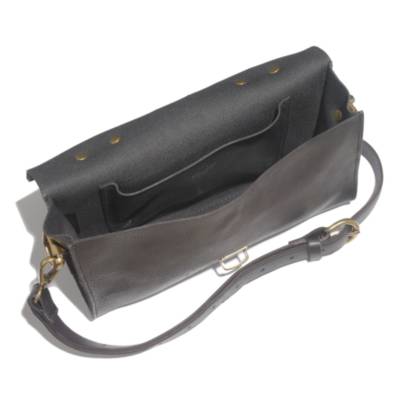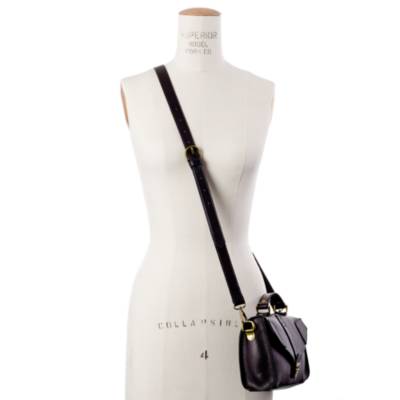 Product Details
Our leather briefcase bag is about a quarter of the size of the original, making it a seriously adorable work-play bag. Bonus: The strap is removable, so you can either sling it or clutch it.
Leather.
Push lock closure.
Interior back wall patch pocket.
Removable shoulder strap.
45" handle drop.
5 1/2"H x 9 1/5"W x 2 1/2"D.
Import.
The Lovelock Minibag
is rated out of
5
by
33
.
Rated

5

out of

5
by
meanypie
from
Adorable and perfect for mini adventures!
Its pretty small and works as an everyday bag, but its adorable and the leather is a good quality. I love it and I'm thrilled I got it!
Date published: 2013-01-10
Rated

5

out of

5
by
Colleen
from
My daughter loves it!
I gave this pocketbook to my daughter who is in college. She loves it!!!!!!!! Thanks for your help in making her Christmas a special one
Date published: 2013-01-09
Rated

4

out of

5
by
Fuji
from
Good bag overall some pitfalls...
Much better value on sale. Don't spring for the full price.Not the quality that price would indicate.Function wise an awesome bag. I use the hand strap just to get the bag off my shoulder or whatever, it's totally convenient. And just the right size. I carry my phone, a one fold wallet, keys, chapstick, hair clip, and a mini set of glasses. I had to think how to fit it all in there but it does. It's the length and the box shape that allow so much inside for such a small design. Due to quality for me it's a "fun" bag. I don't expect it to last but I'm gonna enjoy it while it does. The leather isn't good quality. The front clasp clearly won't last. But I haven't had the clips come undone. I have the sea green color. Raw leather on the back of the strap and the inside's tacky for the price. My big concern is that I think the color is fading already -- that's a problem !! Watch out for water the dye job's not good enough to withstand it without discoloration. I'm going to spray coat mine.
Date published: 2013-07-13
Rated

4

out of

5
by
Becky123
from
Smaller than imagined.
Overall a very nice bag, but a bit smaller than I envisioned. I would suggest you draw the dimensions prior to ordering. Won't fit my wallet (which admittedly is fat)! Will be great for carrying when "hands free" traveling is needed- but I will have to pare down the contents from my usual stuff.
Date published: 2013-08-02
Rated

4

out of

5
by
monicaliz
from
Versatile
When I first saw it on the website, I immediately knew I had to get it. When I bought it online and got it in the mail, I expected the material to be less harsh, but I am glad I bought it. It'll last me forever.
Date published: 2013-06-29
Rated

4

out of

5
by
nan36
from
Great little bag!
I needed a small bag that was cute and functional, and this bag does the trick! It looks great, very neutral and goes with so many outfits, and I can fit my phone, large wallet, and keys. The strap length is perfect to wear as a sling, but like the option that it is removable (although, I can't really see myself ever removing it because it's so convenient), so that you can use it as a clutch. The only thing that I'm worried about is that the leather seems like it marks up easily. The tag also said that the color might fade onto your clothes, so lay off the white/light clothing in the beginning! Otherwise, this is a fantastic bag.
Date published: 2013-05-29
Rated

4

out of

5
by
Kiiiim
from
Perfect until the closure broke
I really liked the look of this bag, how convenient it is in size, and how it matched almost all my outfits. However, the closure of this bag fell apart after about 4-5 months. I was a little disappointed by the quality of this bag considering the price of it. The bag itself is flimsy with no lining inside and the leather gets scratched easily.
Date published: 2013-04-16
Rated

4

out of

5
by
SparkyGirl1012
from
Very Small
I had been eyeing this bag and finally ordered it about 6 months ago. It is a very nice bag but so small! I can't even fit my 3" x 5" LV agenda in it! Some bags are small but because of their shape, not much stuff fits in them (this one). On the otherhand, some small bags have shapes that can fit an unbelievable amount of stuff in them (the Essex Messenger). I kept this anyway thinking maybe there's somewhere I need to go when I don't need my agenda (highly unlikely). I just couldn't part with the beautiful leather on this bag...
Date published: 2013-04-01
Rated

4

out of

5
by
Sa122
from
Good but leather quality is inconsistent
This is a great bag as it really fits a lot in it so it is great for carrying about both day and night. It gets a lot of compliments, and I bought it in both black and tan. I would have given it 5 stars but for the black bag I received, a large section of the leather at the front is smooth and not the pebbled leather that you see in the photo. Unfortunately this is at the front of the bag so it is quite noticeable! I am an international customer (had this forwarded from a company that lets you shop in the US) so it was too expensive to try get an exchange. Perhaps try to buy it in the store if possible so you can inspect it.... The tan bag however was perfect, so there are definitely inconsistencies in quality and appearance!
Date published: 2013-03-14
Rated

4

out of

5
by
Now70
from
Great Bag
I was looking for a nice small bag since I tend to bring many stuffs in a big bag which makes me exhausting after waking around. This bag has great quality as well as other products at Madewell. I love how the design is simple but still cute. I gave 4 stars because I wish the size of the bag was a tiny bit bigger so that I could put a little more stuffs. Also, there wasn't an option to personalize it when I got it. I tried it on another bag I got about the same time, and I love it. You should try it if you are willing to pay for making it more unique!
Date published: 2013-02-15
Rated

4

out of

5
by
love2run808
from
FIts my things perfectly.
I'm able to fit my long wallet, giant cell phone and a set of keys. The underside of the strap is a bit rough, which may damage your clothes. But i don't wear anything too fancy, so it works for me.
Date published: 2013-01-09
Rated

4

out of

5
by
annie738
from
Good but
I really love the look of this bag. it's really nice. pretty small but it can fit quite a bit. the straps do get stuck on the bag though. i'm always concerned that the bag will fall off beause the straps fall off easily
Date published: 2013-01-09
Rated

3

out of

5
by
Erin18
from
Beautiful looking bag
Love how this bag looks, the leather is the perfect colour brown and the texture is great. My one gripe, and it's a big one, is that the leather on the interior of the strap is unfinished and keeps pilling my clothes pretty terribly. Will need to bring it in to a leather specialist to finish the leather properly.
Date published: 2013-06-24
Rated

3

out of

5
by
muohioalum
from
average
The bag is just alright. It looks better on the website than it does in person. In person, it is kind of flimsy. It is also unlined so the inside is just raw leather. I was expecting something a little more substantial.
Date published: 2013-04-18
Rated

3

out of

5
by
AnnaWCinSD
from
Not so worth the "It" bag price
The Lovelock Mini is truly adorable - I got it in Frost which is a seafoam/mint kind of green, and I get lots of complements. I was disappointed, though, in the bag's rugged construction. It doesn't have the soft, supple feel of a leather bag in this price range. The underside of the leather is untreated and rough, so the strap does a number on your bare shoulder or any delicate clothing. The only closure is the clasp on the front, so you have to be careful with smaller loose stuff floating around inside - it falls out easily if the purse is not clasped. And the side hooks are incessantly catching on the lid/flap. Ho-hum, kinda bummed.
Date published: 2013-03-20
Rated

3

out of

5
by
jmc2001
from
Poor quality
The leather on this bag is hard and looks like it will scratch easily. The underside of the strap is unfinished - so it's very rough and looks like it would snag/pull on a delicate sweater or top. Otherwise, it would have been the perfect crossbody bag. I had been eyeing it online for months until I finally saw it in my local store...so disappointed. If you like it for the looks, wait for a sale!
Date published: 2013-03-11
Rated

3

out of

5
by
kembox
from
Great style but poor quality leather
I loved the style of this bag and I thought it was a perfect work + happy hour bag to carry, but on close-up, the leather seemed quite flimsy and a little cheap. I would love to see this same bag with higher quality, more supple leather!
Date published: 2013-02-03
Rated

3

out of

5
by
Rocj32
from
Nice bag but the strap clips are funky
Cute bag and perfect size but where the shoulder strap clips to the bag it keeps getting caught on the purse part instead of the loop and comes unhooked every once and a while. Can be a bit annoying. The aesthetic of the bag is great.
Date published: 2013-01-09
Rated

2

out of

5
by
CaliGirli
from
Wanted to love it, but the clasp is poor quality
I really want to love this bag, and I'm a bit sad that I'll be taking it back again (bought it first in brown and then switched to black)... but both times the clasp has failed me and some of the contents have fallen out. I don't carry much in it - my wallet, phone, keys, and a lip salve - and I'm careful to make sure I hear and see the clasp click securely. However, the clasp pops open too frequently for me to feel safe. For this price, for a bag this size, I would not expect to have to do any DIY to ensure my bag functions as intended.
Date published: 2013-07-24
Rated

2

out of

5
by
Lovecat
from
Great Style, Poor Quality
I love the way this bag looks. But like so much of Madewell's stuff, it simply...isn't. The leather is unfinished on the underside of the strap, the clasp is flimsy, and the leather marks easily. I am willing to pay for a quality bag, and this isn't it. Madewell higher ups- please address the quality of your items!
Date published: 2013-07-04
Rated

2

out of

5
by
lindsays
from
Not impressed
I was not impressed with the quality of leather on this bag. The seams looked like they were glued together. I sent it back because I thought it would wear out way too quickly. Too bad, because I liked the style of the bag. Definitely reluctant to order another bag from Madewell now after seeing the quality of this one.
Date published: 2013-03-17
Rated

2

out of

5
by
Alyssa77
from
Cute but cheaply made
The leather was pretty thin and cheap for a bag this price. It definitely wasn't as supple as the leather in the photo looks. The leather was scuffing, fraying and discoloring at the end of Day One-- and all I did was carry it around my workplace (a university, not a battlefield.) Still haven't decided whether or not I want to send it back. It's cute and perfect in size and style, but it really needs to be higher quality for this price.
Date published: 2013-02-16
Rated

1

out of

5
by
HMABS
from
Not worth the price
I used this bag for about 4 hours. The metal piece that holds the straps on the bag (where you attach the metal clip to) came apart and the strap fell off. There is no way to fix the bag. The bag is super cute, but I was very disappointed in the poor craftsmanship. I will have to return it
Date published: 2013-04-02