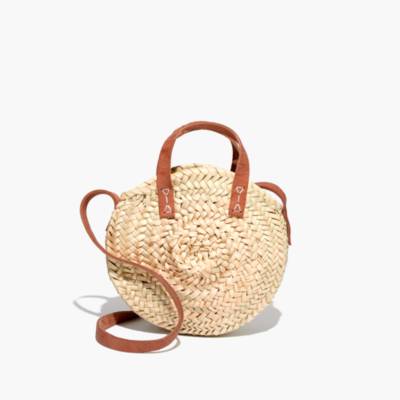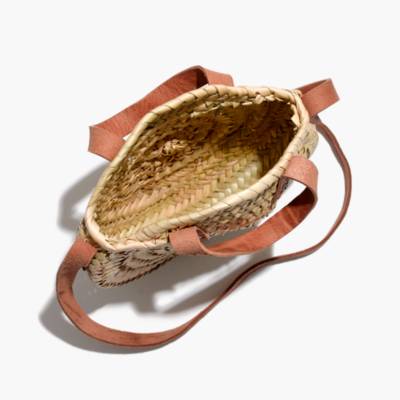 Product Details
Based in Montreal, Indigo&Lavender works with artisans from all over the Mediterranean. This round shoulder bag is handwoven in Marrakech of sustainable palm leaves. The vibe? Very Paris in the '70s.  
Please note: Each bag is handmade, so variations may occur.
Palm leaves, leather.
47 1/2" shoulder strap.
Diameter: 9 1/2".
Import.
Select stores.
Indigo&Lavender™ Small Lucena Shopper Basket
Indigo&Lavender™ Small Lucena Shopper Basket
is rated out of
5
by
8
.
Rated

5

out of

5
by
Elle1023
from
If u love artisan handmade items, this is for you!
I must say I coveeed this bag for a while, and when it first sold out i was sad. When it came back in stock, I was thrilled. The bag is beautiful, it has charm, as is handmade it is unique. I love baskets and this is like a little basket for my own stuff. It had a scent that went away after a day or so. If you like handmade unique items, this is for you. I read other folks reviews and I think that their assessment is unfair. The bag will hold up, the leather straps are nice and sturdy, the length is to my hip it's big enough for phone, wallet and glasses. It's SO UNIQUE, and I will purchase a second one for a friend cause I like it so much!
Date published: 2017-07-02
Rated

5

out of

5
by
Isis28
from
Well built bag
This bag matches well with the larger version. The straps are nice and sturdy. It has room for the essentials. I can fit my sunglasses, keys, wallet, and receipts in it with no problem. Overall great item.
Date published: 2017-06-09
Rated

4

out of

5
by
Shannon
from
Underrated—give it a chance!
I was so bummed when this sold out a few weeks ago, as I hoped to bring it on vacation to Cape Cod. When it came back into stock, I immediately ordered it as well as the large version. I can vouch for some of the prior feedback, but I also think some people are giving it an unfair chance. Yes, the smell is bizarre, but after hanging it up to air out overnight, most of the smell went away by the AM; hopefully it goes away completely soon. The leather straps seem decent quality to me—thick, soft, and pretty consistent color. Yes, there are small wispy bits poking out all over the place, but mine looks just like the diagonal stock photo when you magnify it; the photo doesn't hide the wispies. I assume this is inevitable with a natural material as brittle as palm leaves. Frankly, I would be skeptical if it looked perfect! It's bound to happen eventually, and it adds to the artisan-made charm of it (I appreciate that it wasn't made in China). Overall, I think it's a great summer bag.
Date published: 2017-06-28
Rated

4

out of

5
by
Susie
from
Great looking summer bag
Love the looks of this basket purse and it would have been perfect if the strap was just a few inches longer. Mine measured a few inches shorter than described, which made it not work as a cross-body bag for me. Great quality and very cute bag if you're not using it as a cross-body!
Date published: 2017-07-05
Rated

3

out of

5
by
hurricanekimi
from
Disappointed :(
I was so sad when this sold out the first time and so happy to see it make a return that I ordered it right away. I tried to not get worried as the reviews came pouring in, but the bag I received wasn't what I was expecting. :( It is a great size and the crossbody strap is a great length on my 5'4" self. I also don't really mind the somewhat uneven leather. Unfortunately, even though my bag was packed in a box, it was collapsed inwards... It kind of looks like it was made that way because it seems like it'd take either a ton of effort or be impossible to get the sides of the bag to pop outward as shown in the product photos. I didn't want to scratch my hands every time I reached in to grab something. The palm leaves on mine are also more green than shown in the product photo which really wasn't the look I was hoping for. I'm so sad to return it since it was handmade but it won't work for me.
Date published: 2017-07-02
Rated

2

out of

5
by
ColeN
from
Disappointed
I was really excited to order this bag when it came back into stock. However, when it arrived, I'm pretty disappointed. It came well-packed in two layers of plastic inside a large cardboard box, so it was presumably in good shape when I opened the package, but sharp strands of palm leaf are sticking out from the inside of the bag. It just doesn't look well-made -- the leather is stiff, folded, spotted and stained. The color, too, is more of a greenish than a true creamy beige. I'll be returning it. I ordered both the small and large baskets -- if you have to have one, I suggest the larger one, which looks like it'll hold up much better over time.
Date published: 2017-06-26
Rated

1

out of

5
by
Citygal2003
from
Forget about it
Was excited to have my order in for this bag before it quickly sold out. When it arrived I knew immediately it was going back. Material is stiff and smells like wet hay. Bag has no closure and the wide open gap would not only show what's in your bag but an easy way to lose its contents. Strap not long enough to wear as a crossbody and not way to adjust it's length.
Date published: 2017-06-27
Rated

1

out of

5
by
sammiben777
from
One Word: Junk
This is a complete piece of junk and waste of money. The photos are extremely misleading. It's flat and would never be able to stand up on it's own. The main material of the bag is already coming apart in strands right out of the bag (yes, its was shipped only in a plastic bag inside a paper envelope, completely smashed-maybe it would be in better shape if it was shipped properly in a box). The leather is the absolute lowest quality leather I have ever seen. It's also a dingy brown color, not a bright tan shade. The opening on the bag is small and it would be near impossible to get things in and out without immense effort. This is a complete fail of a handbag as it is already falling apart, is low quality and doesn't even look good from far away. I wouldn't keep this for $5. It's worth nothing. I'm very disappointed in Madewell for even selling this product.
Date published: 2017-06-23