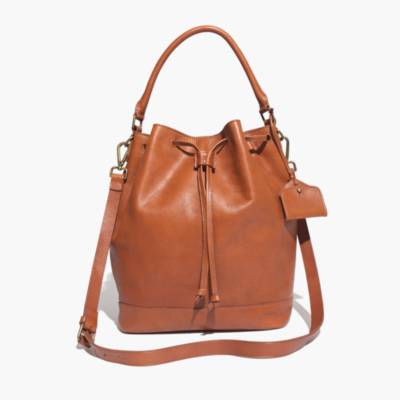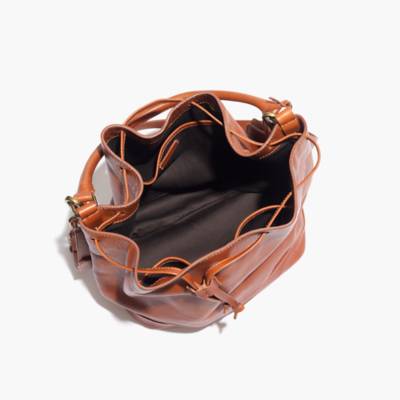 Product Details
Style, meet substance. Streamlined, simple and logo-free, this fresh take on a traditional bucket bag has both a single top strap (perfect for slinging in the crook of your arm) and a crossbody option. Bonus: a cool little luggage tag (complete with our signature collar stud closure).
Made of Italian vegetable-tanned leather that burnishes with wear into a beautiful patina.
Please note: As it is made of a natural material, each bag varies slightly in texture and color.
Drawstring closure.
Interior pocket.
6" handle drop.
13"H x 15"W x 8 7/10"D.
Import.
Madewell.com only. 
The Lafayette Bucket Bag
is rated out of
5
by
29
.
Rated

5

out of

5
by
Alana420
from
Favorite bag! Calling it my "lifetime bag" because I'll have it FOR LYFE.
This bag is perfection. The leather is soft but strong, looks great with everything. I can also fit a 13-inch Macbook pro in it! But it's not too heavy or big to be an everyday purse when not carrying a laptop. It also has 3 inside pouches for quick access to your keys or wallet. I love it!
Date published: 2016-03-02
Rated

5

out of

5
by
Ryan12345
from
Great...I guess
I bought this purse for my girlfriends birthday because I noticed her eyeing it up in the actual store. She seems to love it. I gave it 5 stars on everything only because I'm not sure since I don't use the purse. If I knew better I'd say the length of the strap is too long, she's about 5'4" and has it on its shortest length but it's ok. However the packaging was very poor. When I received it the box was nearly opened and the gift card I ordered with it wasn't there. It could have fallen out, I'm not sure. Luckily she didn't want to return it. Overall she's happy so I'm happy. Thanks!
Date published: 2015-12-22
Rated

5

out of

5
by
Mingo
from
Great product, but the customer service is A+
Ordered this for my wife and am please with the product. Excellent! Definitely made well (no pun intended). I'm more pleased with the customer service. Had some major hiccups with delivery and the way shipping is handled ; being that UPS hands it off to the USPS so tracking is tricky. I can say the customer service made it right again. They are wonderful and top notch...I hope the company treats them well. Anyhow, a big thanks to Addie from customer service...She went above and beyond. Will shop again.
Date published: 2015-12-10
Rated

5

out of

5
by
jamna
from
Love it!
I've been searching for a nice leather bag for a long time and when I found this one I knew it was what I had been looking for. The bag is beautiful, comfortable and fits a lot of stuff, but still doesn't look too big. I would recommend it to anyone who loves brown leather and bucket bags. For those who don't like bags that can't be closed very well, it might not be the right bag to choose though. Anyways, I love it :) !
Date published: 2015-11-23
Rated

5

out of

5
by
morleygirl
from
LOVE
Was looking for a bucket bag that didn't feel super round! This bag is EVERYTHING! It's the perfect size, the top handle is perfect and the soap isn't to thin/tônico! Im alteado haviam só much fun wearing it.
Date published: 2015-09-27
Rated

4

out of

5
by
LCinNapa
from
A Classic
Beautiful color, engaging details, and perfect for several occasions depending on how you utilize the handles. I have a makeup bag, a standard wallet, my cell phone, and several other accessories in this bag at any given time and it can still hold more. The color allows it to go with different outfits since it's so neutral, and I'm excited to see how the color ages since the leather is of great quality. The only downsides are that while there are plenty of organizational pockets, there are no zippered pockets- which can be nice for added security in a what is basically an open top bag.
Date published: 2016-05-20
Rated

4

out of

5
by
amymyoga
from
my it bag
This is my second bag, the first one had to be returned because the stitching was unraveling. This one seems like it will hold up well. The bag is super roomy but not too heavy when filled up with all my things. The leather is good quality and will probably look better with time and use. It is my everyday bag of the moment and it goes with everything I wear.
Date published: 2016-05-20
Rated

4

out of

5
by
cecemcqueen
from
Good
This bag is a great example of the importance of reading reviews, and trusting them. I don't know why I thought my 5"4 frame would defy the "strap is too long" odds, but it didn't and, hey guys, the strap is totally too long for me even on the shortest hole. In my opinion, everything about the bag is just a little too big on me for everyday use, and I would have liked to see it be scaled down a bit. However, you can fit a lot in it and it retains its shape, making it great for traveling. I opted not to get monogramming, but if they did the letters larger I think it would look great and probably be worth the investment. Overall, I am impressed with the quality of the leather, color, and construction, however I don't think I would have paid full price for it. I'll be keeping it, just not without a trip to get the strap shortened first.
Date published: 2016-05-18
Rated

4

out of

5
by
Gilly
from
Lovely bag, but very large
I really wanted to love this bag, but just couldn't. The appearance and functionality of the bag are nice, but it's really big. I looked at all of the pictures of it, including the way it appeared being carried, but on me (5'3") it looked more like luggage than a purse. If I really filled it, the bag would be very heavy too, and the the thin shoulder strap would be uncomfortable. Sadly, I returned it.
Date published: 2016-05-03
Rated

4

out of

5
by
jarc
from
Very spacious bag
Love this bucket bag and it's color. You can fit everything in this bag...water bottle, notebook, wristlet size wallet, makeup bag, etc. The leather is soft, strap handle works well, but the only thing I would suggest is another buckle holder for the long strap...the strap swings out towards the end and looks funny bent/sticking out. Also the monogram letters were kinda small to see...other than that, everything is lovely! It's a keeper! :)
Date published: 2016-04-27
Rated

4

out of

5
by
Anda
from
Good leather
would be look great in summer with blouse or shirts
Date published: 2016-03-31
Rated

4

out of

5
by
DeuxMacaron
from
Nice bag for the price
It was a difficult choice between the smaller saddle bag, but I purchased this bag as a gift for my daughter; a returning student/mom with two small children. The size is perfect for her multiple roles and accommodates the many tasks that are required. The lining is durable and the finish on the leather makes it easy to clean. The color is perfect. Carrying the bag from time to time, I find the strap a bit uncomfortable. Personally I would like the strap to be wider, but nothing that would prevent me from buying myself one in the future, which is in the plan.
Date published: 2016-01-26
Rated

4

out of

5
by
HottRod
from
Great style but wish was softer
I love the style of this bag, just what I was looking for. My only limitation for not giving it 5 starts is that the leather is a bit stiff almost making it feel a bit cheap. Although it has softened a bit with time, still not loving the quality of the leather. But don't get me wrong, I didn't return it so I liked it enough to keep it, just wished it was a more buttery leather. Otherwise, the style, size and color are perfect!
Date published: 2015-12-29
Rated

4

out of

5
by
jasmoe
from
Lafayette bag
Have had the bag a couple weeks now. Very roomy. Well pleased with the structure of it. I wish the metal parts were silver instead of 'brass looking' but because they are brass, the 'color' won't dull over time, if that makes sense. I'm tall so the long strap fits me well. Considering how much you can put in the bag, the thin strap doesn't hurt my shoulder. And, I like that it has a second handle to put over your arm if you don't want to use the shoulder strap.
Date published: 2015-12-23
Rated

4

out of

5
by
Chantale
from
Great bag minus some QC Problems
I purchased this bag during the Win/Win event so I got a good deal. My only problem with the bag is that the drawstring was put on backwards, the seam of the handle is facing out instead of in. At least it's something I'll be able to fix on my own by removing and re-threading the drawstring. I just wish I would have noticed before leaving the store and grabbed another bag or that it would have been caught before it left the manufacturer.
Date published: 2015-09-21
Rated

3

out of

5
by
mt56
from
Nice Leather
I really wanted this bag, since I liked the color and quality of the leather. However, the single strap is too short and too narrow which makes it uncomfortable. It might work in the summer if you're wearing only a T-shirt. Sadly, I had to return it.
Date published: 2015-12-14
Rated

3

out of

5
by
cheto
from
Cute with a couple issues
I have been carrying this bag every day for awhile. I am 5'6 and on the shortest hole, the bag hits well below my hip--sort of at my butt. I am going to take to a shoe shop to have them punch more holes in, because it doesn't feel right so long to me. Also there is not a second loop to hold the length of excess strap down, so they will have to cut it. Cost-saving measure, I'm sure, but it bothers me that it flaps around on the shortest hole. Also I'm surprised that people find the shoulder strap comfortable. It has a seam and it's like a thick rope on my (admittedly bony) shoulder. I would prefer it flatter or softer somehow. My last gripe is that this bag is a pain to close all the time. Cute design but not that functional. There is a lot of room for improvement when you wear this bag every day. I do appreciate the many pockets inside and the leather is good quality.
Date published: 2016-04-23
Rated

2

out of

5
by
underindo
from
Not worth the money
I purchased this bag back in August 2015 in black. It has been my everyday bag for 6 months now. I love the style of the bag but I am disappointed with the quality. The strap is two pieces of leather that I believe are glued together. Overtime the strap has started to separate. I took it to a leather shop to have it re-glued, but it has started to separate again. I don't think the strap will last much longer considering how large the purse is and the weight of objects I place inside it, i.e. makeup bag, ipad, etc.
Date published: 2016-02-02
Rated

1

out of

5
by
Elizakegg
from
Disappointing Purchase
I know this bag is inexpensive but the quality compared to other Madewell bags is really poor. The size is great, but the seams and hardware make the bag look low-quality. And the monogramming- don't do it. It's a tiny monogram on the tag; I can't believe I wasted $10 on it. Such a bummer because I would've purchased another in the black or burgundy if it had been a good one.
Date published: 2015-09-04