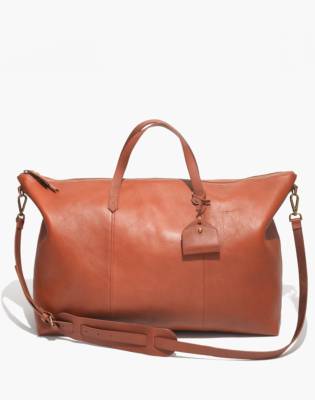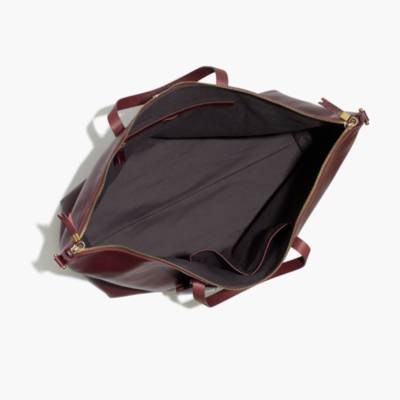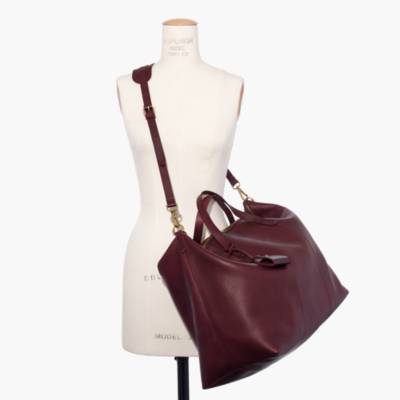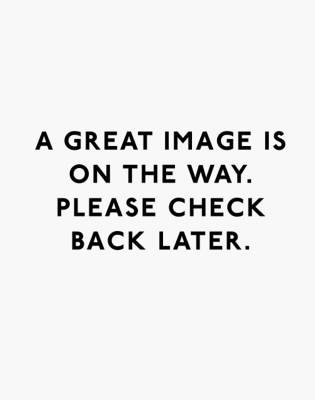 Product Details
What goes into the weekender version of our signature carryall? Here it is by the numbers: 6 pieces of rich leather are used for the body of the bag. 18 inches: the length of the removable duffel strap, but you can also carry it by the sturdy top handles. 3 interior pockets, including one with a zipper to keep your keys and phone at the ready. 1 cool matching luggage tag along for the ride. 48 hours: how long you'll use it during a weekend away. How often you'll reach for this one? 500 gazillion times.  
Made of vegetable-tanned leather that burnishes with wear into a beautiful patina.
Please note: As it is made of a natural material, each bag varies slightly in texture and color.
Zip closure.
1 interior zip pocket, 2 interior pockets.
17 3/4" shoulder strap.
4 3/4" handle drop.
13 3/4"H x 18 7/8"W at bottom, 24 1/2"W at top.
Import.
The Transport Weekender
is rated out of
5
by
41
.
Rated

5

out of

5
by
LTurner
from
Exactly what I wanted!
LOVE this bag! It is (almost) exactly what I wanted! Simple beautiful bag. Leather is gorgeous, length of carry handles is perfect. The hardware is quality. I love that there is the double zipper and three pockets inside (just enough, not too many). That said, I would change 3 things: (1) for the expense of the bag, it should come with a dust cover (2) The shoulder strap is a little narrow; another 1/4" would be perfect (3) I would like feet on the bottom.
Date published: 2016-06-08
Rated

5

out of

5
by
WafflesUnicorns
from
perfect size for a long weekend getaway
It's a great price and quality for the perfect carry-on size. One zipper closure pocket inside, which is pretty deep, and 2 side pockets that you can slip in your phone and boarding pass or small wallet - the perfect amount of pockets. I like the texture on the leather, not too rough, still soft and smooth, but 100% leather, so the quality is there. I can fit about everything I need for a 2-4 day weekend trip and if I were to fly somewhere and I don't want to bother w check ins, this is perfect for that occasion. A very clean and simple design, yet classy and fashionable. Both English Brown and Black colors are so gorgeous and you can't go wrong with either and it's probably down side to this bag - picking a color!
Date published: 2016-03-24
Rated

5

out of

5
by
lewie
from
Beautiful weekender!
I bought this for my daughters and they LOVE it. It is just the right combination of quality and beauty. It will be used and appreciated for years to come. The bags were on backorder, but the Madewell team kept me informed as they filled the order and it ended up coming sooner than they originally predicted. I'm a happy customer.
Date published: 2016-01-30
Rated

5

out of

5
by
opal
from
High quality duffel
I've had this bag for about five months now and it's held up incredibly well. I've flown with it four times and taken it on countless weekend trips. The leather still looks great -- it will be my travel companion for years to come. Highly recommended.
Date published: 2015-04-10
Rated

3

out of

5
by
Marvin
from
No feet?
I had long admired this bag but didn't have a need for it until recently when my current, cheaply-made weekender finally bit the dust. I happily ordered this one but when it arrived, it was very obvious to me that it was missing feet to protect the bottom. I'm not sure I can justify keeping it when this seems like such a necessary component and it would look so much better had they been included.
Date published: 2017-02-26
Rated

3

out of

5
by
Andreasreview
from
Disappointed
This bag looked cheap when I received it. The leather didn't have the look and feel as the other Madewell bags I am familiar with. Definitely not the worn-in leather they describe. The straps were thin and cheap looking as well. I expected more from Madewell.
Date published: 2015-04-12
Rated

3

out of

5
by
ClaudiaNB
from
Disappointing
I was so excited to purchase this bag because I love Madewell bags. I have the kensington and use it everyday. It feels luxurious. So..I was surprised that I had mixed feelings about this bag. The edges of handles on it are are rough, very small in contrast to such a huge bag and don't seem to match the quality of handles on all other bags that I own. I won't be surprised if handles break eventually, they would be appropriate for an over the shoulder tote but not this oversize bag. I will return this purchase and search for another leather weekender. I am so disappointed. My kensington purse (which will never get as heavy as this bag) has sturdy shoulder straps and handles. They should do the same to this bag. It would be perfect.
Date published: 2015-02-06
Rated

2

out of

5
by
lmade2916
from
Very Disappointed
This is the first time I have EVER written a review for a product, but I felt so compelled that I had to write about this product. I was SO excited when I purchased this weekender. It was a great price (I got it on sale) for a seemingly great product. I have a lot of products from madewell (denim, coat, boots etc.) and I love them all and think they are all made WELL. This bag however...I was sorely disappointed... The cavity of the bag is made of a nice, strong leather. That is very attractive, simple and sleek looking. Perfect for a weekend away or a carry-on. THE STRAPS of the bag, both the shoulder and handle are SO CHEAPLY made that I fear that they are going to snap with any weight of items inside of it. The leather feels like the cheapest remnants that they could have possibly found to create this product. I would have given this one star instead of two, except for the fact that the cavity of the bag is so nice and the color is rich and beautiful. Sadly, it's going back.
Date published: 2016-01-11
Rated

1

out of

5
by
KaylaRose
from
Not Well Made
I am very disappointed that this bag is poorly made since it seemed like the perfect bag. It is a gorgeous color, great size, and reasonably priced but it is not worth the money so I advise against ordering. Madewell could fix this if they updated the zipper pulls and leather straps. The zipper pulls both came off within a month of use and Madewell could not send replacements. This meant I had to use my fingers to pull the zipper along if I wanted to open or close. The long leather strap, one of the most important features, is very thin, hurts to use and felt like it would break when I would carry the bag. As well, the area that is used to support your shoulder bunches up and is uncomfortable. I wanted to love this bag and tried to look past its flaws, but when I realized what I was getting for the price I returned for a refund. Madewell, please look into this and fix the design or you will continue to see poor reviews and returns since the product does not perform well.
Date published: 2016-08-31
Rated

1

out of

5
by
ChicTraveler
from
Zipper and Strap Issues Make this Bag Impractical for Weekend Trips
I have owned this bag (in tan) for a year and taken it on many weekend trips but I finally have to write a review (which I NEVER do)... 1. Both of the zipper tassels each broke off within the first two uses, which makes it incredibly hard to zip at all. The loop of metal connecting the tassel to the zipper is too small and flimsy (same one used on their small purses like the small cross body bag). 2. The zipper buckles terribly. 3. The strap has unfinished leather on the side that rubs on your body so bits of it get on your clothes and cause pilling and other excessive wear to your shirt etc. 4. The strap is VERY THIN and the part that is supposed to protect your shoulder bunches up and moves off of your shoulder immediately. This as a BIG PROBLEM... my BF usually carries this bag for me bc it is heavy--he got a bruise on his shoulder from carrying this bag all weekend... MADEWELL PLEASE REINFORCE THE ZIPPER RINGS AND PUT BACKING and PADDING on the SHOULDER STRAP!
Date published: 2016-04-05