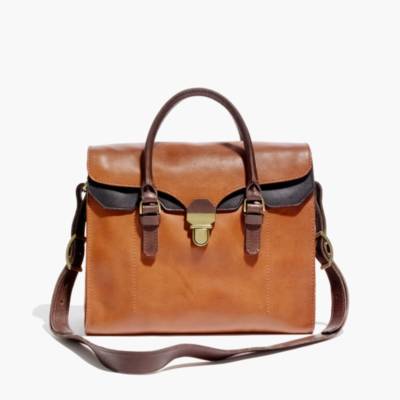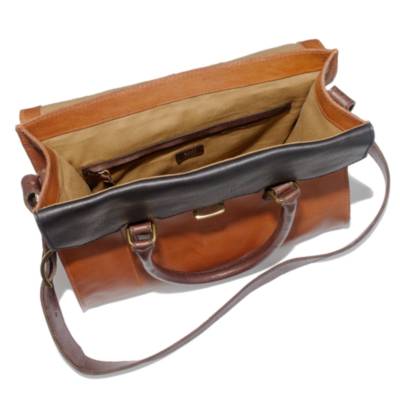 Product Details
The brass lock detail reminds us of vintage bookbags, while the shape—a slouchy leather tote with short handles or a long shoulder strap—is thoroughly modern.
Leather.
Interior zip pocket.
17 3/4" shoulder strap.
2 3/4" handle drop.
10 1/2"H x 12 1/2"W x 5 3/4"D.
Import.
The Lovelock Tote
is rated out of
5
by
35
.
Rated

5

out of

5
by
Funmom
from
Love this bag!
I bought this for my daughter and she loves the way it looks. The bag holds a great deal without looking like a tote.
Date published: 2013-12-14
Rated

5

out of

5
by
ddMarieNYC
from
Love!
I absolutely love this tote. I've gotten so many compliments on it, I actually want to buy another one for the day I wear this one out. I love it that much. It was worth every penny!
Date published: 2013-11-18
Rated

5

out of

5
by
adrienne9138
from
Great bag, lots of pockets
I was really excited to get this bag. It carries well and looks great. I was (pleasantly) surprised by how many pockets there were. It advertises one zipper pocket inside the main compartment, but the black flap also lifts up to reveal another slim pocket the full height and width of the bag, along with a third smaller pocket. It ends up being a pretty great way to organize things and hide more valuable items like your cell, keys, etc. Definitely roomy enough for an iPad and cosmetics case. If you were using it for school, it might not be wide enough for binders/folders and the like. But it functions great as a work tote. I've carried it for maybe two days and have already had three or four people tell me they like it and one friend say she wants one for herself.
Date published: 2013-10-24
Rated

5

out of

5
by
TriciaBeeee
from
Beautiful, sylish, high-quality material
Very impressed with new work bag! The leather seems to be very good quality (although you never know until you use it for a while), and it is just as stylish in person as the photos show. Love the extra pockets and that it juuuust fits an 8.5x11 foler inside for meetings
Date published: 2013-10-21
Rated

5

out of

5
by
Cristina
from
ABSOLUTELY STUNNING
The quality and craftsmanship is impeccable. I've received tons of compliments!
Date published: 2013-10-09
Rated

5

out of

5
by
Jennifer
from
Excellent, versatile bag
I had been looking for a work bag for a while. I finally found this one and thought it was very reasonably priced considering the leather. When I got it, I was really pleased that it had a few extra pockets I didn't know about. I got the tan one, but it also has a black flap, so it matches with everything. It fits a 13" MacBook pretty well and it comfortable even with a laptop. I love the vintage look.
Date published: 2013-01-17
Rated

5

out of

5
by
emiris
from
vintage looking
I love this bag. It is the right size and of great quality. It looks like a vintage school bag, which I love. it is exactly what I want. I wish there were a few more pockets inside for cell phones, keys, sun glasses, etc.
Date published: 2013-01-14
Rated

5

out of

5
by
Jayne
from
Beautiful, versatile, functional bag. I have received many compliments.
Beautiful, functional bag. Well made, accommmodates my iPad and all other essentials. Versatile in that it can be worn cross body or carried as a satchel.
Date published: 2013-01-13
Rated

5

out of

5
by
MJ63CJ
from
My wife loves it
My wife thinks it is both beautiful and functional. She loves it so much that she doesn't let it touch the floor in the house. When not in use, it rests on a leather-seated bench.
Date published: 2013-01-12
Rated

5

out of

5
by
Whitsandknees
from
To die for!
So in love with this bag! The leather was soft and flexible right out of the box and the color is amazing. I knew I had to have it immediately when i saw it online. The color is true to the picture; a gorgeous jade green. Perfect for the trends of green in the spring!
Date published: 2013-01-10
Rated

5

out of

5
by
LeChat
from
Beautiful, high quality leather
Bought as a gift for my 18 year old daughter. She adores it and uses it both as a student bag and as a purse. Just the right size. Because of the high quality of the leather the bag is heavy. Not too heavy, but if you are looking for something light weight this is not the bag for you. This is a bag that she will use for years and will always be in style. A true classic.
Date published: 2013-01-09
Rated

5

out of

5
by
Susan
from
Great retro bag
At first my daughter was disappointed because the style was not something she was used to, even though she picked it out herself on line, until we explained that it was a retro bag, that it's the kind of bag that Rory from Gilmore Girls, whom she loves, would use for school, and so she decided to keep it when she realized it was a "cool" bag. She loves it and puts her laptop and IPad and all her purse stuff in it and carries it around campus at U. Chicago and also when she travels. High quality, can't go wrong with this bag
Date published: 2013-01-09
Rated

5

out of

5
by
Baglady99
from
Had my eye on it
I had this bag in my shopping bag for a long time but couldn't decide on the color. When it went on sale in green I knew I couldn't wait any longer. I am so happy I got it. Use it everyday. Great for a day of shopping. Holds everything and so comfortable to carry. Love love this bag.
Date published: 2013-01-09
Rated

5

out of

5
by
Alex
from
awesome bag
My girlfriend LOVED this bag. Got it for her for Christmas. She's gotten tons of compliments on it.
Date published: 2013-01-09
Rated

5

out of

5
by
Pyllek
from
Lovely Green Color & High Quality
The bag is great - my new everyday bag! The leather is gorgeous, a great green color and I love the style. It easily holds an iPad, a SLR camera, an extra pair of shoes...whatever. There are only two drawbacks - it is a big large for an everyday bag, thought I love it so much I still use it. Also, the buckle got scraped almost immediately, as it does not slide perfectly through the clasp (it's gotten better with use, but the varnish has now scratched off the front, leaving it a little haggard-looking after a mere two months). Generally, however, I'm very happy with it.
Date published: 2013-01-09
Rated

5

out of

5
by
Aanforever1
from
Beautiful bag
I love it... It's a beautiful bag... That can carry my iPad
Date published: 2013-01-09
Rated

5

out of

5
by
princetonycgirl
from
Great for carrying everything!
I bought this for my daughter who is about to graduate college. She loves the two tone color of this bag - basically works with everything! The shoulder strap gives a messenger bag feel and it's great for carrying lots of things whether to class or work without seeming as traditional as a briefcase. It's large enough that it could even work in a pinch as an overnight bag!
Date published: 2013-01-09
Rated

5

out of

5
by
ilovetoshop
from
love the bag
I love this bag instantly when i saw it. This was a good investment piece to have. I love the soft leather and all the compartments it has. Its casual but yet structured. I'm really glad i bought it.
Date published: 2013-01-08
Rated

5

out of

5
by
FlutterFlounce
from
Great color, very spacious!
This bag is just lovely! The leather is gorgeous. The size was mainly the reason why I bought it. The various pockets are very functional and the main compartment was large enough to fit my everyday items and my sketchbook!! Another great feature...the across-body strap! Only wish I knew how to take denim stains off the back from wearing so often!!
Date published: 2013-01-08
Rated

5

out of

5
by
DD7032
from
Beautiful leather
The bag was as beautiful when I got it as it was in photos. It's incredibly roomy and the only bag I have where I like using the long straps even though it does have shorter handles. It reminds me of a favorite school bag I had as a kid. I know it will get more beautiful as it gets more worn.
Date published: 2013-01-08
Rated

4

out of

5
by
Isa88
from
Love it !!!
Stylish yet practical. Love the leather, the colour, the size.
Date published: 2014-09-17
Rated

4

out of

5
by
LinnK
from
Beautiful bag and great leather.
I waited 3 months for this bag, and it was worth the wait. The leather is thick and beautiful. The only things about this bag what you don't see from the pictures. There are no extra compartments in the main bag (I usually like to have things very organized in there) but there are two compartments under the black flap, that kind of make up for that. The bag is not structured, very soft! It easily holds folders or notebooks, so there is enough room to use this for school/work stuff. the shoulder strap is adjustable, but can easily come undone, since the "locking feature" is just a pin(versus a belt like strap). Beautiful and great quality though! I've received many compliments already!
Date published: 2014-02-17
Rated

4

out of

5
by
CourtneyD
from
The Perfect Satchel
I bought this bag in English Saddle and it's just what I needed. I can carry a notebook and large camera when I'm out on the weekend, and I even throw my lunch in it when I go to work. I've had it for about three months now and the leather has gotten so soft and supple, I know it will look even coolor as time goes on. The small pockets in the front are super convenient to keep my phone, keys, and Transpass from getting lost. I get a ton of compliments, and I'm almost wishing I got it in green as well. The only downside is that every so often the long strap comes undone. It is not fastened with a classic belt buckle, and instead there is a short peg that goes through one of the holes in the strap. It has only come undone about three times, and I wear it every day, but I just have to be wary of the amount of stuff I put in it.
Date published: 2013-03-15
Rated

4

out of

5
by
Dantaya
from
A clean chic bag to carry everything you need for work or play.
I bought the Lovelock Tote in green and I love it. It has plenty of room for everything you need and is chic enough for any occasion. There are two front pockets that aren't visible from under the front flap, which I use to keep my phone and keys handy. They also keep my phone and keys separate so I don't have a scratched phone. I use both strap options depending on how heavy my bag is. The only negative thing I can say about the bag is the color. It seems to be lightening. The emerald color is what won me over with this bag in the first place; to watch it lighten is dissapointing. Maybe go with the brown and tan.
Date published: 2013-01-11
Rated

4

out of

5
by
dd421
from
nice bag
I like the size of the bag. Of course, it's well-made, so I feel like it will last a long time. What I don't like is that when you tighten the buckles to make the long strap shorter, the flack hangs down and looks kind of silly when you put it on your shoulder. I end up putting the two short straps over my forearm most of the time. I like the separate interior, smaller pockets for keys, phone, and other smaller items. I'm glad I bought the bag, but I probably wouldn't get it again, just because the long strap doesn't provide a place to slide in the extra flack when the strap is tightened.
Date published: 2013-01-09