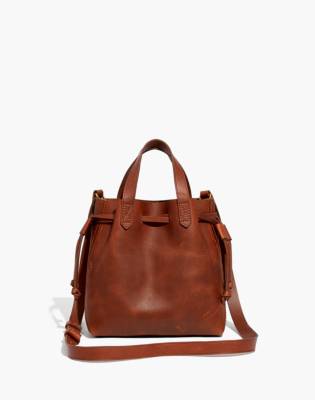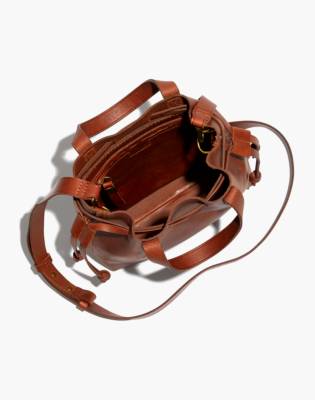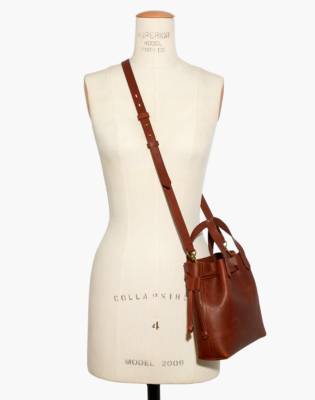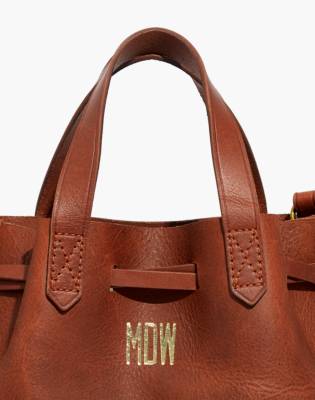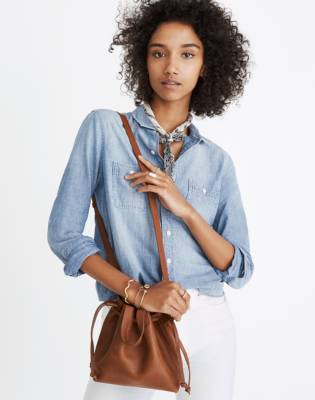 Product Details
What goes into the new drawstring version of our Transport Crossbody? Here it is by the numbers: 2 pieces of fine leather are used for the body. 2 ways to carry: with the top handles or the detachable shoulder strap. 2 for 1: cinch it closed to transform it into a mini bucket bag. 2 interior side pockets—perfect for your phone, train pass, whatever. 4: the number of hours it'll hang with you at a concert. How often you'll reach for this one? 500 gazillion times.
Made of semi vegetable-tanned leather with a softly worn waxed finish that deepens into a distinctive patina.
Please note: As it is made of a natural material, each bag varies slightly in texture and color.
Drawcord closure.
Inside pocket.
3 1/2" handle drop.
19" (at shortest) to 21 5/8" (at longest) crossbody drop.
7 7/8"H x 10"W x 2 5/8"D.
Import.
The Small Drawstring Transport Crossbody
The Small Drawstring Transport Crossbody
is rated out of
5
by
33
.
Rated

5

out of

5
by
Moons
from
Love it!
The color is beautiful. It is just the right size. Room for phone,glasscase, small wallet etc. I love the shoulder strap and the handles. The leather is soft and supple.
Date published: 2018-01-31
Rated

5

out of

5
by
LakamineMoli
from
Beautiful, small bag
This bag is small and won't fit most wallets, so if you know this going in, you're going to love this little guy. The leather is gorgeous and I'm thrilled to pieces with this purchase.
Date published: 2018-01-25
Rated

5

out of

5
by
Vivian22
from
Cute small bag
Like this bag, it is the same size as the small transport crossbody, but with the drawstring it adds to the style, like an old school style pouch. Recommend if you don't carry a lot.
Date published: 2018-01-11
Rated

5

out of

5
by
NewFan
from
Pefect for Summer
This bag is the perfect size for running errands around town. The bronzed leaf color is a great neutral as well. I was pleasantly surprised at the buttery softness of the leather.
Date published: 2018-04-12
Rated

5

out of

5
by
Ariel23
from
The purse you need for the Summer!
Exactly how it is pictured is how I got. So cute, and fits all my essentials. I bought this in black and it goes great with every outfit.
Date published: 2018-04-06
Rated

5

out of

5
by
Steph
from
Love this bag!
This bag is so cute & actually fits a good amount of stuff despite the small size.
Date published: 2018-04-05
Rated

5

out of

5
by
R8ch7993
from
Small but cute!!!
Ordered In khaki green and black but returned both. I didn't want to believe the other reviews haha. Too small for my needs. Craftsmanship wonderful -smells of genuine leather. Ordered the bigger one with hopes it's not too big ...
Date published: 2018-04-03
Rated

5

out of

5
by
andie1010
from
Beautiful bag!
It's small so you can't overpack, and that's a plus. Gorgeous leather.
Date published: 2018-03-26
Rated

5

out of

5
by
LKRoush
from
Great Bag
This small, classic crossbody is perfect for my day-to-day. I don't carry much with me, and I hate toting around large bags. My only complain is one of the shoulder clasps squeaks a little. I think a little oil will solve the problem. Overall, I love it!
Date published: 2018-03-19
Rated

5

out of

5
by
Sabina
from
Nice bag
I am happy with my purchase, its a bit not as soft as I expected but I am happy with it anyways. Its very cute yet classy.
Date published: 2018-03-13
Rated

5

out of

5
by
baileyj
from
my go-to everyday bag
It's simple and cute, looks great with every thing. I am impressed with the leather quality and color, and I love having my initials on it as a personal touch.
Date published: 2018-03-07
Rated

4

out of

5
by
Simone
from
Doesn't stay closed
The only thing I don't like about this bag is that the drawstrings are not very effective at keeping it closed. Stuff could fall out. I'll probably still carry it, but not if I am running around!
Date published: 2018-02-02
Rated

4

out of

5
by
TheMarla
from
Love it!
I originally headed into Madewell planning to purchase one of their transport totes. When I saw the small drawstring transport crossbody, I needed to have it! The bag is the same size as the mini transport tote, but does appear smaller when cinched closed. I love the look of it, and that you don't have to cinch it closed and it still looks good. The only changes I would make: 1. Just an inch and a half wider and taller, so a small planner/journal can comfortably fit 2. I do prefer a bag with an outer pocket to throw my cell or keys into quickly, but it probably wouldn't work aesthetically bc of the cinched style. Overall, this is a great bag for essentials and a few extras. I purchased the black and the leather is beautiful! The other colors were tempting too. Now, I'm thinking about purchasing the medium size, for days that I need extra room ;)
Date published: 2018-01-23
Rated

4

out of

5
by
Madewellinsandiego
from
A little too small, but great quality
I received this bag for Christmas (they released it to stores before online), and sadly I had to return it. Here are the things I loved about this bag: the brown color is perfect, the quality and feel of the leather is awesome, and it's stinking cute! Here are the reasons I had to return it: similar to the other small bag (with the pocket at the front) the size is just a little too small for me. My long wallet barely fit, and although my phone and keys would fit too, not much else. If I tried pulling out my wallet quickly I can see everything else falling out in the process. Also, the drawstring is so cute but not really functional. It doesn't cinch closed very much when you have your stuff in the bag, so the bag remains opened at the top. If only it were 1" wider/deeper, and had a closure at the top! Also just to note the long strap is a little on the shorter side (which I think looks so cute crossbody), but wearing it crossbody overt a heavy coat would not really be possible.
Date published: 2018-01-03
Rated

4

out of

5
by
blackswan1628
from
Cute & Efficient
This bag is really cute and just the right size for essentials. The only thing that would make it even better is if the strap was a little longer. The strap is at its longest and works perfectly over the shoulder. I can still do crossbody but it's just a tad short.
Date published: 2018-03-12
Rated

4

out of

5
by
Kristen34
from
Cute bag
I love this, but wish the straps were a bit longer. It hits a little high on my hip. The straps do lengthen a little, but not quite enough. It also squeaks a little bit when I'm carrying it- I'm guessing from the metal rings rubbing together where the straps connect to the bag.
Date published: 2018-02-23
Rated

3

out of

5
by
Kate5737
from
Great design, but leather is lacking compared to a different Madewell bag....
So I received the somerset backpack by mistake when I ordered this bag. When I got the small drawstring cross body a few days later, I was expecting a similar quality in leather. I loved the design, and found the sizing was just right, but I could see a big difference in quality. The leather isn't as thick, and it's very plastic-like in some ways. I have to say I'm pretty disappointed, and I'm not sure if I'll return it or not!
Date published: 2018-04-12
Rated

3

out of

5
by
JPreezy
from
Just a little too little
I purchased this bag online, which may be why I didn't realize that it would be too small for me. While I WAS looking to downsize, I realize that, since phones are basically tablets now and I take my sunglasses everywhere, my bag was almost full already. Toss in a wallet and some makeup, and my purse runneth over. Loved the look of the material and style of bag, but the strap was too short (I'm 6'2", this stopped way too high on my body) and the bag kind of just felt like a doll version of a normal-sized bag. Oh well - the hunt continues!
Date published: 2018-04-10
Rated

3

out of

5
by
Anita
from
Too small
Despite its excellent quality, the size is not practical for me. I am planning to return ut
Date published: 2018-03-20
Rated

3

out of

5
by
Mery
from
Please longer straps!!!
This is a great bag, but like the other cross body bags it needs longer straps.
Date published: 2018-02-18
Rated

1

out of

5
by
Cassie
from
Not a crossbody
I don't understand why the straps on all the "crossbodies" are suddenly so short? I have an old madewell crossbody with a perfect strap...this bag (and most of the others that are crossbodies) are just a about two inches two short. They hit me right above my hips and look ridiculous. I'm average height and weight. If you want a crossbody I'd not suggest this.
Date published: 2018-01-17
Rated

1

out of

5
by
Linds
from
Not as pictured
Bronzed Leaf is not orange. It is a HIDEOUS ochre colour that already looks worn and dirty. I'm angry
Date published: 2018-02-22
Rated

1

out of

5
by
Charlay
from
Cute but cheap quality
Looks cute but the material is off. It feels like a mashup of leather and filler. Surprised by the lower quality. Not worth the cost.
Date published: 2018-03-09