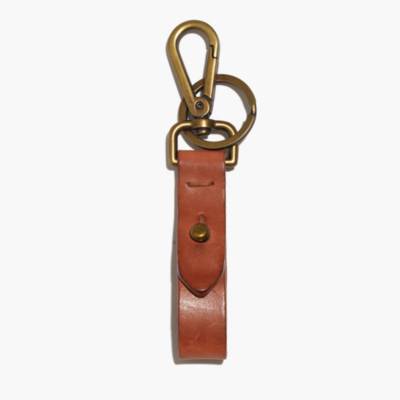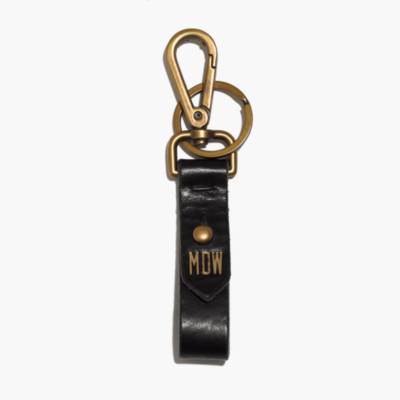 Product Details
Timeless, spare design. Our signature collar stud closure.  
Made of vegetable-tanned leather that burnishes with wear into a beautiful patina.
Please note: As it is made of a natural material, each piece varies slightly in texture and color.
Import.
Front Door Key Fob
is rated out of
5
by
72
.
Rated

4

out of

5
by
AJG2015
from
Good overall
The price and style were right on this one, as I didn't want to spend a fortune for something I throw around every day and might destroy. It's holding up well so far, and I love the gold monogram against the black leather. My only (minor) complaint is that the shape of the key ring makes it so my car key gets "stuck" and can't move around the key ring. Obviously, that's a minor issue, and probably unique to my car brand. Otherwise, I'd buy it again.
Date published: 2015-05-29
Rated

4

out of

5
by
cecemcqueen
from
A bit disappointed
I just got a cute new car and so I've been coveting this key fob for awhile. When the monogramming was free, I finally broke down and got it just because it looks so cute. I think my biggest complaint is overall that I was expecting something sturdier – heavier metal, better cut leather, etc. Maybe I just have high expectations for Madewell but I'm not necessarily willing to pay this much for a keychain only for the style. I got the brown leather, too, and I should note that it is A LOT lighter in person – a totally different shade really. My purse looks like the same color as the fob pictured on the website, and the keychain is definitely not the same shade as my purse in real life. It is still spiffy though, and I absolutely recommend the gold embossing because the result is lovely. I don't have any complaints on the design (and just to clarify: the key ring definitely works. I don't know why some reviewers said otherwise. Both the carabiner and actual ring are fully functional.)
Date published: 2015-05-21
Rated

4

out of

5
by
wendybird
from
Beautiful piece; difficult to use
The leather on this key fob is beautiful. I ended up having mine monogrammed, which is a lovely touch. I love the gold coloring! I do have a few complaints, though. The leather is a little dry, but that's easy to fix. Second issue is that the circle key ring that attaches to the fob is flat rather than round, and really difficult to open and attach keys to. I did it, but it took a pair of pliers holding the ring open after wrestling with it for half an hour. You could attach a separate ring of keys to the caribiner, but that just seems like an unnecessarily long string of loops before you get to your keys. Overall, this piece makes a great gift and is a treasure to hold in person. Just be aware that you'll have to work a little to use it.
Date published: 2015-01-14
Rated

3

out of

5
by
atribecalledsam
from
A little disappointed
The key fob itself is extremely cute. However, the monogramming was not centered at all. In fact, when I first got it my friends and people I didn't even know pointed it out, so it's noticeable. I still recommend this product but maybe hope and pray you get a centered monogram; or just play it safe and don't get the monogramming at all and get your money's worth.
Date published: 2016-10-21
Rated

3

out of

5
by
magdot
from
Gold lettering is chipping
I have had this product just under a week and the gold lettering is already chipping. I am very disappointed as I paid extra for the personalization.
Date published: 2016-02-25
Rated

3

out of

5
by
RachelG
from
Nice, but not worth it
I was so excited when the key fob finally went on sale because I have admired it so many times in the store. I decided to order it online so that I could have it monogrammed, meaning I couldn't return it. But the fob I received was very wrinkled inside the loop, and the monogram stamp was not done well because there are little pieces of leather covering up the gold foil. Overall, I like it because it looks nice from the front, I just wish the fob I received had been a little better quality on the interior surface.
Date published: 2015-07-15
Rated

3

out of

5
by
HFent
from
clasp doesn't stay closed
I bought this keychain a couple months ago and love it! its cute and very functional in that it can hold many keys and keychains. I loved it so much that I even got my sister a monogrammed one for her birthday. But just today I ended up losing my apartment key because the clasp came undone without me knowing it and the key slid off. I've had this same problem with the mini transport crossbody purse and they have since fixed the clasp so hopefully they will do the same for this too.
Date published: 2015-07-14
Rated

3

out of

5
by
Jackie25
from
nice design but loose carabiner
I got this key fob in burnished camel in December..been eyeing it to replace my college lanyard. Came in as how I had expected, and was excited to put it to use. Be wary though the closure on the carabiner/hook shape thing may become loose after heavy use (as mentioned in much earlier reviews). --- After about 4 months of use, the twisting closure on the carabiner gave out..couldn't be securely screwed closed. It would unscrew at times and my keys would fall out. I transferred my keys to the ring after losing my car key (luckily found it on campus). On the carabiner/hook looking part I put 3 keys (2 small house keys and my car key). I guess it couldn't withstand the constant movement of my keys.. It went through a lot transferring in and out of my pocket, backpack, and bag. I think the issue is (as mentioned by shoemiss) the small size of the screw part.
Date published: 2015-04-25
Rated

1

out of

5
by
samsa
from
Bought this when the keychain was defective...
I bought this back when the keychain was defective (looks like some other reviewers did as well). It used to have a screw on piece rather than the carabiner clip it looks like it has now in the product photo. UNFORTUNATELY... I purchased mine in black and really liked it, until my keys kept detaching.... and being dropped in random spots, usually having to backtrace my steps and find my keys on the floor of the entrance of a parking lot or something. After it happened a few times, I realized that (what's now the carabiner clip) the screw on clip would unscrew on it's own and ultimately my keys would fall off the keychain aka not very helpful. As soon as I figured it was a faulty keychain, I stopped using it for the sake of my keys. Pretty disappointed in the quality control on this one.
Date published: 2017-05-04
Rated

1

out of

5
by
kabax5
from
broken
the knob in the underside broke in half. thought it was metal, but it's actually plastic painted in brass...
Date published: 2015-07-21