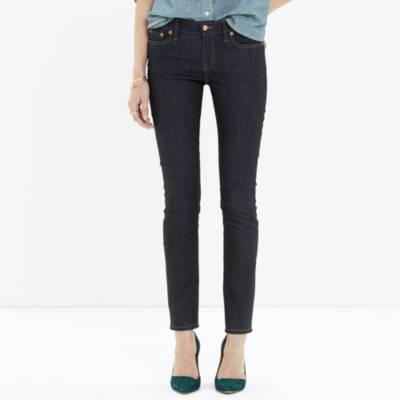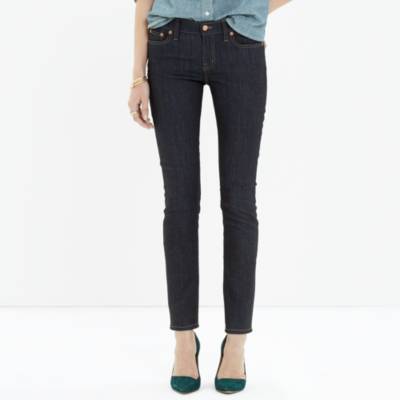 Product Details
Our latest take on a straight leg, the Alley Straight is the perfect slim-but-not-too-slim shape (and has a longer inseam for a deliberate "pooling" effect at the ankle. What's that? It's our design team's way of saying the leg is meant to bunch up a bit for a laid-back vibe). Let's just say that this pair has a little attitude (plus, it's made from our special denim that has tons of stretch, never bags out and does life-altering things to the rearview).
Sit at hip.
Fitted through hip and thigh, with a straight leg.
Front rise: 8 1/2".
Inseam: 32".
Leg opening for size 25: 12".
94% cotton/5% poly/1% elastane.
Machine wash.
Import.
 
Alley Straight Jeans in Raw Wash
Alley Straight Jeans in Raw Wash
is rated out of
5
by
41
.
Rated

5

out of

5
by
Jennmarie
from
Great Fit!
I got the 31, I'm 5'8" 175 and athletic with curves. Fits like a glove, washed first in cold water with vinegar to hold the color. Hoping the color stays dark. Love it with a cuff.
Date published: 2015-04-02
Rated

5

out of

5
by
Jenny88
from
slimming
Very slimming color and fit. Modern and comfortable.
Date published: 2015-03-31
Rated

5

out of

5
by
emilyheartsmadewell
from
Perfect Jeans
I love these jeans. The rise is perfect, not too high or too low. I have a very straight up and down body, and always have a problem with mid-rise jeans pinching in too tight at the waist despite fitting perfect elsewhere. Not with these pants! They are very structured, not stretchy or soft, but they are still comfortable. This structure makes your legs looks amazing. I'm definitely buying more when they are on sale again!
Date published: 2015-03-24
Rated

5

out of

5
by
jeanlover
from
I love these jeans!
These jeans fit perfectly, are comfortable, look good, and are made well! They are my new favorites. I immediately ordered a second pair, and I will get more colors in the future. They are not too tight, and they are attractively long. It's hard to find the perfect jeans, and I'm delighted to have found these!
Date published: 2015-03-19
Rated

5

out of

5
by
jnorth
from
Great denim staple!
I absolutely love these jeans (in fact went back and bought a second pair after the first pair came). It is the first pair of jeans ever that I could wear without a belt (no gap in the back), and fit my rear, thighs, and calves with no issues. Length is perfect for flats or heels, the "pooling" allows you to wear them cuffed or un-cuffed. The rise is slightly higher which I appreciate, looks good without being to "mom jean". They are a nice weight denim with just the right amount of stretch. I wear them 4 or 5 times before washing them (and usually because by then I have spilled something on them). Color is a nice deep blue black. These fit a lot like the matchstick (of another brand) used to fit but with far better quality denim. My only caveat is that the denim dye did transfer a bit even after washing first. I have not had that problem with other darkly dyed jeans, and is why I gave it 4/5 stars. Perhaps after another wash this will be fixed. I am 5'8", 32 inseam, size 6 (jeans).
Date published: 2015-03-10
Rated

5

out of

5
by
Tess22
from
Perfect! Wouldn't size down for a minute
Love the fit of these! I usually need a longer inseam (I'm 5'7, and since the nearest Madewell is stocked with exclusively 29' ankle-length stuff I decided to order these (especially since they went on sale). The rise is the perfect mid-rise look; I don't like feeling poured into my jeans, and the associate said these don't stretch out! I'm a little confused as to why all the reviews suggested sizing down. As a size 10 everywhere, and a 31 in skinny jeans from Madewell, I got 30 because this is straight cut and therefore less harsh on the thighs. So I'd suggest buying based on how you like your jeans fitting rather than based on reviews alone. That being said, they're gorgeous and easily dressed up or down. What a fantastic cut! just got these, so my opinion may change a little over time.
Date published: 2015-02-20
Rated

5

out of

5
by
KMM21
from
obsessed
I thought I loved the skinny skinny cut...but these...these. Obsessed. They are perfect and I don't really know how else to say it. More of a modern cut than the skinny skinny - more chic and beyond complimentary. I.Love.Them. Thank you Madewell. #eagerlyawaitingnewwashestobuy
Date published: 2015-02-17
Rated

5

out of

5
by
JennyLouPDX
from
Great pant at a great value
I purchased these jeans on sale but would have certainly paid full price. The raw denim look is very clean and modern; the cut is very flattering. As I am petite (5'2") I get quite a bit of the "pooling" effect, which I like. A small cuff also looks nice, but given the cut of the jeans (tapered but not quite skinny at the ankle), a really long cuff creates a bit of bunching. I recommend one inside-out rinse/wash prior to wear.
Date published: 2015-02-12
Rated

5

out of

5
by
MKwick
from
Love these jeans
They are a great purchase. I did get them on sale. They fit like Jcrew pants if that helps with sizing and the color is chic. They can be dressed up or down. Length is perfect I am5'8. They have some stretch but not to much to stay tight in all the right places wear after wear.
Date published: 2015-02-09
Rated

5

out of

5
by
Nic1126
from
great versatile jeans
These jeans have a great wash and weight, love that they actually feel like jeans rather than spandex. The wash is versatile and can be dressed up or down... The length is a bit long for me (I'm 5'1) so I roll the cuff. The best part is that they actually stay up despite my unfortunate lack of a rear end (while hugging and accentuating what I do have). Overall happy with purchase!
Date published: 2015-02-04
Rated

5

out of

5
by
Hannah69
from
Best jeans I own. No regrets.
These jeans are very comfortable and beautiful. Like everyone says (but of which I was skeptical) — they really do hold their shape. My butt looks beautiful every time, even after several wears. I hope this means long-term quality, since I won't have to put them through the wash as frequently. You should definitely order a size down. I am 5'5", 135 lbs, with some jelly around the middle and no hips. I usually wear a 29 or squeeze into a 28. I got a 27, and they are perfect. (The person at the store recommended even going a size smaller, but I prefer some more wiggle room.)
Date published: 2015-02-04
Rated

5

out of

5
by
Kelly924
from
Breaking in!
These jeans are amazing, I own 3 pairs in the same wash (the resin/raw wash). They have a great color to them and they do not bag out like other jeans. One of my issues with jeans is that they tend to stretch out and become baggy at the butt, knee, and waist - however these do give a little, but not as much. They are a bit stiff when you first get them, but not crazy stiff. Over time with wear and wash they become softer and softer and mold to my body. Perfect jeans and definitely recommend. Also, the color stays nice and dark for a LONG time, washing inside cold water and hanging dry. Hope this review helps.
Date published: 2015-01-04
Rated

5

out of

5
by
Rebeccat7
from
Love these jeans
They fit great, and look awesome. I am always looking for a wash that is clean and not faded. These are perfect. The length is also perfect for my 5'7" frame.
Date published: 2014-11-29
Rated

4

out of

5
by
Sweetpea000
from
Good weight denim
I have been searching for ages for a dark denim womens jean that hasn't got super thin fabric. These jeans are slightly lighter weight than my husbands selvedge jeans so have that great old skool ability to keep everything sucked in! So far I have worn them heaps and feel like I could have gone for a 27 instead of a 28, for reference I am 5'10" and usually take a 6-8.
Date published: 2015-06-22
Rated

4

out of

5
by
LA6666
from
Awesome Jeans !
I have been looking for this raw wash for a long time. I mean this wash at an affordable price. This is my first pair of Madewell jeans. They look amazing. The fit is great & comfy. The dark color is exactly what I want. I just ordered my second pair. Love it!
Date published: 2015-06-10
Rated

4

out of

5
by
Monica1234
from
Love these Jeans
This is the 3rd pair I have purchased in last year, cannot have enough good fitting jeans! Color is good, fit is good and they look great. I have 5'6" 130 ordered size 27
Date published: 2015-05-12
Rated

4

out of

5
by
motherof5
from
Love the stretch!
Bought these online and love them! They have just amount of the perfect stretch in them and even brought them to the madewell store to get hemmed, Great customer service Madewell! thanks
Date published: 2015-05-05
Rated

4

out of

5
by
tchrmarnie
from
great jeans... just not for me!
These are great quality, nice dark wash, very well made jeans. However, I am only 5'3" and they were waaaaaaay too long on me. Unfortunately, I had to return them.
Date published: 2015-04-19
Rated

4

out of

5
by
Lana7
from
Good for curvy people maybe, for straight figured ones if lots of comfort needed
For straight figured person, the stretch in these might be just too much, there is comfort wearing these, it's like too much comfort though. I usually wear 28 madewell and 29 for some other brands, the 28 I got for this pair seems bigger, so I'll say these run about a half size bigger. Color is as pictured, and I like the cut, the eg lines run totally straight down and not skinny fitting at all, the rise is a bit higher than the usual low rise which I don't know how to feel about yet, guess it's ok, looks alright. I like these overall, probably I'll want to wear these when I feel 2 pounds chubbier or feel very lazy or something like that.
Date published: 2015-04-11
Rated

4

out of

5
by
andrea917
from
Great fit, but beware of dark wash
These were instantly my favorite fitting jeans so far. They are comfortable and flattering as my favorite yoga pants, but way more acceptable at my office. I'm 5'5" and 140 lbs with an average build and the 28 fit perfectly. I also like that these aren't super skinny around the calf. The "pooling" effect is a little too dramatic on my shorter frame, so I cuff them. I may get them hemmed at some point, but this isn't a big deal. I'm knocking them down by one star because of the wash. I usually buy jeans in a darker wash and I love the appearance, but these rub off everywhere! I don't like washing my jeans unless I absolutely have to. It's not a huge deal, but you really should wash these before wearing or be careful around light colored furniture!
Date published: 2015-03-03
Rated

4

out of

5
by
fluffyblu
from
great fit and comfort
Great fit, great color, would buy this again and please remove the minimum characters in this box!
Date published: 2015-02-23
Rated

4

out of

5
by
Adubs
from
Good quality, but too big
After purchasing a pair of Skinny, Skinny jeans, I purchased the Alley Straight in the same waist size, but the Alley Straights are a lot looser. I think the quality of the material is really great, but I wish I had tried them on in the store to see that these would be too loose. Also, they are much longer than the Skinny, Skinny and will need to be tailored in order to fit me.
Date published: 2015-02-10
Rated

4

out of

5
by
ME123
from
Too long
In the photo the jeans appear to be ankle length, but when I put them on, they were well below the ankle and much baggier than the image suggests. Upon further investigation I see that the description of these jeans says "(and has a longer inseam for a deliberate "pooling" effect at the ankle. What's that? It's our design team's way of saying the leg is meant to bunch up a bit for a laid-back vibe)." This is a very different image than the photo suggests, which is misleading causing me to return the jeans.
Date published: 2014-12-19
Rated

4

out of

5
by
KatieMcC
from
Awesome! But a little short?
I've never had raw denim before, but I definitely love it - it takes a while to break in, but it doesn't stretch out like crazy and holds it's shape amazingly well. I love this particular wash on the denim as it's dressy and slimming. The feel takes a little getting used to, but as they've broken in they've gotten a little softer. One thing about this particular jean - it runs a little shorter than the other colors, which is really odd considering it says on the specs that it's the same length. I liked the color and the quality of this jean more than the alley straight waterfall wash, but I'm kind of tall (5'9") and these jeans didn't pool around the ankle like the waterfall wash ones did. So I ended up buying a tall online and getting it hemmed about an inch in store. Which isn't *really* a big deal, but definitely something to be aware of.
Date published: 2014-11-09
Rated

4

out of

5
by
Kimberley
from
Nice jeans but..
I have another pair of Alley Straights that I like much better than these. These fit completely differently than the ones I have even though it's the same product. I questioned the company about it and they said they changed the fabric so it won't bag after a day's wear. My old ones never bagged and were so comfy. They were a size 26. The new ones are a size 28 and have the same fit but not as stretchy. Also not sure if it is just the Raw Wash but they are pretty stiff and scratchy which I think will get better with more washing. I would love it if Madewell would go back to the old fabric.
Date published: 2014-10-06
Rated

3

out of

5
by
Cimon
from
Runs large
I usually wear 26 in jeans but this one is a little large for me.
Date published: 2015-05-07
Rated

3

out of

5
by
lynnhd
from
Traditional
I didn't love these jeans. I can see why they are loved though - they are very traditional, fitted but not skinny, dark wash jeans. To me though, the butt is not flattering (unlike some other Madewell jeans), the fit is too inbetween a straight leg and a skinny to be cute, and the whole feel is kind of overly traditional and a little matronly. Plus, the fabric is stiff and heavy in a way that would be uncomfortable for any weather other than winter. Not a winner for me, but others might like this basic look.
Date published: 2015-04-06
Rated

3

out of

5
by
Lollamo
from
Not as good as Rail Straight
I really wanted to like this jean more but it's not really a Straight leg jean.. The material was definitely thinner than previous jeans I've gotten from Madewell. And the leg opening has been shrunk from the Rail Straight version. I loved the Rail Straight fit because the leg would go over the top of booties. I feel like this is just a Skinny Jean without strangling your ankles. Which is ok. But it's not what I thought it was. And now I have to keep searching elsewhere for a REAL straight leg jean.
Date published: 2015-03-18
Rated

3

out of

5
by
SaavyShopper
from
Not my favorite
I'm 5'7" and these were more of an ankle pant for me. They have a relaxed fit at the waist and hips, which you can't really tell in the photo. So if you like that, these will be great, they just weren't right for me.
Date published: 2014-11-19
Rated

2

out of

5
by
Frankie06
from
Not that into it
I have never posted a bad review of Madewell denim, but I'm just not into these jeans. They are super stretchy, and when I think of raw denim style jeans, I want some stiffness. The poly and elastane in this fabric is just a no go for me. Look and feel like lesser quality and weren't worth the money.
Date published: 2015-04-01
Rated

1

out of

5
by
AGagnet
from
Stained everything!
My favorite denim fit I've ever had. Unfortunately they stained my new leather car seat, my hand bag, my new sneakers, my hands. I washed them four times. I even used a professional dye fixative on them. Had to return them. Very bummed.
Date published: 2015-02-03