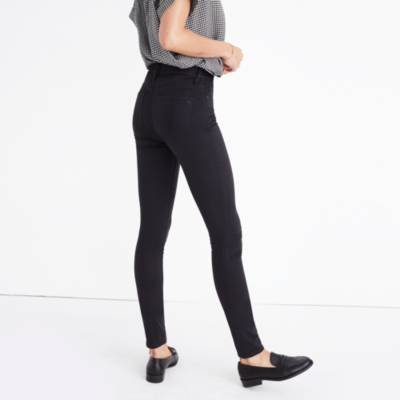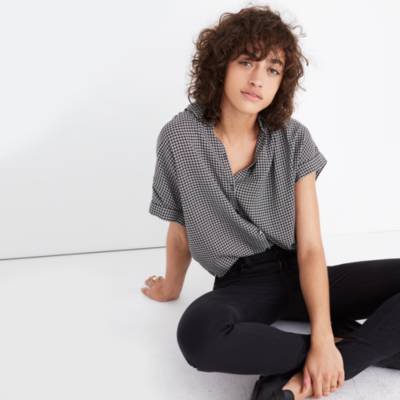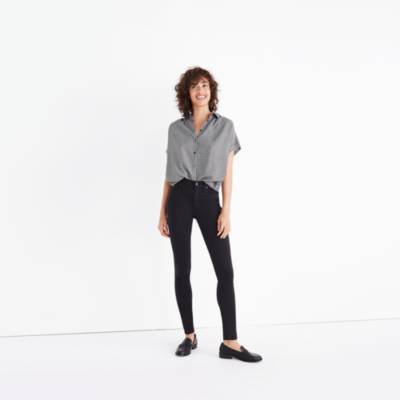 Product Details
Supersoft and comfortable (like instead-of-yoga-pants comfortable), these lean sexy jeans are made of a new Japanese sateen engineered to keep its shape long past 5pm. Plus, the 9" rise has a supersleek effect thanks to a tricky detail—Magic Pockets in front that offer an extra layer of holds-you-in sorcery for the slimmest, smoothest look yet.
Premium 57% cotton/33% rayon/7% poly/3% elastane sateen from Japan's Kurabo mill.
Garment-dyed for rich, dimensional color.
Black hardware (true black), matte silver hardware (burnished cedar, steel green), tonal stitching.
Fitted through hip and thigh with a skinny leg.
Front rise: 9"; inseam: 28 1/2"; leg opening for size 25: 9 3/4".
Machine wash.
Import.
9" High-Rise Skinny Sateen Jeans
9" High-Rise Skinny Sateen Jeans
is rated out of
5
by
43
.
Rated

5

out of

5
by
Mkcthc
from
Love these
Just received my pants in burnished cedar color. They are darker, which I like, than the online pic appears. I sized up from my usual 29 to a 30 and fit is perfect. Very comfortable and flattering.
Date published: 2018-03-01
Rated

5

out of

5
by
cccc99
from
don't need to size up if you are skinny since it would be loose after wearing for a while
I read the reviews and went with one size up but kinda regretted. I usually wear 24 for any jeans and chose 25 this time. It felt like no stretch at first try-on but gradually I found I can do everything with it! comfortable and worth the sale price.
Date published: 2018-01-26
Rated

5

out of

5
by
Mandy
from
Great color, great fit
After having a baby, I have returned to my same weight but clothes sometimes fit a little differently. These pants are great and fit snug, but flatter my post baby bod. The color is my favorite and goes with many items. The fabric is silkier than other colored jeans, but it's not shiny. I purchased a size 25 and would say that they seem true to size, but maybe smaller than a few other brands (I've actually been looking for this snug fit that doesn't loosen throughout the day!). This mama is happy!
Date published: 2018-01-16
Rated

5

out of

5
by
cqdswny
from
great dressy black jean
Runs a touch small but with one size up you have a winner
Date published: 2017-12-26
Rated

5

out of

5
by
Sisi5322
from
Nice pants. Remember buy one size up.
Usually I wear size 26. I brought 27 this time. It fits me perfectly.
Date published: 2017-12-21
Rated

5

out of

5
by
Kate54
from
The perfect pant
These pants are the best! Have been wearing them for several years. Wear to work, out and about. Comfortable and stylish!
Date published: 2017-11-29
Rated

4

out of

5
by
oaklinds
from
Great! But Size Up
I tend to avoid Madewell's high rise pants; they tend to feel a little fabric heavy or bunch strangely... but these sateens make for an amazing fit. However, they definitely run small.. I snagged my usual size 27, but they are tight on me.. can't gain a single pound. But they hold you in just right and the texture is very comfy. Love these - more colors, Madewell! Would love to own these in a deep green or dark rust.
Date published: 2017-09-17
Rated

4

out of

5
by
Kris
from
So cute in golden brown
I'm not sure of the name of the jeans but the golden brown color sateen are so cute. The color goes with a lot of things. I can't wait to try wearing them with a denim top. I've so far paired them with my high-neck striped tank with some velvet slip-ons flats I've gotten from madewell as well. Super cute. My only problem was that it was a little tight in the thighs. I'm a hippy black girl so, knowing this, I bought them a size larger. It's not too uncomfortable but definitely something worth noting.
Date published: 2018-03-26
Rated

4

out of

5
by
LunaKai
from
Just not sure....
Really want to like these....wanted something little different than my usual MD denim jeans. Not sure if keeping or returning these. Some pros and cons: ☆Quality - excellent ☆ Fit/length - definitely smaller than your normal size, fits is close to body, cannot get over why it looks like material has rolls @ knee/upper leg. Not flattering. When I sit, makes my thighs look very large. ☆Material - super soft, like leggings, dye is a little stinky. ☆Color - way darker of shade shown in stock pics. For reference: Height - 5'4 Weight - 105 to 110 MW Jean size: 24 jeans This jean ordered: 26 (fits like 24)
Date published: 2018-02-27
Rated

4

out of

5
by
MoniMoni74
from
Soft to the touch black jeans
Very nice and great fabric but the size runs smaller than another pair I bought a month ago in the same size.
Date published: 2018-01-21
Rated

4

out of

5
by
amt409
from
Should be called SUPER skinny jeans
These jeans are beautifully soft. I bought them in black. I was hesitant to buy at first because they seem much smaller than the many other Madewell jeans I own. I tried a size up and they were too big; I went with a Madewell associate's advice to buy my normal size because she said they "stretch about a half size". She was right. After about an hour of wear, they stretched to my normal size. Still a super skinny leg though so they almost look like "jeggings". They are good for casual friday's at the office and the skinny leg is great for tucking into boots.
Date published: 2018-01-19
Rated

4

out of

5
by
Elen
from
Very comfortable!
These pants are great. Really comfortable! Nice, flattering fit.
Date published: 2018-01-17
Rated

4

out of

5
by
astro
from
Runs Small but Still a Great Jean!
As previous reviewers have noted, these pants run small. I sized up two sizes from my normal pant size (honestly relieved that others had to do the same because I was in the store like HOW MUCH WEIGHT DID I GAIN?!?!?). However when you find the right fit they look phenomenal. I have been looking for a good quality pair of high waisted skinnies for a long time, and I finally love how these fit once I found the right size.The only area that isn't a perfect fit is around the crotch where I feel there's some extra fabric, but hey everyone is different and it can't be a perfect fit for everybody!
Date published: 2017-12-15
Rated

3

out of

5
by
Jeans27
from
Attracts a lot of lint
I own about 5-6 Madewell jeans and am a big fan of them overall, however this pair disappointing. They looked great in the store and were super soft, however when I took them back home I noticed a layer of lint stuck to the jeans. I took a lint roller, cleaned up the jeans and then laid them on a blanket just to see and sure enough, the fibers from my blanket clung onto my black jeans. I'm returning these for another pair that I'll like better hopefully. I think the jeans have a great fit but the type of fabric makes it prone to catching lint.
Date published: 2017-10-26
Rated

3

out of

5
by
amefree
from
Nice color, but runs really small
I ordered the jeans in the green color in my usual size (28Tall). The length was just right, but oh my, were these jeans ever tight. I was able to get them on, but they squeezed my thighs and calves enough to cause some pain. I also had some trouble getting the jeans on and off my foot, because the ankles were so narrow. I wanted to see if they were really smaller than other Madewell jeans or if it was a stretch issue, so I compared them to my favorite pair of jeans (Alley Straight from a few years ago). Interestingly enough, the sateen jeans were slightly wider in the thighs than the Alley jeans, so I guess they just don't have that much stretch.
Date published: 2017-09-09
Rated

3

out of

5
by
littlemurph
from
Faded quickly
I loved these jeans when I first got them. I am 135 athletic build and 5'9" and I was so happy when I found they were long enough for me and also fit my waist (size 26). I thought for sure these would be my new go-to jeans but sadly after the first wash they jaded into an unflattering grayish black :/ I would love them if they held their color but I feel like its a lot of money to spend for them to fade after one wash.
Date published: 2017-09-05
Rated

3

out of

5
by
Perk455
from
Runs so small and no stretch
These pants are so cute but run so small. Great color but no stretch.
Date published: 2017-10-19
Rated

3

out of

5
by
leesag
from
Not good for curves
I'm generally a size 25 with a small waist and unfortunately, while these pants fit my waist beautifully, the thin/shiny material made my thighs look really lumpy. They're super cute and comfortable though, and fit well otherwise, but I wouldn't recommend them unless you have really smooth thighs. Note: the pair I tried was in the brown color. It might not be as bad in the darker shade.
Date published: 2018-03-16
Rated

3

out of

5
by
Kristen
from
Runs really small
Great quality and super soft, but run really small. I would have exchanged for a larger pair but they were sold out.
Date published: 2018-01-25
Rated

3

out of

5
by
Runner91
from
Runs small!
I wear size 25 in all my jeans from Madewell so I ordered a 25 in these (5'4", 120lbs, athletic). I did struggle to get them over my thighs but I managed to squeeze into them. I will say they don't have much stretch at all - although I'm hoping after I wear them for awhile there will be a little give. I plan to make them work, but if I would order another pair I would definitely size up to a 26. They also claim the 9" high rise but I feel like they don't come up as high as my other 9" high rises from Madewell.
Date published: 2018-01-17
Rated

3

out of

5
by
Bee2
from
Soft but too short
They are very comfortable and I like the high-rise fit but they are very short. If you are tall, then definitely order them in a long! Overall, a decent pant but far from my favorite from Madewell. Also not really a denim in the sense of the fabric, but like I said super comfortable. I am 5'9 and they come well above my ankle.
Date published: 2018-01-10
Rated

3

out of

5
by
MadeBad
from
Fits tight at rear, looks nice
I got a 26, up from my usual size, because reviews said to size up. It's still a bit tight at the rear, which is weird because that never happens for me for pants. The rest of the pants fit ok, but it's not that comfortable. It looks great - it's a slim look. The sateen fabric looks nice, too.
Date published: 2017-12-28
Rated

3

out of

5
by
caluvorniagirl
from
Too small
I'm 5'3 106lbs and usually wear a size 24 in Madewell's jeans. I got a size 24 in these and they were really difficult to get up my thighs and butt. Once I got them on, I was able to button, but there was not a lot of flexibility or stretching. I'm returning them and looking to try the coated edition.
Date published: 2017-12-22
Rated

3

out of

5
by
MGoBlueAbbs
from
Love, but miss the old sizing
I got a pair of these last year in black and absolutely loved them, they were skinny but loose that felt more comfortable wearing them at work since jeggings aren't exactly appropriate. I went to get another color this year but the woman informed me that the sizing would be different than my other pair. I did size up but I'm still not quite the fan I was in the older pair... They are a lot tighter and less comfortable... They are still stylish.. and I was hoping they'd stretch out more, but really they haven't. Go back to the old sizing!
Date published: 2017-12-19
Rated

3

out of

5
by
sha789
from
love the fit, not the material
got my usual 27, fit me like a skintight leather glove. after a few days of wearing it, i noticed that the insides rub together and get that little thing of the rolls in the inner thigh. so, thick thigh'd ladies, take your changes because the material there will run down fast.
Date published: 2017-11-25
Rated

2

out of

5
by
Annie57
from
I Wish I Could Say These Were Made Well
On the plus side, these pants are comfortable, soft, and a really lovely color. They seem to hold their shape throughout the day, which is good. The drawbacks are mainly down to the fabric choice. The fabric is thin and feels cheap. Within a couple of hours of wear there was already pilling on the inner leg, something that shouldn't happen with quality fabric- particularly since the most vigorous thing I'd done in them was walk to a coffee shop. Additionally, there is a strange interior seam where the pockets are attached that creates an unflattering line across the hip. It's caused by the serged edges of the pockets showing through to the outside because the fabric chosen for these pants is too thin.
Date published: 2018-03-29
Rated

2

out of

5
by
Nicole
from
Didn't love the fit
I felt like these ran tighter than the other pair I purchased that were the same style but different color. Will be returning
Date published: 2017-12-12
Rated

2

out of

5
by
caroline1829
from
Wanted to love them
I have a pair of black sateen jeans from last year that I love and wear to work all the time. I wanted to love this years so that I could get different colors and pretty much commit to this being my work outfit, but they just didn't work. I tried one size up and they looked right but I couldn't bend my knees. When I sized up two sizes, the whole front waist/crotch area got super weird wrinkles, which I think means they were too big.
Date published: 2017-11-15
Rated

2

out of

5
by
CJ625
from
Different than Last Year's Sateen Pant
I will start off by saying I love Madewell anything and everything. If I could afford to own the entire store I would. I had 3 pairs of 2016's sateen pants and they were my absolute favorite pants ever. I lost some weight and was looking forward to getting a new pair for this winter. I went in store and bought the black sateen pant and they are nothing like last year's. They have 0 stretch and just like someone else said I feel like when I sit i'm going to split the pants. It's unfortunate because they introduced 2 new cute colors to the line this year, but I will not be buying any more of these. This is the first Madewell product I have ever disliked. Bring back the 2016 sateen pant!!!!
Date published: 2017-10-24
Rated

2

out of

5
by
SPWT
from
Wanted to love
These seemed like the perfect black jeans online. I wanted to love them but they didn't work for me. I got my standard size at madewell and they fit perfectly, but the legs barely had any stretch or give to them. When I tried to sit down I felt like they would split open. I need jeans with lots of stretch that I can get on and off the floor with my kids easily.
Date published: 2017-09-07
Rated

2

out of

5
by
Niko
from
Not quite what I was expecting
I love Madewell and still do but this pant let me down. I have a pant similar so when I ordered I thought I would be getting the close to the same product. This pant has a different fabric that I am not used to. It does not give the way other fabrics do and this caused the pant to be uncomfortable. The fabric caused the sizing to be off, and they did not end up fitting the way my other pants do.
Date published: 2018-04-06
Rated

1

out of

5
by
MLGT
from
Bring back the original quality
I've been buying these jeans since they were first introduced, probably 2-3 years ago. I wait to buy them every fall because that is the only time they're offered. I went in to re-stock and was very surprised to find that the fabric was changed. I could tell as soon as I touched them. I still tried them on, but the size runs smaller and there is very little stretch. Extremely disappointed!!! I checked the tag and New quality is 57% cotton/33% rayon/7% poly/3% elastane, whereas old quality was 60% cotton/35% modal/5% elastane. Why change something that works?? To save cost? Cut back on quality and disappoint customers? I'd rather pay a few dollars more. Sounds like a familiar story. I used to be a loyal J.Crew shopper....
Date published: 2017-11-02
Rated

1

out of

5
by
DHPDX
from
Sizing is way off
I have multiple Madewell jeans of all types in the same sizing so I thought it would be safe to order these on sale in the same size. They fit COMPLETELY different. I reached out to customer service, but they said it was probably because the fabric is the Sateen style, however it's not the fabric that i'm concerned about. They seem to run EXTREMELY small.
Date published: 2018-04-13