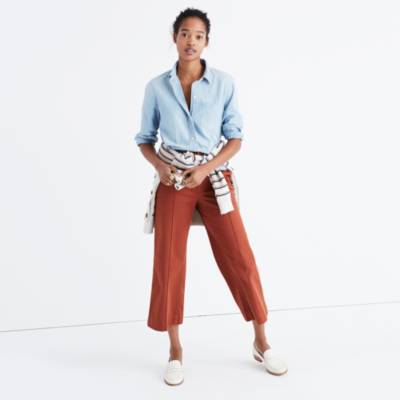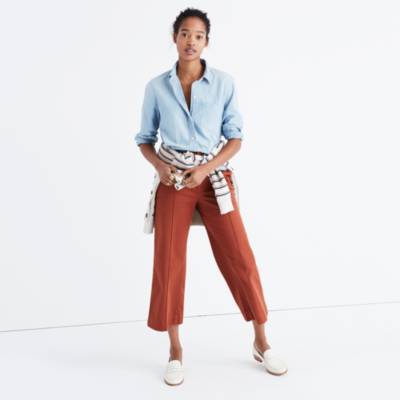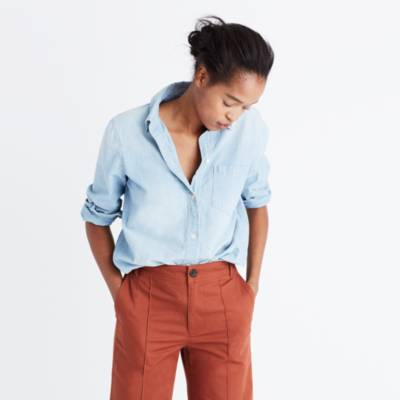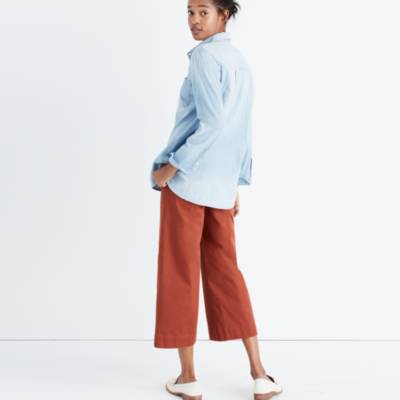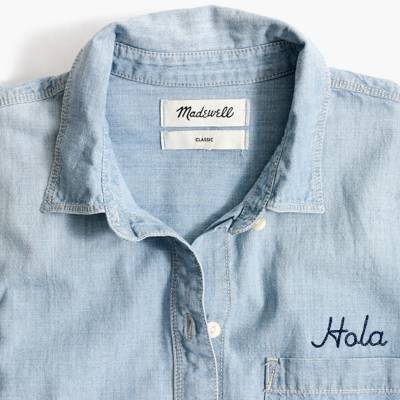 Product Details
A timeless button-down in a soft chambray that's been lightly distressed along the edges for that perfectly worn-in, Dad's-favorite-shirt feel. Slightly oversized with ready-to-roll sleeves, this version is just right.  
Monogramming available for US customers: To have this item embroidered with up to nine letters for $10 (free for Madewell Insiders), please call 866 544 1937.
Slightly oversized fit.
Cotton.
Machine wash.
Import.
Chambray Ex-Boyfriend Shirt in Buckley Wash
Chambray Ex-Boyfriend Shirt in Buckley Wash
is rated out of
5
by
42
.
Rated

5

out of

5
by
SMRH
from
Favorite shirt
Love this shirt! The hang and fit are both perfect. I wear it with leggings.
Date published: 2016-05-06
Rated

5

out of

5
by
Weasie
from
Chambray Ex-Boyfriend Shirt
Comfortable. I bought a M and a L. The M was a little snug through the chest, so I kept the L.
Date published: 2016-09-02
Rated

5

out of

5
by
LMB1984
from
Classic!
Love this shirt, classic Madewell!! I do find it to be on the ever so slightly larger side but overall great shirt that gets a lot of wear!
Date published: 2016-07-19
Rated

5

out of

5
by
Gwenny
from
Beautiful!
I have been looking for a good denim shirt for a while. This one is perfect. The collar is a bit stiff but after one or two wash, it's perfect! I like to wear fitted clothes so I order an XXS. I am 108 pounds and 5'1.
Date published: 2018-02-15
Rated

5

out of

5
by
Juju
from
Great shirt!
Wish I had ordered more than one. Nice fit...not too loose or baggy, though I did order xxs.
Date published: 2017-12-10
Rated

5

out of

5
by
okay
from
Good enough to buy again...
We all wish we can buy our favorite things once and keep it brand new forever, but time wears on all our favorite things. I bought this shirt about 2 years ago and wore it everyday. Eventually the elbows ripped, but I still wore it. The buttons fell off, but I didn't bother to replace them. I roll up the sleeves to ignore the elbow holes and wear under a sweater to ignore the buttons missing. Sure, the shirt hasn't maintained it's perfect brand-new-ness, but I enjoyed it while it lasted and it's good enough to buy again...
Date published: 2017-12-08
Rated

5

out of

5
by
MSE74
from
Really nice.
I love the feel of this fabric. It has a light and airy feel and drapes nicely. The color is on the lighter side of chambray. The fit is perfect- not too close, not too loose.
Date published: 2017-07-13
Rated

5

out of

5
by
normajj
from
This shirt could not get any better!!!
This chambray shirt is beautiful, well fitted and soft to the touch. I love it and will wear it over and over. The size is perfect and fits a female body well. The best it can be and thanks.
Date published: 2017-07-04
Rated

5

out of

5
by
Pilot
from
Love this shirt!
Great color and style. Plan to wear with white jeans on upcoming travel to the Caribbean. Great casual shirt.
Date published: 2017-03-30
Rated

5

out of

5
by
CookieN
from
Almost perfect Chambray
I love this shirt - can be worn buttoned-up or open as top-layer, its soft and pliable, but structured. My only qualm is that I actually hoped it to be a bit less fitted. When I think ex-boyfriend, I think looser fit, almost billowy, and this is definitely not that, but I love it none the less and have already worn it twice =)
Date published: 2016-09-30
Rated

5

out of

5
by
SaraB
from
Feels Broken In Already
While it is a pretty expensive shirt, it feels broken in already and fits great. It's a great length and I like the buttons, which isn't always the case on chambray shirts for me. Thanks!
Date published: 2016-03-15
Rated

5

out of

5
by
Vee370
from
Great Everyday Shirt
This is not a "slightly oversized" fit for me--it's perfect, not too loose nor too tight (I'm 5'7" / 130 pounds and ordered a size small). It's soft without being too light in weight. It's a great staple for a casual office environment and for the weekend. The pocket sits slightly higher than the classic denim shirt, which gives it a unique look. Love the lighter wash, too--perfect for spring into summer.
Date published: 2016-02-29
Rated

5

out of

5
by
Happyin2016
from
My new go to shirt!
I just love this shirt! I am so glad a bought a small as it runs a little big. I can go casual with leggings and a cute tank under or dress it up with a blazer, a great necklace and dress pants for work or an evening out.
Date published: 2015-12-29
Rated

5

out of

5
by
Natashaleon
from
Love the chambray shirt
I have recently been obsessed with all things jean and this long sleeve definitely makes the list. Its light enough that i could wear it in Miami but i can also wear it in colder climates. It is slightly oversized which i like because you can layer. i am a small 5'9 and 32 b. i like the fabric and the color, really well made.
Date published: 2015-12-17
Rated

5

out of

5
by
TSSA1010
from
Perfect Chambray shirt
I wanted to buy a soft, classic chambray shirt that would last a few years and this is perfect. I am 5'4" approx 120 and average chest. I got the small and I think it fits perfectly. I didn't want it tight, but its not overly baggy. perfect ex-boyfriend fit.
Date published: 2015-12-14
Rated

5

out of

5
by
sweetsweetchristine
from
Love the shirt!
I am not normally a denim or chambray person but since it is so popular and on trend at the moment I have decided I should own one too (women, right!). I have been wanting to get a light wash denim shirt to go with thick wool sweater in the winter and this shirt is exactly what I am looking for. The fabric is really soft and comfy and the cut is really flattering. I think it runs on a slight large size since I normally wear medium (and sometimes large) at Madewell (5"7, 160lbs, 34D) but I can comfortably fit in a small without looking oversize, its a more fitted look, which is perfect to wear under sweater. Overall I love the shirt and I can see a lot of wear this winter :)
Date published: 2015-10-19
Rated

5

out of

5
by
ella123
from
Impressed
Don't shop here often but got this shirt and its impeccable - just perfect. I love how its solid, doesn't wrinkle if you steam it well and it fits well / the size is good. I wish it came in white too!
Date published: 2015-09-23
Rated

4

out of

5
by
LA22
from
nice staple, miss the old fit
This is a lovely wash, simple details, but it seems the fit is a little smaller/narrower than past ex-boyfriend fits. It was a little too small in the shoulders, so i returned (but my shoulders are a little wide : / )
Date published: 2017-12-05
Rated

4

out of

5
by
SeattleSara
from
Nice style but tight in the chest
I have been looking for a denim shirt to replace my old one and I loved the style and color of this one. It's a light colored denim that has a polished look. The only snag is that it's tight in the chest for me (I'm a 34C, 120lbs, always a Small/4 everywhere). It causes awkward gapping. I think I'm gonna keep it to wear under sweaters.
Date published: 2016-02-03
Rated

4

out of

5
by
JBAS
from
Better than expected!
I've owned a few chambray shirts and so far this is my favorite. The shirt is soft and feels worn in already, which I love. Fits slightly large/relaxed and I got my normal size S in button down shirts. The bust was perfect for me (34B). If I could change one thing, I would want the sleeves a little longer but they aren't unreasonably short. I'm 5'9" and usually wear a size 4.
Date published: 2016-12-31
Rated

4

out of

5
by
sandiegokristi
from
Happy Purchase
I had to replace my chambray shirt and have been searching for the perfect chambray shirt to replace it. I like the color and the material feels soft. Boyfriend fit is a different style then I previously had, but I like to wear my chambray as a cover up / lightweight jacket and this fits the bill. Trying to wear it tucked in and not sure if it is too billowy, but overall very happy with this purchase.
Date published: 2016-07-27
Rated

4

out of

5
by
chicmom32322
from
Really nice shirt
I just bought this shirt and I am very pleased with it. I do find the oversized fit to be a little misleading though. I bought my usual size small and it fits very nicely. I do really like the longer hem, so maybe that is the reason for the oversized fit? It is not a fitted shirt, like some of the Madewell button downs, but it's not as over sizes as some other shirts that are classified as "oversized". It falls somewhere in between. I would not recommend sizing down because you may loose the ability to comfortably use your shoulders without the fabric pulling. This coming from someone who has narrow shoulders. I'm 130 lbs, 5'7 with a long torso and the shirt fits nicely all over - waist, hips, length covers my behind, and sleeves. My only complaint is the factory distressing on the hem of the shirt is just a little too much. I can see the weave of the fabric, so I hope it doesn't begin fraying. I want this shirt to hold up well. It's a great staple!
Date published: 2015-12-19
Rated

4

out of

5
by
MadewellAddict100
from
Laid back comfy shirt
Great comfy shirt! I am 5'10" and usually have to order "tall" shirts to fit my long torso. This shirt is long enough without appearing too oversized.
Date published: 2015-12-14
Rated

3

out of

5
by
Courtney32
from
Great shirt, but some quality issues
I love this shirt--I wore it at least once a week for a little under a year. Unfortunately, like other reviewers, I've found that it has some quality issues. It now has a huge rip in the elbow, making the shirt totally unwearable. I'm debating buying another one because it's a great style and really versatile, but I don't really want to buy one every year.
Date published: 2017-08-17
Rated

3

out of

5
by
Melissa
from
Love this...but
I love this shirt!! I've had it for several months and worn it often. However, the quality seems poor; all except 1 of the buttons down the front have cracked in half and come off the shirt in the wash. I always washed the shirt per the care instructions. I am disappointed in the quality of this shirt because I love the style. It's a great fit, true to size, not overly baggy and the perfect color. I love the shirt so much that I'm actually debating buying another one despite the poor quality, but buyer beware...
Date published: 2017-02-03
Rated

3

out of

5
by
jankay
from
Great Style
The only problem I had with this shirt is a couple of the buttons would not stay buttoned. I believe the button hole was too big. I can fix that. overall I loved the fabric not to heavy not to thin. Color was true to picture. I have bought many medium shirts and it wasn't that the shirt was too small just small defect in a couple of button holes.
Date published: 2016-11-18
Rated

3

out of

5
by
Kate
from
Love but not durable!
I absolutely adore this shirt! However, I am on my second one and it,too, just like the first one, has ripped in the sleeve near the wrist buttons! I am just bummed it hasn't seemed to hold up both times.
Date published: 2016-11-01
Rated

2

out of

5
by
Tuomaa
from
Buttons Crumbled
I love this shirt. Yet after a few months of light wear, several of the buttons have crumbled. How is this even a thing?
Date published: 2017-10-10
Rated

2

out of

5
by
NYCarchaeo
from
great style, really poor quality
Like other reviewers, I'm also on my second one of these shirts. I love the style so much, it's my favorite shirt while it lasts. My first one developed large holes in the armpits after less than a year. Replaced it, and now my second one has developed large holes on the sleeves near the wrist buttons (exactly like another reviewer!). What's the deal? I wash this shirt on gentle, always air dry, and still somehow this chambray just doesn't hold up. So disappointed-- going to have to give up and look elsewhere for my denim shirts.
Date published: 2017-03-31
Rated

2

out of

5
by
KathU12
from
Great look and fit, but doesn't last
I purchased this to replace another chambray from Madewell that quickly wore a whole in the elbow, but this one too tore after just a few months of wear. The look and feel is great, but unfortunately the quality just doesn't seem to hold up.
Date published: 2016-05-06
Rated

2

out of

5
by
Average
from
I had high hopes for this shirt, I am desperate for a source for a good, roomy boy's fit chambray shirt. This is not it.
I am a small woman, 5'5" and 110 lbs. Luckily I chose a large. And it was STILL too small! The fit of the body was close to okay, but somewhat tight in the shoulders -- and I am not Arnold! The arms are almost impossible to roll up. Why would anyone want a casual shirt whose arms could not be rolled up? I kept the shirt for the odd times I will have a use for it with the sleeves down, but mostly I kept it because of the hassle of returning it. Whoever in this company thinks that women want a casual shirt with a tight to the body fit and very narrow sleeves needs to re-examine his or her views. One final minus -- the shirt must be washed on cold. Really? What authentic man's work shirt have you ever seen that requires a cold wash! Please! If you are selling "authentic," it behooves you to practice authentic.
Date published: 2016-04-22
Rated

1

out of

5
by
Dare716
from
Surprisingly Disappointing
Honestly, it's possible I've been sent the completely wrong shirt. That is how far from matching the pictures and descriptions this item was. It's not soft or worn in and certainly couldn't be said to have distressed edges. The material is stiff which makes the awful fit worse. It's tight in the chest (I only wear a 32B) and flares out at the hips, obviously not a good look. I'm 5'5" and about 115 lbs. and I have several other shirts in a small from Madewell that fit excellently. With this shirt which is meant to be oversized (Ex-boyfriend, right?) the sleeves are barely long enough to cover my wrists and the cut is so short I would have trouble tucking it into pants. Maybe a larger size would at least fulfill the description of being oversized and comfortable, but it wouldn't change the fact that the material is stiff and darker than pictured.
Date published: 2016-02-16