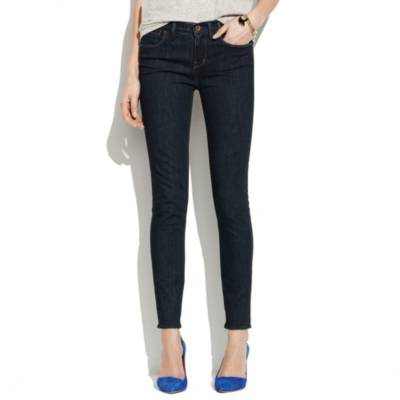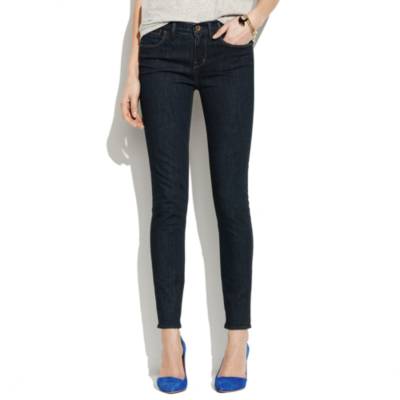 Product Details
Risk-Free Jeans: Free shipping and returns on all jeans, all the time.
Our superslim and super-stretchy fit, flatteringly cropped at the ankle in an extra-special wash you won't find anywhere else.  
Sit at hips.
Fitted through hip and thigh, with a slim leg.
Front rise: 8".
Inseam: 28 1/2".
Leg opening for size 25: 10 1/4".
98% cotton/2% spandex.
Machine wash.
Import.
Madewell.com only.
Skinny Skinny Jeans in Madewell Wash
Skinny Skinny Jeans in Madewell Wash
is rated out of
5
by
28
.
Rated

4

out of

5
by
jww129
from
Had Higher Hopes
I have heard nothing but rave reviews of these jeans, mostly from reviews and a few friends who have them. Needless to say, my expectations were very high. I was somewhat disappointed when my jeans arrived and they were the ankle cut, which I did not order. I went online to check and it looked like that was my only option, so I kept them. This wasn't a big deal after a few wears, I got over it. What I was surprised by, based on the reviews and advertisements was how much they stretch with each wear. One of the girls in the store told me before I ordered them, that I would NEVER need to dry them... that is not true. I would not say I don't like them, because I actually really like them. I just had higher hopes for the price.
Date published: 2014-05-13
Rated

4

out of

5
by
bachampagne
from
Good but could be better
I tried the regular skinny skinny jeans on in the store and loved them but I needed the ankle length because I am so short! The skinny skinny ankle in the madewell wash are only available online so I ordered them. I normally wear a 27 but I needed a 26 in these jeans. When they came in the mail and I tried them on I was a little disappointed. They were pretty hard to get over my ankles and yet once they are on, I wouldn't say that they are as fitted around the ankle as I would like. I'm 5'3 and normally "ankle" length jeans are the perfect normal length jeans. But these are still a little bit long. They fit through my thigh perfectly but they are kind of baggy around my hips. I know that Madewell has a pretty boyish style so maybe that's how they are supposed to fit but I feel like I wouldn't be able to wear them with a shirt tucked in because it would probably make me look like I have a poochy tummy.
Date published: 2013-04-25
Rated

4

out of

5
by
MegD
from
Good Quality Denim
Ordered these jeans online because my local Madewell didn't have them in the dark 'Madewell' wash. They fit true to size and don't stretch out too bad. My favorite thing about the denim is that there is very little stretch, as I'm sort of over the jeggings trend. The knees bag out a little bit, but no more than any other jeans I own.
Date published: 2013-04-22
Rated

4

out of

5
by
KMichelle86
from
Good jeans but stretch out easily
I love these jeans however, they do stretch out in butt and thigh area after a few hours of wearing. To fix this I washed them in super hot water and dried on high heat. Now I can wear them a few times before they need washing again. I wouldn't order a size down because waist fits normal just might have to shrink a bit or order a jean with more spandex and less cotton.
Date published: 2013-01-13
Rated

4

out of

5
by
PrJG
from
Madewell Wash is the Best/ Can't pull these on over my heel.
The skinny skinny jeans are a great cut for small athletic people. The Madewell wash is the best of their blue denim. It's clean, without any distressing and it's a good weight of denim that doesn't look like jeggings. I know this because I have the Madwell wash in another pair of jeans. I ordered the skinny skinny ankle to wear with ankle boots. I will have to return this pair because the opening for one leg isn't big enough to get my foot through. I went to the store to exchange it and Madewell wash wasn't available at the store. So, I'm going to send it back for an exchange. I expect to be happy when I get a pair that I can pull over my feet. I took one star off because I got a lemon.
Date published: 2013-01-09
Rated

4

out of

5
by
surlelit
from
Fit well
These jeans fit well. There is no stretch in the fabric, but they are still comfortable and flattering. I am on the shorter side (5'4") so I would not call these ankle jeans on me, but I like that the length hits right above the foot.
Date published: 2013-01-08
Rated

3

out of

5
by
ATCSC
from
Wish i knew how to order pants from Madewell
I have a pair of the Skinny Skinny jeans in Sunfade and i LOVE them. They fit perfectly. Ordered these in the same size, and they are probably 2 sizes too small. Also the calf seemed to fit looser that the sunfade. I'll sadly be returning them. As far as quality and color -- FANTASTIC
Date published: 2014-06-26
Rated

3

out of

5
by
Hang
from
Not the same cut or material as other skinny skinny jeans
I purchased the jeans assuming the had the same fit and stretchy material like the skinny skinny jeans in the store/online. However the material and size of the pants (especially around the thighs) are not the same as the all of the other jeans in this line. Since i'm petite, I had to return the jeans as they were too baggy below the waist. Great color and quality - but not what I was expecting.
Date published: 2014-05-01
Rated

3

out of

5
by
Czahor
from
run a bit small
I have a few colors of the other Skinny Skinny Ankle jean style. I know that all washes differ with fit, so I tried these in hopes they would fit like the Black Frost or Pool wash. Unfortunately these ran too small and i couldn't get them up over my bum. I'm a size 32, so i couldn't go any higher to exchange. Instead, just ordered another pair of my fav other washes.
Date published: 2014-03-06
Rated

3

out of

5
by
DowntownNYCGal
from
Not what I expected
These jeans felt really nice -- the denim was substantial yet still stretchy - and the color was a really nice shade of deep blue. But they just didn't work for me otherwise. I usually fluctuate between size 25 and 26, and I went for the 26 in these based on other reviews. They definitely weren't too big in the waist, but there was a noticeable gap at the back of the waistband that I knew would drive me crazy over time. Also the length was fine (I'm 5'7"), but the ankle opening was a little too big. It flared out a bit at the sides, which was definitely not the look I was going for. I bought the high-waisted version fo the same pants in black denim in size 25, and they are great -- no gapping at the waist and the ankle is skinny like I expected. Not sure what went wrong here, but these are going back.
Date published: 2014-01-30
Rated

3

out of

5
by
AuBV
from
Disappointed
Very disappointed, after hearing that the new Madewell denim is supposedly "super stretchy." These were not stretchy at all.. more stiff than stretchy. They were not slim enough in the legs either.... I am petite so I ordered the ankle jeans hoping they would be the right length, but that just meant the calf hit too low on my legs, causing them to not be skinny skinny but baggy baggy.
Date published: 2013-08-13
Rated

2

out of

5
by
avav
from
Sizing much smaller than other Madewell jeans
I purchased 3 different pairs of Madewell jeans in the same size at the same time, and the other two fit perfectly and very comfortably. This pair, for contrast, I could not even manage to pull up all the way up my thighs, let alone button/zip. Perhaps this is because the cotton content of this jean is higher than that of the other two pairs, but I would definitely disagree with the "super stretchy" claim made in the product description, and would suggest sizing one or two sizes up as compared to the other jeans Madewell offers. I am actually otherwise pleased with the quality of the fabric, as it can be difficult to find sturdy-seeming jeans with around 98% cotton anymore--it's just that the jeans should be sized and labeled consistently, irrespective of how a given fabric is likely to make jeans fit when they're actually on. The inconsistent sizing makes for a disappointing experience if you're not able to visit a store to try things on first.
Date published: 2014-07-26
Rated

2

out of

5
by
nyc17
from
Poor Update
I loved the old skinny skinny ankle jeans but since they were updated I have been disappointed. The new jeans are made from a much stiffer material and uncomfortable to wear. I also have to say that the quality seems to have gone down despite the higher price point. And they still seem to get baggy around the waist and fall down. Bring back the old jeans!
Date published: 2014-01-12
Rated

1

out of

5
by
TaliaMc
from
Super-too-stretchy fit
I was hoping for something more slimming as it seemed like these jeans were in-between skinny and straight leg so it looked awkward. I decided to get them tapered but after biking to school, the jeans completely lost its shape. Super disappointing and I can't even return them because I altered the jeans.
Date published: 2014-06-04
Rated

1

out of

5
by
Agirl
from
Stretches out
I was really excited when I got these in the mail. I loved the color, which looked as great in real life as it does online. When I tried them on for the first time they fit great (I got my usual size 0, I am about 107 lbs and 5'2"). However, after I wore them for only the second time, they stretched out about 2 sizes too big. I am so disappointed, especially since the issue did not arise until after the second ware. Now it is too late to exchange or return, so I am stuck with big jeans and afraid to order jeans from here again (since going to the store is not an option). I would recommend sizing down.
Date published: 2014-04-28
Rated

1

out of

5
by
JenL
from
odd fit and not "skinny"
I loved how these jeans appeared to fit in the photos online, however when I received them they were not really a skinny fit - they were more loose fitting in the legs, and the material was almost starchy feeling (vs soft).I would not recommend ordering these jeans
Date published: 2014-03-05
Rated

1

out of

5
by
luffmadewell
from
Disappointing
I thought these were going to be a "superstretchy fit" like it says in the description. Instead they were true denim, with very little stretch to them. I wondered if I was sent the right jeans? Still, I wanted to give them a chance. I tried wearing them once, but they are super rigid and they cut in at the waist. Not comfortable at all. I've never ordered a madewell item I didn't like. So this is a first. I just wish I'd returned them when I had a chance.
Date published: 2014-03-03
Rated

1

out of

5
by
tt85
from
Stiff Denim
I like my jeans comfortable and this material was just really stiff. The waist was also big so it left a gape at my lower back. The cool was monochromatic and the ankle wasn't tight enough. They are going back.
Date published: 2013-12-15