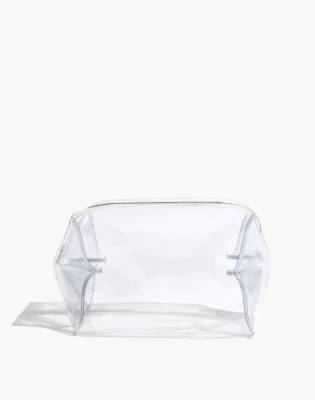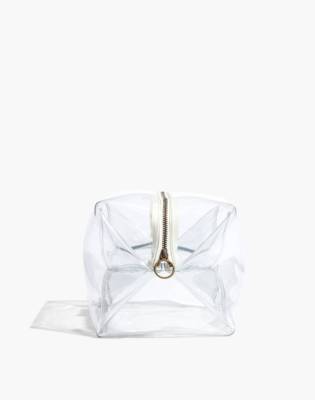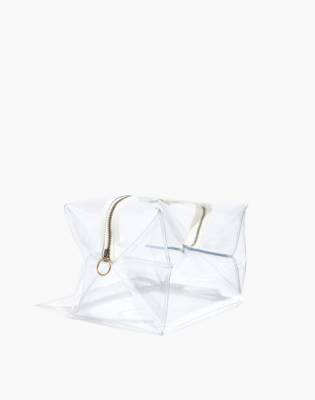 Product Details
A square, clear vinyl bag made for tossing into a tote or stashing cosmetics sink-side. Cute and easy to clean, it's perfect for travel.  
Large Crystalline Travel Bag
Large Crystalline Travel Bag
is rated out of
5
by
10
.
Rated

5

out of

5
by
emily33
from
Great for traveling!
This isn't the most "stylish" cosmetic bag, but it's awesome for traveling. I was sick of packing my liquids in a ziplock bag and this was the perfect solution for that. It can easily wipe clean if something explodes and it fits a ton of products. Very durable. Highly recommend!
Date published: 2017-10-09
Rated

5

out of

5
by
hlebth
from
Don't listen to the "haters"!
I LOVE this bag, and I'm not sure why everyone is hating on it so much! Yes, the mouth does not open extremely wide but I've found that if I push the top lobes inward, it opens up enough so that I can get even large beauty products inside (hairbrushes, hairsprays, etc.). On that note, this bag holds SO MUCH. I can fit full-size products in here and no longer have to worry about finding/making travel size versions of my favorite products. Also, it's SO cute and the plastic used is thick and durable. I looked at a lot of transparent travel bags before buying this one, but all of them had flimsy plastic. No thanks! This bag is PERFECT for travel and is such a joy to just look at. So cute and worth the price!
Date published: 2017-09-07
Rated

5

out of

5
by
233AG
from
Love it
I love it so much!!! It's strong plastic, sturdy, stands up and great to toss in travel bag. If you want flimsy plastic get yourself a ziploc bag.
Date published: 2017-08-31
Rated

5

out of

5
by
SerineGoodmond
from
LOVE
I absolutely love my little travel bag. I actually plan on getting another size.
Date published: 2017-03-20
Rated

3

out of

5
by
fannydelgado
from
Cute but not as functional as I'd like
I love see-through makeup bags and this one is made well. Only problem is that the design makes it hard to get into. I'm using it anyway, and getting used to it. Would just like to find one with a larger or better designed top opening. I'm picky that way with my purses also.
Date published: 2016-01-05
Rated

2

out of

5
by
Alanah
from
Stiff....
Not what I expected. Very cheaply made. Like the idea of the clear plastic but the quality was poor.
Date published: 2015-07-27
Rated

2

out of

5
by
Isabella33
from
Cute and Painful
I have both the large and small crystalline travel bags. I think they function fine for travel. It's great that I can see everything I pack but be warned that it is difficult to get items in and out of these bags. Your hands get all scratched up and if you have sensitive skin like me this bag might even draw blood. Even though I have been attacked by this bag, I did not ever even think of returning it because it's cute and we all suffer for fashion.
Date published: 2017-11-11
Rated

2

out of

5
by
Halla
from
Huge and useless
I bought this for a big month of air travel thinking it'd be perfect for makeup and skincare, and ended up leaving it at home. It's huge, which is great, but in a sense it's TOO big — everything gets jumbled in there and it's impossible to keep organized. That's assuming you can get things in or out, though: despite the size, the zipper opening doesn't have much give, so it's really narrow, plus the teeth of the zipper are SHARP and it scraped my skin whenever I reached inside the pouch. Waste of money.
Date published: 2017-12-08
Rated

1

out of

5
by
Stess23
from
Impossible to use
I wanted to love this make-up bag, it looks cool and is convenient to find your products when in a rush because of it's transparency but the construction of it is the worst! It actually hurts to put your hand through it to reach what is inside. I wish I could return it but I already used it. Save yourself the trouble and get anything BUT this.
Date published: 2016-08-04
Rated

1

out of

5
by
CaraD
from
Impossible to use, but cute
If you don't care about how annoying it is to get into this bag, then I guess it's right for you. I bought both the large and small bags, but with the way that it's shaped and you open it at the top, it barely opens at all, so it's very difficult to reach in and get what you need (if it wasn't clear it would be impossible) and you scratch up your hands on the zipper. Do not recommend.
Date published: 2016-02-05