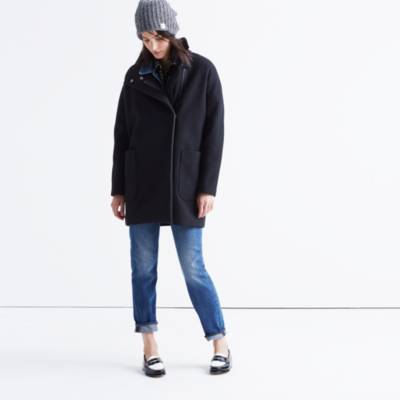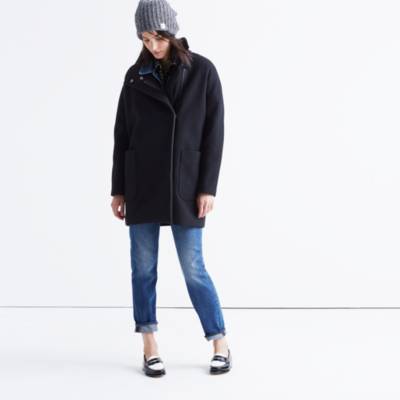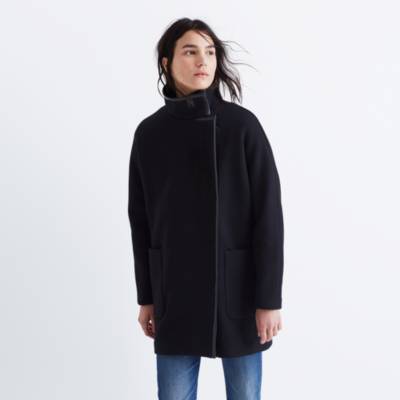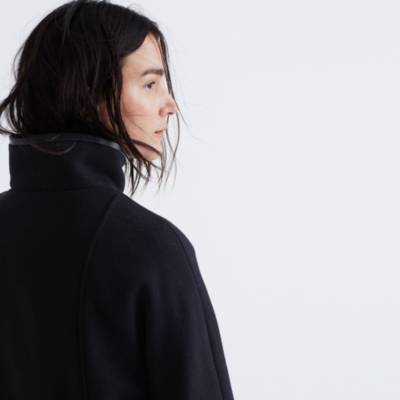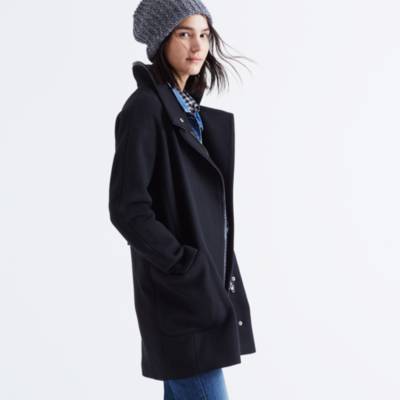 Product Details
It's back—our signature slouchy, sculptural take on a timeless cocoon coat. Made of a warm wool blend, this wear-over-anything piece has fresh details like oversized patch pockets, zipped sleeves, sleek leather trim and our favorite asymmetrical zip.
Slightly oversized fit.
Wool/nylon.
Dry clean.
Import.
City Grid Coat
is rated out of
5
by
31
.
Rated

5

out of

5
by
Kcarney
from
Great details on this coat
Love the leather trim and shape. Roomy but not baggy. Looks great.
Date published: 2017-01-01
Rated

5

out of

5
by
Mishy2530
from
Great coat great price!
Fantastic coat, super warm with stylish details! Buy it before it sells out, you won't be sorry!
Date published: 2016-12-21
Rated

5

out of

5
by
Samm123
from
Love this jacket!
I had previously bought a final sale item and the quality was not at par with what I normally expect. Madewell was amazing and let me return it so I bought this coat instead. I purchased this coat in 00 in the color Kale. I absolutely love it already. The color is so better in person than photographed. I like that it goes with anything. Great quality.
Date published: 2016-12-10
Rated

5

out of

5
by
conbun
from
Best winter coat
I bought this coat before studying abroad in Berlin. It kept me warm through the unforgiving German winter. It's very warm, very well made, and definitely worth the money. You may want to size up if you like wearing big sweaters underneath your coats. Overall, great coat. I'll probably keep wearing it for the next decade haha!
Date published: 2016-12-08
Rated

4

out of

5
by
Caroline96
from
Perfect City Coat
I'm working in a big city for the first time and wanted a chic coat to match. I got this on sale in a 00. Its slim, but fits over my bulkiest sweaters and is nice and warm. My favorite part is the pockets- I can carry around a normal sized paperback in them (and totally do). My only complaint is that the sleeves are really long (I'm 5'1) and the zippers are more of an annoyance than a help.
Date published: 2017-02-11
Rated

4

out of

5
by
Fion
from
Madewell, you did it again!
I've been eyeing this coat since the beginning and it is finally on sale! I love the collar and the leather details of the coat, it gives it an unique touch. I tried it in the store and I'm glad I did before purchasing it! It is a bit boxy and I had to order a size down. The quality doesn't feel cheap and it is nicely designed. The coat looks better in person than it does it store. I was torn between the kale and the truest black, but I ended up getting the kale one. It is a subtle dark green color and it matches with almost everything.
Date published: 2017-01-09
Rated

4

out of

5
by
Tammia
from
perfect blend of dressy & casual
I was looking for a coat that would be dressier than my puffer, but still casual enough to wear for everything in between. This definitely fits the bill! Pros: I got the kale color and it's gorgeous. The back band adds fun extra detail, the length is perfect, the leather trim stands out, and the zip plus snaps make it warm. Cons: no loop to hang the coat (?!), it attracts lint/hair like crazy, the pockets look great but are not real comfy if you want to put your hands in them, and the zippered cuffs should have the zipper flaps on the inside of the sleeve (as it is now, metal touches your skin). I searched around for a coat like this that doesn't break the bank (if bought on sale) and I'm happy with this one!
Date published: 2016-12-25
Rated

4

out of

5
by
tomatotamato
from
Great coat, quality could be better
I love this coat--it is sleek and stylish and goes with almost every outfit. I actually find the fit "TTS"--I am usually a size 8 and it fit perfectly. Any size smaller and the arms became too restrictive. My only issue is that the thin lining ripped under both armpits in less than a month. My tailor was able to re-sew them, but for the price, it was unexpected.
Date published: 2016-11-04
Rated

4

out of

5
by
Emily
from
Pretty coat, cheap lining
I love this coat - so pretty - but the lining is not a good quality. I noticed a hole in the arm a few days after I bought it, so I exchanged it thinking it was a fluke. The replacement has now also developed a hole in the lining one month into wearing it. I really like the style; however, at this price the lining should not be so flimsy!
Date published: 2017-01-28
Rated

4

out of

5
by
amber77waves
from
Nice Coat for the Right Body
The coat is beautiful, but I can't see anyone with an apple or pear shaped body weaing this. The bulk of the coat is in the middle and narrows in the hip. So for those gals with hips good luck. I am wide up top and narrow in the waist and the coat make me look like I'm wearing a black barrel. From the feel- the quality is good. For those who love the coat good on you but sadly this is going back.
Date published: 2016-12-14
Rated

3

out of

5
by
Leahg
from
Awesome coat but bad quality
I bought this coat last November (so its slightly different than pictured- it has angled hidden pockets rather than the big ones) and i LOVED it. And to be honest I really still do. My big problem with it is that about 1 month into wearing it the inside lining started falling apart. My coat has about 4 rips down both arms and both arm pits are ripped open (please note I am very gentle with my coat- im not taking it out clubbing). Im not sure why the lining is so cheap for such an expensive coat and thats why I am disappointed- I expected more!
Date published: 2016-12-10
Rated

3

out of

5
by
Laurabird45
from
Not for petites
Really bummed this did not work for me. I'm 5'1" and the sleeves were suuuuper long on me, and because there are zippers on the ends of the sleeves, they'd be impossible to have professionally shortened. Both the olive color and the black were great looking otherwise. Did not seem particularly warm - more of a fall jacket than a winter one (at least for where I live in Minneapolis). Will keep searching for the perfect winter coat!
Date published: 2016-12-02
Rated

3

out of

5
by
Amanda
from
Enjoy it...while it lasts.
I bought this coat last year and like everyone else, I loved it and wore it all the time. Stylish, great details, modern fit, what's not to love right? Fast forward to this year... it started to get chilly so I pulled this out ready to wear it again this fall. Within a week of season 2, the lining has started to rip in multiple places. I'm not talking about a tiny hole but almost shredding. I don't get it! The fit is right so I don't think I've been putting too much stress on the seams, and how there's a hole in the armpit, I don't know. I'm not sure if I should just keep it and patch each rip as it comes, but at this rate it won't last until next year. Professionally replacing the lining will end up costing more than half of what I paid for the coat. I don't know if I got a dud but I recommend investing is something of higher quality for less of a headache in the future. It's not just the style that matters!
Date published: 2016-11-21
Rated

3

out of

5
by
corgimom
from
Just Too Huge
I regretted not buying this jacket last year, so when the new version came out this year I was set on buying it. However, it didn't work for me. I'm small, but I'm not THAT small. 5'5" 120lb, really petite on top, and I was swimming in the 00. It felt ridiculous. If you like and look great with the oversized look, then it will probably be great for you! Sadly, I just don't think I could pull it off...crossing my fingers that a slimmer "shrunken" version will come out someday! The quality, of course, is superb!
Date published: 2016-10-30
Rated

3

out of

5
by
skeletanz
from
Pocket Heartbreak
The city grid coat has been my target coat through two winter seasons - the quality of the wool, the color, and the style are all totally up my alley - but when I was finally geared up to buy this coat this year I had a HUGE heartbreak: the pockets. When I last tried this coat on (admittedly about two winter seasons ago) it had zippered, angled pockets on the side (surely I'm not hallucinating), which worked so wonderfully with the design. The new pockets fall right where I am the widest (in my hip), ruining the silhouette and my dreams. I don't know about anyone else, but I preferred the zip pockets - the open hip pocket adds too much bulk and doesn't fit as many body types (I have an "hourglass" shape, so not only do the pockets add bulk, but they also make the coat seem tight around my hips). If the zip pockets come back I will 100% buy this coat!
Date published: 2016-11-26
Rated

3

out of

5
by
Lex89
from
Runs Very Large- Listen to the Reviews
I decided to ignore all the previous reviews and ordered this coat despite all the reviews saying it runs big. Listen to the reviews! This coat is supposed to be oversized, but it is borderline too oversized. I am 5'-1" and ordered the 00 and it is swimming on me. Overall style and quality of the coat is nice I just wish it fit better.
Date published: 2017-03-17
Rated

3

out of

5
by
CMPBaltimore
from
Good look but horrible quality
I loved this coat after trying it on in stores! It definitely is warm and has kept me cozy when I needed it must, but unfortunately the quality of the inner lining is really poor; it ripped within days of me purchasing it. It has only broken down more as the months have passed by. For the price, I expected much better quality!
Date published: 2017-03-07
Rated

3

out of

5
by
Jules
from
Great on the outside, horrible on the inside
I really love this coat and constantly get compliments. I shopped around for months for a coat with a reasonable wool thickness and this coat is great! However... It's only been about one full winter (I bought the coat last year in Feb) and like many other reviews, the lining is just falling to shreds. There are at least 10 holes in the lining and pockets from the cheap material, some 8" long, and it almost makes the coat impossible to wear. I am thinking of cutting it out it is so bad, and am disappointed that I paid so much to have such a horrible lining in the coat. Madewell, it is really sad you cut corners here.
Date published: 2017-01-31
Rated

3

out of

5
by
LittleGi
from
Wish It Lasted Longer
Purchased a version of this coat in 2014. I have worn it through two winters but I'm not sure it will last another year. Within one season of wearing this coat, the lining started to rip. At this point, there are huge holes throughout the lining and in the pockets. The holes have been sewn and resewn but the material is so lightweight that every time its repaired, the lining just rips again. That being said, I get compliments whenever and wherever I wear this coat. I'm petite (5'2") so I chose a 00 and it fits perfectly. I truly love this coat but boy, do I wish it lasted longer than one or two seasons! While it's possible that this has been addressed in the newer versions, recent reviews lead me to believe otherwise. Only buy if you're okay with constantly repairing the lining.
Date published: 2017-01-08
Rated

2

out of

5
by
KarenN
from
Buyer Beware!
I purchased last year's version of this coat as a Christmas gift for my daughter and after only one season of wear, the lining under the arms had literally shredded! NOTE - wear on the outside was barely noticeable. I took the coat back to request a repair but the store's seamstress was unwilling to do so. The store did offer me this year's version which is 1) not nearly as stylish and 2) not nearly of the same quality outer materials. I ended up replacing the lining with my own seamstress at a cost of f $110. (Wondering why the store's seamstress wouldn't do the job?!) Just beware.....
Date published: 2017-02-12
Rated

2

out of

5
by
MissRose12
from
Lovely look but not a good investment peice
Disappointed in the quality--and I have never had to say that about Madewell! I've been wanting this coat for so long, and finally received it as a gift for my birthday. Naturally I was overjoyed and wore it all winter long. To my horror, the lining began to rip (and rip and rip!). I told my mom to purchase one size up so I could wear sweaters underneath as needed. I'm not sure if I will replace the lining or purchase a different coat for the upcoming season, but beware if you are looking for a good quality piece to last a few years.
Date published: 2017-06-01