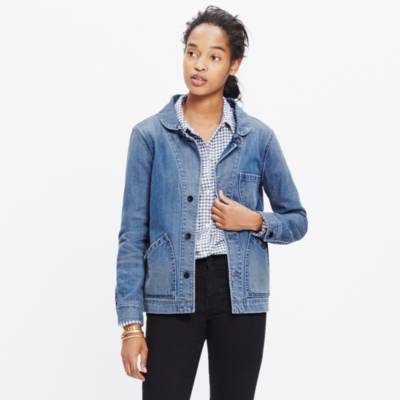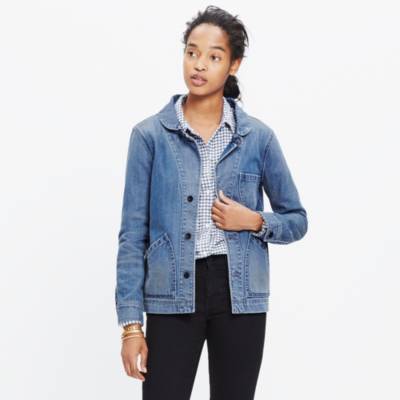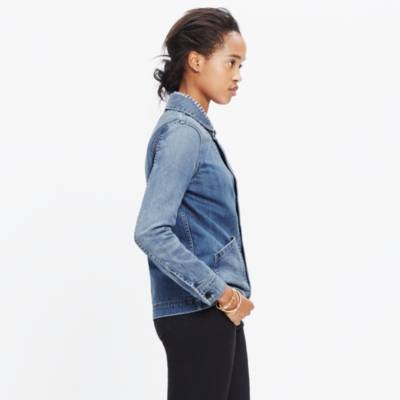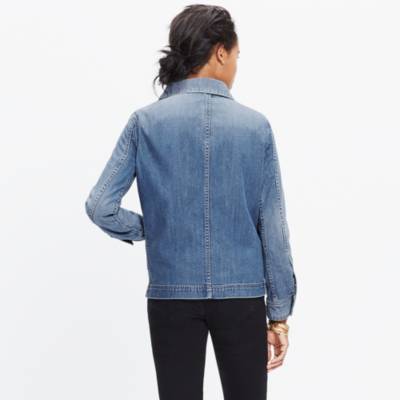 Product Details
A feminine jean jacket crafted from supersoft, best-of-the-best Orta denim. This design-team favorite was inspired by a vintage piece of Japanese workwear.  
True to size.
Cotton/lyocell.
Machine wash.
Import.
Joshua Tree Jean Jacket in Rossie Wash
Joshua Tree Jean Jacket in Rossie Wash
is rated out of
5
by
29
.
Rated

5

out of

5
by
AllyJ
from
Not Boxy - Great piece
I bought this online and was worried it may be boxy. However, when it arrived and I tried it on it fit very well; true to size; not boxy at all. I really like the collar and pocket design- adds a little something to the normal jean jacket.
Date published: 2016-06-19
Rated

5

out of

5
by
cj1993
from
Perfect jacket
I've been looking for a denim jacket that was longer and more flattering with dresses, skirts and casual business attire and came across the joshua tree jacket. The fit runs a bit small but I also wanted the jacket to fit a bit looser. I'm very pleased with the jacket and get compliments all of the time. Thanks Madewell.
Date published: 2016-06-12
Rated

5

out of

5
by
linny12
from
Cute jacket
After reading the reviews and because it was on sale with no return option, I ordered the Large (I'm 5'6", 140#) and it's a bit big on me. I wish I would have gone with a medium but the prior reviews said it ran small. Outside of that, I really like the jacket.
Date published: 2016-05-24
Rated

5

out of

5
by
Kristenkst
from
Nice color and design
I really like this jacket. The color is exactly the right one and the design looks nice as well. Definitely one of my favourite to go jacket!
Date published: 2016-05-16
Rated

5

out of

5
by
Faye1201
from
Love the style!!!
I love this chic and cute jacket!!!!! Since some reviewers mentioned that the arm holes are too tight, I went size up. I usually wear medium from madewell and bought size L on this jacket. I could probably fit in size M but since i purchased L, I can wear thick sweater underneath and its perfect!! I will recommend you to go size up!
Date published: 2016-03-23
Rated

5

out of

5
by
crueltoBkind
from
So far so good.
I love this jacket! It is quite thin, so it just makes for a great spring, summer night, or early fall jacket. I have not yet washed it though so I hope it continues to keep its shape, color, and softness.
Date published: 2016-02-29
Rated

5

out of

5
by
callalily
from
Awesome Jacket!!!
I just love this new denim jacket!! I have so many denim jackets that I really like...but this one is my absolute favorite!!
Date published: 2016-02-04
Rated

5

out of

5
by
Krist387
from
A must have
I have this jacket from last year, and I wear it every day when weather appropriate. It's my favorite- it's unique, so soft, and flattering. I wish Madewell would make shirts with this style of soft collar. I sized up so I could wear sweaters under it. Mine from last year has faded a little bit with wear, but I think that makes it better. I think last year it was called a different color, but the color looks the same to me in the picture.
Date published: 2016-01-11
Rated

4

out of

5
by
Cat995
from
So so cute
I absolutely adore my new denim jacket, I wanted something denim and quirky so this jacket is perfect. The cut is great and not too boxy plus the fabric is a really good weight. My only gripe is that the sleeves are a little short and the colour is lighter than pictured, hence the four stars but the price was too good to return it, so I'm just going to turn the sleeves over. I've worn it once and already had several compliments - what's not to love.
Date published: 2016-04-28
Rated

4

out of

5
by
mg31
from
Want it in other fabrics!
Been looking for a basic light jacket for quite a while, but didn't want a classic style denim jacket. I love this style! It's not too short, sleeves are roomy enough to wear a sweater, and the rounded collar gives a feminine touch. My only wish is that it came in other non-denim colors, like black or military green twill. I would buy it in other colors (if it was on sale - price is a little high for something so basic)!
Date published: 2016-03-31
Rated

4

out of

5
by
Carolsmile96
from
Love it
Great layering piece....non traditional denim jacket that makes you stand out. Love this piece.
Date published: 2016-03-28
Rated

4

out of

5
by
7chooseanickname
from
Love!
Fell for this jacket as soon as I saw it online, and lucked out getting it on sale. I am new to Madewell but typically wear size small in most brands, however I decided to size up to medium so that I would be able to layer this jacket over mid-weight sweaters. That was a good decision, the jacket is roomy enough to fit over layers, yet it drapes very nicely, falls straight down and is not boxy, so even over a single thin layer it looks good and not like I'm wearing something oversized. I love the pockets and the collar, love the length (what attracted me to the jacket in the first place). My only complaint is that the jacket is quite thin--I was expecting the more typical thicker/rugged denim and this basically feels like shirt-weight. Its positive assets outweigh this so I am keeping it, but I think it should be noted. Overall I am very pleased with this purchase, and so very excited to have found a denim jacket that is not the typical cropped style.
Date published: 2016-03-24
Rated

4

out of

5
by
bigfea
from
a cool take on the jean jacket
You can't beat a classic jean jacket and this is a unique take on one. I'm usually a 12 in madewell and I got the large. I'm a little bustier, so I can't quite button it up all the way, but the jacket looks fine open and I think an XL would have fit big everywhere else. I bought it on sale in store, so an XL wasn't an option. Madewell should carry XL in stores! The cut on top is a little weird. It's almost like a blazer, but not quite. Overall, the shape of the pockets and collar sold me. The jacket is simple, but these details make it stand out.
Date published: 2016-03-23
Rated

4

out of

5
by
Eclecticlady
from
Have been looking for the right jean jacket for so long & finally found it
This is a sharp looking jacket especially with the curvier feminine collar/neckline. I really like the longer length which leads to a more flattering look on me. The material is softer than most jean jackets and the denim color is a nice "neutral" blue which goes well with so many of my clothes. I'm a classic XL and I found the jacket is a little more snug than I usually wear, in the upper arms & across the chest. But I'm keeping the jacket since: 1) I really like it; 2) it fits; and, 3) it is my incentive to loose a few lbs & firm up a little more. It's a win-win.
Date published: 2016-01-29
Rated

4

out of

5
by
Jazz28
from
Not a big difference
There were new version and a sale one in the store. The color and style appear the same, softer fabric, longer length....a lot of likes for my opinion. Great piece for spring.
Date published: 2016-01-13
Rated

3

out of

5
by
LA22
from
average to good
I love the wash, but I wish the sleeves were a little longer. I'm hesitant about the curved collar too....I wish it were a regular collar, but I bought this on final sale, so can't return it. The length in the body is good.
Date published: 2016-08-09
Rated

3

out of

5
by
Sunshine213
from
Unique Denim jacket
The fabric did not remain soft after a wash. The sleeve was tighter than expect. But when you think of buying an unusual piece, this is the one. Madewell selling this jackets for two years, please make something new, think of different colors or fabric. And I always want to try something new.
Date published: 2016-03-18
Rated

3

out of

5
by
thezanyone
from
Supersoft became not-so-soft after washing
I have this jacket in the Fremont wash, which I can't find on the site anymore. I was so happy with how comfy it was, it was soooooo buttery soft. BUT!!! After I washed it and air-dried (no tumble dry, in case it shrank), it became stiff and no longer a pleasure to wear. Not sure if it will ever regain the original supersoftness, which makes me very sad.
Date published: 2016-02-04
Rated

1

out of

5
by
pixiebones
from
If you want to move your arms, buy another jacket.
This jacket is sooooo cute, and it looks great on. Until you move your arms. The armholes cut are so small the sleeves bind your shoulders and arms and render them useles. For reference, I'm 5'2" and weigh 96 lbs and my arms are like toothpicks. The XXS felt like a straight jacket, so I went up to an XS which fit everywhere else, but again made it difficult to move my arms. I was wearing a thin T-shirt, so forget about wearing anything thicker or layering. The S size is way to big and boxy, so that's not an option either. Why on earth would Madewell design an otherwise roomy jacket with tiny, binding armholes? I tried driving in the XS jacket, and forget it. You can also forget adjusting your ponytail, tipping back a beverage, or reaching a book on a shelf. Cute, my goodness yes. Practical? No.
Date published: 2016-03-03