This Just In
clothing
shoes, bags &
more
Behind
The Scenes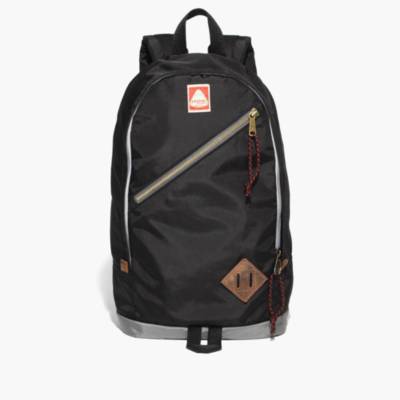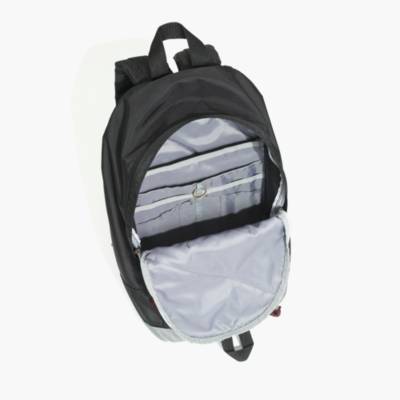 Product Details
For the last 40 years, JanSport has pretty much set the backpack benchmark, so we were thrilled when it started reissuing some of its original designs, complete with the 1967 label. Tested on the trails and slopes of the challenging Mount Rainier, this curved pack has a diagonal front pocket that has been fitted, 21st century-style, with a spot for your phone. (Plus, these supercool color combinations can be found only at Madewell.)  
Poly webbing.
Zip closure.
Front diagonal pocket with phone slot.
17 1/3"H x 9"W x 5"D.
Import.
JanSport® & Madewell Compadre Backpack
JanSport® & Madewell Compadre Backpack
is rated out of
5
by
28
.
Rated

5

out of

5
by
MMG4
from
Perfect backpack for all your needs
This is the perfect size & quality. This bag will last a long time! It's casual chic - great for everyday use, school, everything…. Get it, you will not be disappointed!
Date published: 2015-02-10
Rated

5

out of

5
by
missonion
from
The best bag ever
Much like the rest of the reviews, this bag is great, especially for the person that wants to carry a cool handbag/purse but their lifestyle doesn't call for it.. This bag is effortlessly cool, from the vintage Jansport logo to the small, yet durable size. For the size, it does fit surprisingly a a fair amount - the laptop section is perfect (note: probably won't be able to fit more than an 11.5-12 in laptop!) I originally bought this bag for a two week trip to Europe, and it performed great (no pickpockets!). I switched over to using this as my everyday work bag the day after I got back. What I like most about this bag is the smaller size, quality, and classic style. It's not a overly-sporty corny backpack, but not an impracticable leather or canvas one. HIGHLY recommend buying! It is a great investment!
Date published: 2014-12-28
Rated

5

out of

5
by
Kristeen87
from
Super comfortable- looks little but fits a ton!
I have been needing a backpack for multiple reasons as I am not only a student but a mom as well. I will be traveling to Europe next Summer so I needed something easy and zippered to take along with me. I found the perfect backpack. Not only is it comfortable but it literally fits everything. All the little pockets are perfect and handy for your necessities. Plus, I love the whole retro feel. Will definitely recommend!
Date published: 2014-12-23
Rated

5

out of

5
by
LBoice
from
Perfect backpack!
I wore this for a weekend trip right after receiving it in the mail and I have to say, it's been a total hit! I got so many compliments! The design is classic with a twist, it appears to be good quality construction and materials, and it fits everything I need for day use. The bag is smaller than a classic backpack, specifically more narrow. I fit my journal, a hardcover book that was moderately thick and my giant heavy camera into it for a snug fit. My camera is super heavy and the straps started to hurt my shoulders a little after about 20 mins, but that's pretty normal with any bag I've had. Highly recommend.
Date published: 2014-12-04
Rated

5

out of

5
by
onejes10
from
even for non-backpack lovers
I am not a person that wears backpacks: they are just not my thing. But sometimes you simply need one (for traveling, etc.) and so I was on the lookout for one for some time. Then I saw someone wearing this backpack and it was so cute (neither too big nor too small) and I knew I wanted to get it. I love the vintage-y JanSport logo on it too! It fits a good amount in, but it's not a huge bag. It has a nice sturdy back with padding for a laptop. My macbook fit in it perfectly. Although, I still wouldn't call myself a backpack wearer, I do wear this pack as often as I can because it's comfy, cute and stylish. Lots of people have told me they like it. I love it.
Date published: 2014-11-29
Rated

5

out of

5
by
Zandycoot
from
Vintage backpack with modern comforts
Sooooo, I was like "I don't need no dumb backpack!" but I kept looking at it in stores and trying it on and then going.. no... I don't need it. But it is so cool, I mean effortlessly cool and retro. Its also just the right size for biking and walking (around Disneyland, as I discovered). It also has a good laptop sleeve on the inside that fits your basic Mac and plenty of pockets to store your business in an organized fashion. It was a weird purchase... but I am glad I made it. This item is going to be with me for years. Also, these backpacks are super hot in Japan right now. It makes me look like I'm in on the secret. Shhhhh!
Date published: 2014-11-03
Rated

5

out of

5
by
Catherinec204
from
Rustic feel for urban tastes
The backpack is wonderful. It is so adorable and the color is really nice. I love it. It has this rustic look and feel but also is nice in an urban environment. The material is good-quality.
Date published: 2014-10-28
Rated

5

out of

5
by
madewellshoppernyc
from
sleek, comfortable, and stylish
i really love this backpack! it's very sleek, and not bulky looking which is important to me bc i'm petite (5' 1"). the back is padded which makes it comfortable. there are pockets inside the main compartment for your laptop, pens, and other things. it's big enough to carry a 13" laptop, a notebook, cosmetic case, and a tupperware container of food, and an umbrella. it gets tight if you want to fit more. the outer zipper has a small pocket that fits your phone and room for your wallet and tissues. overall, very happy with this bag.
Date published: 2014-10-14
Rated

5

out of

5
by
worktoschoolbeth
from
Favorite backpack of all time
This is the perfect daily backpack for someone who wants to carry a couple of things like a lap top, book and a makeup bag or something. I work full time and go to graduate school at night in NYC and this bag is my perfect work to school solution. It's got a great design which appeals to the side of me that doesn't want to use a backpack and would rather be carrying a stylish handbag. Love it!
Date published: 2014-10-06
Rated

5

out of

5
by
mv11
from
Lightweight, not too big, and awesome
I've been wearing this backpack regularly for the past three weeks and love it. There's a small amount of padding, which seems just right. One caveat: the angle of the slash makes it ideal for right-handers, but if you tend to sling your backpack over your left shoulder, it's awkward.
Date published: 2014-09-22