This Just In
clothing
shoes, bags &
more
Behind
The Scenes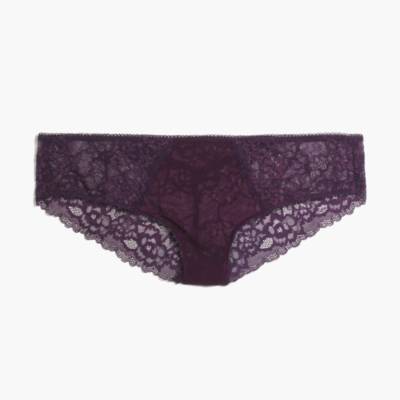 Product Details
We can't get enough of the beautifully simple, barely-there lingerie from this LA-based line, so we were over the moon about collaborating with them. These pretty floral lace boyshorts (in a handful of dreamy shades) are available here and only here at Madewell, so snag them while you can.
This style runs large, so size down if you're between sizes.
Nylon/spandex.
Machine wash.
Import.
Honeydew® Intimates & Madewell Lace Boyshorts
Honeydew® Intimates & Madewell Lace Boyshorts
is rated out of
5
by
36
.
Rated

4

out of

5
by
WeeBluette
from
They're Fine
Still testing this - I've only worn them once so far. I really wish boyshorts would be just a bit more boyshort-y. They really don't seem to cover much more at all than your average hipster/bikini/what have you. Maybe on someone else they do? But nothing can ever effectively cover my butt, I guess. It's just too ridiculous of a butt. I think it was still fairly easy for these to give me a wedgie, but I don't know, because when I wore them under tights, it was fine. Without any tights, I got wedgies anyway. I am eternally looking for underwear that won't do this.
Date published: 2015-01-14
Rated

4

out of

5
by
Beeinseattle
from
Super cute, but disappointed with the quality
The Honeydew intimates series is super cute, but after a few washes(delicates or handwash), they tend to unstitch. I have not put them in the dryer. Disappointed ....
Date published: 2014-04-28
Rated

4

out of

5
by
E14123
from
Very cute but seems to run large
Very cute sheer fabric. They run a bit large. I stuck with the size that I ordered and it fits fine, I was more just shocked by how large they LOOK compared to my other underwear - but it could be because this fabric has no stretch to it.
Date published: 2014-04-25
Rated

4

out of

5
by
Slater
from
Pretty but runs a little big
Cute, pretty, and comfortable. I'm 5'1, 103lbs and I ordered a small (they didn't have xs, or it doesn't come in xs...), and while I'm usually a small in underwear, these did fit a little looser than I'm used to. Still cute, but I wish they were a little more fitting.
Date published: 2014-04-01
Rated

4

out of

5
by
christie
from
cute
Nice underwear but smells very strongly of chemicals/dye. I've washed them once and when I took them out they still smelled and so did all of my other laundry.
Date published: 2013-08-06
Rated

4

out of

5
by
lauraemiliana
from
High quality, super cute!
I LOVE these undies! They are very well-made, flattering, and just all-around adorable. I will suggest ordering on the side of smaller rather than larger. I am usually in between a small and medium, and the small is plenty roomy.
Date published: 2013-07-27
Rated

4

out of

5
by
JuliaM
from
very flattering
I am overall satisfied with this purchase but if possible it's better to go a size down. `The cut is very flattering and comfortable so I was definitely happy with that.
Date published: 2013-07-18
Rated

4

out of

5
by
ali25787
from
Cute, runs large
I ordered a size smaller because of the other reviewers, and I'm glad I did. I have a booty and a small is just right. Might even be a tad bit loose on me (a good reason to eat a few more sandwiches). Other than that, it's a really cute cut and they're very comfortable. Love the lace details.
Date published: 2013-07-12
Rated

4

out of

5
by
Anne17
from
Was sent a different color than pictured
I was very excited to receive these after I had ordered them. I purchased the yellow boyshorts and received ones that were more of a lime color. Even though the color was different than the ones pictured, I decided to keep the underwear because they were very cute and comfortable.
Date published: 2013-07-07
Rated

4

out of

5
by
MerrBurger
from
very cute
I don't normally order undergarments online, but I took the plunge and I have to say, I'm very happy. They do run a bit large, but nothing major. They are cheap and cute, you can't go wrong.
Date published: 2013-06-14
Rated

4

out of

5
by
Asherlily
from
Quite lovely!
I adore these boyshorts and I'd happily buy them in every color. My only complaint is that they sit super low on the hips... I would have preferred if the rise was slightly higher. Other than that I'm happy with my purchase!
Date published: 2013-03-26
Rated

3

out of

5
by
amymyoga
from
weird fit
These run large and they have a weird fit. They are a little pouchy in the front which is never good. I got a small and an xsmall and they're both too big. They are just ok.
Date published: 2014-09-05
Rated

3

out of

5
by
Chet
from
Beautiful but flimsy. Not true to size.
I bought this in cream and in black. They are absolutely adorable and the spaghetti strap is crazy thin so I do get nervous that it may snap. My only issue is the quality. The underwear ripped about a half and inch at the bottom from the first wear so I had to sew it together. The size is also a bit off for the bottoms. It's surprisingly big for an extra-small but no can just do some squats and it'll fill in. :-) I would be upset if I purchased it full price but it was on sale with additional 40% off so no regrets.
Date published: 2014-07-12
Rated

3

out of

5
by
Liz123
from
Cute- but for a few problems
When I got these in the mail I thought they were so cute. I got the black the red and the creme color- all of which are beautiful. But after only one wear- little strings started poking out of the mesh. Even though I hand wash and hang dry them, they don't seem to be holding up as well as expected.
Date published: 2013-12-05
Rated

3

out of

5
by
Shophia
from
sizing is off
This runs EXTREMELY big. the sizing is way off. when I received this I initially thought they sent the wrong size. disappointed.
Date published: 2013-09-24
Rated

3

out of

5
by
Alina
from
Color is off
I bought these in what I thought was yellow. Turns out they're actually more like a lime green! They're still cute but I specifically wanted the yellow color so I was disappointed.
Date published: 2013-08-07
Rated

3

out of

5
by
KidMedusa
from
Beautiful, but too large
I am a small, but these underwear are too large. However, the lace is soft and it is very pretty. I'm glad I got it on sale.
Date published: 2013-03-30
Rated

3

out of

5
by
moopity
from
Runs large
I'm usually a Small of X-Small, depending on the brand. I'm 35" around the hips. These are a good 3"-4" larger. The style is lovely and they're great quality. I sewed the sides so I would not have to return them, but it's so disappointing that they run so big.
Date published: 2013-03-24
Rated

3

out of

5
by
Dska
from
So, no XS then?
If you are a Madewell size XS to S, you can forget about this lacy underthing. I bought a size S and it was way, way too big. What gives? I'm not super pixie-like tiny either. It kind of broke my heart because it is so beautiful and if it fit properly would make you feel beautiful. Alas, I handed it over to a relative who is a true non-vanity size medium.
Date published: 2013-03-20
Rated

2

out of

5
by
lebant
from
cute lace and design but strange fit
they sits really low on the back and high on the front. It should be the other way around for the comfort factor.
Date published: 2014-12-02
Rated

2

out of

5
by
joolz
from
Giant Underpants
I was so excited to get a matching set of bright green underwear, but these fit so so large. I got a small in both the bra and the boyshorts, and while the bra ran slightly small, these shorts are gigantic. I know the description mentions they run big, but these were out of control. It's also frustrating that the same size doesn't even come close to fitting one person top and bottom.
Date published: 2013-09-13
Rated

2

out of

5
by
DanielleSD17
from
Not a true boyshort
These fit more like a brief cut than a boyshort underwear. They're not very flattering, especially if you have a little bit of a butt. I got them in neon pink and I love the color! I just don't think they're flattering on me and if you're buying underwear this flashy they should look smokin' and not just meh.
Date published: 2013-03-25
Rated

1

out of

5
by
rcbshops
from
Quick Holes
I wore this pair of underwear once, and they are already in the garbage can! Huge hole developed on the hip -- and they fit. Not sure if it was because of my bag hitting my hip during my commute, or the way I handled them, or some other reason. Either way, I don't think they are worth it -- at any price. I have never had that happen to me before.
Date published: 2014-11-04
Rated

1

out of

5
by
jeansandatee
from
Fell apart!
I was so excited about these, but the first time I put them on, I stuck my thumb straight through the lace—twice. I bought a medium and I usually wear a 26 in jeans, so I know they weren't too tight. However, every time I adjusted them I made another hole in the lace just be pulling them at the waist. Disaster! I don't know if it's something I did when I washed them that made the lace so brittle, but these pretty much fell apart before I could even wear them for the first time. So sad! They would have been so cute and comfy if they'd lasted!
Date published: 2014-05-28
Rated

1

out of

5
by
Sarah9120
from
HUGE!
I bought the small. I'm a tiny girl, but I know for a fact that I've got a butt. These were literally falling off of me! I've never ever had that happen before. They don't lay flat on my hips either. It's such a shame, because the bralettes are all I wear—especially for my small chest. It would be really nice to have a matching set. It's so strange that the bralettes would run small and the boyshort would run a few sizes bigger.
Date published: 2013-11-02
Rated

1

out of

5
by
Luxie
from
Runs Huge!
I ordered a pair of these a little while back, and was very disappointed to discover that although they're really pretty, they run nearly two sizes two big. Saggy underwear is definitely not flattering. Obviously you can't return underwear, so they're just sitting in my drawer, tags still on.
Date published: 2013-03-08