This Just In
Shop All
Behind
The Scenes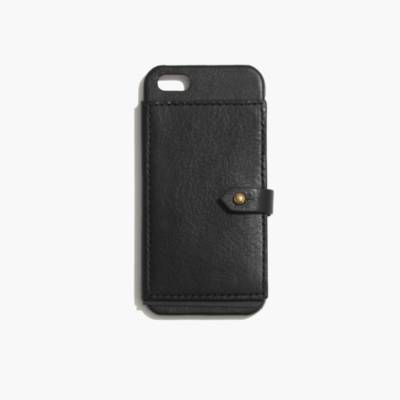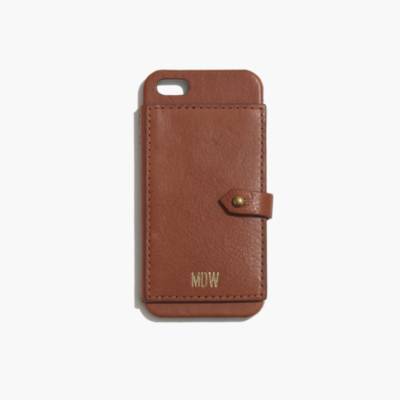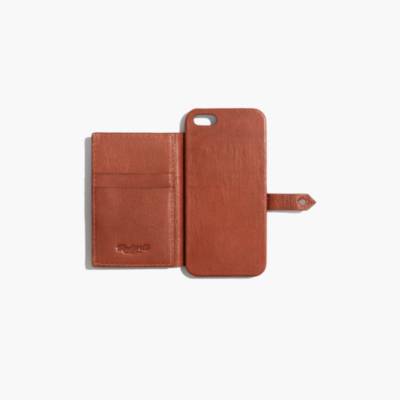 Product Details
Avoid scratches and scuffs in style with a cool leather case complete with slots for your cards. (Your smartphone—and your wallet—will thank you.) †
Fits iPhone 5/5s.
Leather.
Import.
Rated

4

out of

5

 by

36

reviewers.
Rated

5

out of

5
 by
Tom1
Attractive and functional
It is early in my use, but I am pleased. The leather flap to hold cards (I am using mine for business cards) connects with a brass fitting so the phone doesn't lie flat on a desk, but this actually makes it easier to pick up for use.
May 14, 2015
Rated

5

out of

5
 by
Lena22
iphone 5C
Yes, this case fits iPhone 5C. I have it for the week already and I love it.
April 23, 2015
Rated

5

out of

5
 by
Cbear
Perfect siza
The leather is thin enough to fold back to use the phone but still great quality.
April 23, 2015
Rated

5

out of

5
 by
wwbs
love the design
Nothing else out there like it! any chance this version fits an iPhone 5C.... C not S???
April 22, 2015
Rated

5

out of

5
 by
Jenny123
Perfect
Not a ton of front-side protection, but I've got a piece of glass on there so that isn't a problem. Fits the phone perfectly. Currently squeezing a temp ID, Metrocard, work ID, business card, and debit card. And it's adorrrrrbbz.
April 14, 2015
Rated

5

out of

5
 by
reddy
Let it wear in a bit
Saw this case and knew I needed it- perfect for a metro card and my building ID. When I received it, it was near impossible to squeeze both in but I was able to make them fit and move them around a bit. It only took a day for the card slots to wear in. I definitely wouldn't purchase the case expecting to use it as an alternative to a wallet, only two cards can really fit in (max). I don't mind the laying flat situation most others mentioned. Fits in my pockets fine. Super soft leather, refined look.
March 25, 2015
Rated

5

out of

5
 by
CassieC
Great as always
In love with the case! Everything has been wonderful so far - after using it for a few days. The only thing to pick on is that there are only two slots for cards, less than I expected.
March 23, 2015
Rated

5

out of

5
 by
svev
great case
This is perfect; just enough space for my phone, my debit card, and my gym card.
March 4, 2015
Rated

5

out of

5
 by
elacy7
Form & Function + Personalization
I ordered this case after months of thinking about ordering this case and could not be more happy with it. The leather is good quality, I like the closure, it stores my ID and credit card, and the personalization turned out so pretty in the gold. The only awkward thing is if you set it screen-up on a surface, the closure will cause it to be a bit crooked. But this isn't really a negative in my opinion, just something to get used to.
February 12, 2015
Rated

5

out of

5
 by
milkglass
PLEASE make for iphone 6!
I've been waiting to upgrade my iphone until this (totally perfect, everything i'm looking for, down to the way the wallet flap is on the back, rather than front) case is available for the 6. When will that be?
January 8, 2015