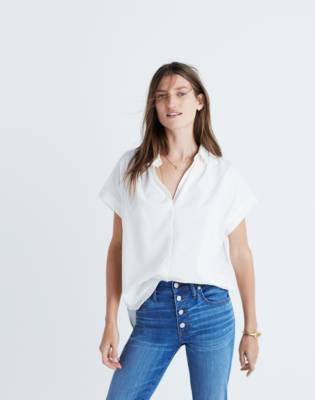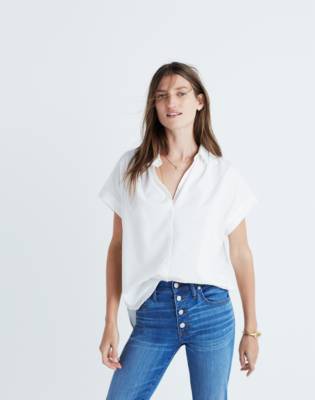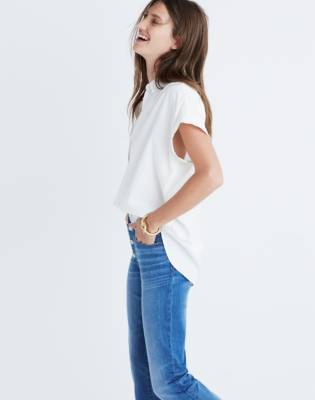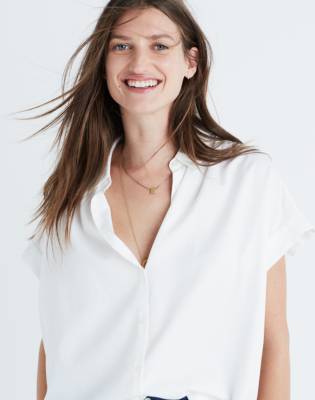 Product Details
You asked for it—our feminine take on a slightly oversized shirt returns, this time in a drapey white weave. Effortless and cool with a soft silhouette and easy, open sleeves.
Body length: 27 1/2".
Slightly oversized fit.
Cotton/Modal® rayon.
Machine wash.
Import.
Central Shirt in Pure White
Central Shirt in Pure White
is rated out of
5
by
48
.
Rated

5

out of

5
by
Aj85
from
Love this shirt!
I absolutely love this shirt. It's so versatile and I have gotten tons of use out of it already. It's definitely a spring/summer staple. It's a nice material, thick enough that your bra doesn't show through but it's very airy and loose, and looks so cute front tucked into skinny jeans or high waisted jean shorts. I'm going to buy another in a pattern.
Date published: 2017-02-22
Rated

5

out of

5
by
Lessig
from
Classy
I love everything about this shirt! Quality, style, price, material..it's such a cool top!
Date published: 2017-01-21
Rated

5

out of

5
by
vivh
from
Great staple!
I love this shirt! The quality and fit is very flattering and stylish. It does run fairly large though, so I highly recommend sizing down. I'm typically a medium in shirts (5'5'' 145 pounds DD cup), and it's very difficult for me to find button up tops that don't gape at my chest or make me look top heavy/boxy. I was swimming in the medium! I had to size down to a small and an x-small probably would have worked, as well. This shirt goes with pretty much everything. I love it so much, I'm tempted to buy another one!
Date published: 2017-02-24
Rated

5

out of

5
by
shopaholickimmy
from
Another great staple!
Ever since I discovered the Central shirt, I've always loved every pattern and color Madewell comes out with. This white shirt is no exception! It's not too thin (no bra lines, 32C) and is a beautifully soft material. I range from a S to M in Madewell tops since I like a looser look but always size down to an XS in Central Shirts to keep it a little shape to the shirt.
Date published: 2017-01-26
Rated

5

out of

5
by
mamagram
from
clean, crisp, classic, comfortable
I love this shirt! I wore it out of the store upon purchase.
Date published: 2017-01-17
Rated

5

out of

5
by
MAESEA
from
Wardrobe staple
I purchased the central shirt in chambray a few years ago and it has become one of the most worn things in my closet and an absolute necessity for me during the summer months. I've been coveting the white but waited for a sitewide sale before making the plunge and I love it. The material is slightly thicker than the chambray but the way it sits on the body is very similar. I love how the sleeves have a cuffed look and I know that this will be my go-to when the weather warms up!
Date published: 2017-12-14
Rated

5

out of

5
by
marysix
from
very soft, slouchy shirt
This shirt is really soft and gigantic! When I tried it on, I thought "hmm, maybe I'll try exchanging for the XXS and see how that works" and then realized that I had ordered the XXS, and it was just that big. I don't know what the difference is between the sizes, but I would definitely say to size down, even if you want a bloused look. I'm petite, but the XXS is almost overwhelming. Not quite, though! I'm excited to tuck it into skirts and high-waisted shorts, and wear open.
Date published: 2017-04-21
Rated

5

out of

5
by
Anna
from
Great top
This is the perfect white top. I can wear a XS if I want a tight fit (which I never do) and I bought a S in this and it's perfect. The fabric is thick enough so it's not sheer but not so thick that it won't be cool during summer heat. I'm very happy I got it!
Date published: 2018-03-13
Rated

5

out of

5
by
Rachel
from
Perfect oversized shirt
This has become my new go to shirt. I typically where a medium and I bought a small based on what the other reviewers said. The small fit great and was perfectly oversized. I ended up throwing in the dryer after washing as instructed on the label and I feel like it shrunk slightly but I don't mind. It's still oversized but now I feel like it fits better on my shoulders so I'm happy. But I'll probably hang dry it from now on. The material is soft and hangs nicely. Also it's the perfect thickness.
Date published: 2018-03-06
Rated

5

out of

5
by
Jess
from
Best white button down
Most comfortable loose fitting white button down. Perfect cut in the sleeves.
Date published: 2018-03-01
Rated

5

out of

5
by
clarabelle
from
perfect go to casual shirt....
perfect go to casual shirt. jeans, shirt, pumps and ready to go!
Date published: 2018-02-02
Rated

5

out of

5
by
Shoeaholic5
from
Classic
A classic shirt with a twist. I am always looking for the perfect white shirt. This will be my go to this summer. A relaxed fit, perfect for jeans or cropped pants. The shirt is not sheer, so you can get away with not wearing a cami, which is a plus! Wish it came in black!
Date published: 2018-01-30
Rated

5

out of

5
by
Duchess
from
Just what I have been looking for
I found this shirt at a Madewell store when I came to return some jeans. Tried it on and fell in love with it immediately - looks great tucked into a skirt, over a pair of jeans, looks good for both work and casual wear. Madewell, please make the cotton/modal one in more colors! The only thing is, it runs very large. I usually buy S in Madewell tops but this one was very loose in S. The store only had it in S and I did not want to wait to have XS ordered so I bought S. It still looks great though.
Date published: 2017-10-07
Rated

5

out of

5
by
sarah37
from
My new staple!
I'm obsessed with this top! It's so comfortable and feminine. It's not see-thru at all. I hate to iron, so with a few quick swipes of my steamer it was ready to wear! I even bought another one. This top is perfect for my job in the schools---professional, comfortable, but still relaxed. I normally wear a Small, but bought this in an xs. Fits perfectly.
Date published: 2017-09-08
Rated

5

out of

5
by
LindsC4
from
Classic, simple, and so pretty
I never write reviews for anything, but this shirt is amazing. It is comfortable and easy to throw on, and pairs well with anything because of its simplicity. I got compliments the first time I wore it. Such a classic piece! For reference, I am nearly always a medium in Madewell tops, but I sized down to a small and it still has that perfect, slightly oversized look.
Date published: 2017-09-04
Rated

5

out of

5
by
ccs610
from
Amazing.
This shirt is awesome. I wasn't crazy about it hanging on the rack, tried it on and fell in love. Its an absolute must-have staple that can be dressed up or down.
Date published: 2017-08-28
Rated

5

out of

5
by
kgl1213
from
Great shirt - exactly as pictured
I have a weakness for crisp, white shirts - especially if they're even a little bit drapey or oversize - so this top is basically my dream. It's definitely large, so keep that in mind. I am fairly petite (5'2" and 115 lbs), an XXS fits me perfectly.
Date published: 2017-07-10
Rated

5

out of

5
by
NDWFF
from
Perfect white blouse!
Casual yet refined! I ordered two I love this blouse so much. Soft white not a bright white.
Date published: 2017-07-07
Rated

5

out of

5
by
leslie1230
from
Perfect button-up staple
This is seriously the most perfect white button-up I have ever owned. Straight out of the bag, the fabric felt amazing and soft. The shirt is very light and wonderful to wear during the summer. You can wear a nude bra underneath and it doesn't show. I have been searching so long for a white shirt that I don't have to wear a cami under. The cuff sleeves are very cute. Overall this is an amazing find. I will be buying several more for the future.
Date published: 2017-06-21
Rated

5

out of

5
by
Libby
from
Love this!
This top is larger but I love it! It is very breezy and lightweight. I only wish it didn't have to be ironed. It isn't see through either like most light weight white shirts. I will be buying it in every color they come out with!
Date published: 2017-04-11
Rated

4

out of

5
by
Erabbott
from
Love
I love the central fit! This white one is perfect for dressing up with heels or wedges or wearing casually with shorts and sandals. The fit is perfect for my curvy frame and runs true to size. I'm definitely obsessed and will be purchasing more of this fit in the future.
Date published: 2017-04-24
Rated

4

out of

5
by
butterupbuttercup
from
Good go-to
The good: this shirt is super soft and comfy. The material is nice — lightweight and not too sheer. I don't have to wear an undershirt with it. It's chic; I can wear it to work or brunch. I like that I can throw it on and still feel cute...it's a good go-to! The bad: it runs wayyy large (I normally wear a small or medium and bought a XS that's still baggy, but in a (mostly) good way...probably could have sized down one more even). It also wrinkles really easily.
Date published: 2017-03-25
Rated

4

out of

5
by
Pamela123
from
Central Shirt
I really like the Madewell tops. I am glad I found the Central style; it is very flattering. I love the off white color. This goes with everything in my closet. The only con is that I really wish this was 100% cotton and it was not mixed with modal. The Courier style is all cotton so I will probably stick with that style.
Date published: 2017-01-27
Rated

4

out of

5
by
Alison04
from
Prefer the Courier Shirt
I ordered this shirt as well as the White Courier shirt to see which I would like best. I am returning this one. I like the pockets and slightly more structured and crisp white nature of the Courier shirt. This one is a bit more off-white and has no pockets. If you are debating between the two I'd go with Courier
Date published: 2017-12-27
Rated

4

out of

5
by
annacritchley
from
Ok
I have the original central shirt in the blue and white strip for a couple season back and love how it fits, but wanted one just slightly larger. I ordered an XS for the one I got years ago....so I sized up and ordered a S for this one. The sizing has TOTALLY changed! The S I ordered for this shirt is actually smaller than the XS I ordered a year or two back. I still like it, but not as much as how they used to fit- the sleeves are slightly different too- smaller around and don't hang the same. Size up if you are looking to add to your central shirt collection if you purchased from the original batch of these bad boys and are used to that sizing. For ref: 5ft 7in 160lbs....small...but could have taken a medium for a more hangy look.
Date published: 2018-03-14
Rated

4

out of

5
by
Shopper1233
from
Great Shirt but size down at least 1 size if not more...
Great Shirt but size down at least 1 size if not more...Nice fabric,
Date published: 2018-02-28
Rated

4

out of

5
by
gmy20
from
Great except for one thing
I've been wanting madewell's central shirt in white for a very long time so I was excited when it came in today. The quality and fit is great. I was so glad that I ordered a small instead of my usual medium because this definitely runs large. Unfortunately right after I took off the tags I realized there was a small white yellowish stain at the very bottom of the shirt. Its not super noticeable but I'm going to see if I can get it off with just one wash but still really annoyed about it.
Date published: 2018-02-10
Rated

4

out of

5
by
Rach95
from
daily wear capsule
A very versatile piece works great with denim and pants.
Date published: 2018-01-29
Rated

4

out of

5
by
JoseeL
from
Beautiful, but runs MUCH larger than label size
According to the size chart, I should have been a Small. But my daughter who is my size has several Courier shirts in XXS and they are just the correct size for her/me. I should have known better then, but I took the middle of the road and ordered an XS. And of course, it is quite a bit too large. Will take that into account next time.
Date published: 2017-08-09
Rated

3

out of

5
by
Allia
from
Fabric not what I expected
I previously purchased this shirt in blue, and love it. The fabric is very light, almost (but not really) see-through, and has a charming drape that looks great with jeans. My most recent purchase in white was disappointing. The cut is the same, but the fabric is heavier, like a heavy sheeting, and doesn't drape at all- it's almost stiff, and looks a bit cheap. The shirt lost its appeal. I kept it because it's a reasonable white shirt to wear to the grocery store or something, but unlike my first purchase, it lacks any style or charm. I think it's a bit too expensive for what it is.
Date published: 2017-03-19
Rated

3

out of

5
by
MLSS
from
I like the Courier Shirt better
This particular version of the central shirt is great and probably works for a lot of people. However, the wide drapey/boxy fit is just slightly too much for me. It looks like a big giant square on my upper body. I find that the courier shirt has just a bit more shape to it, the way it drapes suggests a nice curve to the body vs the previously mentioned (for me) overly boxy shape. I am tall and have broad shoulders, wider hips, and small waist. This could be the issue. Otherwise a wonderful top.
Date published: 2017-02-10
Rated

3

out of

5
by
NikiJayb
from
Weird fit; not like other Central shirts
I have this same shirt in the drapey black crepe in size xl and LOVE the fit; but wanted it to be even roomier around my mid-section, so thought I'd get this one in xxl. Unfortunately, it is exactly the same size around the middle as the xl... except the neck circumference is HUGE and the sleeve openings are HUGE and the sleeves are much shorter than the regular central shirt - it looks like a cap sleeve shirt rather than short-sleeve like the other central shirts... all in all it's a weird fit... almost like they didn't grade the size properly. Anyway, quality is good but if you, like me were looking for more space in the hip/tummy/bum area and have a normal width neck, you won't be that happy with the xxl size in this model of shirt.
Date published: 2018-01-31
Rated

3

out of

5
by
Jen74
from
Thick enough but huge
finally, a white shirt that isn't see-through! Unfortunately, I returned it because it is huge! I normally wear a medium and even the extra small with two big. Unflattering. Too bad, because it could've easily been a favorite.
Date published: 2018-01-31
Rated

3

out of

5
by
Emiliegia
from
Runs very large
I ordered xxs I am 5'6'' 112 pounds, I'll be returning the shirt, it is very big! Material and quality are perfect, not too light.
Date published: 2017-05-11
Rated

3

out of

5
by
sarobinson
from
Just not for me
I've been wanting a crisp, white blouse for spring, and really wanted this one to work. As other reviewers said, it's boxy, but I thought it had a bit more sleeve definition based on the pictures. However, it's like a literal square - which works for waif-ish frames, but not for me. Back it went.
Date published: 2017-03-15
Rated

2

out of

5
by
Burnette90
from
Not very flattering on curvier girls
This looks fantastic on all my friends size 6 and below, but for me, a size 10, the large and medium were huge in the top but clung to my stomach and was not flattering. Great material and I wish it would've worked out but its too oversized in the chest.
Date published: 2018-01-26
Rated

2

out of

5
by
JenniferInHouston
from
Not my best look
This seemed like it could be a good idea, but I couldn't pull it off. It was just too boxy and stiff and blousy and there a million other things I look better in, so back it went. It seemed to be true to size (I tried two different sizes). I'm not sure who I would recommend it for especially when there are other things that are more flattering.
Date published: 2017-11-01
Rated

1

out of

5
by
KBT1
from
Huge, Prefer Courier Shirt
This shirt is so, so, so big. I'm 5'6, 117 lbs, 24 waist and 32 bust. The XXS made me look like a flying squirrel. I personally think that the Courier style is cuter and more flattering. Would size down at least 2 sizes if you plan on ordering this shirt.
Date published: 2017-03-06