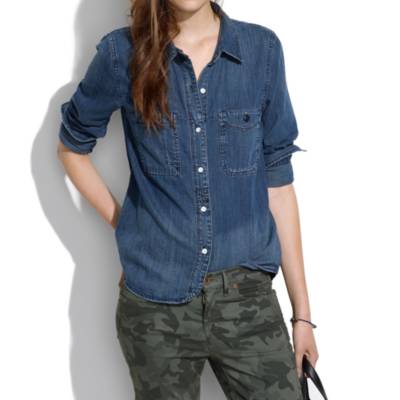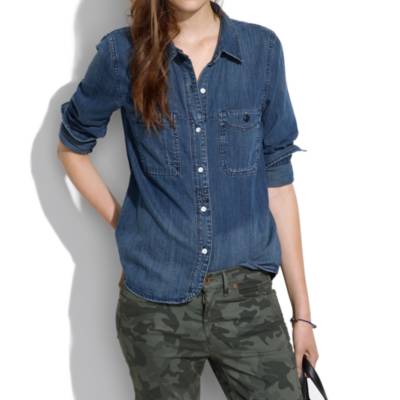 Product Details
Faded in all the right places, with a perfectly shrunken fit both woodsy and polished at once. Thanks to this style, you can officially consider us the outdoorsy type.
Shrunken fit.
Cotton.
Machine wash.
Import.
Denim Boyshirt in Campground Wash
Denim Boyshirt in Campground Wash
is rated out of
5
by
28
.
Rated

5

out of

5
by
SMRH
from
Great shirt
Love this shirt! Goes with everything and looks great after many washes.
Date published: 2013-03-06
Rated

5

out of

5
by
oceanwaterbird
from
The best denim shirt out there!
I searched high and low for a comfortable, fashionable denim shirt. Finally I found this and am very pleased with my purchase. The fabric is medium weight, the buttons are delicate and different, the shirt has a tab at the neck which is funky and it fits true to size. Look no further for the best denim shirt on the market today.
Date published: 2013-02-14
Rated

5

out of

5
by
Kdc45
from
This is a necessary staple if you are a Madwell fan.
This style shirt runs a bit shorter than some of the other styles and looks best out and not tucked in. Heavier denim gives it a nice finish.
Date published: 2013-02-09
Rated

5

out of

5
by
madewellove
from
The PERFECT shirt!
This shirt fits so well! It's super comfortable and flattering. I am big chested and usually have issues finding button-ups that are tailored to my body shape, but this shirt fits beautifully! i'm 5'7" and a double D. I usually wear a medium, but the small fit perfectly.
Date published: 2013-01-09
Rated

5

out of

5
by
AustinDawn
from
Wardrobe Staple
This shirt is a solid wardrobe must have. It's comfy and versatile. I purchased mine during the store wide & website 30% off so the price was more agreeable. I purchased two (denim and one in a powder blue). They run true to size but just in case I hang dry, this also helps with color not fading.
Date published: 2013-01-09
Rated

4

out of

5
by
britty
from
Wonderful feel
An easy "go to" top to through on with shorts, skirts or leggings.
Date published: 2014-01-06
Rated

4

out of

5
by
Jackieo
from
Fits well
Nice fit. Easy to dress up with work pants and dress down with camo jeans.
Date published: 2013-12-05
Rated

4

out of

5
by
Beachgirl
from
A Perfect Denim Shirt
Great denim shirt! My only complaint is that I expected it to be a bit heavier material, especially for the price. It is a bit short in the sleeves and bottom (I'm 5'3), so it's not good over leggings . But overall, it's the perfect denim shirt. Great color, nice details!
Date published: 2013-10-13
Rated

4

out of

5
by
swuwhit
from
Great weight and quality but a little boxy!
With denim/chambray being so trendy this season, I needed a great shirt. The weight is more denim than chambray (e.g., heavier than lighter) but the quality and workmanship are good. I have broad shoulders but slim waist so I am having the shirt tailored to take the shirt in. But I think this would be a boxy fit on most average body types. With the 25% off, it was good value even with the tailoring.
Date published: 2013-04-02
Rated

4

out of

5
by
JennW
from
Just wish it were a little longer...
This shirt is fantastic... soft and comfortable and a great color. My only complaint is that it's a little short on me. Granted, I'm on the tall side at 5'8" but I just wish this shirt were an inch or so longer. Otherwise I have no complaints.
Date published: 2013-02-04
Rated

4

out of

5
by
AVC82080
from
Must have
Love the shirt, but its only downfall is it doesn't stay buttoned well. An undershirt is a must...
Date published: 2013-01-14
Rated

3

out of

5
by
AlmaM
from
Great details
I love this item even though it could be a bit longer. My torso is average length but it still seems a bit short. I love the little tab at the neckline which is not really visible in the picture. Overall, its a good item.
Date published: 2013-12-13
Rated

3

out of

5
by
goldengirl81
from
Item returned
I thought this shirt was a little oversized but I wear much of my clothing very fitted. Also, though the shirt appeared to be of good quality, the asymmetry of the pockets really threw me off. I opted to return.
Date published: 2013-06-03
Rated

3

out of

5
by
MazeyH
from
Not as Fitted as It Looks
The shirt was boxier than I expected and the tails are short. If you want tails to hang out underneath a sweater, don't look to this shirt. I was also bothered that the buttons are so small and thin that they slip out of the buttonholes quite easily, which is not a good thing for a button-up shirt. On the positive side, the color is nice and the fabric is soft. Still, not exactly what I was looking for.
Date published: 2013-01-09
Rated

3

out of

5
by
Larissa
from
I love this shirt but the button halls are too big compare to how tiny the buttons are.
I would recommend this shirt over anything but it is keep unbuttoning itself... I love the quality of the fabric, colors, fit and everything else except those. Hope you guys make the button halls smaller next time if you are going to keep using that buttons...
Date published: 2013-01-09
Rated

2

out of

5
by
FarmGurl
from
boxy and odd-sized
I ordered this shirt in small and medium with the intention of sending the wrong size back. I'm 5'9 and 135 lbs, tall and lean. The small was too short, both in the body and the sleeves. The medium was the right length but far too large overall and both sizes were boxy, not fitted at the waist whatsoever. I do realize it's a 'boyfriend' shirt but most still have some fit. I wouldn't recommend this shirt to anyone tall and slim, it would be too difficult to get the proper fit.
Date published: 2013-04-13
Rated

2

out of

5
by
JillC
from
The sizing chart is a waste
This ran very small and once I saw it in person, I definitely felt like I'd spent too much.
Date published: 2013-02-22
Rated

2

out of

5
by
mbnh
from
This shirt was very wide and short. I will be sending it back.
I guess I should have paid attention to the description--shrunken fit. I didn't realize it meant very short and wide almost to the point of being mis-shapen. I am not crazy about the different colored buttons. I think it looks like I lost and button and just sewed another one on that was lying around my house.
Date published: 2013-01-09