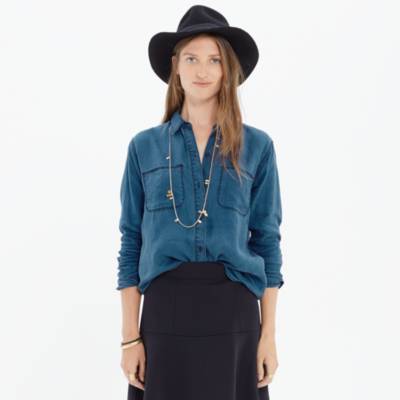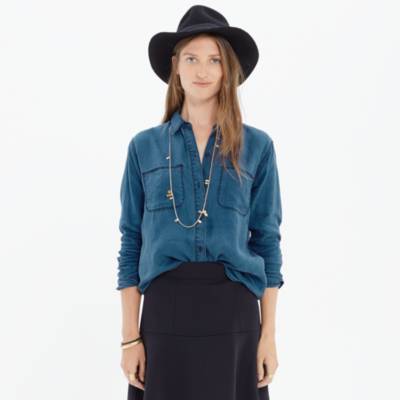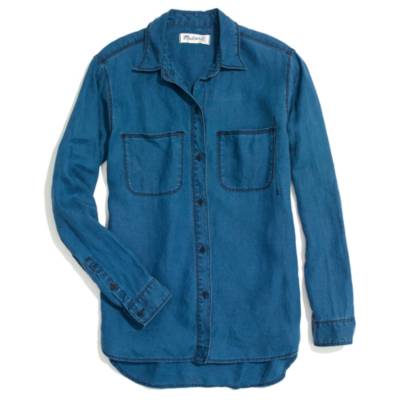 Product Details
There's something both utterly modern and old-school charming about this wear-everywhere piece. (It probably has something to do with the slouchy, but still sexy, oversized fit.)
Boyfriend fit.
Linen.
Machine wash.
Import.
Indigo Linen Ex-Boyfriend Shirt
Indigo Linen Ex-Boyfriend Shirt
is rated out of
5
by
37
.
Rated

5

out of

5
by
Caseycat
from
Perfect shirt
This shirt is the best combination of color, fabric, workmanship, style,comfort, and fit. Love it and wish I could wear it every day!
Date published: 2014-06-29
Rated

5

out of

5
by
6851Stonehouse
from
Irresistible Linen
I surely didn't need this---I WANTED it. Linen is the best fabric for longevity and this will be something in my archives, a soulful inheritable.
Date published: 2014-06-06
Rated

5

out of

5
by
vicks84
from
Great fit, great colour!
Love this shirt. It has a great, slightly boxy fit. The linen is so nice in summer. The quality is good too! Love the darker blue colour option, too. Not everyone looks good in light baby blue coloured denim, certainly not this brunette!
Date published: 2014-05-22
Rated

5

out of

5
by
ldot1987
from
Perfect spring/summer shirt
I originally wanted this in the darker blue but I got it in blue mist instead and I'm glad I did. Both are nice but I feel it's slightly more casual and versatile. I went down a size and the fit is perfect - oversized but I'm not swimming in it. The fabric is really soft. Hoping it holds up well upon washing. I know I'm gonna wear this a ton!
Date published: 2014-05-21
Rated

5

out of

5
by
Bethany28
from
Adorable!
The colour and material of this top is so lovely! I received many compliments on the shade of blue! Couldn't be happier with it :)
Date published: 2014-04-24
Rated

5

out of

5
by
scone
from
Just Right
Excellent shirt, lovely color, perfect boyfriend slouch in my regular Madewell size. I think I will get a lot of wear out of it..
Date published: 2014-04-07
Rated

5

out of

5
by
zoeygreen
from
perfect weight, texture, fit
This shirt is exactly how it is described and pictured. I bought the second color after receiving one color. It will be easy to roll up sleeves in summer. The fit is loose (as stated) which is exactly what I wanted for that easy breezy summer vibe.
Date published: 2014-04-05
Rated

5

out of

5
by
MoeB
from
This will be my spring/summer go-to shirt
I was hesitant to order this shirt because the material was linen and I was afraid the fabric would be too rough. This linen is super-soft! Also, the blue mist is an absolutely gorgeous shade of blue. I ordered the Medium because I have broad shoulders and often have to go up a size in Madewell shirts (I'm 5'6", 120lbs, 34c). I ended up exchanging the Medium for a Small and it's still plenty roomy. Love it!!!
Date published: 2014-04-03
Rated

5

out of

5
by
123fromage
from
Just Got It!!
So--I'm wearing this shirt currently and I love it! However I do wonder if it's too big for me..I am unsure if when I wash it if it will shrink a tiny bit (which would make it the perfect fit) or if I need to return it and size down... I bought a small. I am 5'3" and about 127lb. I carry my weight in my middle so usually I am a medium in shirts but since this is made to be an oversized look I got a small. There is plenty of room in here! Which makes me wonder if if there is waay to much room? I'll ask my husband.. Other than me being curious I love it! It's soft and it feels more like linen but really looks like a warn in denim shirt that you once loved and fell apart! So it's perfect!
Date published: 2014-03-28
Rated

5

out of

5
by
Emdale
from
Wore it on a date and got a compliment ;)
I love this shirt!! I wore it out on a date and was complimented on the color and style :)
Date published: 2014-03-03
Rated

5

out of

5
by
Bonjour
from
Perfect, perfect, perfect
What is it about linen? Especially re-conjured as 'denim' shirts? Couldn't help myself, got both immediately, and just as I expected, they're awesome. Perfectly updated classics. I'm M in TTS, but always get S in ex-boyfriend, and these are perfectly relaxed, cool & slouchy as promised. Happy that the light blue is as pictured on the model. Soooo in shirt heaven right now.
Date published: 2014-02-07
Rated

4

out of

5
by
KateCelia
from
Great look, average quality
I love Madewell's chambray shirts! They look so classic yet current. Beware that these 100% linen shirts do tend to rip. This is my second shirt that has ripped at the cuff from rolling up or at the neckline where the buttons are.
Date published: 2014-11-15
Rated

4

out of

5
by
moderngrandma
from
large but comfy
A classic chambray-like button down to add to your collection. I'm normally a medium and large, ordered a small and it was still big! But I think that's the point. It's called ex-boyfriend for a reason and Iove the casual chic look for work.
Date published: 2014-10-15
Rated

4

out of

5
by
Shawn64
from
Sizing not consistent
I ordered a large in both colors. Blue mist is a true large, however, raindrop was smaller 2-3 inch in width which made the fit very different. I will be returning raindrop color shirt. Beware when ordering as this shirt is now final sale.
Date published: 2014-10-03
Rated

4

out of

5
by
Hannasoo
from
Great shirt!
I love this shirt. You can really wear it with anything. It does get wrinkly though, as you'd expect with linen.
Date published: 2014-10-02
Rated

4

out of

5
by
oliver1
from
Beautiful color + fabric
I been eyeing this great shirt for awhile online and when it went on sale - I finally placed my order. Unfortunately on me - it just didn't work. It has beautiful, rich color and a wonderful linen fabric, but I'm returning it due to it just didn't flatter me. Again, a wonderful combination of color and fabric.
Date published: 2014-06-26
Rated

4

out of

5
by
elma
from
Cute but runs very large
I ordered the small but could have gone for x small or even xx small if it was offered. It is an oversized fit but this is realllly oversized. Looks like I'm wearing my dad's shirt, not my boyfriend's. I'm 5'6, 125lbs 34b.
Date published: 2014-04-04
Rated

3

out of

5
by
Caro11
from
Runs large
This shirt is incredibly comfortable, but isn't the best look for my small frame. It looks a little sloppy and might be best for ultra casual environments. If I was able to return it I would go with an XS instead of the S. For reference I am 5'6" and 130lbs.
Date published: 2014-07-02
Rated

3

out of

5
by
kedixo
from
great, but gets holes so fast
I love this shirt. I really, truly do. But, like another reviewer, a hole developed under both arms within two wears. I've tried to be delicate with this, but I pulled it out of the wash yesterday to find that small hole had ripped to about double its size. I'm going to keep wearing it for now, but I'm so sad, and know that it's just a matter of time now, and I haven't even had it for a full month.
Date published: 2014-04-16
Rated

2

out of

5
by
montreallady
from
Beautiful but poor quality!
I went to put this shirt on after not wearing it in the winter(I bought it in October) and it had ripped right open along the seam!!! I literally wore it 4 times and washed it once. I understand linen is fragile but this is terrible quality!
Date published: 2015-04-15
Rated

2

out of

5
by
nutty
from
ridiculous stitching on left pocket
It's hard to see on the website but be sure you look closely at the left pocket - it looks like a run away stitching from a drunk sewing machine. There is no reason for the stitching and it really takes away from an otherwise well designed shirt. why would you do this madewell?
Date published: 2014-07-15
Rated

2

out of

5
by
Disappointed808
from
So easy to get ripped!
Madewell is always my go-to place for a boyfriend denim shirt. I got this shirt in early March at the SOHO location. However just after one week of ownership, there were several small holes near the end of the sleeves. I usually roll the sleeves up so it wasn't a too big problem for me. Just now I just saw another whole area which is very likely to grow into several holes on the back of the shirt as well. So disappointed of the quality!
Date published: 2014-04-26
Rated

1

out of

5
by
LS1985
from
Fell apart twice
I loved this top. The color, the fit, all were perfect. Unfortunately the fabric does not hold up over time. The first shirt I bought tore while I was rolling up the sleeve. I just discovered a hole between the cuff and the sleeve in the replacement I bought. I am really disappointed in the quality of the fabric - it does not hold up to normal wear and tear or washing.
Date published: 2014-11-14
Rated

1

out of

5
by
Jennyyy
from
This shirt is wonderful... if you never plan on washing it.
As everyone else before me has already stated, this is in fact a very beautiful shirt. The color is true to the picture, and the fit is absolutely perfect if you size down one from your usual size. However, this shirt COMPLETELY FELL APART the first time I attempted to wash it. I hadn't even worn the shirt out yet. I washed my shirt on the most gentle cycle, and planned on letting it hang dry. Lo and behold, I wasn't ever able to do that because my shirt came out with 10 or so holes in it. There were no holes in the fabric itself; what seemed to happen was that the stitching on multiple parts of the shirt completely came apart. This is perhaps the poorest quality stitching I have seen on a shirt yet, seeing as my shirt couldn't even survive the delicate cycle.
Date published: 2014-11-10
Rated

1

out of

5
by
m246
from
Shirt fell apart after one wear and wash. wow.
Its a beautiful color, love the linen and fit - thought I had found my new favorite shirt. Wore it once just sitting around, washed it on delicate, hung it dry (no dryer). 7 holes appeared down the shirt and around the stitches of the pockets. Bummer. It looked like I had had this shirt for years and wore it everyday doing yard work in it or something! Parts of it looked like they were thinning. Its like it just disintegrated! Weird. Luckily madewell let me return it, they were really nice about it. I buy a lot from madewell and all items are high quality wear well, never had this happen. This one is a dud however. Boo.
Date published: 2014-07-02
Rated

1

out of

5
by
CMNE
from
RIPS EASILY
The fit and fabric of this top are beautiful and exactly what I wanted from a chambray shirt. HOWEVER, after less than a month of ownership and a few easy wears, it developed a large hole where the sleeve buttons near the wrist. ANOTHER hole just ripped at the corner near the buttons when I went to tie it at my waist. I was disappointed and expected better craftsmanship from a store called "Madewell". This has given me doubts about the overall quality of the products offered here.
Date published: 2014-04-20
Rated

1

out of

5
by
xocy
from
Ultra-Bummer
Saw the new linen products for Spring online and excitedly ran to the nearest shop and bought myself the tunic dress and the ex-boyfriend shirt, both in that beautiful, ultra-flattering-on-everyone ultramarine color. Linen is just about the coziest fabric on the face of the planet and in my mind I imagined myself getting all the linen Madewell had to offer, draping myself in it whether it was socially acceptable or not, like a female George Costanza would in velvet. Unfortunately, after wearing the button-up twice, the shirt somehow developed a huge, gaping tear which was an automatic super bummer and now I have no idea what to do with it. So, while I do love the shirt, I can't say I can entirely recommend it. Ensconce yourself in linen elsewhere perhaps.
Date published: 2014-02-19