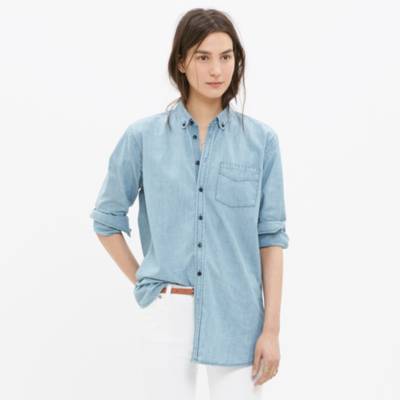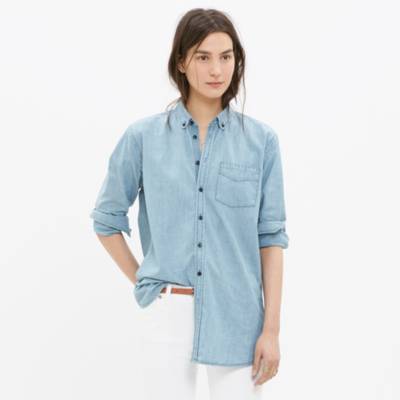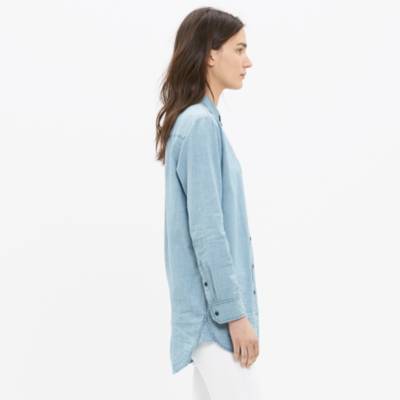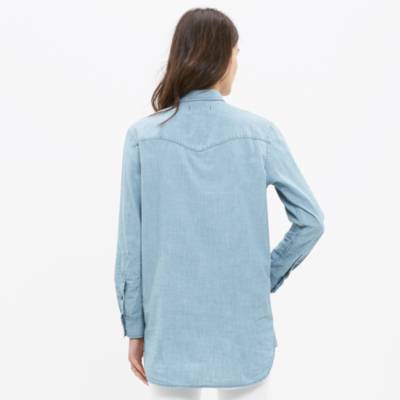 Product Details
Our perfect chambray button-down shirt is updated with a longer length (made for tucking), a button-down collar and a cool stitched placket. Play with proportion by popping it on over rolled shorts.  
Slightly oversized fit.
Cotton chambray.
Machine wash.
Import.
Oversized Chambray Boyshirt
Oversized Chambray Boyshirt
is rated out of
5
by
35
.
Rated

5

out of

5
by
PaulaMN
from
Great shirt
I wanted a true "big shirt" to use as a light-weight shirt to wear over a t-shirt, and this really fits the bill. It is soft and comfortable and oversized, although I did purchase the large (and I am a size 8) - after washing/drying a few times, it is still large/roomy enough to wear over a t-shirt, but I would not have wanted it to be any smaller.
Date published: 2015-06-15
Rated

5

out of

5
by
hazel
from
staple piece for the chambray obsessed
This shirt fits quite large (I ordered down a size and the top still has the slouchy look the model has).
Date published: 2015-06-15
Rated

5

out of

5
by
Nej7614
from
Nice and light for the summer!
This shirt is very comfortable and soft! It's perfect over any summer tee!
Date published: 2015-05-18
Rated

5

out of

5
by
Meredith19
from
Perfect!
I buy a lot from Madewell and this is one of my favorite purchases. It's very soft and has a nice length. I might buy another just to have as a back-up because I know I'll be wearing it a lot. It's a perfect travel shirt.
Date published: 2015-04-04
Rated

5

out of

5
by
Momma5
from
So comfy!
I bought this shirt for my daughter who loves it! She says it's the most comfortable piece of clothing in her wardrobe. Thanks Madewell!
Date published: 2015-02-06
Rated

4

out of

5
by
EGFranks
from
Super Soft and Comfy
I bought this shirt as I entered my second trimester. Figured it would be great to layer and wear as I got more pregnant. I am usually a small at Madewell and I ordered a small and it is HUGE. There is not way I would wear the small if I wasn't pregnant. Definitely order down a size.
Date published: 2015-08-28
Rated

4

out of

5
by
Anonymous
from
Nice chambray
I'm overall very happy with this classic chambray, the only downside is the short sleeves. I bought my regular S and it fits very well (oversized), however the sleeves are far too short. I always roll them up now, but I have to say that I was a little disappointed.
Date published: 2015-08-13
Rated

4

out of

5
by
Abby18
from
Very versatile
This is a great shirt. It has unique features, but it's still a good basic chambray shirt. It fits true to size - i'm 5'7", 120lbs and got a small which is my normal size, and it fits me about the same as the model in the picture. I think it'd be flattering for pretty much every body type. It's pricey for what it is, so I considered sending it back at first, but I just couldn't bring myself to cause it's such a great shirt. Glad I got it.
Date published: 2015-08-05
Rated

4

out of

5
by
bre3
from
Perfect chambray
This shirt runs much larger than I thought it would. The back goes past my bottom, which will be nice come Autumn. I am larger chested and am usually in between a medium and a small in shirts and bought the medium.
Date published: 2015-08-04
Rated

4

out of

5
by
cheto22
from
I will live in this. Buttons not sewn on well, unfortunately
I purchased my usual size, XS and it fit well. I also got a S to see if I'd prefer baggier look, but the shoulders were too wide and the look was all wrong, so I'd say stick with your regular size. Buttons are unthreading already, which is disappointing but not that surprising.
Date published: 2015-07-21
Rated

4

out of

5
by
Quinn09
from
Great, but doesn't wash well.
I loved this shirt before washing it, but after washing it (following the instructions) it now has a less bright color and grainy consistency. It requires ironing after washing. However, it remains comfortable and I don't regret my purchase.
Date published: 2015-07-08
Rated

4

out of

5
by
ritaroni
from
Cute big shirt with nice detailing
The blouse fits comfortably and has neat stitching detail down the placket. That makes it a little different from other chambray shirts.
Date published: 2015-06-29
Rated

4

out of

5
by
abby37
from
Runs HUGE!
Super soft and comfy, but runs HUGE! I'm 5'4 and 135 lbs and ordered a small, and it was a tent. I had to exchange it for an xs.
Date published: 2015-06-15
Rated

4

out of

5
by
LP3001
from
Great casual shirt
I was on a search for the perfect chambray and this one came close enough! It has a great fabric, soft and comfortable, and I love the stitching on the placket and the navy buttons. I took off one star for the fit - just a bit too oversized for me. I sized down one size and it is still loose in the body and big in the shoulders. I felt that this shirt did not look good with the sleeves down because they are so loose. I've been wearing them rolled like in the pictures. The shirt is also really long, more like a tunic. The descriptions says "made for tucking" but I find it actually too long to tuck. A good casual shirt if you are looking for something truly oversized.
Date published: 2015-06-02
Rated

4

out of

5
by
augustagolfgirl27
from
Oversized is no joke
Madewell, you weren't joking when you called this shirt oversized. I got the small and it is still GIGANTIC on me. I get that this is how it is supposed to be, but still, it threw me off a little bit. I think it will be really cute with colored shorts and sandals in the summer or with a vest in the winter. Definitely is a chambray shirt that should be a staple in any closet.
Date published: 2015-04-28
Rated

4

out of

5
by
Hol9556
from
Great Detailed Chambray
I loved everything about this shirt, but unfortunately the sleeves did not fit my frame and were a tad too short. If you're tall and thin, XS sleeves are slightly too short, but rest of shirt fit great.
Date published: 2015-04-16
Rated

4

out of

5
by
LoveNY
from
Charming boyshirt
This is an oversize boyshirt but still loose on me in size xxs. For a reference, i'm 5.1' and 102 lbs. i really like the design and length so I decided to keep it. The fabric is really soft which is a plus. I can dress it up or down and also in winter or summer. It's a great buy except a bit pricy.
Date published: 2015-02-12
Rated

3

out of

5
by
PiedPiper32
from
T-rex arms
This is a super cute shirt that is made average by it's very short arms. In my experience this is pretty common with Madewell shirts and I'm not sure why. I don't have this problem with any other brand. For reference I am 5'6 130lbs and 32C and purchased an XS. It fits well in the body, very loose like it should be and is just barely long enough. Looks fine when I have the sleeves rolled up but the shortness will really bother me in the winter. Fix this issue Madewell!
Date published: 2015-08-21
Rated

3

out of

5
by
carrieberry
from
Oversized Boyshirt is Oversized
I normally wear a medium and this shirt fits like an oversized medium. So far I've found this shirt to be very comfortable and feels like good quality, but I rate the appearance only as "average" because the actual product is a much darker blue than it appears in this photo. I was disappointed because the lighter chambray is what I had wanted, and the color makes this shirt harder to match, especially when wearing denim-on-denim.
Date published: 2015-08-03
Rated

3

out of

5
by
shopcity07
from
runs super large
I get that it says "oversized" but I'm simply out-sized on this. XXS is wayyyy too baggy for me but I still wear it because I kept it...was too lazy to return. Quality is not that great either. I can't recommend this.
Date published: 2015-06-02
Rated

3

out of

5
by
Lek15
from
Not for tall girls... Or anyone with long arms
I now understand why the model in the picture has the sleeves rolled... The arms on this are ridiculously short!! For an "oversized" shirt I expected the sleeves to be at least arms length on me since most fitted button downs on my 5'10 frame fall a bit short of my wrists. However the sleeves don't even come close to my wrists! They look more like 3/4 sleeves on me. I was so torn about this shirt because everything else about it is amazing. I ordered a small and the shirt is the perfect length to pop over a tee and shorts in the summer and I can imagine wearing it with leggings in the fall. While it's oversized in the length it's fitted throughout the shoulders and torso which keeps it from being boxy or looking too masculine. The fabric is so soft and lightweight. In the end, since it's really perfect in all other ways, I decided to keep it and just grin and bear the sleeve length and keep them rolled :(
Date published: 2015-05-31
Rated

3

out of

5
by
Goodnightmoon
from
Overwhelms a petite frame
It's oversized and they mean it! I'm only 5'2" and about 127 lbs and got a medium (my usual size). I'm still carrying some post-baby weight, so I prefer looser tops. But this one was just big on me all over! Sizing down might have helped, but I wasn't in love with the overall look and feel enough to do an exchange. A petite size would've probably made this shirt a better buy for me.
Date published: 2015-04-28
Rated

2

out of

5
by
SFgirl2
from
Nice but not like pictured
Like the shirt, but it doesn't look anything like the photo on the website (and not just because I don't look like a Madewell model). It's much longer, different fit and different color material. Nice quality, but just not what I though it would look like at all.
Date published: 2015-08-04
Rated

2

out of

5
by
ldot1987
from
Not my favorite
Because I'm addicted to chambray shirts I had to give this new Spring one a try. It's a great color and I like the pocket detail but I can't say I loved the fit. It was boxy through the shoulders but cut a little too slim down through the body. It fit better through the body when I sized up, but then the shoulders were too big. I can see it working for straighter figures but if you've got curves this might not be for you.
Date published: 2015-01-29
Rated

1

out of

5
by
BrooklynKitten
from
Short sleeves, long torso, thin fabric
I'm a big Madewell fan, particularly of their denim work and boyfriend styles, but this was sadly a very unsuccessful shirt. The sleeve were too short and slim, while the torso was very long (and I do like long) and weirdly wide - particularly at the bottom - and the collar felt too small - the whole thing felt disproportionate. Plus, the fabric was thin, it felt cheap. I expected much better, I was really excited about the stitching details and the advertised style, but it was a big let down. I'm 5'7", 135lbs and I ordered a small, for reference.
Date published: 2015-06-12