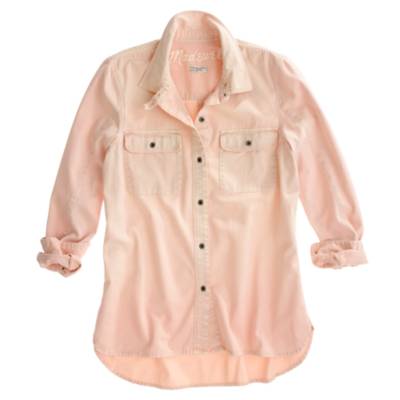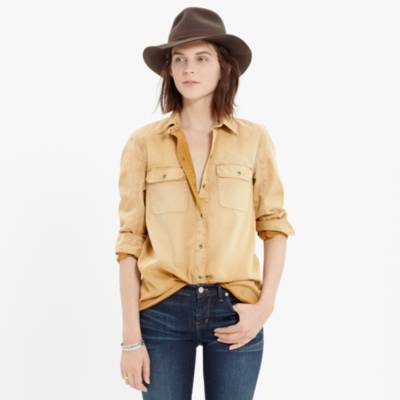 Product Details
Refined yet rustic: A lovingly worn-in workshirt, it'll take you from sunrise to sunset in low-key style.
Boyfriend fit.
Cotton.
Machine wash.
Import.
Tomboy Workshirt
is rated out of
5
by
54
.
Rated

5

out of

5
by
dsham14
from
awesome quality
i bought this shirt in spruce on sale because of the great reviews it has. it's a great shirt, very sturdy but still comfortable. a small fit me just right (i'm a size 6 generally; 36-28-36). i'm definitely considering getting it in dove and blue as well. beautiful shirt.
Date published: 2014-05-30
Rated

5

out of

5
by
Britt
from
workshirt perfection
this shirt is my new everything. i can wear it as a top with pants, shorts and skirts or wear it as a light jacket or use it for layering. i am a 32D bra with a size 27 waist and got the xs. it fits perfectly. it's still loose enough to give it that boyfriend fit, but still structured enough to hug the body in all the right places.
Date published: 2014-04-20
Rated

5

out of

5
by
misheeba
from
Hooray a Good quality shirt!
Arrived in acceptable time. The shirt was wonderful right out of the packaging. Good quality fabric & workmanship. The style is classic and the fit is comfortable. I'd buy more if they came in different colors!
Date published: 2014-04-09
Rated

5

out of

5
by
Jen100
from
ok so I have three
This shirt is so well-constructed, substantial without being heavy, and gets softer and more lived-in after washing, like an old friend you've had for years. I was sold after I got the spruce, and added dove and gold to my collection, all beautiful. M is perfect for me - 5.5, 125-ish lbs., 36B.
Date published: 2014-03-08
Rated

5

out of

5
by
EK27
from
Wonderful shirt
I bought this shirt in spruce after trying it on in store months ago and thinking about it ever since. It is very flattering and the design is great: it has a rugged, workman quality as the name implies, but the cut is still very feminine. I have it in spruce and it is a very pretty and unique green; it fades slightly with washing to give the shirt a worn feel, but I almost wish it didn't because I like to color so much. The details on the shirt are great. The large pockets play up the masculine theme and the buttons are a quality, heavy-duty metal. The fabric is mid-weight - a little heavier than your average oxford shirt, which is great for chilly days.
Date published: 2014-03-07
Rated

5

out of

5
by
AngieW
from
Second one I have bought
I love these shirts. This purchase was the second shirt in different colors that I now own. They are comfortable and look good. I want to wear them every day.
Date published: 2014-02-09
Rated

5

out of

5
by
AlYoung
from
Get it!
This is one of my all time favorite shirts. I find it true to size. I already own the spruce and this time bought the juniper berry. Both colors are saturated and versatile. I am still bummed that the camo color sold out before ever going on sale, or else I'd snatch one up! This shirt has a good heavy weight, but not so heavy that it isn't soft. It actually gets softer the more times I wash it. And even though it is soft, the weight and construction gives it structure without ever getting frumpy. This is a shirt that will last a long time and work well under a sweater, by itself, or as a jacket. Get it if you ever see it for sale!
Date published: 2014-01-17
Rated

5

out of

5
by
katydid12
from
Good staple
I like this shirt because it looks nice but there's nothing fussy about it. It's a stiffer, heavier material than I expected, but I like it. Washes well, needs light ironing, runs true to size. I'm 5'7" 133 lbs and the small fit just fine.
Date published: 2014-01-09
Rated

5

out of

5
by
Sadiekitty
from
Great shirt!
Love these shirts! Have two for myself and gave my granddaughter one for her birthday. Great quality and very comfortable. Wash great but may be happy with a little ironing.
Date published: 2013-12-04
Rated

5

out of

5
by
KateP
from
New Favorite Shirt
Love this shirt! I bought the mustard and got a ton of compliments on it. I'm an XSmall and got an XSmall - it fits loose, but it's a good loose. It's a heavier denim and really good quality. Will be buying more colors.
Date published: 2013-12-02
Rated

5

out of

5
by
JoeWen
from
Comfy and Stylish With A Down-To-Earth Feel
There's just something about this shirt that screams fall, comfort and the great outdoors. True to size with a boyfriend fit, this shirt is a fall staple in the vintage gold. It's a solid weight and has great construction too. Love it!
Date published: 2013-10-20
Rated

5

out of

5
by
bfl45
from
Great fit, great details
I got this in green and size XS, my usual size at Madewell. It fits great everywhere like my other Madewell "boyfriend fit" shirts. Love the proportions of the shirt--a little oversized without being too short! The shirt has a really nice weight to it and can serve as a light jacket on warmer evenings. Love the fading, the brass buttons, and the tab at the color. This one will get a lot of wear from me.
Date published: 2013-10-14
Rated

5

out of

5
by
ScubaDiver
from
Awesome Shirt
This shirt is stylish, well fitting and of great quality. I have the green color, and I am going back for the blue.
Date published: 2013-09-25
Rated

5

out of

5
by
tlyon
from
yes yes yes
Absolutely cannot wait for fall to wear this perfect shirt! Got the green and am in love with it. Very well made
Date published: 2013-09-18
Rated

5

out of

5
by
matti96
from
Perfect Shirt
This is the perfect shirt. I got it in blue and absolutely love it. It's thick but not too heavy. Looks great dressed up or down.
Date published: 2013-08-16
Rated

5

out of

5
by
CLou
from
Best casual shirt I ever bought!
The quality of this casual shirt is a 5 star. The material is "heavy" but not cumbersome. Worth the price. Wish they made this in white!!
Date published: 2013-07-29
Rated

5

out of

5
by
ash88
from
Fall Staple
This is my new favorite shirt. Wear it over a dress or as a light jacket. Amazing.
Date published: 2013-07-13
Rated

5

out of

5
by
kaysarasara
from
New favorite.
Exceeded my expectations. Fits true to size. I was worried about it not being long enough, but the length is so perfect. I love grabbing this on the go in case I need another layer over a dress or tank. The green color is fabulous.
Date published: 2013-06-26
Rated

5

out of

5
by
ridecaliope
from
Very versatile
I have these in both colors. I wear it when I'm gardening or out to a movie with a skirt. It is a fav for sure.
Date published: 2013-06-24
Rated

5

out of

5
by
Birdie1
from
my favorite shirt
I had been eyeing this shirt for a month or two earlier in the winter, and finally broke down and bought it. I'm not usually one to buy clothing at full price, but this one was totally worth it. I wore it all winter, and can currently still wear it with the sleeves rolled up. I'll miss this one once the new england weather gets too hot!
Date published: 2013-05-13
Rated

5

out of

5
by
Anonymous
from
LUV ITTTT
Luv it with all my heart. Oversized but supaa cute
Date published: 2013-05-07
Rated

5

out of

5
by
AWisNeat
from
Perfect spring transition piece
When I'm not sure if I need a jacket, I just grab this shirt instead. I bought it in vintage gold. This weekend the weather was chilly in the morning and it warmed up in the afternoon. I threw this shirt over a white dress and a pair of boots and got so many compliments. The color is so vibrant and the weathered look of the shirt makes me want to grab it and wear it every single day. The quality is excellent. My favorite feature of this top is the additional seam on the sleeves. I am 5'5", athletic build with a large chest and I ended up going with the small. It isn't too tight on my arms, and I usually end up wearing the shirt open. I did want the ability to wear it closed though, if I wanted to tuck it into a skirt. I can't wait wear it with a pair of shorts and sandals!
Date published: 2013-04-23
Rated

5

out of

5
by
jmc2001
from
Runs huge...size down!
I'm an XS in all Madewell clothing but felt sized out of this shirt. I understand it's an oversized/boyfriend fit but it just looked HUGE - like I was wearing a size medium. The tail hem was a bit too long as well (I'm 5'3, 100 lbs). I hope Madewell makes this shirt in an XX-Small, like the chambray shirts, because it's super cute and the quality is EXCELLENT.
Date published: 2013-03-11
Rated

5

out of

5
by
Mchu
from
Staple Piece
Love this shirt! You can wear it with basically anything to make it look casually/stylish. Love it with jeans and boots and the sleeves rolled up. A BIT pricey, but great quality and fit. Bit roomy, but I like the fit oversized.
Date published: 2013-03-08
Rated

5

out of

5
by
Kdc45
from
This is a color for spring!
I bought this to go with a long embellished skirt and it's color is perfect! Wear this with oversized gold jewelry to dress up. Wear with skinny white jeans to dress down.
Date published: 2013-02-13
Rated

5

out of

5
by
shari710
from
Fabulous Shirt! Good Job Madewell!
This shirt is MADEwell:)) I bought the two of them in the gold so my girls would not fight over them, but when my daughters saw the spruce, well, we had to have that one as well..great fit, soft, beautiful design and color:)
Date published: 2013-01-09
Rated

5

out of

5
by
JennF
from
Great shirt!
Ordered this shirt in spruce, loved the colour. I got the small and still found it a bit roomy. Fabric is nice and soft. Great details: shirt tail is longer than the front, and there's an extra tab and button at the collar.
Date published: 2013-01-09
Rated

5

out of

5
by
CallieRose87
from
Great and Versatile!
Great shirt. Longer in the back so you can wear it with leggings. Fits true to size for a boyfriend fit. I got the green one and it looks great with everything!
Date published: 2013-01-09
Rated

4

out of

5
by
BillieJay
from
Everyday shirt
I love how comfortable and easy this shirt is. I have it in other colors as well. I think it fits true to size- I'm 5'8 130lbs and got a small, and it still has a relaxed fit to it. Unfortunately, one of the buttons fell off while wearing this for the first time. I can sew it back on, but it's a little frustrating because I expect more from Madewell than that.
Date published: 2014-12-01
Rated

4

out of

5
by
kikko
from
Olive
Heavier than I expected. Perfect for the autumn weather. Great dark olive color. Runs bit large for the boy friend look.
Date published: 2014-11-10
Rated

4

out of

5
by
ananon
from
Great Buttondown
I really love this shirt. It is well made and fits -almost- perfectly. I'm 5"4'/130 lbs and got a small as to not overwhelm my frame. It fits perfectly up until the top two buttons; I'm not hugely busty (32C), but I can't button past the third highest button without causing a serious gap between the buttons. I still recommend this shirt, because even slightly unbuttoned, it is a classic fit and very flattering.
Date published: 2014-10-15
Rated

4

out of

5
by
swanny
from
sleeves are short
If you are planning to wear this shirt with the sleeves rolled down, you may not be able to. I am 5'7" and wear a size small - usually I do not have a problem with sleeve length unless I am wearing an x-small - but the sleeves on this shirt are not long enough. If I go a size up though, it will just be too bulky of a shirt. Otherwise, very well made (hence, the name) and comfortable
Date published: 2014-02-07
Rated

4

out of

5
by
lili86
from
looks great and comfortable
nice material, very nice color, true to picture. No bad surprises. A bit big for a Small size.
Date published: 2014-01-02
Rated

4

out of

5
by
mel02
from
Love this shirt!
This shirt is one of my favorite Madewell purchases. My lone complaint is that for a short girl like me, it's a bit long. Otherwise, I love the way it fits, hangs, and feels!
Date published: 2013-11-15
Rated

4

out of

5
by
bethany
from
Really nice shirt
I am 5'8", 125 lbs and 32C. I have several ex-boyfriend fit shirts and wear an XS in all of them. This one is a little smaller than the chambray ex-boyfriend shirts, but not enough to size up. I got the spruce color and it's really lovely and versatile, looks just like the photo online. The quality is great. I washed and dried it and it hasn't shrunk. The sleeves are shorter than my wristbone. Personally I like the fact that the boyshirts have bracelet length sleeves and tighter arms - it balances the oversized torso and makes it look like a woman's shirt and not a blousy man shirt. The one weird thing about my shirt is that the hem is flipped up around the bottom. It stayed that way through a wash. I tried wetting the whole hem and weighing it down so it will dry straight, but that didn't work. I don't have an iron so I will have to figure something else out.
Date published: 2013-10-22
Rated

4

out of

5
by
Nettiecracker
from
Great color, but the sleeves ...
This shirt is really great looking. I got it in the gold color which I absolutely love. This was my first time purchasing a shirt like this and I don't know if this is how the shirt is supposed to fit, but I felt like while the shirt fit great everywhere on me, the sleeves were pretty short on me. Thus, I rolled them up, but I can only cuff them once and then they're really tight. Almost like the sleeve is really tapered??? I would have rolled up the sleeves regardless if they were short or not, just expected them to be looser. Anyway, I still love the shirt and it washes really well. I just can't get over the great color.
Date published: 2013-03-04
Rated

4

out of

5
by
Genie
from
fades quickly
I got a decent amount of wears in this before I had to wash it. I put it on a gentle cycle in cold water, but the color still faded quite significantly. It still looks great, but it doesn't have that bold color of when I first got it.
Date published: 2013-02-19
Rated

4

out of

5
by
mks7227
from
very comfortable
I love the army green color and the material is very comfortable!
Date published: 2013-01-11
Rated

4

out of

5
by
mallen11
from
Great casual style
The oversized, relaxed boyfriend style is super comfy. I took my usual size and wouldn't recommend sizing down for a closer fit, because the sleeves were short. The material is a good, sturdy but soft weight and the seams are pretty heavy-duty, so I think it will hold up well.
Date published: 2013-01-08
Rated

3

out of

5
by
pmoney
from
pmoney
great, but flawed item. i got it on sale, however, the buttons fell off after two wears. i contacted madewell and they sent me a new one, however, same thing happened to that shirt. really disappointed in the quality because it is a beautiful shirt and the perfect button up.
Date published: 2014-12-05
Rated

3

out of

5
by
betsey
from
shrinks. A lot.
Madewell shirts are so beautiful that I keep buying them even though they shrink past the point of wearability. Like, this one now looks like it has 3/4-length sleeves after 1 wash. (I swear its not my washer/ dryer!) If you're over 5'4", Madewell is a heart-breaker. Should say "dryclean only"
Date published: 2013-09-25
Rated

3

out of

5
by
ShibaGirl
from
Odd fit. Great color.
I take a medium in short sleeve shirts, but get a large in long sleeved or sweaters. I ordered this in a large so that I could machine wash and dry it and wear it like an over-shirt. However, straight out of the package, the sleeves were 'bracelet' length on me. They were too tight in the elbow area, and the bust felt too snug to be a loose over-shirt while the shoulder seam was off my shoulder. Very Odd. If you want it as a top, get your regular size. If you want a loose fit order up. I sent that back and ordered the XL (which I've never gotten before) and fits like a typical 'large'. I have a 38 A bust and am usually a size 10, if that helps. The fabric is heavy weight and excellent. The color (spruce) is gorgeous! I wish it was sized better. It was inconvenient to have to order both, get charged on the card, and then have to return one for it being a defective sizing.
Date published: 2013-02-14
Rated

2

out of

5
by
Girlfriend38
from
Great, except after 1 wear and wash.
I had my eye on this shirt for a few weeks and decided to buy it. I like the weight of the material and fit of the shirt. I feels good and fits well with my lifestyle. I wore it and washed it once. I went to wear it a second time and unfortunately it has lost a button. After 1 wash/wear, the button is lost. I'm bummed. Although sewing on a button is no big deal, with a name like "Madewell" I would think the buttons would stay on longer than a single wear/wash.
Date published: 2014-02-06
Rated

1

out of

5
by
LM529
from
Did not receive!
was not received ~ got rest of order but this shirt was not included! Help?
Date published: 2014-05-16