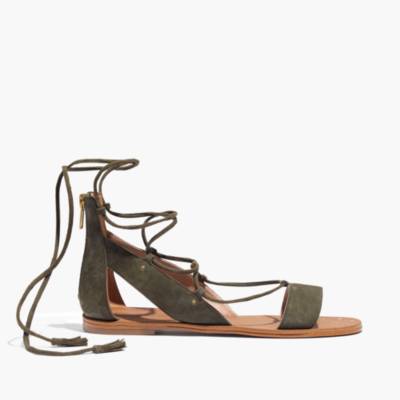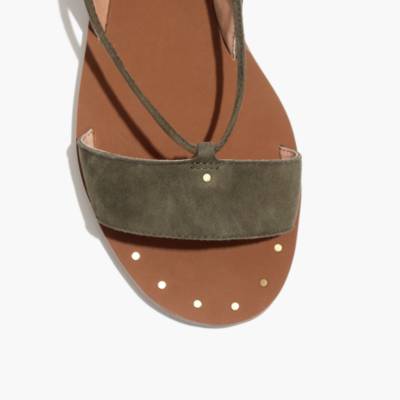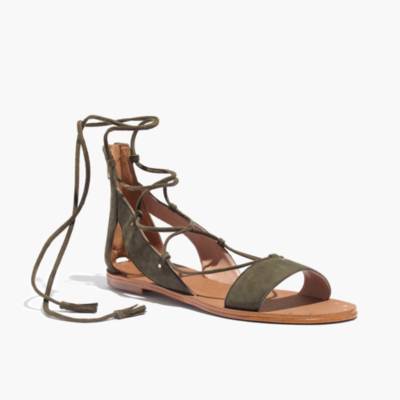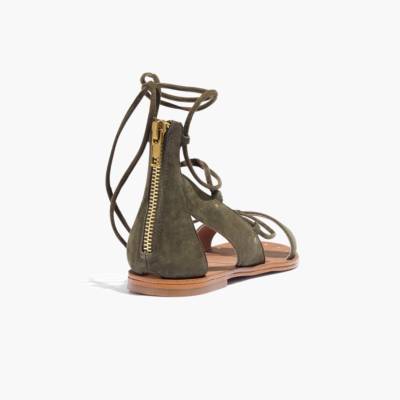 Product Details
A fresh take on gladiator sandals in the softest suede. With long tasseled laces and cool nailhead details, this has a back zip for easy off and on (perfect for park visits, in other words). Please note: When you select your size below, "H" equals a half size.  
Suede upper.
Leather lining.
Man-made sole.
Import.
The Bridget Lace-Up Sandal
The Bridget Lace-Up Sandal
is rated out of
5
by
41
.
Rated

5

out of

5
by
arielle1107
from
Lovely!
I got these in the orange-red and wish they were available in the olive! I absolutely love them! I normally wear a 7.5, occasionally an 8 and the 8s fit perfectly.
Date published: 2016-08-10
Rated

5

out of

5
by
jact
from
Perfect Sandals
Love these sandals! I can see myself wearing these with shorts, dresses, and even jeans when fall comes around. Although I originally was hesitant about the lace-up style, I love the style of this sandal! I'm normally a 7 or 7H and a 7H was perfect for me. No breaking in needed. Only issue is that there is a slight gap around the area in front of my heel area sometimes and that my pinky toe looks a bit weird in the sandal??? But nothing worth returning.
Date published: 2016-08-04
Rated

5

out of

5
by
KristyGonz
from
Beautiful sandal!
I ordered the red only because it was the only color left in my size. I'm so glad I did. The color is bright and fun for the summer and a nice change. Extremely comfortable and stylish. They look great on, received a lot of compliments!
Date published: 2016-08-02
Rated

5

out of

5
by
hhnnm
from
Comfortable out of the box.
Love these, they are just a little smaller than true. I wore them straight out of the box, super comfy!
Date published: 2016-08-02
Rated

5

out of

5
by
AmaraNY
from
gorgeous, comfortable...why the zipper?
I found the break-in period to be shorter than average for these (less than a week)—moleskin strips toward the outer edge of the heel and underneath the front strap could prevent blisters altogether. Lovely color (olive), and beautiful (especially for the sale price), but I really don't understand why the zipper is there if the lace-up part has to be readjusted every time the sandal goes on anyway. It takes a good 20 seconds to put these on, but they're so cute I don't even mind. Also, learning from my last pair of Madewell sandals, I've been really careful not to get them wet. I would recommend Scotchgarding the suede parts, besides the string.
Date published: 2016-08-01
Rated

5

out of

5
by
sbachis
from
Obsessed. More colors please
I love these sandals for causal wear, work and even going out. They add an interesting element to any outfit. I had originally wanted the dark green, but they were sold out so I opted for black and was not disappointed. They are super comfortable and the ties stay put. More colors please!
Date published: 2016-08-01
Rated

5

out of

5
by
brendita
from
perfect summer sandal
I love madewell shoes. these gorgeous sandals go with all of my summer dresses as well as cropped pants for the office. the olive color is the perfect color for the summer.
Date published: 2016-07-28
Rated

5

out of

5
by
Alaia
from
Fun summer sandals
These have been my go to sandals this summer. I love the style and they are on point with the lace up trend. But they are not that durable, I can see the bottoms really wearing out already.
Date published: 2016-07-28
Rated

5

out of

5
by
RMHinCA
from
Gorgeous
I love these shoes in red- I've gotten a ton of compliments on them. I wasn't sure about them but wanted to try something new so I bought them on sale and am very pleased. I'm a little concerned about the laces and whether they will last over time but all in all I'm very happy!
Date published: 2016-07-28
Rated

5

out of

5
by
JuliaJ
from
So comfortable!
I bought these in the Thai Chili color on sale. I have received so many compliments on them and they are super comfortable. The leather is a little stiff, so they're a little challenging to get on at first, but still worth the effort. I would highly recommend them.
Date published: 2016-07-24
Rated

5

out of

5
by
dchialtas
from
Beautiful sandal. Comfortable right out of the box!
I love this sandal! It has the gladiator look I love, with the high quality materials I wanted. The suede is so soft, and the back zip makes them much easier to take on and off. The gold mini nail-heads are a beautiful touch. The olive color is great for a fall-transition shoe! Thumbs up! If you want a soft sole or arch support, these would not work since the sole is flat and minimal, but I think that's also part of their beauty.
Date published: 2016-07-19
Rated

5

out of

5
by
LMB1984
from
Love these summer sandals!
Great summer sandals!! I purchased them in black (the black dye rubs off a bit but not enough to be a problem. I would suggest sizing up if you are a half size- I am a 9.5 across the board and got a 10 in these. Love them and might even buy the green before summer is over!
Date published: 2016-07-19
Rated

5

out of

5
by
Yoshi14
from
My favorite sandal
I have this sandal in two colors and I'm so happy I bought them. I get so many compliments, and have worn them so much already. They're not too over the top like some wrap sandals and the tassels at the end of the strings add the cutest touch. They can be a bit of a pain to get on and off, and I did get a bit of a blister on the back of my heel while breaking them in, but it didn't take too long. The only thing I worry about is that the strings are pretty thin, so hopefully they won't rip easily. Other than that, I 100% recommend this sandal!
Date published: 2016-07-14
Rated

5

out of

5
by
Ariel11
from
Very comfortable
I`ve been looking for a nice sandal for a long time and finally I found a perfect one here from Madewell. These sandals are very comfortable and I can wear them all day!! Usually I would carry a bunch of band-aids in my bag, but I never got the chance to use them when I`m wearing these sandals. I bought the red one and it literally goes with anything in summer. The shoes are true to the size and I hope you like them as I do. xD
Date published: 2016-07-14
Rated

5

out of

5
by
LA215
from
Worth It
I bought these 2 weeks ago on sale and I am so glad I decided to keep them. They are a classy twist on the gladiator look without being overkill. I am typically a women's 7 and that was the right size for me in these sandals.
Date published: 2016-07-07
Rated

5

out of

5
by
TheArlingtonAgent
from
Stylish and comfortable.
I was ecstatic to find that you do carry size 11's online. I saw these at your store in Merrifield, Virginia, and fell in love with them, but was sure they would not come in my size. The store clerk was very helpful in getting them ordered and delivered to me with no shipping charges. I wear an 11M and they are perfect. Love them.
Date published: 2016-06-27
Rated

5

out of

5
by
Avocado1
from
Love these sandals!
I purchased these in the black and I love them! They are very comfortable for walking and look great on the foot. Perfect summer sandal. Highly recommend.
Date published: 2016-06-23
Rated

4

out of

5
by
momocoletti
from
On trend pop of color
Got these in the Thai chili color. Love the color and the look. The zippers can be a little stubborn and the ties inherently take longer to put on/off, but the look can't be beat. Comfort wise these are slightly better than average, though on one side the edge of the suede dug into the little knob on the side of my foot causing a blister. But hopefully that's just the breaking in period. I usually wear between a 5-5.5. Got the 5.5 and the toes fit fine, just noticed that my heel doesn't hit the back of the sandal (which is probably a good thing - less friction).
Date published: 2016-07-06
Rated

4

out of

5
by
cecemcqueen
from
Beautifully constructed
Since shockingly nobody else has reviewed this product yet, I guess I will be the first! I got these lace up shoes after having problems with the Boardwalk sandals and then having a super amazing, fabulous Madewell customer service experience (five stars for them alone!). I bought them in the thai chili, in a size 10, which is my usual. The shoes are totally beautiful in person (the suede is lovely), and the color in particular is just fabulous. I love how there is a zipper and back for extra support, offering a good lace-up option for people who want more support. The laces seem shorter than in the boardwalk sandal, and you do have to double knot so they don't unravel. They are not super comfortable yet, but I have high hopes of them becoming good walking shoes for future trips this summer!
Date published: 2016-06-10
Rated

4

out of

5
by
Stellamor33
from
Perfect for Vacation!
I got the red ones and they are so beautiful! The shoes feel a bit tight when I just tried on which is normal. After I wore it for a while, it stretched a little and becomes very comfortable. Definitely a perfect pair for summer vacations. Wish madewell's sandal can give you a bit more support instead of a thin and a little hard base. Anyways, it's definitely worth buying! The only thing is I just got them recently but it's on sale right now :(
Date published: 2016-06-16
Rated

4

out of

5
by
KateMadewell23
from
so cute but painful to break in!
i looooove how these shoes look but they tore up my feet... maybe it's just me though!? still trying to break them in! but they look amazing and the quality is great.
Date published: 2016-06-13
Rated

4

out of

5
by
sophz
from
Lovely
These shoes are lovely and help your outfit stand out. Only complaint would be that the laces sometimes loosen or fall down and require adjusting once in a while.
Date published: 2016-12-31
Rated

4

out of

5
by
Alh747
from
Not quite as cute as the old version
I got these to replace an old pair of lace-up sandals from Madewell that were slightly metallic and didn't have the back zipper. I don't like these as much, but I'm sure they'll grow on me. I wore them once before it got cold in Chicago and got blisters, but this is nothing new. Looking forward to breaking them in May or June.
Date published: 2016-10-06
Rated

4

out of

5
by
Rachel24
from
Cute, Cute, Cute!
I had been eyeing these sandals all Summer, then they went on sale, with an additional 30% off, so I nabbed them! They are very cute, comfortable and add a nice pop of color (I got the Chili ones). I own many pairs of Madewell shoes (perhaps too many, although can you ever really own too many pairs of shoes?) and the quality is consistently good. I am very happy with this purchase, as well as all of the others.
Date published: 2016-09-20
Rated

4

out of

5
by
JessM
from
Perfect Summer Sandal
Cute and flattering style, love this sandal! Adds to every outfit.
Date published: 2016-08-26
Rated

4

out of

5
by
Marissa530
from
Cute and comfortable
I get many compliments on these sandals and they are designed and made very well. I love that the back has a zipper to secure everything; however it is tricky sometimes to get my foot in them through the straps and all. I recommend double tying toward the back to avoid stepping on the fringe tassels. Overall a cute sandal for all occasions!
Date published: 2016-08-08
Rated

4

out of

5
by
Anonymous
from
runs small
I usually wear size 6.5, and I ordered online for 6.5 on this item, but runs small... i returned it for exchange to size 7, it's been more than 1 week since i returned this item, and have not heard back from the return services yet....
Date published: 2016-08-02
Rated

4

out of

5
by
JS1980
from
Love the look - breaking them in
I got these on sale in black, 5 1/2 and I think they're great looking shoes. The way the ties cross around the ankle though, they rub against the back of my ankle and it's a little painful. I'm hoping as they get broken in the leather straps will soften and it won't bother me. But just slapping on a band-aid while I wear them is doing the trick so far so I can't complain too much. These are a recommend, especially on sale!
Date published: 2016-07-29
Rated

3

out of

5
by
Mom23
from
Cute, fun, trendy! But uncomfortable...
Got these today and was so excited! Sadly, they are terribly uncomfortable. It's the flat, hard bottom that is pure torture. These are very cute but the quality of the sole of the shoe is in line w what I've seen at walmart or Payless. Given the price point, I expected a comfortable shoe. I'll put inserts in and hope that helps but I'll be reluctant to order sandals from Madewell again. I'm so disappointed, I had really high hopes!
Date published: 2016-08-18
Rated

3

out of

5
by
Watto
from
Easy
Nice smooth fabric. Cute looking ,easy to on and off wit zipper on the back. Not need to tie each time. Front part is bit tight for me but soft fablic don't hurt me so much. Only negative point is Neil in sole I touch with my toe when I walk, are annoying.
Date published: 2016-08-15
Rated

3

out of

5
by
GoldenHair
from
Nice
These are cute sandals but the fit is really small. I am size 11 so I'm out of luck, sadly back they go.
Date published: 2016-07-04