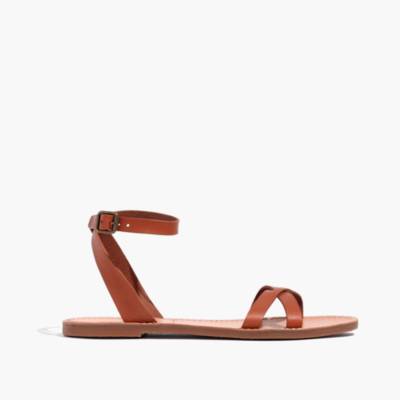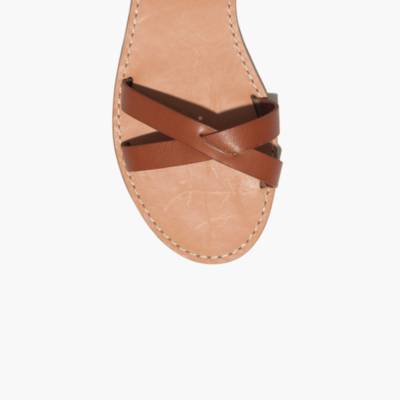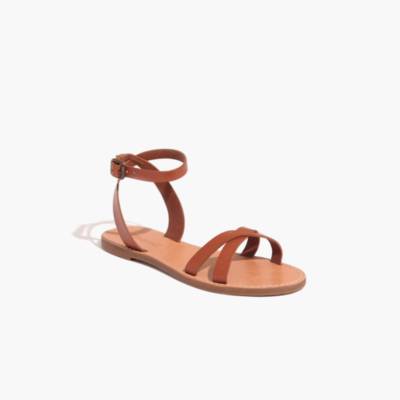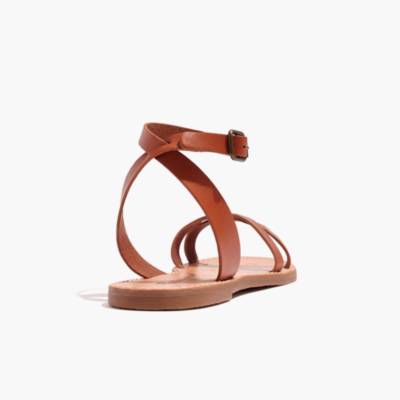 Product Details
We updated our rich leather sandal with a flattering—and adjustable—wraparound ankle strap. Effortless as flip-flops, these are destined to be the pair you reach for as often as your favorite jeans. When you select your size, "H" equals a half size.
Leather upper.
Man-made sole.
Import.
The Boardwalk Ankle-Wrap Sandal
The Boardwalk Ankle-Wrap Sandal
is rated out of
5
by
37
.
Rated

5

out of

5
by
rmlaal
from
LOVE
I remember when these came to Madewell like 6 years ago, my sister had them and I was obsessed with them but they sold out so quickly I never got to have a pair. So of course I immediately jumped on these when I saw them online! The quality, like other leather products of Madewell, is top notch. I think these fit true to size and while they DO take breaking in, they are still the perfect summer sandal. A lot of people are complaining about the tightness of the ankle strap, but these wear in (it's leather!!!) so you need them to start out tighter. My sister said she wore hers to death so they stretched out a lot, as leather does. The only complaint I agree with is that these are a little narrow, but that's something I can live with. Overall would 10/10 recommend and I'm going to buy another pair myself!
Date published: 2017-04-07
Rated

4

out of

5
by
Tiny
from
Perfect casual sandals
These are really cute and go with everything. My only complaint is that the foot and ankle straps straps are a little big for my feet. I bought size 5 so I can't size down. It would be amazing if Madewell would consider making their most popular shoe styles in size 4 or 4.5- tiny footed adult ladies do exist and we are dying for easily accessible, stylish shoes!
Date published: 2017-04-03
Rated

4

out of

5
by
TarynS
from
Not Sure About New Style
I LOVED the Boardwalk Crisscross sandal--wore my last pair to death. Just purchased this new Ankle-Wrap style and while the quality seems consistent, the ankle strap is a bit snug/stiff. I'm hoping once I break them in they will be as great as the old style. The olive is a lovely, neutral shade.
Date published: 2017-02-27
Rated

2

out of

5
by
sunset
from
why did you change the strap design?
this was my go-to summer sandal but this year they redesigned the back ankle strap. they are super uncomfortable when you walk as they tighten around your ankle and rub. madewell please return to the stitched strap of years back. way more comfy.
Date published: 2017-05-31
Rated

2

out of

5
by
Chicago312
from
Weird fit
I bought the Olive sandals and was so excited to wear them because the color is stunning. However, after walking around in them I realized the ankle strap and around the heel just doesn't work. As other reviewers mentioned, the straps around the heel are too loose so the bottom of the sandal flaps against your foot. Unfortunately I wore mine out before I realized and I can't return. :(
Date published: 2017-03-25
Rated

1

out of

5
by
Krystle
from
Worst buy!
Recently purchased these sandals without trying on in the store. Which is totally my fault. But, with purchasing recent shoes/sandals from Madewell I would have never dreamed they would fit or feel like they do. This is the most awkward sandals I have ever purchased and not comfortable at all. When you walk they do not stay on your feet very well. I would not suggest these to anyone.
Date published: 2017-03-26
Rated

1

out of

5
by
CSuite
from
Uncomfortable
I bought these in brown and black. Wore them around for a day and had to change shoes because they are so uncomfortable. Something is off with the ankle strap. It hurt every time I lifted my foot to walk. It needs to be looser or maybe longer so you can wrap it higher around the leg. I haven't worn the black ones so I'm going to return them. I hope I can return the brown ones too.
Date published: 2017-03-18
Rated

2

out of

5
by
cecem
from
Fit very weirdly
These looked like exactly the summer sandal staple I had been searching for, but alas, upon trying them on it became clear our love affair was doomed. These run crazy narrow (the strap only covered 3.5 of my 5 toes). The ankle strap definitely runs tight, but they slipped off as I tried to walk in them. There's no ankle support on the sides, and the strap bends and sags. Because of this, I'm fairly certain sizing up would have only made the fit worse. Overall, just a weird shoe, perhaps perfect for people with very big ankles and very narrow feet. I don't know what went wrong here, but I hope they fix it because this shoe has such potential!
Date published: 2017-03-08
Rated

2

out of

5
by
liverpool111
from
awkward fit
These shoes looked so cute online and I was hoping they'd be the perfect neutral summer sandal...unfortunately the fit is a no go. The front two bands for your toes are alright but the ankle strap is really tight around your ankle but simultaneously really lose around your heel. So every time you walk the strap will tighten around your ankle but will gape open down by your heel so it feels simultaneously uncomfortable and like your sandal is about to come off. I'd say I have average-sized ankles so I don't think the problem is my foot specifically, but who knows. I'd definitely try to try these on in store though before you buy them.
Date published: 2017-03-10
Rated

3

out of

5
by
Bailly117
from
no go
Sadly, this sandal just didn't do it for me. The ankle strap was super tight but the heel straps were really loose so every time I took a step, the sole would kinda just flop around. I do have narrow feet so maybe someone with a wider foot would have better luck, it just looked awkward on me. Bummed.
Date published: 2017-03-14