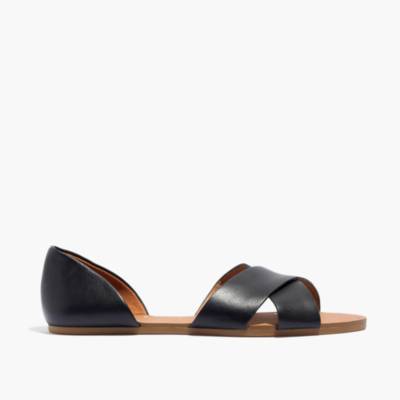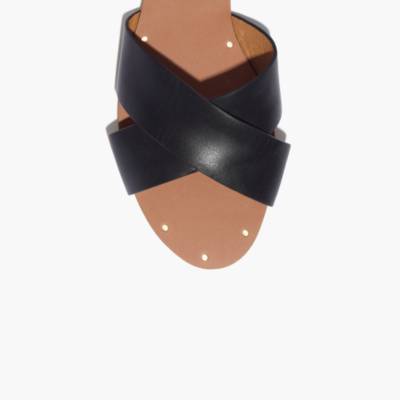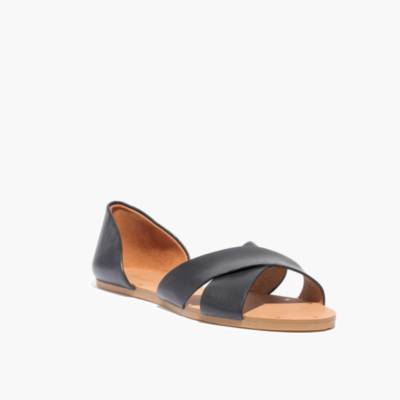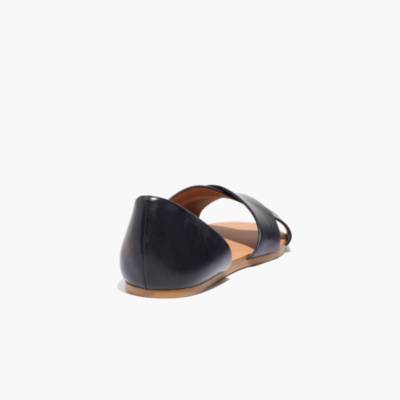 Product Details
Our favorite slip-on sandal, now in a fresh crisscross design. A bit more warm-weather friendly and still just as versatile, this is one you'll want to wear again and again. As a nod to traditional shoemaking techniques, our designers left the nailheads visible on the soles. When you select your size, "H" equals a half size.  
Leather upper and lining.
Rubber sole.
Import.
The Thea Crisscross Sandal
The Thea Crisscross Sandal
is rated out of
5
by
60
.
Rated

5

out of

5
by
katiemc
from
Favorite Sandals!
These are my favorite sandals! They were true to size (6.5). I have another pair of Madewell sandals (similar) that I ordered in a 7 and those will occasionally rub blisters on my feet like other reviewers have mentioned. BUT I think the 6.5 fits just perfect so that they are not sliding around on my feet & leave NO blisters! As a precaution, the first day - I put a band-aid on my heel/ankle to save myself any potential pain while breaking in the sandals.
Date published: 2016-08-08
Rated

5

out of

5
by
ItsMeMissB
from
Perfect Summer Sandals
Received these recently after ordering and absolutely love them. They are soft enough and flexible enough to be very comfortable while out and about walking, not at all stiff. I've worn these a few times so far and while I often need a breaking in period for most shoes, I've had no problems with these sandals at all. I got these in the burgundy color and it's lovely. They look great and I'm usually a 9.5 which is what I ordered and the fit is just perfect. Very happy with this purchase.
Date published: 2016-07-08
Rated

5

out of

5
by
natflannel88
from
Beautiful leather, minimal break-in period!
These are beautiful, well-made sandals! I'm normally a 7.5 or 8, and for this shoe, 7.5 was perfect. The 8 was too loose, slipping off my heel. I've worn them to work, where I walk moderate amounts, but I also wore them for an all-day shopping trip with tons of walking and they were quite comfortable! Every now and then, my right heel might feel some rubbing a little bit, but it's usually after long periods of walking. It's getting better each time I wear them. I'm also pleasantly surprised by how much I like the subtle detail of the nailhead trim - the gold metal color is a nice touch!
Date published: 2016-06-05
Rated

4

out of

5
by
Remy1207
from
I love them, but not their water stains
I bought these shoes 1/2 a size smaller than my usual size. I did get small blisters but I put some bandaids on them and after a few days they fit great. My only beef with these sandals is that they are so easy to stain. After literally five minues of wearing them, I washed my hands and some water drops fell on them staining them. After a few days they were full of water spots (I have a 3 year old so there is a lot of handwashing going on in my house). Any idea of how to treat these spots, Madewell? Other than that, these sandals are perfect.
Date published: 2016-05-30
Rated

3

out of

5
by
JModern
from
Blister City!
After wearing only an hour got blisters on the back of my heels! Had to return them! Wish they worked since they are a cute sandal for summer.
Date published: 2016-07-04
Rated

3

out of

5
by
kndaniels
from
Ouch!
I absolutely adored these sandals - they are darling and go with just about anything. I normally wear a 9 but found they were far too large so sized down to 8.5. But they've given me the terrible blisters almost everywhere the leather touches my skin...guess I better toughen up!
Date published: 2016-04-17
Rated

2

out of

5
by
alibee413
from
Cute shoes that are too uncomfrotable to wear!
I absolutely love how these shoes look, but the first day I wore them I went out and bought a new pair of shoes because I had terrible blisters! I will be returning these shoes, unfortunately, because they are really cute!
Date published: 2016-05-02
Rated

1

out of

5
by
EmLo
from
Review Hubris
So the reviews on this shoe sort of split 50/50 from being extremely comfortable to flesh-stripping shoe monsters. In the folly of youth, I purchased these on sale hoping that I'd get the batch that wasn't essentially a blister factory. Oh boy, was I wrong. About five minutes into wearing these bad boys I realized that the negative reviews were fair warnings that I hadn't heeded. Realizing it was too late, I had to bear a day of agony and awkward walking as they tore through band-aids and athletic tape alike. They are cute shoes - got many compliments. Almost as many compliments as concerned questions regarding my welfare and whether or not I was capable of walking properly. So, yeah - I'd pass on these. I think I got them final sale so I'm stuck with them. Figure I'll moleskin them within an inch of their life and if that doesn't work I'll just have to toss them. Couldn't give these to charity in good conscience.
Date published: 2016-09-15
Rated

1

out of

5
by
achiley
from
DO NOT BUY THESE - EVEN ON SALE!
Like a few other reviews here, these are beyond breaking in. They feel wonderful at the first moment you put on your feet, but do yourself a favor and wear these around your apartment for an hour or two before hitting the streets. I had these on for 10 minutes, felt fine, then walked out to work. An hour later, I had blisters all over both feet and was wincing in pain everywhere I went. Tried to recover them with moleskin on the inside, that did nothing either. These are possibly the most uncomfortable shoes I've ever worn.
Date published: 2016-06-22
Rated

1

out of

5
by
kclong
from
So very painful
I wore these once to the office - not an exceptional amount of walking. By the end of the day, I was in terrible pain and had to go barefoot. I had a blister at the back and they rubbed at the top. Cute - but way too painful to consider ever wearing again.
Date published: 2016-05-30