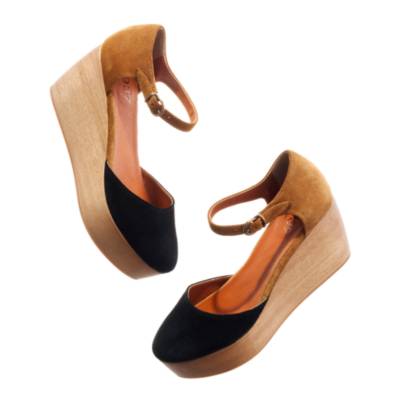 Product Details
Currently topping our "must" list: these wood-and-suede platform wedges. They have all the height you could want with a supremely walkable sole.
Half sizes order up.
3" wooden heel.
Suede upper.
Leather lining.
Rubber sole.
Made in Italy.
The Two-Tone Flatstack Platform
The Two-Tone Flatstack Platform
is rated out of
5
by
10
.
Rated

5

out of

5
by
sparky
from
Flat-out Cool
Yes, they're a bit heavier than expected (I wear size 9), but they don't feel like bricks tied to your feet. I wish they had a rocker heel to make it a hair easier to walk in and lessen the tendency to "clomp." But they're not hard to walk in or to get used to, once you accept that this sole is not going to bend and that you have to adjust your stride accordingly. But -- these are flat-out cool looking. This particular neutral combination is so striking yet versatile.The shoe part fits perfectly,. The toe has just the right amount of elegance and comfort, and the enclosed heel and ankle strap mitigate the platform's rigidity and weight. I read all the somewhat negative comments and hesitated, but I kept thinking about these. I'm glad I gave in.
Date published: 2013-06-01
Rated

5

out of

5
by
AnneR16
from
Your Must Have Everyday Shoe
I got these shoes in the mail a few weeks ago after debating all winter if I should get them. I am really glad I took the plunge with these. The fit is perfect, comfortable and easy to get on and off. The black and brown colors provide are perfect neutrals which provide you with endless clothing color combinations. The first day I wore these I rolled my ankle a couple of times. It could have been due to the fact I was on my way to the doctor due to a nasty sinus infection that was seriously affecting my balance or that these shoes provide no ankle support at all. Bottom line - buy these shoes. Even if you end up with a minor ankle sprain these shoes are worth it and if you have to draw attention to yourself because you have inadvertently stumbled these are the shoes you will want to stumble in. No one will even think about your clumsiness; they will be too busy staring at your shoes and wondering where you got them. They are truly a must have!
Date published: 2013-04-20
Rated

5

out of

5
by
Chunmiao
from
Comfortable shoes with height
I love the look of shoes and it adds height and still comfortable. I can't wait for the summer to utilize it more.
Date published: 2013-03-08
Rated

5

out of

5
by
AmericanObserver
from
Beautiful and unique
I was excited to find these on sale last month at a more-than-reasonable price. They arrived quickly and I tried them on immediately- I got 8s thinking that they could even be a bit small, but actually, when I walked around my apartment, they were sliding a bit. So, I would say they run SLIGHTLY large. And everyone is different, so maybe it's me. I wear anything between an 8 or 8.5, depending on the shoe. In any case, I love them and can't wait to wear them out this spring (it's still winter here in Chicago!). Bonus: I was pleasantly surprised to note that the shoes are made in Italy, so the quality of the construction is excellent. So happy to discover Madewell!
Date published: 2013-02-13
Rated

4

out of

5
by
rissyg
from
Love, but not as comfy as I'd hoped!
These shoes are so versatile: I can wear them in warm or cool weather, with black, brown, color, denim, etc. I'm obsessed with them. That said, walking in them isn't as wonderful as I thought it would be. I work at a big women's magazine, so I wanted a comfy shoe with some height (flatforms are perfect for that). I thought the strap would make the shoes easier to walk in and thus comfier, but the strap actually started to hurt my ankle. Perhaps because the shoes are slightly big on me (they don't come in half sizes), I'm not sure...but I do know they're perfect for a day that doesn't entail a lot of walking. But they're so cute...I might change my mind.
Date published: 2013-02-07
Rated

4

out of

5
by
Libby1288
from
Good product, size didn't fit
I love this pair of shoes, unfortunately, the size 10 that I ordered was a smidge too small. I've returned the shoes via your mail purchase return policy and am waiting on a size 11 to be mailed back to me when available, or to have a full refund of purchase. Thanks and I love your clothes!
Date published: 2013-06-27
Rated

4

out of

5
by
everydayislikesunday
from
Chips Easily
When these shoes first arrived they looked like a dream. After the first wear a huge chunk of the wooden platform that came off. The wood platform scratches VERY easily. Invest in a wood market pen, these shoes are going to need it. The shoes weren't comfortable on the first wear, but they became comfortable after the second and third. Another thing to note is that these shoes are not like high heels! I thought it would be easy to walk in these. I was sorely mistaken. They take a while to get use to. They are the hardest style of shoe I've ever walked in. The reason I gave these shoes a 4 star is because, despite all these flaws, the are gorgeous. I've been looking for platforms forever and these are the most stylish, beautiful ones I've found.
Date published: 2013-04-04
Rated

4

out of

5
by
jenniface
from
So cute but walking in takes getting used to
I love these shoes! But the first time wearing them took a little getting used to, the sole is a bit thin and it's easy to roll forward a bit. But it just took one wear for me to get used to them. So glad I have these!
Date published: 2013-02-11
Rated

3

out of

5
by
narin
from
It Hurts
These shoes looks pretty in its own way. I am happy about being able to wear with black tights in cold days, but the downside is its unpractical design. The wooden platform is very heavy, and the all weight is on the ankle strap. If I walk 10 blocks with that I can injure my tendons.
Date published: 2013-04-07
Rated

2

out of

5
by
Madebetter
from
Ankle sprain waiting to happen
These shoes are just plain dangerous to wear. They look gorgeous, but from the minute I put them on and started to walk, the platform kept flipping sharply on one side, causing my ankle to roll and my foot to come completely out of the toe box. So every 30 steps or so, the shoe would flip over, I would stumble, my bare foot would be out on the pavement with my ankle still locked into the strap. To get my foot back into the shoe, I had to undo the strap and buckle it all back up. Try doing this 8 times while walking to the subway. As beautiful as these shoes are, they are totally not worth the pain and inconvenience.
Date published: 2013-06-02