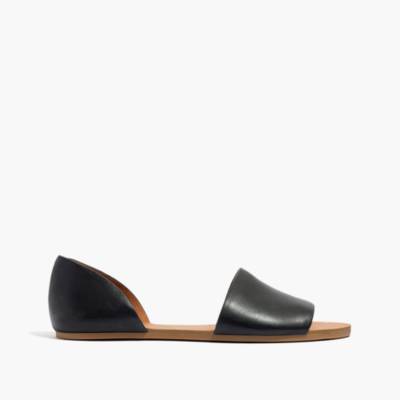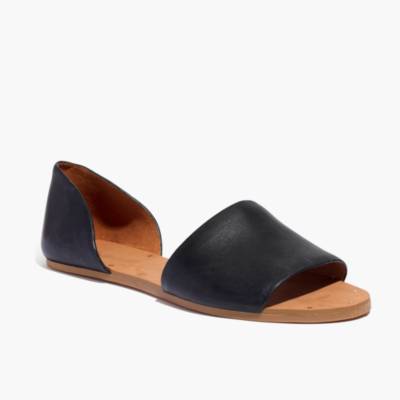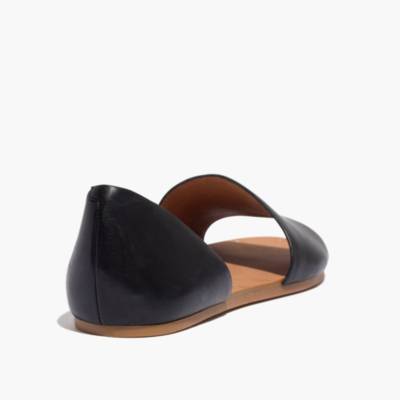 Product Details
With its pared-down shape and soft leather, this is the slip-on sandal you'll want to wear again and again (and again). As a nod to traditional shoemaking techniques, our designers left pretty golden nailheads visible on the soles. Please note: When you select your size, "H" equals a half size.  
Leather upper and lining.
1/4" heel.
Rubber sole.
Import.
The Thea Sandal in Leather
The Thea Sandal in Leather
is rated out of
5
by
115
.
Rated

5

out of

5
by
KransIN
from
Would buy again and again
I won't lie - the breaking in period for these shoes was horrible. It lasted about a week, and my ankles were blistered. I had to wear so many bandaids! BUT - after that they became the most perfect and comfortable sandals. I can wear them for long walks with no issue. The quality is fabulous. If they get dirt or mud on them, a damp cloth cleans them easily and they still look perfect. I'm kind of obsessed. They match everything and just look cute and effortless.I have the black color in these. Beautiful and look expensive.
Date published: 2016-12-02
Rated

4

out of

5
by
lucylu
from
Runs slightly large; needs breaking in
I want to preface this by saying I do really love these shoes--so versatile, so good. I own them in several colors. However, that said, the only drawback is that they do require a bit of breaking in. The first time I wore them they tore up my feet pretty badly! I definitely recommend wearing bandaids with these at least at the beginning. Still worth a purchase, though! So, so versatile and comfy once broken in!
Date published: 2016-07-11
Rated

4

out of

5
by
RachelATX
from
very cute! but required breaking in
I tried to preempt blisters by wearing bandaids on my heels while breaking these in and that TOTALLY worked. Otherwise, I definitely would have gotten some gnarly ones. But now they're pretty comfy after wearing them a few days. I have fairly narrow feet, so in most d'orsay style shoes i go a full size down, and that was definitely the case with these, especially because they stretched out a bit after i broke them in. I also didn't have any problems with the color rubbing off of the shoe as noted in some other reviews.
Date published: 2016-06-23
Rated

3

out of

5
by
Harriett
from
Not as comfortable as last year's sandal.
I am planning to return these. The leather is very stiff, and the band is too tight. Overall, these are a disappointment. I do not ever buy shoes that have to be broken in because there is no assurance that they will ever fit or be comfortable. I have a pair from last year that is extremely comfortable and much more attractive. The leather is much softer, and the band is at least one inch narrower. Also, there were short elastic bands in the heels. I wish Madewell had offered the same sandal this year.
Date published: 2016-07-06
Rated

3

out of

5
by
Shannanananana
from
My skin has been eaten away.
My heels and big toes are currently swaddled in bandages. I'm praying these get broken in quickly. They are otherwise adorable.
Date published: 2016-05-27
Rated

3

out of

5
by
3murti
from
It looks perfect, but...
I originally tried these in my usual 8 1/2, even though the salesgirl said that it was best to size down half a size. But the 8 was too tight and the 8 1/2 was oddly loose, so I decided not to buy it in store and think about it. A week or so later I had the opportunity to buy it for sale on sale, and since I knew I would be wearing these sandals all the time for the LA summer, I decided to get the 8 and just break them in! Not the best idea. I have the blisters on the back of my heels just as other reviewers had noted. What I also have is strange swelling on my slightly longer left foot--my left ankle was inflamed and tender to touch for days. And since my feet are slightly wide, the top of the leather 'strap' has an ugly crease on both sandals now. Of course it's impossible to return, so I'm going to make the best of it and try to stretch out the leather some more...but I really should have gotten the 8 1/2 instead.
Date published: 2016-05-25
Rated

3

out of

5
by
AB23
from
Cute but Painful
When I tried these on initially and decided to keep them, the shoes seemed pretty comfortable. I decided to wear them for the day and soon after leaving my apartment I realized that might have been a mistake. I got blisters almost immediately and have yet to wear them again. I need to break them in still, but I was surprised at how quickly the blisters appeared. They are super cute and I got compliments all day.
Date published: 2016-05-04
Rated

3

out of

5
by
Dkelly
from
Ouch!
I love the way theses shoes look, but man oh man the first time I wore them they ruined my feet. We shall see how long it will take to brake them in.
Date published: 2016-04-22
Rated

3

out of

5
by
Minneapple
from
Too Roomy
They run 1/4-1/2 size large in length like all Madewell shoes I've purchased in the past few years. I don't have thick enough feet to fill out the sandal. They're cute, but way too big in the width dept.
Date published: 2016-03-17
Rated

2

out of

5
by
nb333
from
Another one for the blister train
The blisters I got from these were so bad, within 3 blocks of my apartment, that I had to go back home and change. By the time I got back (3 more blocks of walking) my backs of my heels were so deeply blistered that it was disturbing. It took awhile to get the skin back. Stupidly, I tried again a second time a couple weeks later, thinking they just needed to be broken in. Not willing to let my heels get shredded to the bone again, i pushed my foot forward and favored toe-walking for a few blocks, thinking the toe part needed to be stretched. That kind of worked at first, but then i got deep cuts on my toes. I went back home and changed again. I'm not sure what it is about these. They aren't too tight. Indoors, they seem like they fit until you get walking with a bigger stride. They are attractive and well made, but that's not helpful if you can't wear them.
Date published: 2016-06-11