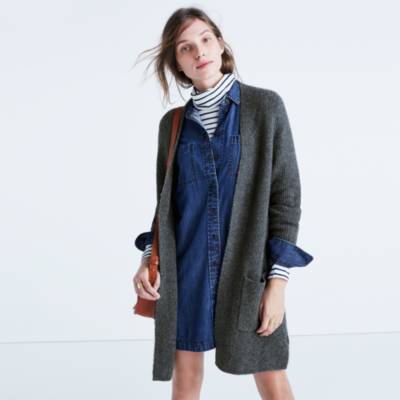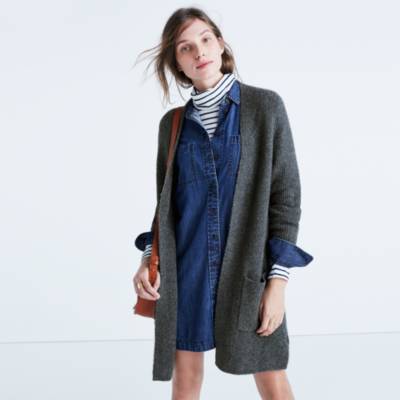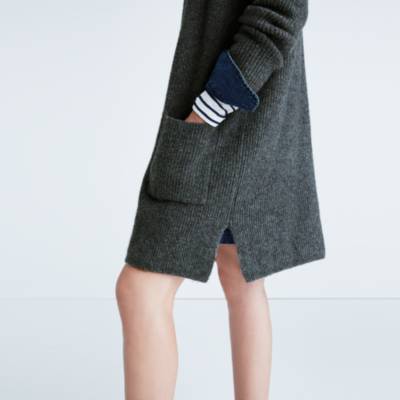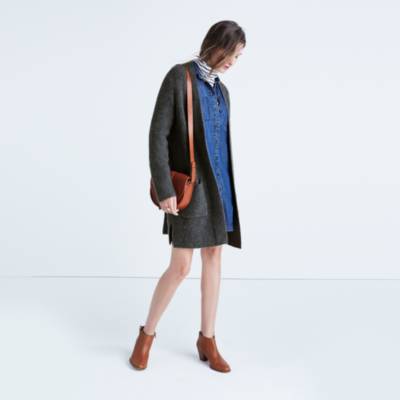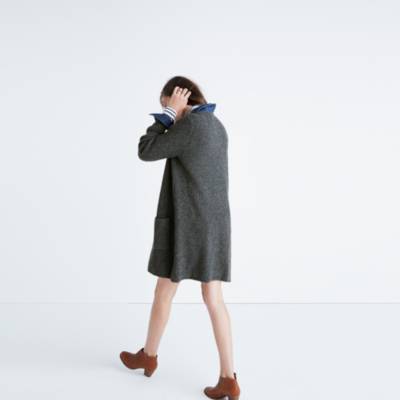 Product Details
A refined take on the forever-favorite cardigan in a sleek ribbed design. A morning-to-midnight layering piece with a minimalist feel.  
True to size.
Nylon/merino wool/alpaca/spandex.
Hand wash.
Import.
Backstage Cardigan Sweater
Backstage Cardigan Sweater
is rated out of
5
by
34
.
Rated

5

out of

5
by
KristinJolly
from
Favorite Cardi
Just bought this over the weekend and I really don't ever want to take it off. It's sooo unbelievably soft. I'm 5'2" and bought the XXS. It hits me at about mid thigh.I really like the length and it just adds to overall "comfy" look.
Date published: 2016-11-01
Rated

4

out of

5
by
xxLxx
from
Conflicted Love/Hate
Maybe it's a love/hate, maybe it's a disappointing love. Either way, despite the downsides of this cardigan, I find myself gravitating towards it nearly every day of this frigid Bostonian weather. The Backstage is well-made (or madewell;), comfy, large and forgiving, soft, compliment rendering, warm, and my black version matches pretty much everything else I own. However, it is not machine wash/dry friendly (but then again no Madewell product ever really was/is). It pills like no other without even trying moving around too much. Most of my pilling comes from putting my cardigan through my jacket sleeve and the rubbing between the side of the cardigan and the sleeve of the cardigan. The pilling is not as obvious on the black as I assume it would be on the lighter colors. Despite this though, I would still recommend it for the large cardigan lovers out there. I've been wearing it about every other day for the past 2 weeks and haven't regretted a moment of it.
Date published: 2016-12-16
Rated

2

out of

5
by
Olivia13
from
Pill-o-rama
Beautiful sweater that turns tragic after one washing -- horrific after 3 washings. The pilling, Jesus, never seen anything like it before in my life. It's massive. It's so upsetting that I paid so much for this sweater. Madewell, please live up to your name.
Date published: 2016-11-30
Rated

2

out of

5
by
ahelene
from
Such horrible quality
As other reviews have noted, the fit and style are amazing, the quality not so much. I bought this item 3 weeks ago, wore it a few times a week, I now am getting rid of it. The WHOLE thing is pilled from top to bottom. Its so sad because I fell in love with it immediately
Date published: 2016-11-27
Rated

1

out of

5
by
Neenz
from
SO. MANY. PILLS.
STOP what you are doing. Do not buy this. I wore it about 2 times before I noticed it starting to pill. My friend who also owned this cardigan (before she smartly returned it) said the same thing was happening to hers. I decided to give it a shot because it's really quite comfortable and the weight to it is lovely. NO. I should've just returned it. I wore it for about 3 weeks and noticed the texture of the sweater get fuzzier and more pill-y. I hand washed it according to the directions on the tag and WHOA so many fuzz balls came flying off and are now littered across the floor of my room. I spent an hour with a shaver trying to tame the remaining pills on the sweater but it still looks terrible. Seriously, don't buy this. So disappointing.
Date published: 2016-12-18
Rated

1

out of

5
by
amsies
from
The rumors are true...PILLING
Gosh I was hoping that the sweater I chose would have proved all these pilling rumors wrong but I've only worn it ONCE and the pilling is terrible. The black one looks great and it's comfortable and soft and so easy to wear but just after ONE DAY of wearing it I have black fuzz all over my stuff and the pilling is endless. Such a shame since this is not a cheap sweater :(
Date published: 2016-12-05
Rated

1

out of

5
by
Teacher3
from
Poor Quality - Pills Everywhere
This is my second, and last, Madewell sweater. Both this sweater and the Ryder pilled up almost imeadiately. It's really too bad because the sweaters have a great style but are such poor quality. I won't be purchasing a "Madewell" sweater again.
Date published: 2016-11-20
Rated

1

out of

5
by
BJoel
from
Haggard
After only owning this sweater about a week, and wearing it a couple of times, it looks as if I've owned it for years and years. It's pilling like crazy and is covered in thick fuzz. I understand that it is made of delicate materials, but for the price it feels like a waste of money. It's unfortunate, because I love the style, warmth and softness of the sweater, but the quality is terrible. I love Madewell, but this is a big let down.
Date published: 2016-11-14
Rated

1

out of

5
by
JaneJ
from
Love the fit - hate the pilling
After returning the Ryder cardigan last year because it pilled from top to bottom after wearing it twice, I gave this sweater a chance thinking it was more substantial. I hoped that Madewell would have learned from the reviews of the Ryder cardigan. Apparently not. I should have known when I saw that a few of the sweaters on the rack were already looking a bit rough, but I had to try because it's so soft and the colors are perfect. So sad that I am returning. I'm a teacher and can't afford a sweater that's so pilled it's only good for wearing around the house.
Date published: 2016-11-10
Rated

1

out of

5
by
SweaterLover16
from
Terrible quality, amazing fit
I bought this sweater three weeks ago, and immediately loved it. Its so soft and warm. I've only worn it twice because the weather has been unseasonably warm. After the second wear, its completely pilled, the ENTIRE sweater, pilled from bottom to top. I'm so sad because I truly loved this sweater, but the quality is terrible. Really a shame, I expected way better from Madewell. I haven't run into problems with Madewell shirts or other products, but their sweaters just don't hold up.
Date published: 2016-11-07