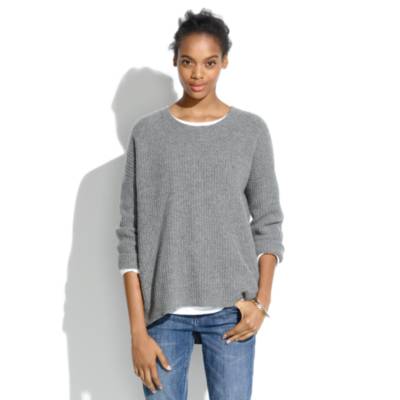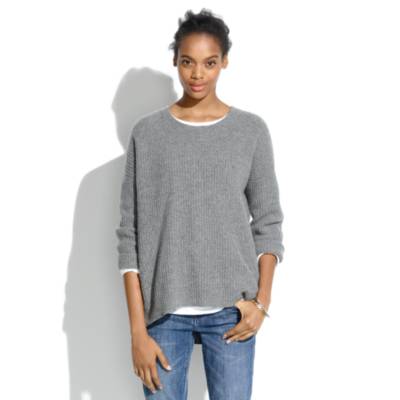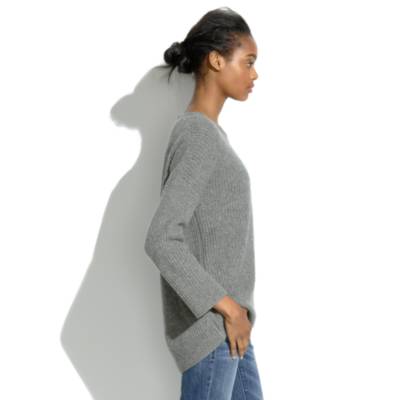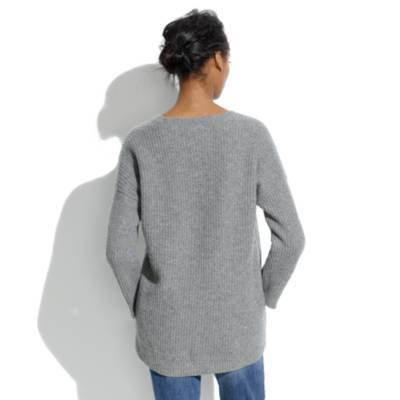 Product Details
This boxy structured sweater layers like a dream (and we love the subtle geometric detailing at the waistline).
Please note: This sweater has a boxy, oversized fit; for a closer fit, we recommend ordering down one size.
Merino wool.
Dry clean.
Import.
Rated

3

out of

5

 by

14

reviewers.
Rated

5

out of

5
 by
Mudburger
Beautiful wool sweater
This is a gorgeous and toasty sweater. It is 100% merino wool, and it's a medium weight, so it is a warm one. I am a size 8-10 and the size M fits well, not huge but definitely big and cozy. If the sleeves were too long it would possibly look sloppy, but I have long arms and the sleeves hit at my wristbones. I will be wearing it all winter with many different jeans and skirts. Love it!
September 25, 2013
Rated

5

out of

5
 by
slinkypanther
Cozy like a cocoon
This is exactly what I was looking for--a sweater that is oversized, soft and cozy with some beautiful details. Unlike other reviewers, I did not find this item tent like and unflattering. It's very on trend--check out recent pics of Alexa Chung, Lily Aldridge, and other "it girls." They are all sporting gigantic knits over short, full skirts, and the look simply rocks. That is how I plan on wearing this sweater--over a very short, flared skirt. I tried on the grey one in both XS and Small and stayed with my normal Small for a beautiful drape. The XS fit fine but lacked the uniqueness of the larger size. It's all about pairing it with something smaller to get the proportions right. I wear clothes between size 2-4, and found that this sweater is simply perfect for my frame--didn't overwhelm me at all. Now I know why the grey one is sold out online.
September 23, 2013
Rated

4

out of

5
 by
Jae36
Warm, stylish
I am usually a medium in Madewell, and the small was perfect, still with that stylish oversized fit. I have very sensitive skin, so I wish it were a little softer (it's a tiny bit itchy), but compared to other wool sweaters I've worn, it's not that bad. After buying the gray, I ordered the heather saddle. Disappointed that the color is much more brown in person. On my screen it looks like it has some pink to it... not so.
November 24, 2013
Rated

4

out of

5
 by
pawin
beautiful and warm
This oversized sweater appealed to me when I saw it online - but when I saw it in store; I loved it - it is heavier in weight and feels so warm. The high/low effect is trendy; I do a half tuck sometimes to make it look "undone'.
November 11, 2013
Rated

4

out of

5
 by
zuzu4444
size, fit, and style
I ordered this in gray. So glad I didn't size up! I wanted a boxy, roomy fit. I probably could have sized down but medium will work -very roomy. I wear size 6 normally. The gray color is just right -not too dark. My one beef with this sweater is that the texture is thicker than I was hoping for. The wool is nice enough but I didn't want a sweater that would be too hot. In the picture, it looked thinner and drapey. I plan to layer it over long silk cami or thin cotton long sleeved tee. Style-wise, it's what I was looking for. The shirttail hem length in the back makes it great for leggings. Overall, I like it. I'd LOVE it if it were a bit thinner.
September 13, 2013
Rated

3

out of

5
 by
MomsyK
Kinda good, kinda bad
I really want to like this sweater! I received it in the mail a few days ago and it has just been sitting in the box it came in. I keep trying it on but I don't know if I want to keep it or not. The things I love are the colour, weight, and the feel of the cozy merino. I also love the side detailing, but that brings me to the first problem. I know this is meant to be oversized, but this is so big that the way it drapes causes the detailing to get lost in the folds. My other issue is the way the sleeves sort of flare out. The sweater looks nice when the sleeves are rolled or pushed up (as seen on the model), but when you see the sleeves unrolled from the front it makes for a pretty strange silhouette. I'm 5'5", 136lbs, I wear a 28 or 29 jean and usually either a medium or sometimes a small top. I ordered this sweater in a medium. I'm leaning towards exchanging it for a small. I know this won't solve the sleeve issue, but fingers crossed that it fits better overall.
October 8, 2013
Rated

3

out of

5
 by
sweaterweather
Balloon-like
Was looking for a cozy, oversized sweater, but this just didn't hit the right notes for me. The saddle color was pretty, albeit a bit less pinkish than it appears on the site. The merino is medium-weight and seems like it would be warm, but it was rough. The texture of the merino was not appealing. The sweater is described as "boxy," but on me the weight and texture made it balloon out stiffly rather than draping straight down from my shoulders. This, coupled with the awkward not-quite 3/4, not-quite-bracelet sleeves (and the high price tag) made the sweater a no-go for me. In case it helps, I am 5'5"/115 lbs and got the XS.
October 2, 2013
Rated

3

out of

5
 by
rica
Too boxy
I have a similar body size with the previous viewer, and I agree with everything she has said about this sweater. The quality of the sweater is good, but the fit is simply too boxy for it to be flattering on me. I'm usually ok with the relaxed fit, and the Madewell boy shirts fit me perfectly well in XS. However, when I tried this sweater on, it felt like I were a 10-yr-old girl trying on my mum's clothes. I'd suggest sizing down if you have that option.
September 12, 2013
Rated

2

out of

5
 by
kays
I wanted to like
I love big sweaters. But this sweater wasn't just big, it just fit really awkwardly and was not flattering in anyway. Flares out really weirdly on the side and it's a lot thicker than it looks in the picture. The thickness really wasn't the problem, nor was the size. The sweater just had a really unflattering shape.
October 14, 2013
Rated

2

out of

5
 by
eriehle1
Definitely boxy and oversized
The product description was dead on- boxy and over-sized. Not flattering AT ALL. For the money, I hoped that this would be a soft, flowy sweater. Sadly it was very stiff and scratchy and didn't lay elegantly like it does on the model. I had high hopes, but she had to go back.
October 11, 2013