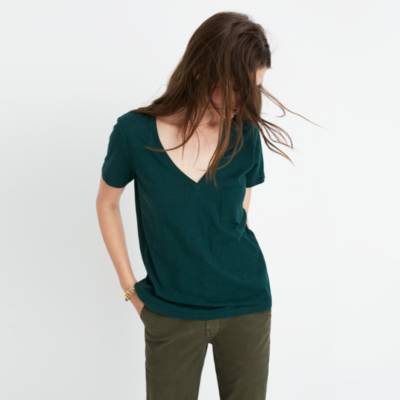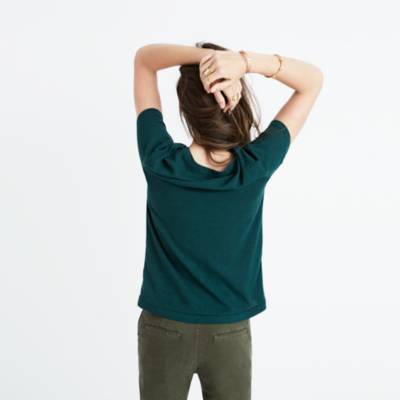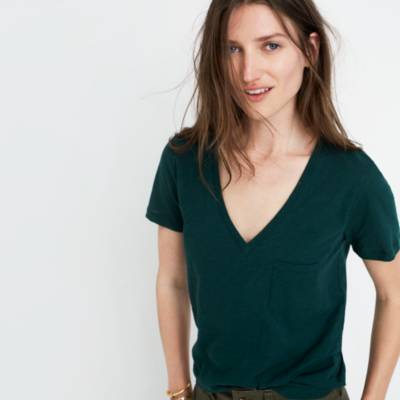 Product Details
It's no secret, our best-selling pocket tee (formerly called Slub V-Neck Pocket Tee) is the kind of forever favorite you'll want in every color. Fashioned of light and airy slub cotton, this V-neck T-shirt is live-in-it soft and perfectly draped—one to tell your friends about, in other words.
True to size.
Size up for a slouchy fit.
Cotton.
Chest pocket.
Machine wash.
Import.
Whisper Cotton V-Neck Pocket Tee
Rated

4.2

out of

5

 by

776

reviewers.
Rated

1

out of

5
 by
tremendouslydisappointed
Holes in under one month!!!
This was my very first purchase of Madewell ever. I am tremendously disappointed!!!!!! I bought several colors of this shirt. When they first arrived, I fell in love! They were true to size and very comfy. However, after only ONE month, some of the shirts have SEVERAL holes. I take excellent care of all my clothing; washing everything, even t-shirts, on delicate and hang drying everything. I also live in a brand new apartment so there are no moths or other pests to speak of that would have caused this. I have contacted Madewell and they have offered for me to PURCHASE another one while they REVIEW my shirts to determine if indeed the shirts are defected. I don't think so!!!! What if they decide that there is no defect in their eyes and I am out even more money b/c I've purchased more shirts. This is ridiculous!!!! For a brand called MADEWELL, they have not lived up to their name and I am super bummed. :(
April 28, 2016
Rated

1

out of

5
 by
LaureninNM
BEWARE - got small hole after two wearings/washings
This would be a great shirt if it didn't get tiny holes in the front of it so darn fast! I'm so sick of the thin T shirts that everyone makes now that get holes so ridiculously quickly. I hoped, after reading the reviews, that this shirt would be different, but it's not. I got it in red and it's a pretty color with a good, loose (but not too loose) fit. But the holes are a deal breaker, ladies! I can handle it if it happens after six months or so, but after wearing and washing it twice! I'll have to keep looking for quality, good looking T's.
May 24, 2016
Rated

1

out of

5
 by
Catiemay1281
Cursed with holes
I really wanted to keep loving madewell, but my wallet and my husband can't take it anymore. Everything is so cute and perfect, but after just a few wears, the holes start appearing. I kept thinking it was something I was wearing or doing, but I just bought the blue colored tee and ended up getting a hole after the very first wear. Doesn't matter how you wear them or wash them, they will fall apart. Until something changes, I will not be buying madewell anymore.
June 2, 2016
Rated

1

out of

5
 by
shils
Holes after first wash
Waste of money as the shirt got holes after the first wash!!
April 28, 2016
Rated

1

out of

5
 by
Allie77
SO disappointed...
I bought three of these shirts, and loved them so much that I took great care not to stretch or damage them. I washed them on the gentle cycle by themselves and laid them flat to dry. After only 2 washings, two of the shirts have noticeable holes in them. I can't believe that they are unwearable already... especially considering the price point. This is a great style and these come in great colours so I was enthusiastic when I purchased, but the quality is extremely disappointing. Save your money and buy elsewhere.
May 11, 2016
Rated

1

out of

5
 by
Nicole84
Low quality.
I have a few whisper cotton v-necks. The colors are great and they are comfy, but If you're looking for a shirt that will last for more than a few months...This is not the shirt for you. After a month this shirt gets little holes here and there. The t-shirt is too thin and not of very good quality. It's too bad because I love the colors. Maybe one day Madewell will make a better quality basic tee that lasts longer than a few months.
May 8, 2016
Rated

1

out of

5
 by
Suzy29
Stylish and comfy but poorly made
I purchased this tee a couple months ago as a staple piece for my capsule wardrobe. I usually love Madewell and love the quality of their garments, so I was super disappointed to find that this tee, though washed gently with a natural detergent and air dried, quickly lost its shape and already has holes on each of the 4 corners of the chest pocket. Wouldn't purchase this tee again, sadly.
May 11, 2016
Rated

1

out of

5
 by
JWong
yep. That's right. Tiny holes.
At first I thought I had a moth in the closet. That's what the holes look like -- a tiny hole or two at the front of the shirt about two inches above the hem. I scoured the closet for the moth and didn't turn up anything. In the end, it was what everyone else said. The shirts develop small holes. One appears after one wear (no wash). The other developed after 3-4 washes in a lingerie bag in the washing machine. I would also say that the shirts lose their shape pretty quickly with wear. I wouldn't purchase these again.
June 17, 2016
Rated

2

out of

5
 by
protea
Pretty colors; lots of holes
Like others have said, these shirts come in beautiful colors, but they are not well made (or, made well...). I bought three of these and all of them have holes after a few months. I wash my shirts in garment bags in cold water and air dry--and only wash them after a few wears. I had to repair a hole at the pocket seam after the first wash in one (a dark pink), another just has tons of little holes everywhere (lighter pink), while the third has fewer holes (olive-gold), I'm still disappointed. For Madewell, these shirts fit TTS with a little room to complete the casual look. I wear an XS and am 5', 32C, 25" waist.
July 3, 2016
Rated

1

out of

5
 by
TroJen
Madewell? I think not.
I've never shopped at this store before, but I popped in last month looking for some basic tees for an upcoming vacation. This shirt fit the bill perfectly - soft, cute and comfortable. I wore it the next day, and by the end of the day I noticed a tiny hole in the front where there was a "knot" in the slub fabric. It was so small I didn't worry about it. After washing it once (on the gentle cycle), the hole got slightly bigger, but it was so comfortable I wore it anyway. After washing it a second time, I discovered a bigger hole where the corner of the pocket was stitched against the shirt. This one was much too big to ignore, as you could see my bra! I basically had to trash the shirt after two wearings. What a waste of money and material - this was the first and last time I will shop at "Madewell."
August 25, 2015