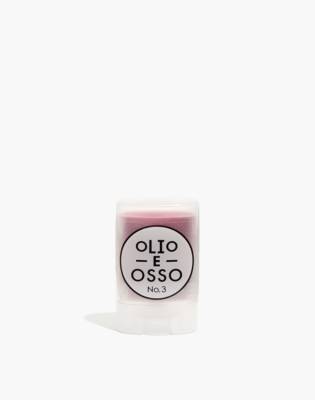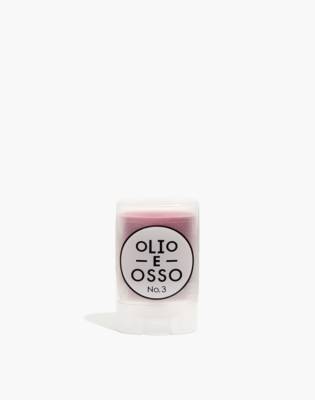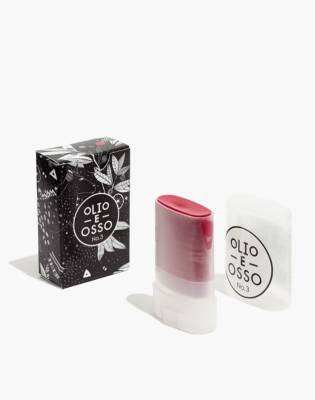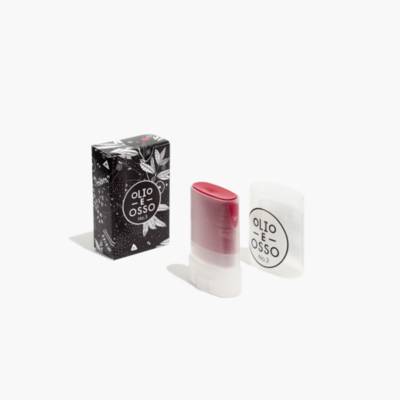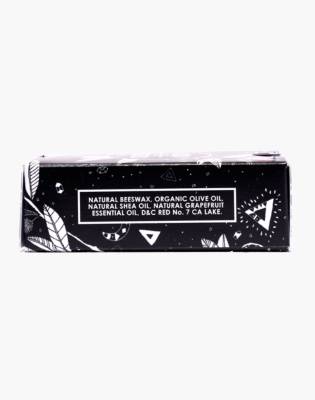 Product Details
What's in our Beauty Cabinet? Tried-and-true products, curated by us, that fall in the sweet spot between low maintenance and treat yourself. Started by a 25-year veteran of the makeup industry, Olio E Osso locally produces its cult-favorite balms in small batches, using minimally processed ingredients like olive and shea butter. The best way to use this? All over. Tame flyaways, moisturize lips, condition split ends, soften elbows, cuticles...the list goes on.
Please note: All Beauty Cabinet products are cruelty-free.
Hint: Swipe through images to see full ingredient list.
5/16 oz.
No 1: Subtly citrus and sheer.
No 3: Subtly citrus in a sheer crimson shade.
Organic olive oil, shea butter, natural beeswax, essential oils.
Made in the USA.
Select stores. 
Please note: This item is only available for ground shipping to the contiguous United States.
Olio E Osso® Balm
is rated out of
5
by
9
.
Rated

5

out of

5
by
shoegirlberlin
from
best blush ever
I'm so confused by all the reviews here saying it doesn't show up - I've found this to be the most highly-pigmented, longest-lasting blush I've ever owned (I have No.3, obviously)! Great smell, great sheer color. While I might not've splurged on such a pricey product, I'm so grateful a friend gave one to me as a gift because I'm a total convert to this product now!
Date published: 2018-04-12
Rated

5

out of

5
by
Harriet82
from
great color
smells nice, goes on smooth, just a hint of a very pretty color
Date published: 2018-01-03
Rated

5

out of

5
by
Betsy
from
All time favorite
Fell in love with this brand and no. 1 for cuticles, lips and face. Tried no. 3 and did not disappoint!! Everything I ever dreamed of for a lip/cheek color and moisturizer!
Date published: 2018-06-14
Rated

5

out of

5
by
dana
from
Great lip balm
I bought this after reading about it online as a lip and cheek tint. It is fabulous as a lip tint. I love the rosy color it gives my lips without looking like you are wearing a full lipstick. It's easy to put on and the unique shape of the tube is fun. The smell/ flavor is also great. I have only tried once as a cheek tint and find it doesn't work as well. The color doesn't show up great on my skin tone and it seems greasy.
Date published: 2018-06-10
Rated

5

out of

5
by
Chrissy8
from
Pretty Pick-Me-Up!
What a shot of espresso does for a sleepy head, this product does for on-the-go beauty. I'm in the Williamsburg store pretty often after being out with the dog Saturday mornings and purchased this on a whim in the No. 3 shade. It made my lips buttery soft in seconds and got the sheer wash I wanted, like a faded out lipstick. I would love/recommend an option with more pigment because this product is foolproof and the formula is spot on. Bonus: It gave my cheeks a cute windy-bike ride finish! I'm proud of a brand as influential as Madewell for promoting cruelty-free brands. While not vegan due to natural beeswax, there is no palm oil which is a big old NO for protecting the planet. Sure it's a bit pricey compared to Chaptick but think of all the good products like these do in addition to being so pretty.
Date published: 2018-04-07
Rated

2

out of

5
by
SL1996
from
I don't get the hype
Much like the other reviewer, I was disappointed by this product. I don't see what the big deal is. I have fair skin, and it is not noticeable at all on my lips and barely on my cheeks. I have a chapstick tint that is cheaper and much better. The only reason I gave it two stars is the smell is nice and the packaging is cute. Save your money!
Date published: 2018-01-03
Rated

2

out of

5
by
greatsoos
from
Seriously there is no tint!
I don't know if there was something up with the batch that my no. 3 was in, but there's hardly any pigment at all in this, which is what I was looking forward to. Wish I read the reviews before buying because they are true. *Aside from the lack of color, this is a very nice balm on the lips. It's just not worth 30 bucks!
Date published: 2018-03-12
Rated

1

out of

5
by
Murie527
from
Overrated!
I fell for the hype and as previously stated, this is pretty packaging at a hefty price. I am fair skinned and it barely shows on my lips or cheeks. Waste of money!
Date published: 2018-02-17
Rated

1

out of

5
by
dhcc
from
Nothing special
I waited a while for this product, as it had been backordered. I had read positive things about it, but I don't get the hype. It barely shows up on my fair to medium skin tone. It doesn't seem to have staying power either. Nope. Wouldn't recommend it.
Date published: 2017-12-21