Blue Jeans Go Green
Posted on May 14, 2018
how we do well
We believe in doing what we can, where we can, to give back. Find out more about our Do Well projects—and how you can get in on the action.
blue jeans go green
RECYCLE YOUR OLD JEANS WITH US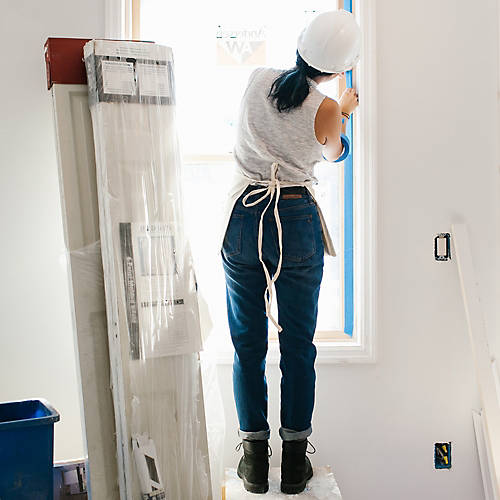 Stop by one of our stores with your pre-loved pairs (bring in a whole pile from any brand: the low-rise bootcuts, the bright-pink skinnies, your dad's relaxed fits). We'll turn them into housing insulation for communities in need—and give you $20 off new ones.*
HOW TO HELP OUT?
IT'S AS EASY AS 1, 2, 3.
Step 1
Bring your old jeans into any of our stores, year-round.
Step 2
We'll send them to our friends at Blue Jeans Go Green™ to recycle into housing insulation.
Step 3
You'll get $20 off a new pair of jeans (yay!).*
For a limited time, we're enclosing a postage-paid mailer with every purchase you make at madewell.com. It's basically a handy-dandy Jeans Transformer. Simply pop a pair into the envelope and send—zero legwork required (we'll take care of the rest). Plus, you'll get $20 off a new pair in our stores.* Win-win.
Denim Recycling By The Numbers
pairs
of your jeans recycled since our partnership began— and counting! That's a bunch of bedazzled back pockets.
Percent
of the Blue Jeans Go Green™ housing insulation is made of post-consumer recycled denim.
HOUSES
built with insulation made from your passed-on pairs (in places like New Orleans, Charleston and Los Angeles).
TONS
of waste saved from a landfill because you recycled instead of tossed (that's a lot of closet space).
good vibes from giving back.
see a house built with recycled jeans
#DENIMMADEWELL