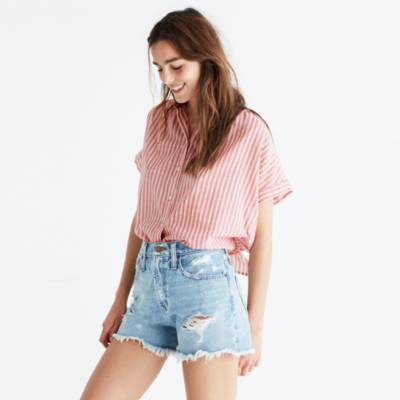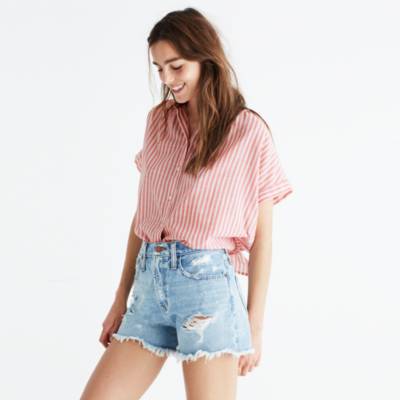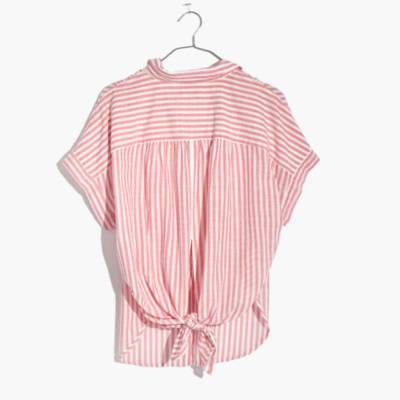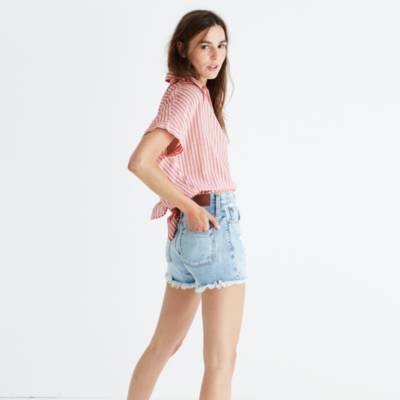 Product Details
Our shirred take on a slightly oversized shirt returns with fun tails that can be tied in back or left to hang loose. Cool and effortless in yarn-dyed rose and white stripes.
Slightly oversized.
Cotton.
Machine wash.
Import.
Central Tie-Back Shirt in Rose Stripe
Central Tie-Back Shirt in Rose Stripe
is rated out of
5
by
15
.
Rated

5

out of

5
by
Danielleml
from
Adorable summer shirt
As someone who does not normally gravitate towards bright colors, I was surprised by how much I loved this look. The color is the perfect shade of pink, and is great for summer. As the other reviews state, there are tails in the front, as well as in the back. I didn't find an issue with this because I purchased and tried it on in store and knew the product I was purchasing. However, I still don't think the tails are an issue! The front ones especially look good tucked in (as seen in the pictures), and the back ones can be tied up or tucked in, as well. Sizing wise, I went with my normal size in Madewell button downs/ courier shirts (XS). For reference, I would normally wear a S in all other, non oversized shirts.
Date published: 2017-07-26
Rated

5

out of

5
by
Claupatri
from
Perfect lovely shirt
The stripes, the color, the shape, the fabric, everything is perfect! I took my usual size and I love the oversized fit. I found that tucking in the front of the shirt works best when I want to tie the back, just like in the pictures, and it looks adorable. And I love how it looks when the back is left to hang loose. This shirt will be very enjoyed during the summer!
Date published: 2017-05-23
Rated

5

out of

5
by
Rouge
from
Lovely
I absolutely adore this top. This shirt is the perfect texture for the summer. It is 100% cotton and it's an oversized fit which is forgiving and also the length is perfect for those of us who are not privy to high rise jeans. If you do wear high rise jeans, this top will also work because you can tie it from the back and front and shorten the length as you see fit. I just love the beautiful rose pink color stripes. It's slightly muted and it will pair well with skinny or faded denim jeans. You can dress this shirt down or up. Overall, I am impressed and happy with my purchase. It's a win for me.
Date published: 2017-05-19
Rated

4

out of

5
by
TessS
from
Tails Not Shown Online
One MAJOR thing to take into account is that online for some reason, the shirt on the model has a squared off hem in front, which is not how it comes in stores! I don't know if this is any different if you order online (but I can't imagine that would make a difference). Anyway, the shirt actually has a long curved hem in both back AND front, which means you'll have to tuck in the front if you want to tie it up in the back. It definitely takes some trial and error to make this look right, but the material and color is just so pretty I had to make it work. I'd still recommend, as long as you are aware that the style is slightly different in person.
Date published: 2017-05-25
Rated

2

out of

5
by
madewellfanatic
from
The pictures are deceiving!
I LOVED this shirt in the pictures, especially the squared off bottom in the front, but when I got it in the mail there were long tails in the front as well as the back. I tried to get it to look normal with multiple bottoms but it never looked quite right. I was so sad! If they came out with this shirt but the squared off bottom I would buy it.
Date published: 2017-06-08
Rated

2

out of

5
by
emimarti
from
Super awkward tails
I tried this on in the store wanting to love it. I spent several minutes tying and untying, trying to figure out how this would look best, or even good at all. The picture on the website makes it look like the front of the shirt has more of squared off look; however, in the store, there were tails in the front and back. I tucked the front ones in, I tied them and left the back loose, I just couldn't figure out how this would look effortless and comfortable. When I left the front loose and tied the back, it made my waste look really small in proportion to my upper body which was made larger by the bagginess of the shirt. I'm a fan of the idea and the photos on the website, just didn't work out in reality.
Date published: 2017-05-24
Rated

2

out of

5
by
Christa
from
So cute, but so disappointing
I really wanted to love this top, truly, but it just didn't work out great for me. Normally, I am a size XS in tops, but after trying an XS in this top and having it pull awkwardly at my hips, I decided to try again in a S. The S did the same thing, but this time it looked even more awkward since it was even baggier! I tried all sorts of different ties and nothing worked. Other than that, this really had a nice fabric and weight to it and the color was so cute! Very disappointed and slightly heartbroken.
Date published: 2017-05-20
Rated

5

out of

5
by
noeyelizabeth
from
Perfect Summer Top
This button-up is perfect for the summer! The tie in the back adds something extra to the style and the material is light and airy. Will be getting a lot of wear out of this one.
Date published: 2017-05-18
Rated

5

out of

5
by
Jenn
from
Summer made easy
Madewell has made summer style easy and effortless. This shirt is great with high waisted shorts and sandals for day or a great pair of disstressed jeans with a heel for cocktails.
Date published: 2017-08-03
Rated

5

out of

5
by
kateinv
from
nice versatile shirt for hot days
This is very nice versatile shirt for hot days. I like the back knot . it makes the shirt unique. color is more subtle then on the picture.
Date published: 2017-08-03