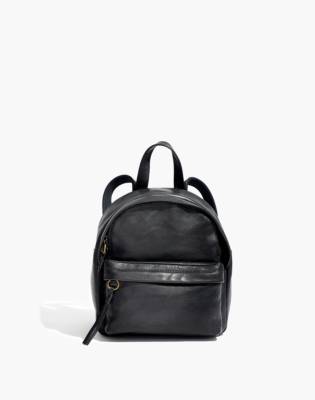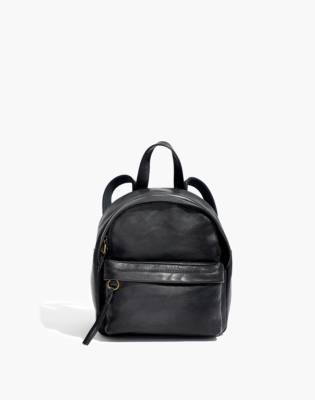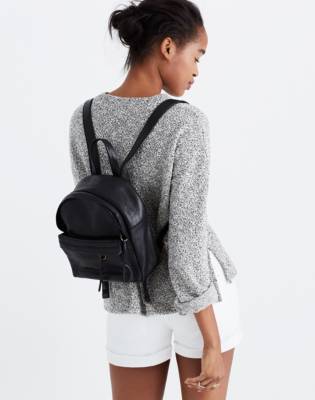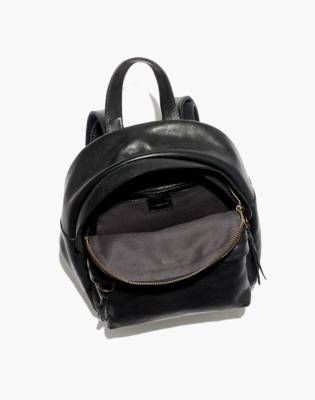 Product Details
Our favorite backpack returns in an irresistible mini. Made of a rich Italian leather that burnishes beautifully, this bag is made for all kinds of warm-weather adventures (outdoor concerts, anyone?).
Made of Italian vegetable-tanned leather specially washed for a beautiful patina.
Hand-wrapped zipper pulls.
Please note: As it is made of a natural material, each bag varies slightly in texture and color.
Zip closure.
Interior front and back pockets, exterior pocket.
4" handle drop.
9 7/8"H x 8 7/8"W x 3 1/2"D.
Import.
The Lorimer Mini Backpack
The Lorimer Mini Backpack
is rated out of
5
by
58
.
Rated

5

out of

5
by
Liesllu
from
Good Bye to my purse
I had been eyeing this backpack for a long time and finally bit the bullet and bought it. I got the black one and my oh my am I happy about this. I didn't realize just how nice it is to run errands or walk around hands free without worrying about my purse falling off my shoulder or digging into my forearm. This backpack is the perfect size. I don't tend to carry around too much stuff anyway but it's just SO easy. The zippers haven't been a huge problem for me. I just fold over the zipper flap before I open or close it and it has been totally fine. The leather is sturdy and very good quality, as is the interior lining. I don't feel like this is going to wear out anytime soon. It's classic style goes with anything and I have gotten many complements on it. This is a timeless bag and you need it in your collection!
Date published: 2018-04-21
Rated

5

out of

5
by
Jocelynshops
from
Adorable Mini-Pack
I got the brown cognac color. It is so adorable and the construction of the bag is excellent. I love that I can fit all my go-to items in this backpack -- wallet, keys, a small bag of makeup for touch-ups, and a book. I agree with other reviewers in that the zippers are a bit stiff. Just make sure to flip the leather that surrounds the zipper and you'll be able to open the bag with ease. f you're on the fence about this bag, I'd say go for it. It adds a youthful touch to everyday outfits. Every time I see my little backpack it brings joy to my day.
Date published: 2018-02-28
Rated

5

out of

5
by
PrettynPink
from
Good size and good look
This was a holiday gift for my 17 year old daughter who wanted a mini backpack. I first noticed the bag In Nordstrom and decided to research the Madewell brand. Pleased with the price on the website I purchased the bag with a very helpful CS agent. Even though there are less expensive mini backpack options, I wanted a bag she could use for longer than a few months and that would retain its quality and style. My daughter began using her bag the same day and it looks very nice with her outfits. Others have mentioned an issue with the zippers. They are thick, brass zippers which are an advantage because if you're wearing the bag they won't slide open on their own or allow someone to unzip the bag without you noticing. Just put a metal safe lubricant on the zipper to help with the stiffness.
Date published: 2017-12-29
Rated

5

out of

5
by
AR88
from
Perfect everyday backpack
I thought i would like this bag when i bought it, but i ended up LOVING it. It's small enough to use as an everyday purse, but big enough to hold anything i would want. I can put my large water bottle in it when i go to the gym, i can put a jean jacket in it when i'm going out at night and am scared i'll get cold, and i can fit a book in it when i'm walking to the coffee shop, etc. I bought this bag in brown and it looks even better the more i mark it up with everyday wear and tear. My bag seems very well made and i have zero problems with zippers. I highly recommend this bag.
Date published: 2017-09-12
Rated

5

out of

5
by
Yuliya
from
Perfect backpack
I've ordered this backpack a few months before and been wearing it a lot. It's really great. The leather quality is awesome. Not like on the transport crossbody in English saddle and the transport rucksack. It scratches easily, but somehow the scratches become almost invisible through some time and the backpack looks even better. The size is perfect. It's not large and look very cute, but it fit an iPad mini, a small bottle of water, a hair brush, a charging battery and a small wallet and also a small cosmetic bag in the outside pocket. I like that it has a zipped inside pocket. The backpack is very comfortable, much more comfortable than the transport rucksack: very easy to access thanks to zips, fits your back much better. My only complaint is the pieces of leather on the zippers sliding down all the time. And I guess my exemplar was standing on the store and looked a bit used when it came. But I needed it in a trip and haven't time to reorder.
Date published: 2017-07-28
Rated

5

out of

5
by
Triplea
from
Love, love, love!
I was looking for a new bag to carry everyday and believe me this is perfect. It fits my large wallet and other essential items with room to spare. The quality is amazing and I even got it monogrammed in store for free!! Super happy with this purchase.
Date published: 2017-07-25
Rated

5

out of

5
by
Kimchi
from
Great travel bag
At first I thought it was a little too small to be my travel purse, but I really wanted something with two straps, and it's so lovely and well constructed. But actually it's been just big enough for everything I need to carry! (Charge dock, phone, lipstick,mole skin, camera, sunblock, passport, change purse, water bottle, snacks, small flashlight, maps, and small misc) the zipper is sturdy enough that you would feel a pickpocket, and the inner pocket is the perfect size for money and ID.
Date published: 2017-07-13
Rated

5

out of

5
by
Sylve
from
Cute functional bag for weekend hangout
I got the brown version, very beautiful color. Although the color is not as rich as shown in the photo as the leather hasn't aged enough yet. My only complain is the zipper of the main compartment, which doesn't go smoothly at all. Using wax helped a bit, but overall still not easy to open and close the bag. Other than that, perfect backpack.
Date published: 2017-03-24
Rated

5

out of

5
by
CaraB
from
backpack of my dreams
I got this little backpack and could not be happier. The leather quality is top notch (smells so good and distresses well), and the size is perfect. It looks petite but it holds quite a bit. I got it to use on vacation but it turned into my every day bag. Also love the little circular zippers :)
Date published: 2017-03-08
Rated

5

out of

5
by
KAT808
from
LOVE LOVE LOVE!
Since I don't carry much things (small wallet, pouch and phone), I was looking for something smaller than usuall backpack which tend to be too big for everyday use and ended up sitting in my clothet forever. I purchased the brown one in the store; soon as I tried, I absolutely loved it and fall in love with this new friend. The color is perfect brown not so light or dark, roomier than it looks so I'm sure that I can even take it to my yoga class too. Leather is very soft, had few scratches but I didn't care since the product it self has somewhat vintage feeling to it. Since I purchased, I am enjoying it every single day.
Date published: 2017-03-01