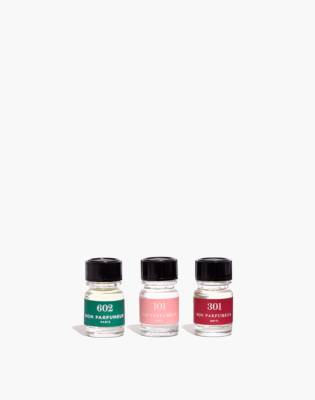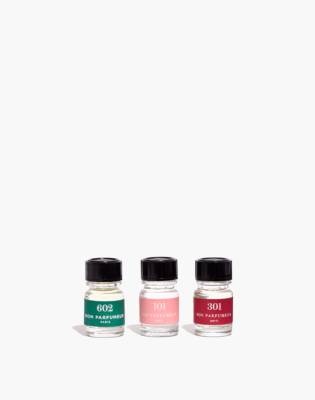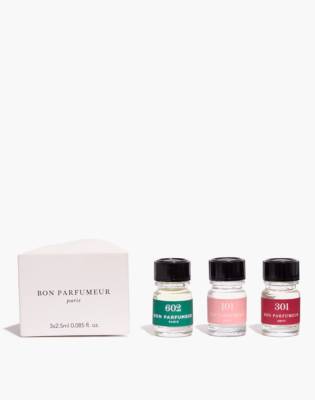 Product Details
What's in our Beauty Cabinet? Tried-and-true products, curated by us, that fall in the sweet spot between low maintenance and treat yourself. When it comes to his line of perfumes, founder Ludovic Bonneton's vision is to create uncomplicated scents that you can mix-and-match according to how you're feeling (kind of like a fragrance mood ring). Ready to play perfumer? Take this set of three French-made favorites for a spin—they can be worn alone or layered up for a totally unique aroma.
Please note: All Beauty Cabinet products are cruelty-free.
Hint: Swipe through images to see full ingredient list.
Includes 3 perfumes.
101: Rose, sweet pea, patchouli.
602: Pepper, cedar, patchouli.
301: Sandalwood, amber, cardamom.
Made in France.
Select stores. 
Please note: This item is only available for ground shipping to the contiguous United States.
Bon Parfumeur™ Eau de Parfum Sample Set
Bon Parfumeur™ Eau de Parfum Sample Set
is rated out of
5
by
10
.
Rated

5

out of

5
by
SHJUANNA
from
Perfect Perfume Samples
They all smell really nice and they are the perfect size for sampling.
Date published: 2018-01-25
Rated

5

out of

5
by
Wendy1979
from
So cute and smell AMAZING!
This is the perfect little gift! I couldn't resist the cute triangle packaging, and layering the scents is so fun! I bought the full-size of 301, and I am experimenting with layering these. 602 is super interesting and intoxicating! and the 101 is such a modern take on a rose. LOVE!
Date published: 2017-10-26
Rated

5

out of

5
by
KrisiB
from
AMAZING!!! So many compliments
I wore the 602 yesterday and THREE PEOPLE stopped me in the street to ask what i was wearing! All three scents are so beautiful and last all day. Too quality eau de parfum and such a great price. They are not too feminine or masculine and very unique. I especially love the 602. Can't go wrong!! I bought all three in full size bottles. SO GOOD AND AFFORDABLE!!
Date published: 2017-12-29
Rated

5

out of

5
by
JoJoZT
from
HOLY MOLY.
Did someone say 602? This scent is INTOXICATING! Total conversation starter. If you don't like folks hanging around you, don't wear this! ;-)
Date published: 2018-01-31
Rated

5

out of

5
by
Daisy
from
Yes!
Im getting so much love from these samples. These are so lovely and unique, madewell youre doing it so right!
Date published: 2018-06-22
Rated

5

out of

5
by
Daisy
from
Huge Payout
They are conveniently sized to carry in any pouch. Simply soak your finger tip and apply onto body and go. Great way to sample all the perfums!
Date published: 2018-06-17
Rated

5

out of

5
by
AlDwell
from
Delightful
I love this product. 101 is my favorite. It's a wonderful way to try them out. Very unique, from Paris. Love Parisian beauty and this makes me feel special. Very nice!
Date published: 2018-05-22
Rated

5

out of

5
by
LizaMac
from
Perfect scents
Love these..they smell wonderful. Wished they would have included the fourth scent as well but still lovely. Will purchase the fill sizes.
Date published: 2018-04-12
Rated

4

out of

5
by
AZprof
from
Fun to mix, quality fragrances
These three fragrances are super for most people, and the price allows you to try. Mix and match these light scents-- none gave me any problems and I am sensitive. I am less fond of sandalwood, but that is just me!
Date published: 2018-03-28
Rated

2

out of

5
by
MadeBad
from
Disappointing fragrances
Madewell's been making a foray into bath & body products, but so far, the selection is blah. RMS Beauty is carried by so many retailers now, it's no longer fresh/interesting. French Girl would've been cool in 2012, but by now, it's cliched. This fragrance set doesn't smell that great. It has a coveted Made in France label, but that's not making me like it any better. Rose scent, 101, is mediocre. 602 scent has a fir-colored label, so I guess it's supposed to be foresty. It doesn't smell that great, either. Red one, 301, is spicy/cinnamony, but also not that pleasant. This is like a lackluster version of a certain brand of single-scent, layerable fragrances. Anything at two particular Madewell competitor stores is better, but then, they've mastered the art of quality indie fragrances. It's in a cool triangular box, good as stocking stuffer. The tiny bottles are unique/cute. But that doesn't make up for the fact that the fragrances are subpar.
Date published: 2017-12-03